Overview
A Bit of Beta Makes it Better!
Please note, this feature is currently in Beta. If you experience any issues, our technical support team is here to help. You can send us an email, submit a request, or reach out via our chatbot at any time. We'd also love to hear your feedback so we can continue to fine-tune the magic formula.
If you work primarily within Salesforce but like to use Apollo to keep your data up-to-date, you may have installed the Apollo app to enrich the records within your Salesforce account.
You can uninstall Apollo from Salesforce at any time.
Things Can Only Get Better
Please note, once the Beta testing period ends, you and your team can install the integration directly from Salesforce's AppExchange Marketplace. Before you do so, you will need to follow the instructions in this article to uninstall the Beta version. Then, you will be able to install the official version from the Salesforce marketplace.
Refer to the section below for the steps to uninstall the Apollo for Salesforce app.
Having Second Thoughts?
Not ready to jump ship just yet? Hop into the "Use the Apollo for Salesforce App" article for further information about how to best leverage the Beta version of the Apollo for Salesforce app.
Uninstall Apollo for Salesforce
To uninstall the Apollo for Salesforce app, launch Salesforce, click the Settings icon, and then click Setup.

Scroll to the Users drop-down and then click Permission Sets.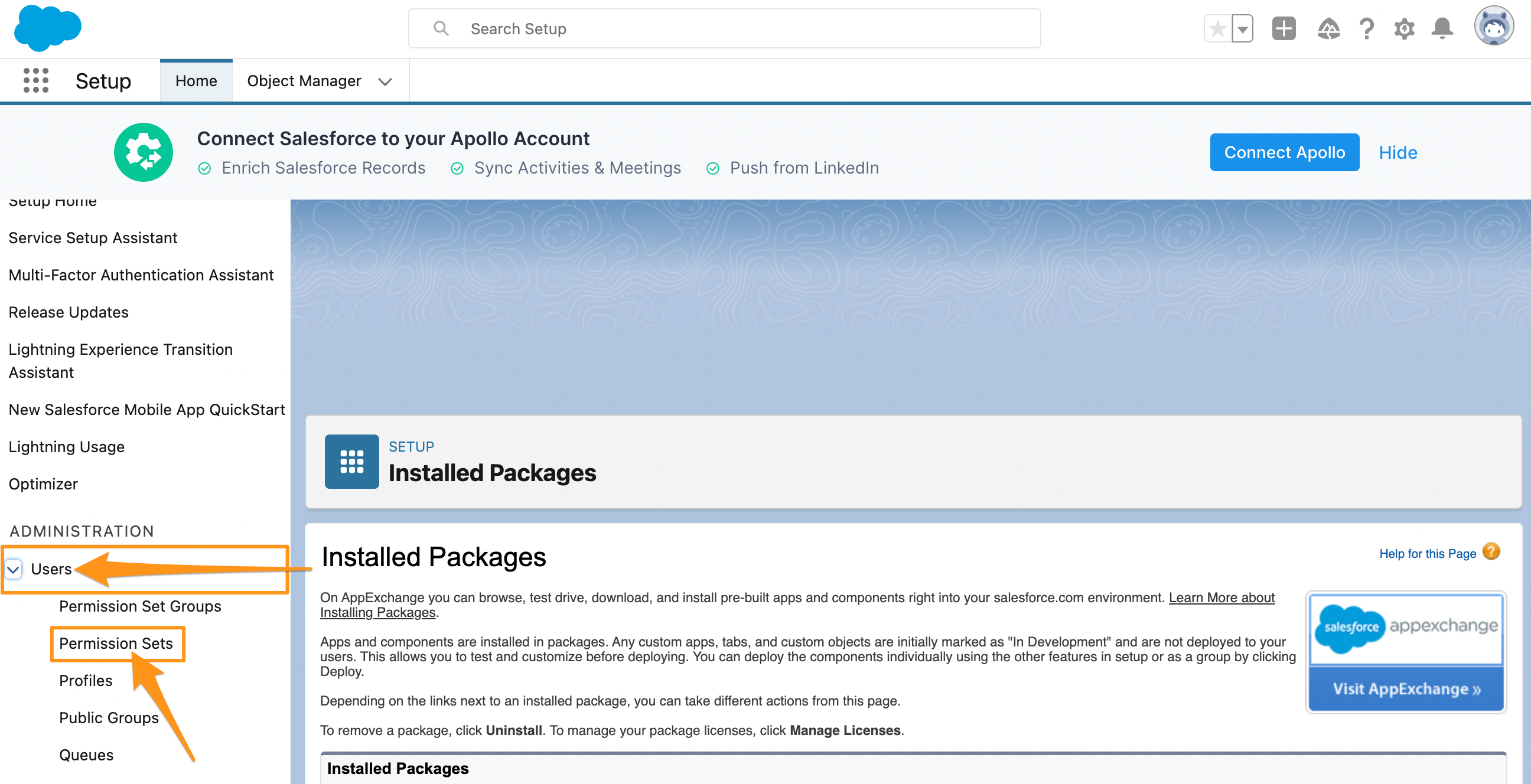 Click Apollo User.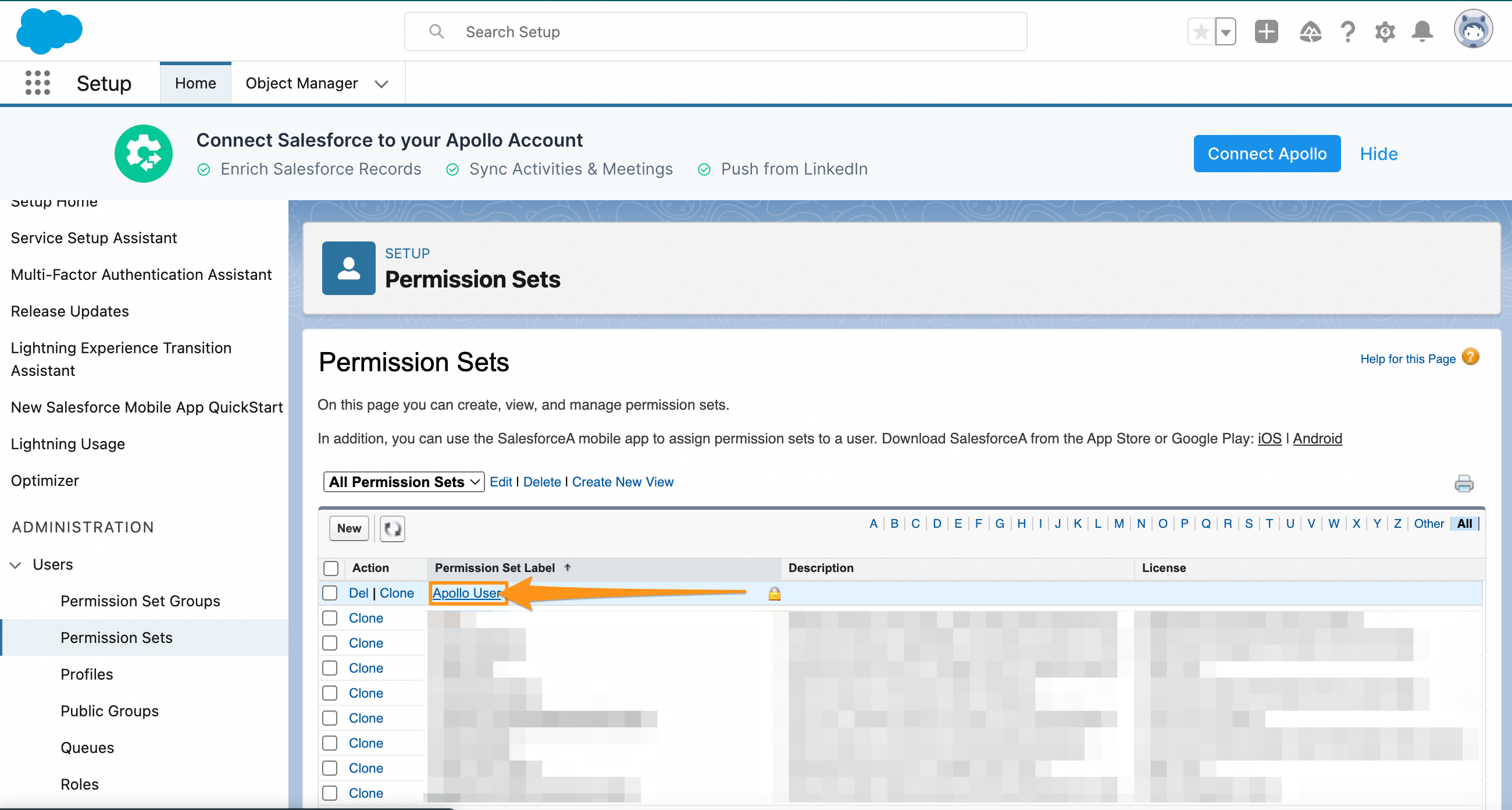 Click Manage Assignments.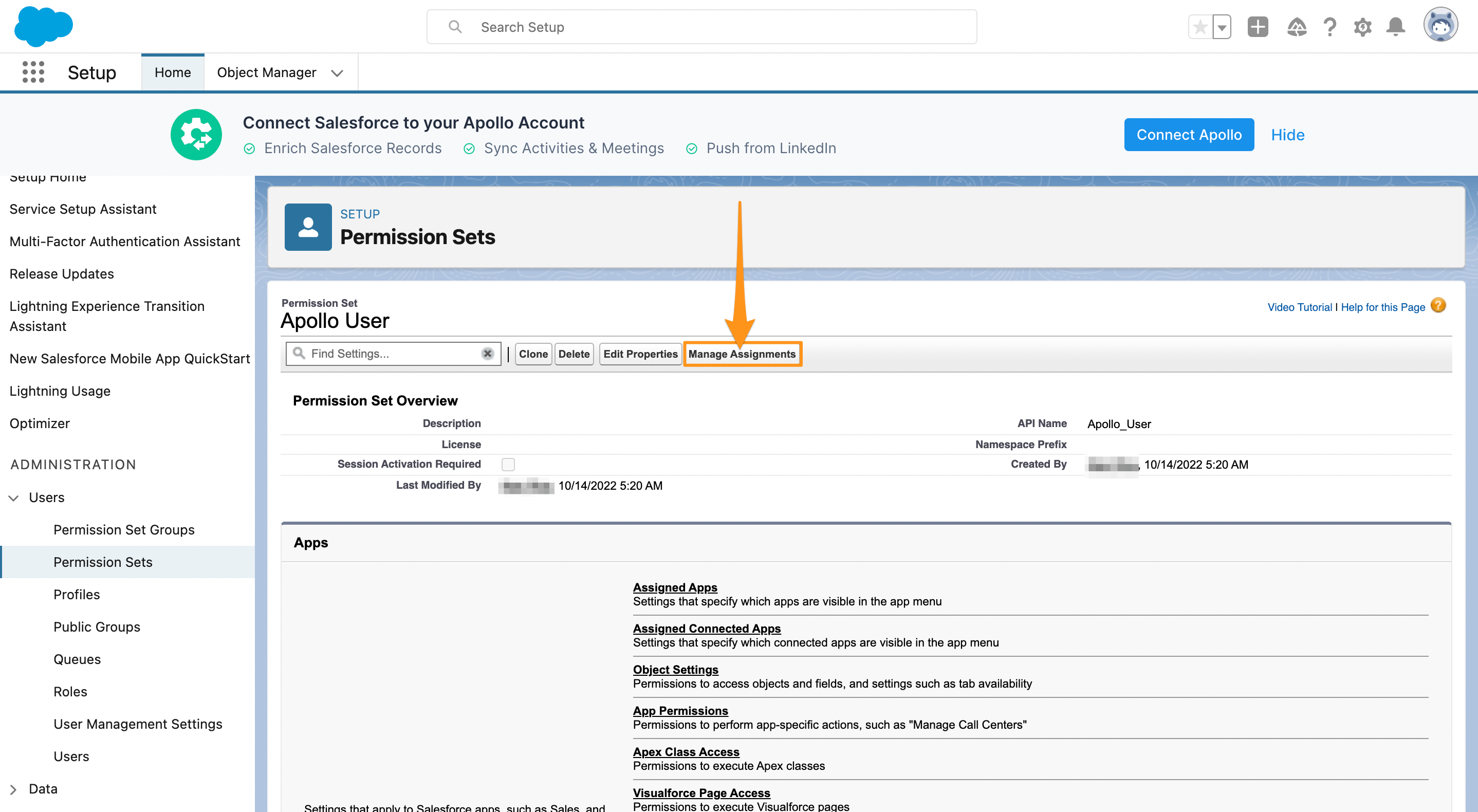 Click the first checkbox to select all users and then click the Delete icon.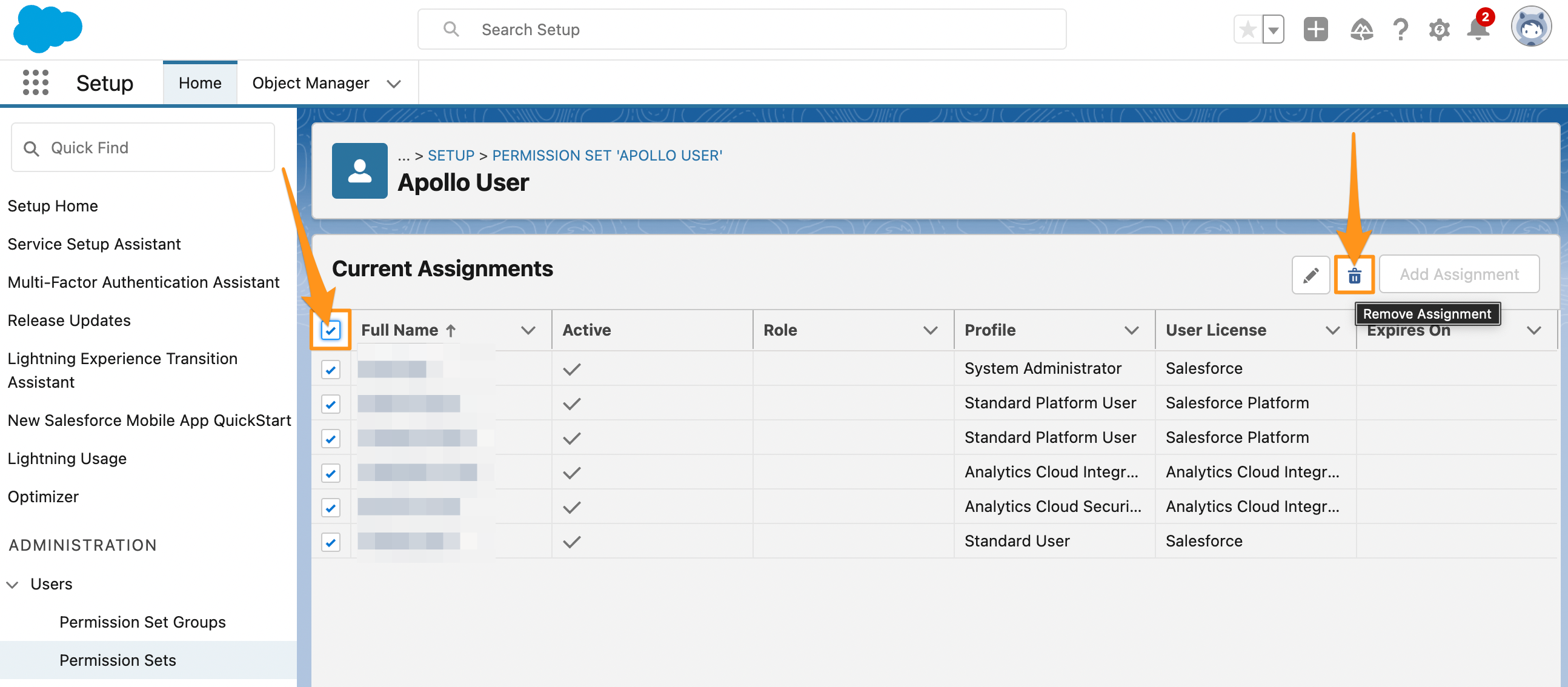 Click Remove in the Remove permission sets assignments? modal to confirm your decision.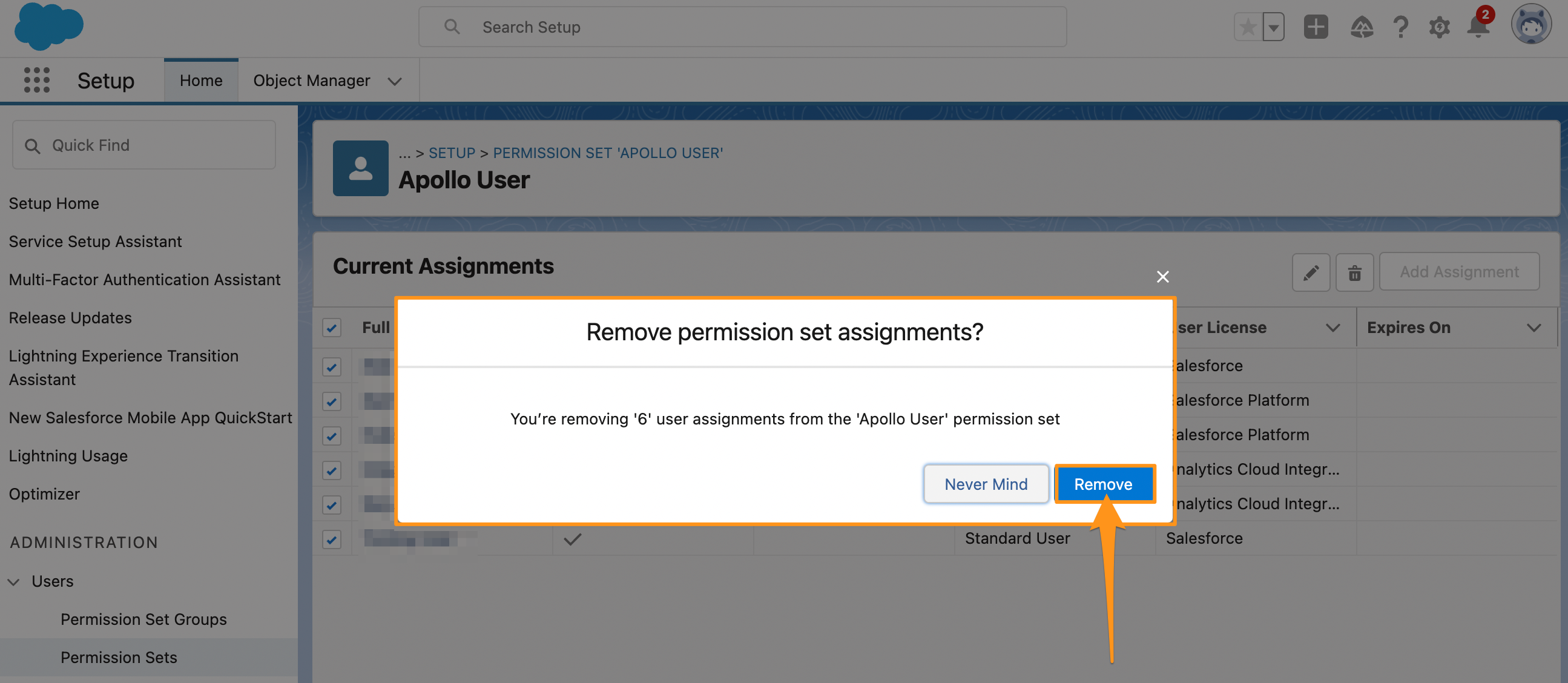 Scroll to Platform Tools on the left. Click the Apps drop-down, click Packaging, and then click Installed Packages.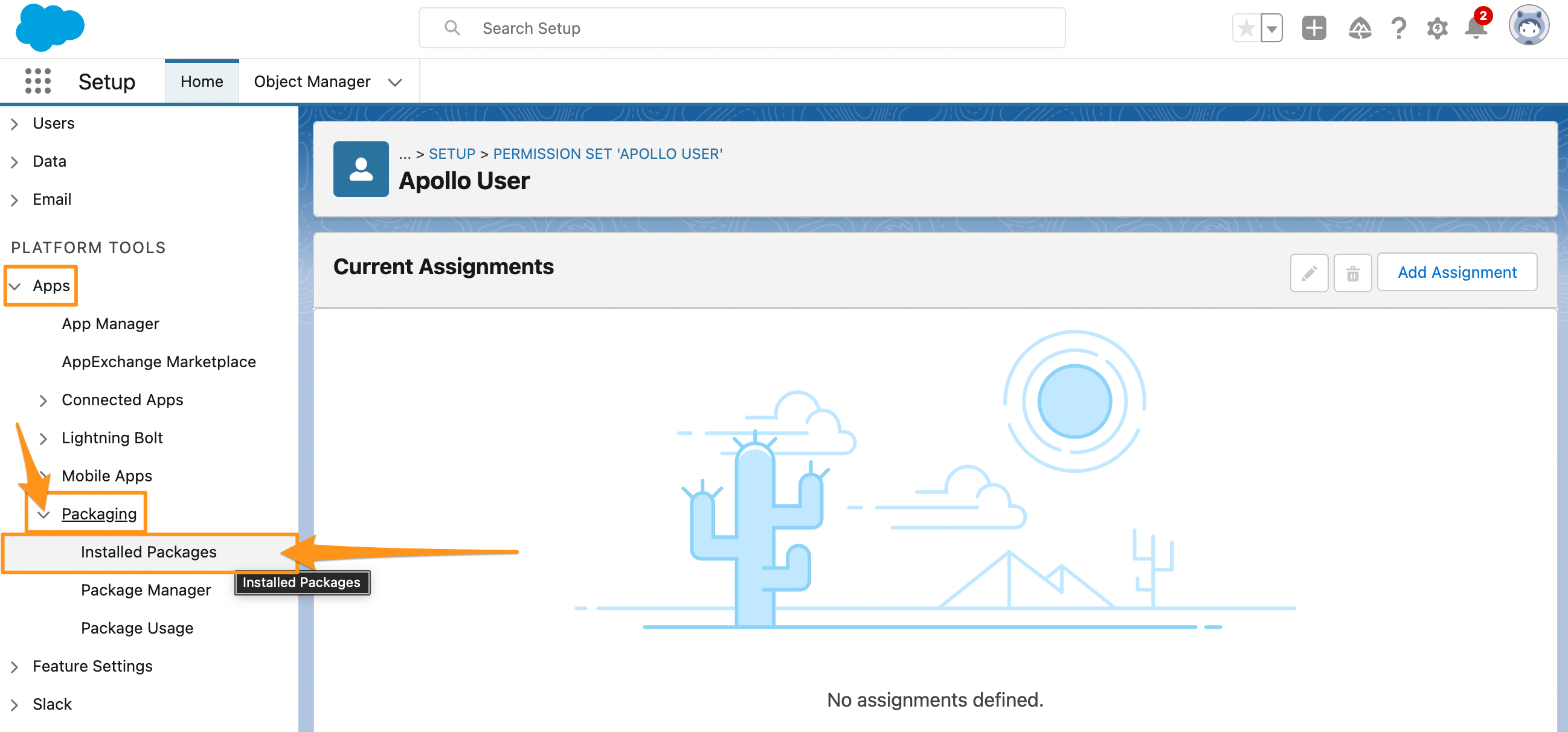 Scroll to ApolloAppEnrichment and click Uninstall on the left.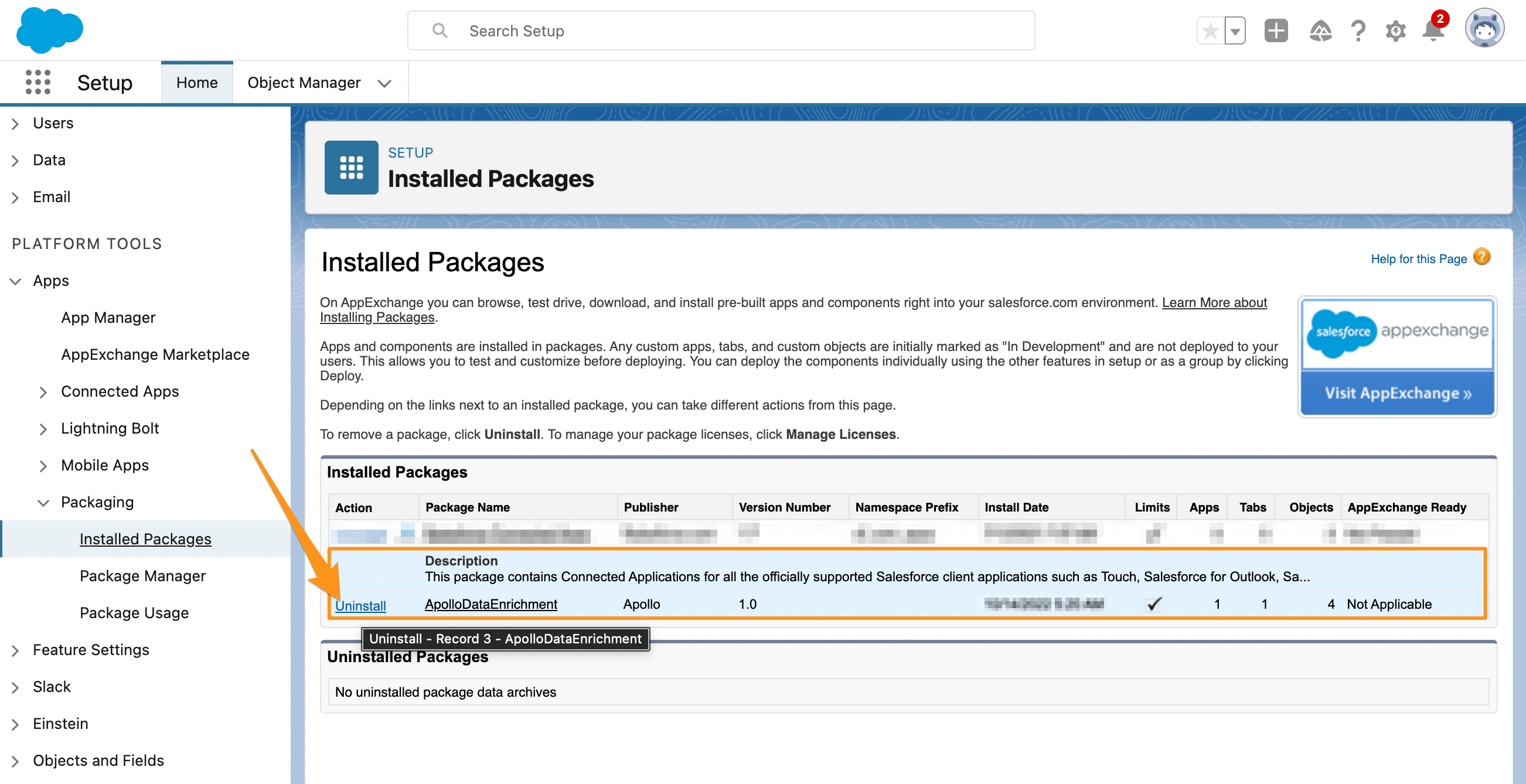 Review the information in the warning modal at the top of the page.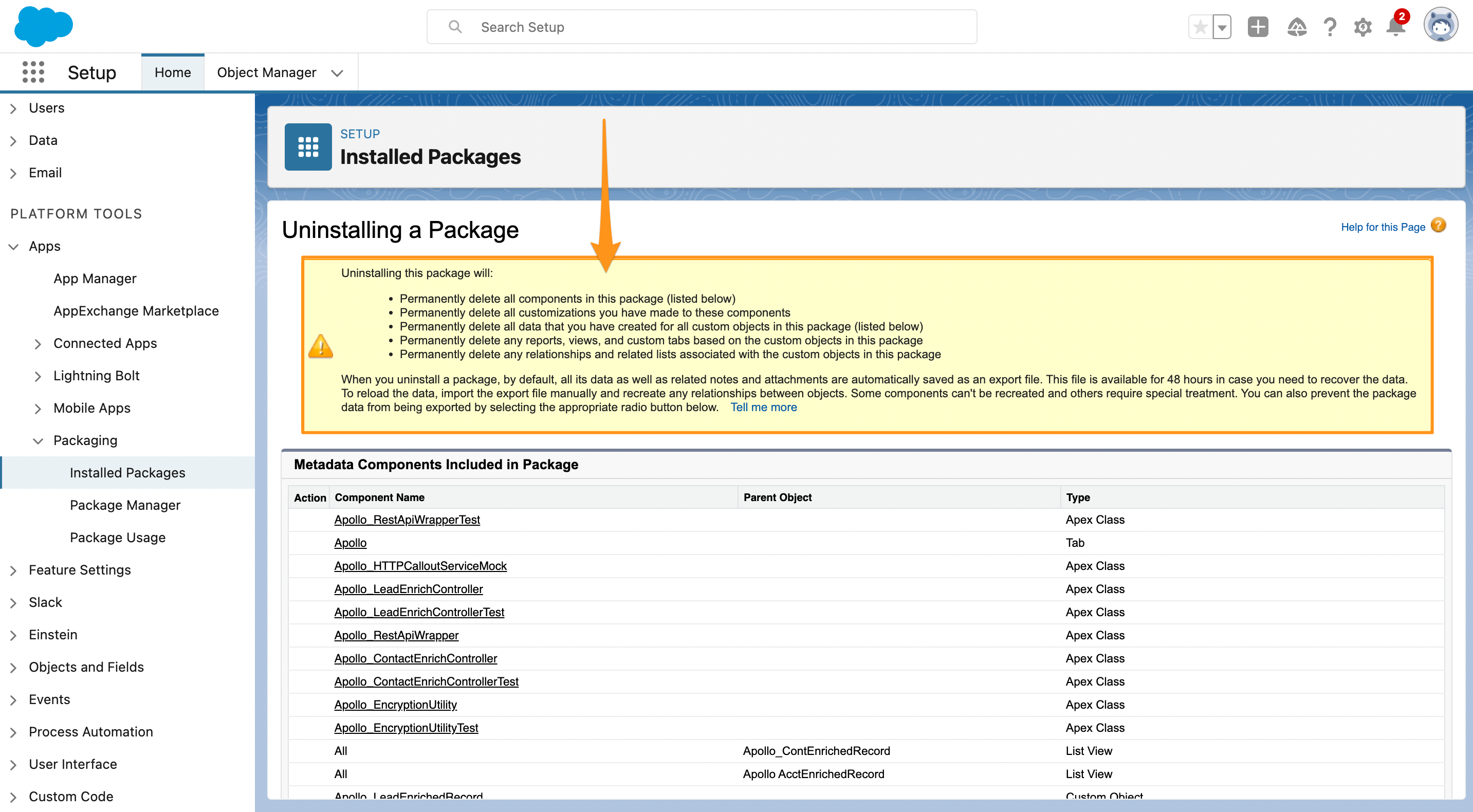 Then, scroll to the bottom of the page and click the Save a copy of this package's data for 48 hours after uninstall radio button if you want to save a backup of your enriched records.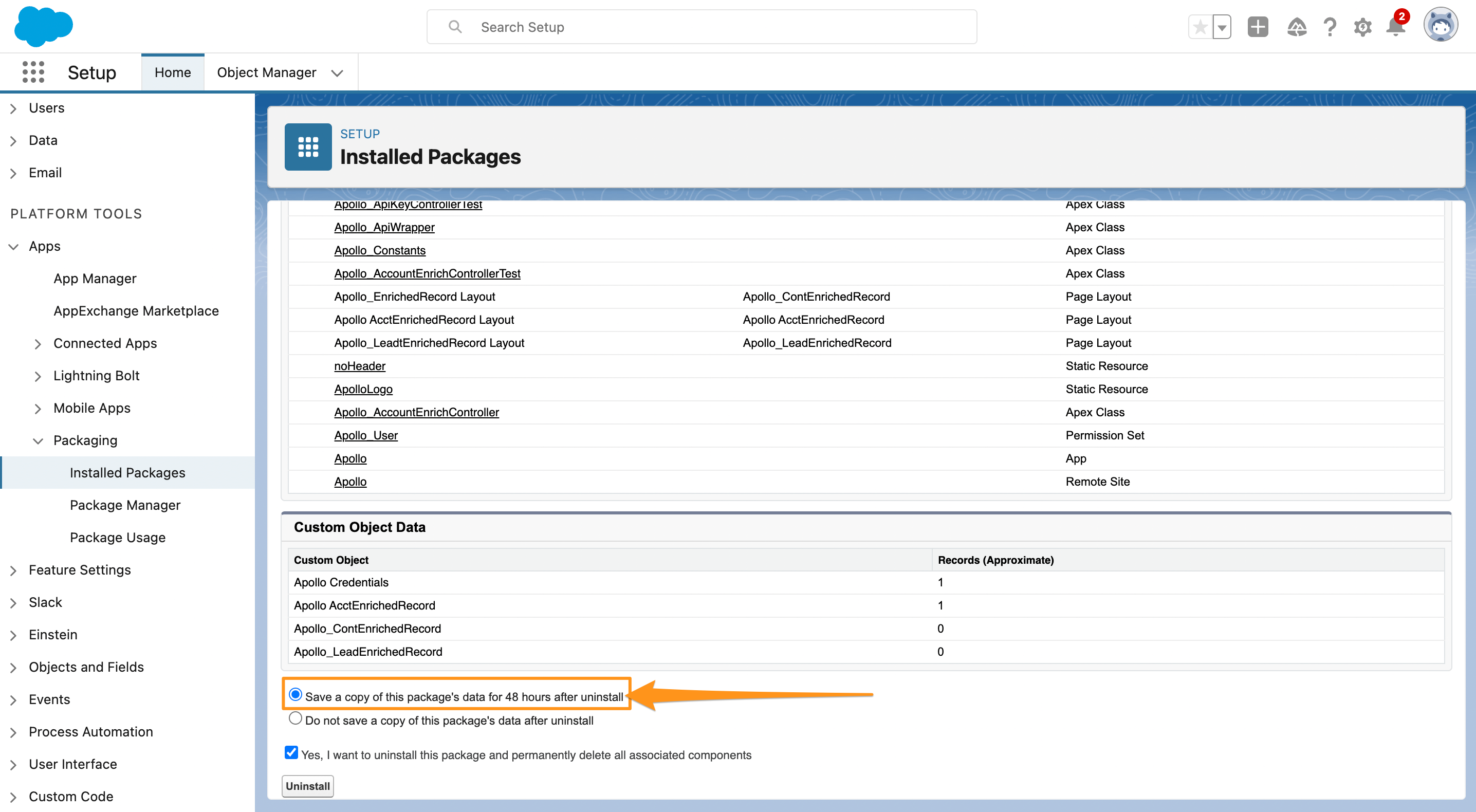 Alternatively, click the Do not save a copy of this package's data after uninstall radio button. Salesforce displays a warning modal. Click Ok if you are sure that you do not want to save a backup of your enriched records.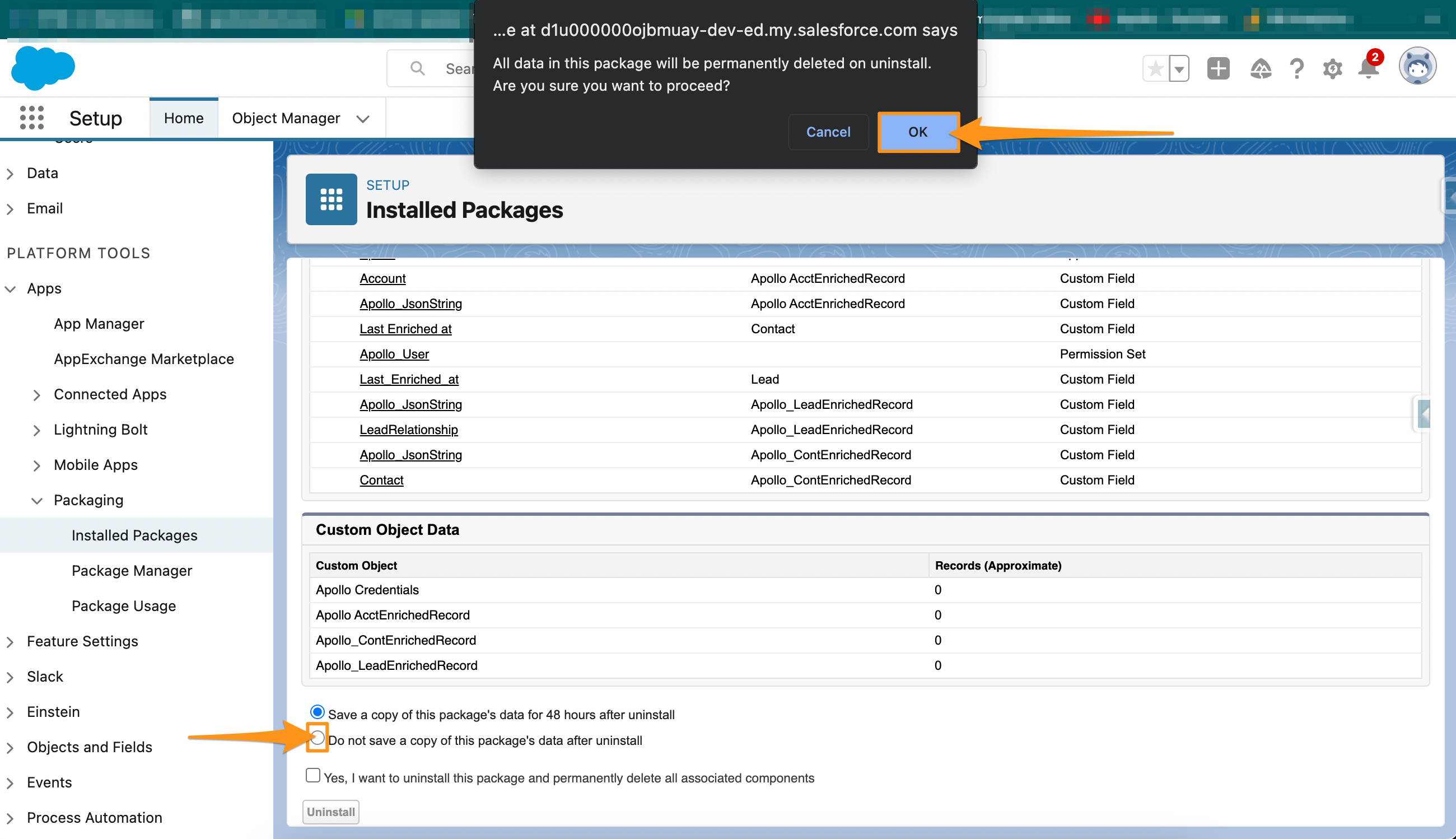 Click the Yes, I want to uninstall this package and permanently delete all associated components checkbox. Then, click Uninstall.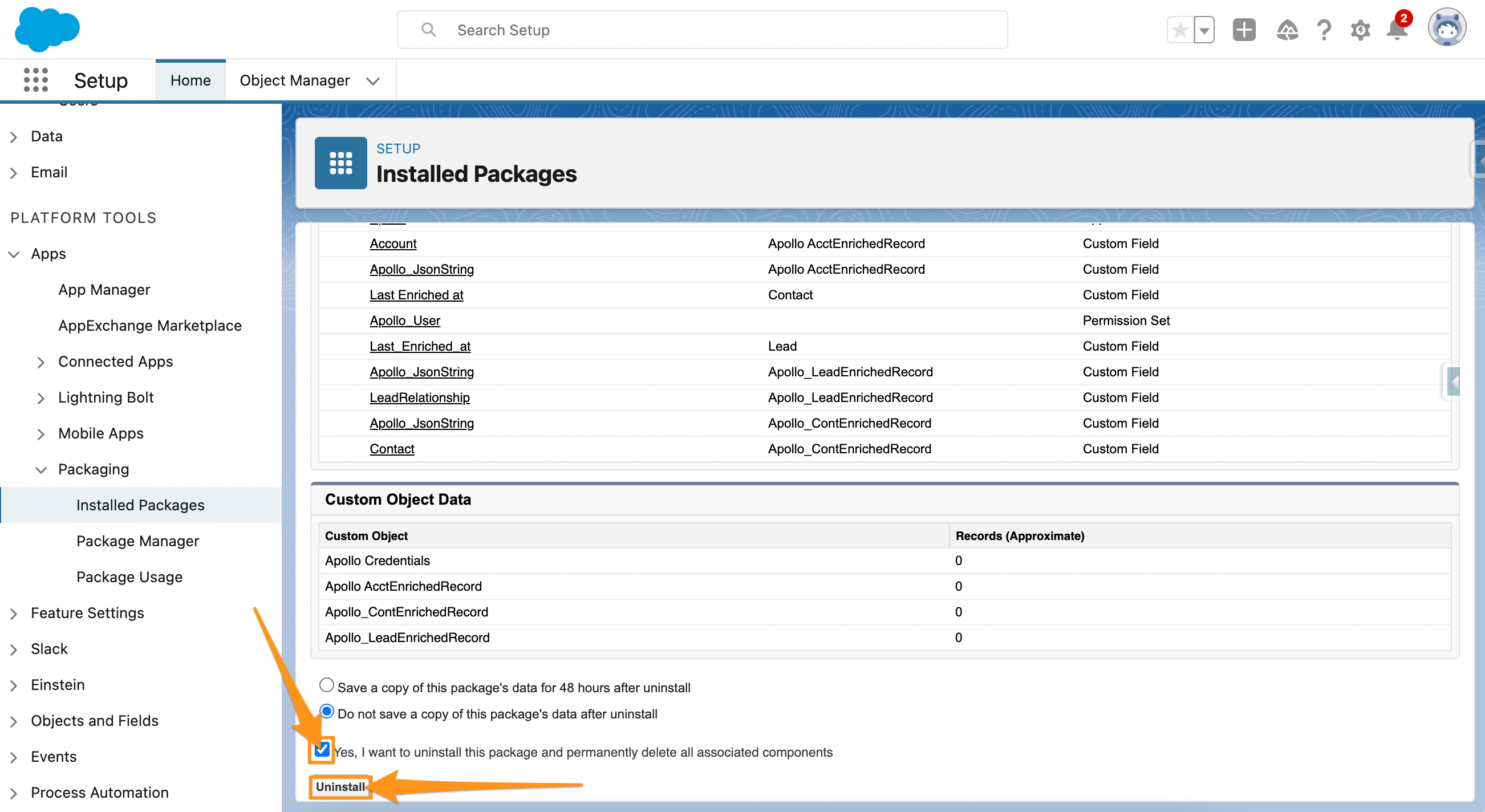 If you clicked the radio button to save a backup of your enriched records, refresh the page and click Data to download a Zip file of your data.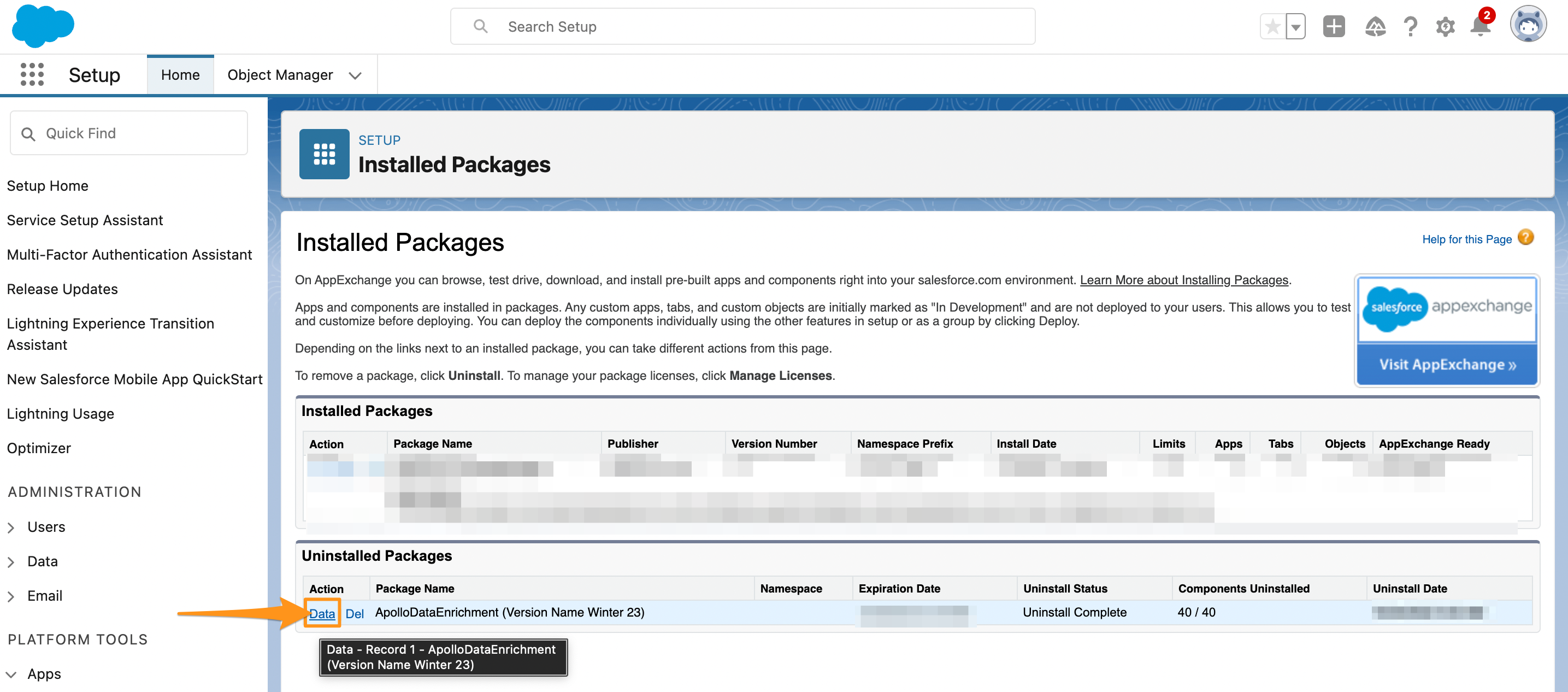 If you want to permanently delete the Apollo for Salesforce app, click Del.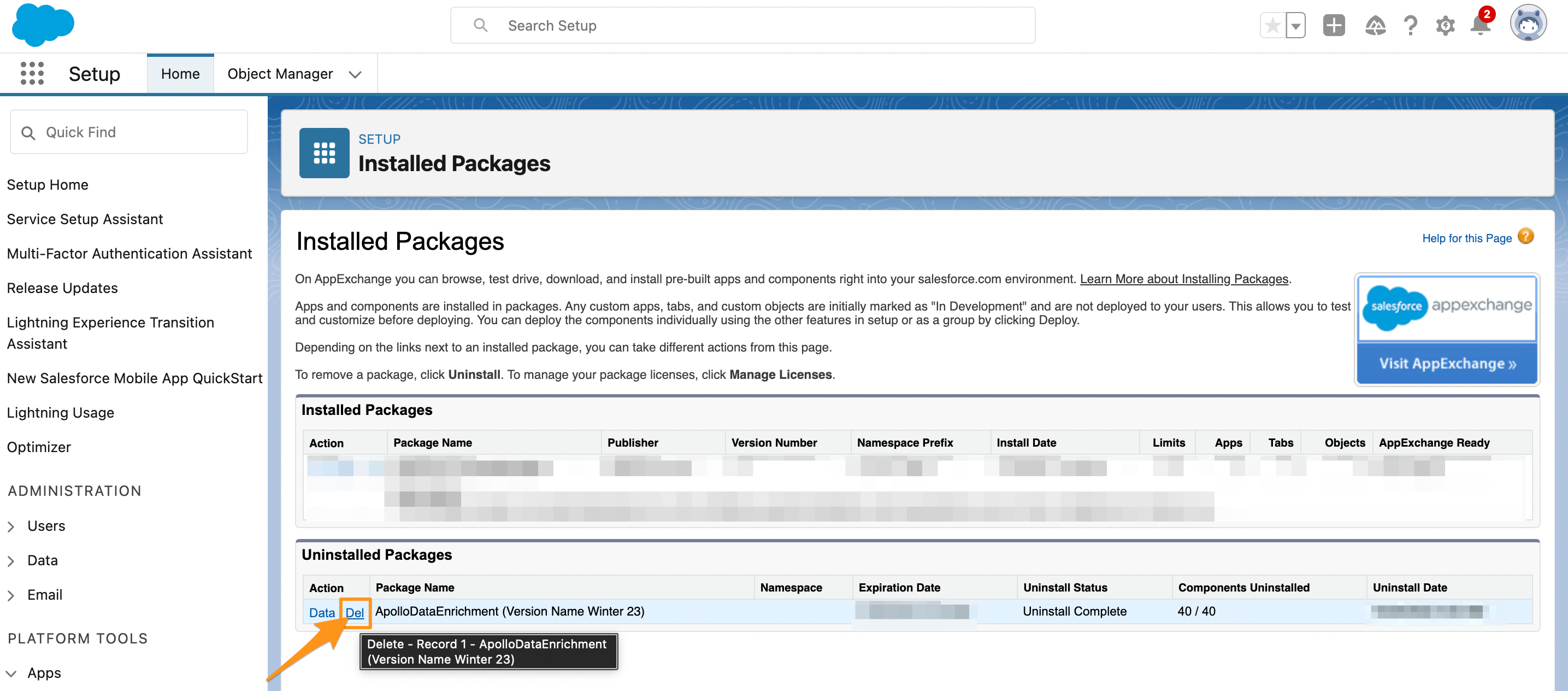 You have now successfully uninstalled the Apollo for Salesforce app from your Salesforce account.