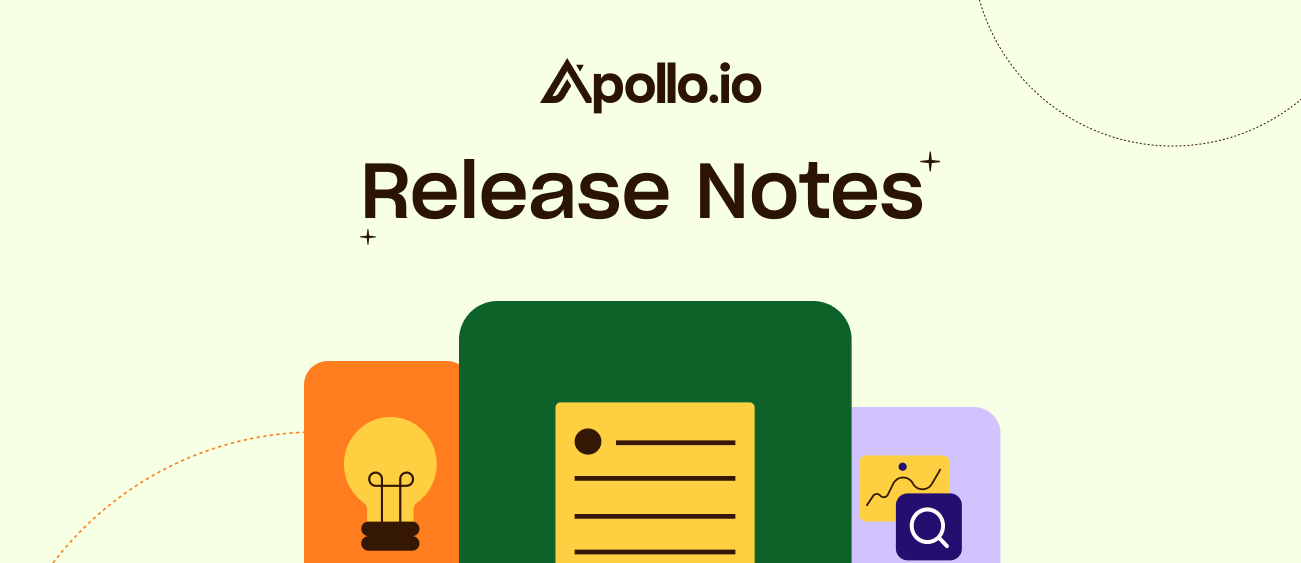 Product Updates
Our dashing developers have wiped out those January blues with new and improved features this sprint. Here's a sneak peek at the latest updates:
Improved Salesforce Field Mapping
Say goodbye to restricted syncing. It's time for your Salesforce contacts to join in on the account field mapping fun!
That's right, folks. We've added new field mapping capabilities for Salesforce users. Now, you can configure field mappings so that Apollo populates your Salesforce contacts with specific company fields from the Apollo database.

Got the Salesforce Integration on Your Mind?
For more information about all things Salesforce, please refer to the Salesforce section of the Apollo Knowledge Base.
Schedule When You Add New Contacts to Your Sequences
Don't have time to enroll more contacts into your sequences just yet but found some awesome new prospects? Schedule them for later or select a custom date and time with the add-to-sequence scheduler.

Even the best sales gurus need rest. With the new schedule feature, you can choose when you add new contacts to a sequence. This means that you can gain more control of your pipeline and plan according to your schedule.
Bug Fixes
Developers by day, pest control by night. Here are the latest bugs we've squashed:
Told the misbehaving HTML tags on the notes section of each call to render correctly.
Unlinked mailboxes were suffering from FOMO and delivering emails through SendGrid despite being unlinked. They saw the error of their ways. Now, only linked mailboxes can send emails through SendGrid.
Cured the permission profile settings of temporary amnesia. Now, any changes you make will save without a problem.
The search feature in the calls tab was obsessed with anonymity. We got to the bottom of its identity issues. Now, you can once again search for calls using contact names.
Gave the email composer a dose of formatting therapy to put an end to the color chaos it caused when users tried to change the color of one word in an email.
The sender's email ID had separation anxiety when users tried to reply to an email within a thread. We gave it a dose of therapy. It no longer appears in the "Send To" field. Instead, it stays in the "Send From" field, where it belongs.
Told the Apollo-Salesforce pull logic to stop feeling shy when users pulled new phone numbers into Apollo from Salesforce. Now, the pull logic welcomes your synced Salesforce phone numbers like a true host should and prioritizes them over any enriched numbers in Apollo.
Let our Apollo-HubSpot push workers know that this town ain't big enough for duplicates. Now, it cross-references to prevent the pushing of duplicate accounts.
Gave our Salesforce pull cadence a makeover to ensure Salesforce fields populate correctly in Apollo.
Urged the Salesforce integration to be more lenient. Now, even if there is no account present for a contact, you can still push the field to Salesforce.
Taught the CRM Enrichment feature a lesson in communication. Now, if you need to update your plan or purchase an add-on to access the feature, Apollo displays a message so you know why and how to access it.
New/Updated Documentation
We've been hard at work at our typewriters and stone tablets to bring you knowledge. Feast your eyes on these righteous revisions:
New/Updated Videos
Sit back, relax, and enjoy the next best Apollo flicks.
Apollo.io Product Year in Review
In celebration of a great year, jam-packed with new and exciting feature releases, our VP of Product reflects on what we've accomplished in 2022. He also shares a glimpse of what we have in store for you in 2023.
From Our Blog
In the mood for a few wise words of Sales and Marketing wisdom? Here's what we've been cooking up: