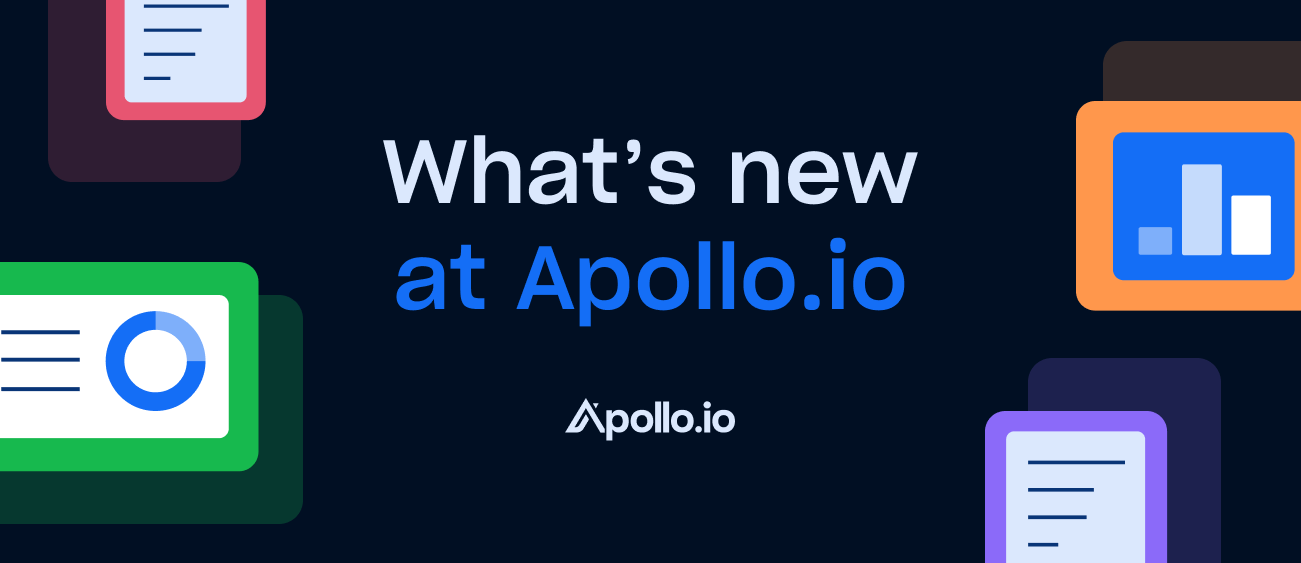 Feature Highlight
This sprint, we have a couple of co-headliners for you. Check out the dazzling data health center and the popular play templates:
Optimize Your Data with the Data Health Center
Are you worried about the health of your data? Consider Apollo as your lead physician. Introducing the data health center—the place to go to diagnose your data. We'll examine your data health, uncover your total addressable market, identify market gaps, and prescribe you the right remedy to access more high-quality, accurate leads.
Who's it for?
You are a sales or revenue leader, a business owner, or a seller
You want to unlock your full revenue potential
You want to ensure your data is accurate and up-to-date
You are on any Apollo plan. Put your (data) health first, no matter your plan
What's it do?
The data health center allows you to compare your CRM or CSV data with the data in Apollo to identify market gaps and uncover your total addressable market. You can then easily take action to update stale data and act on net new people and companies that fit the criteria of your ideal customer profile.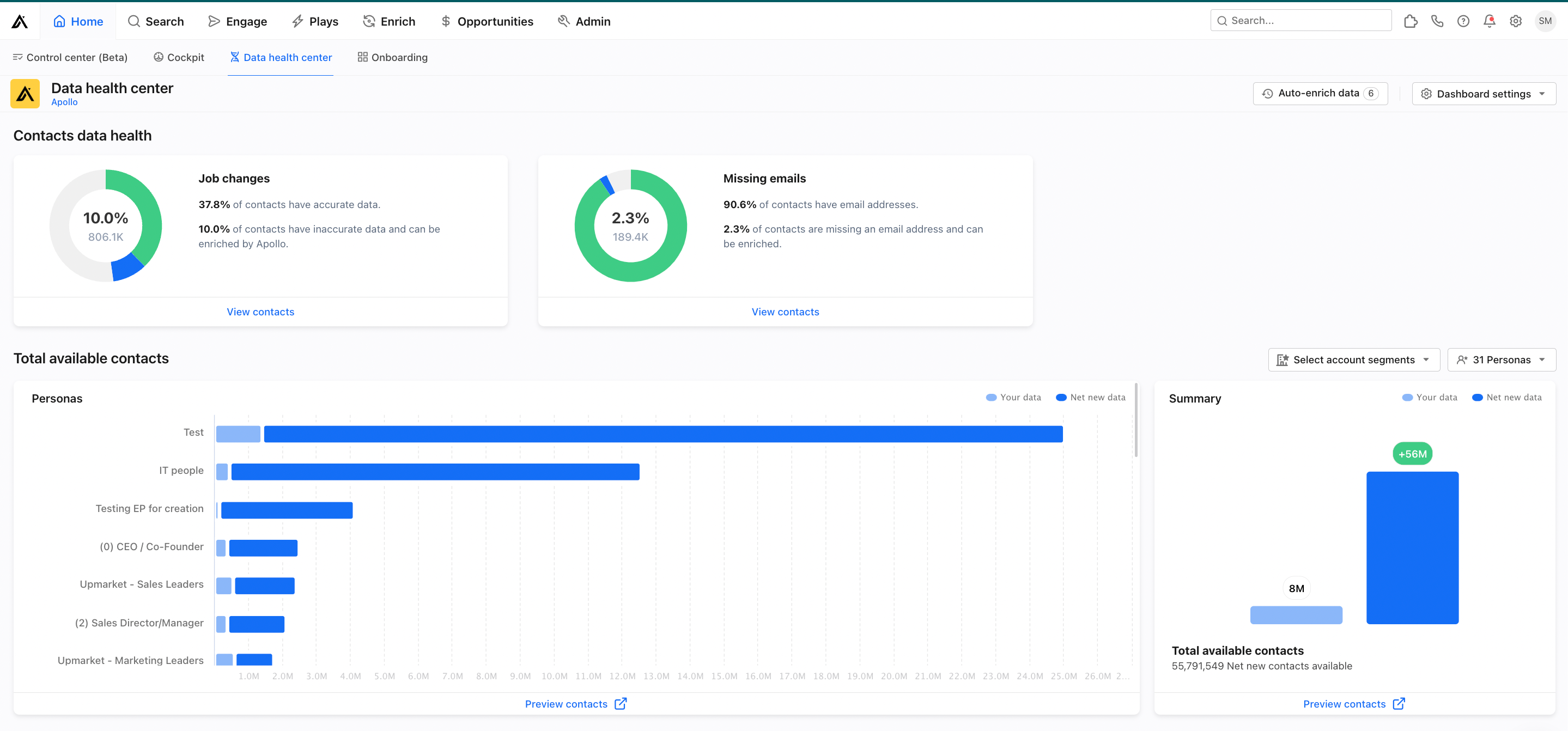 Example use cases
Connect your CRM and run a data health check to ensure your records are up-to-date and accurate
Upload a CSV file and run a comparison to identify and act upon any gaps in your data
Set a weekly or monthly schedule to auto-enrich your data
Create highly targeted personas and account segments to easily pinpoint your ideal contacts and accounts
Save the net new contacts that best fit your ICP and add them to a list
View the contacts that have recently changed jobs and choose which records you update
View the contacts that have missing emails and choose which records to enrich
Where to begin?
Create End-to-End Plays with Ease
Who says playtime has to be exhausting? With our new play template repertoire and UX updates, you can set up automated workflows in no time!
Who's it for?
You are a business owner, sales leader, savvy seller, or demand gen genie
You are looking for the best ways to work smarter and automate prospecting tasks at scale to improve efficiency, book more meetings, and focus on the activities that drive more revenue
You are on a basic, professional, or custom Apollo plan
What's it do?
Access a library of pre-built play templates to get a head start on automating your end-to-end workflows and achieving much more with much less effort.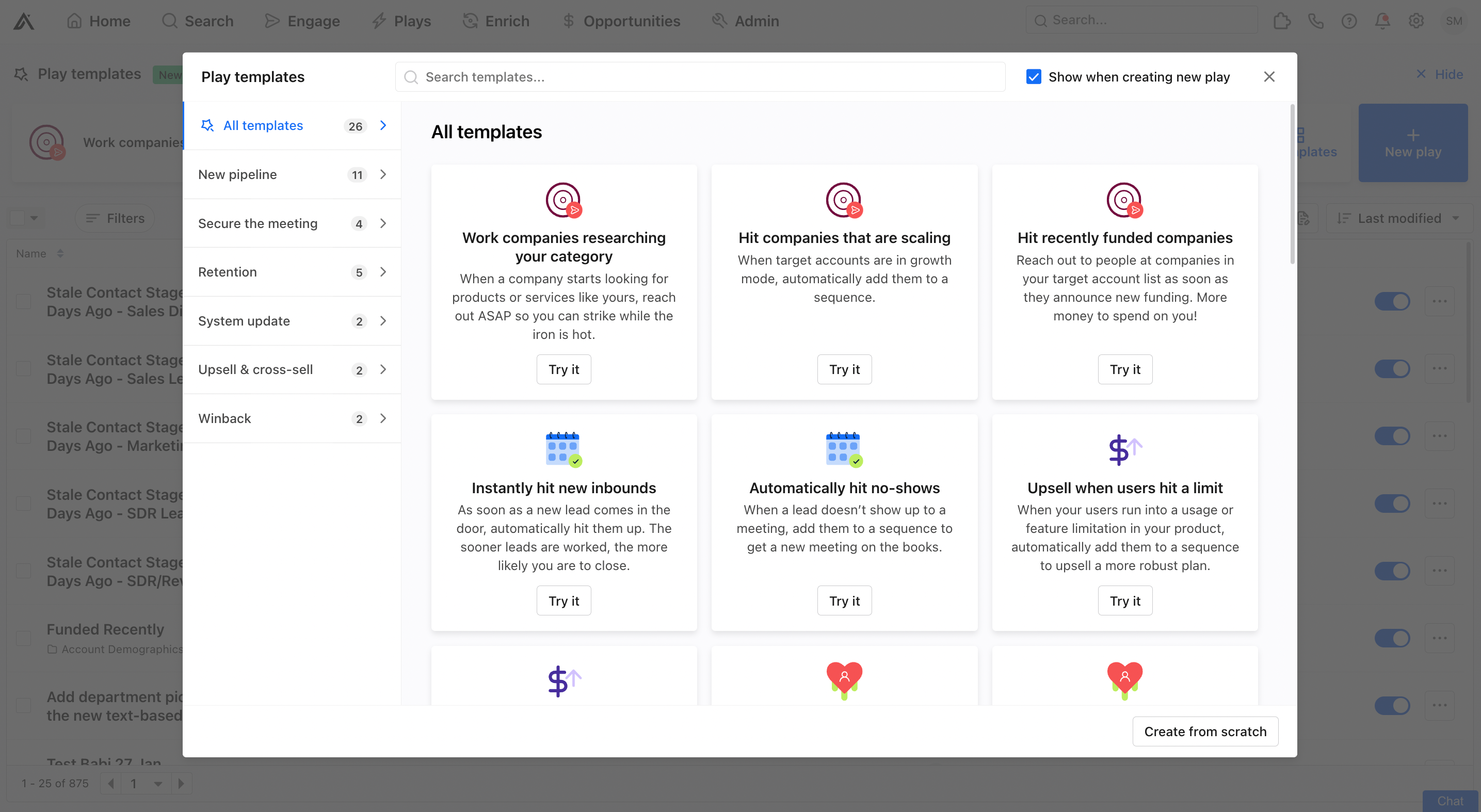 Example use cases
Automatically enroll contacts who have just changed jobs into a sequence
Automatically add accounts that have just raised funding into your "raised funding" list
Automatically create a task to call contacts actively researching online for products or solutions like yours
Automatically create an action item to send a LinkedIn request to any contacts that open your email 3 times
And so many more! Check out the plays feature to view all the pre-built templates available
Where to begin?
Don't Just Play It by Ear!
Use the pre-built play templates to get a head start. For more information about play templates, hop into the Plays Overview article. To start automating your workflow, hop into this section of the "Create a Play" article for the steps to take.
New Features and Product Updates
Keen to hear what else our diligent developers have been working on this sprint? Here's a sneak peek at the latest updates:
View Weekly Stats in the Control Center
Ready to take control and rock the socks off your week? Stay on top of your upcoming activities with the brand-new control center.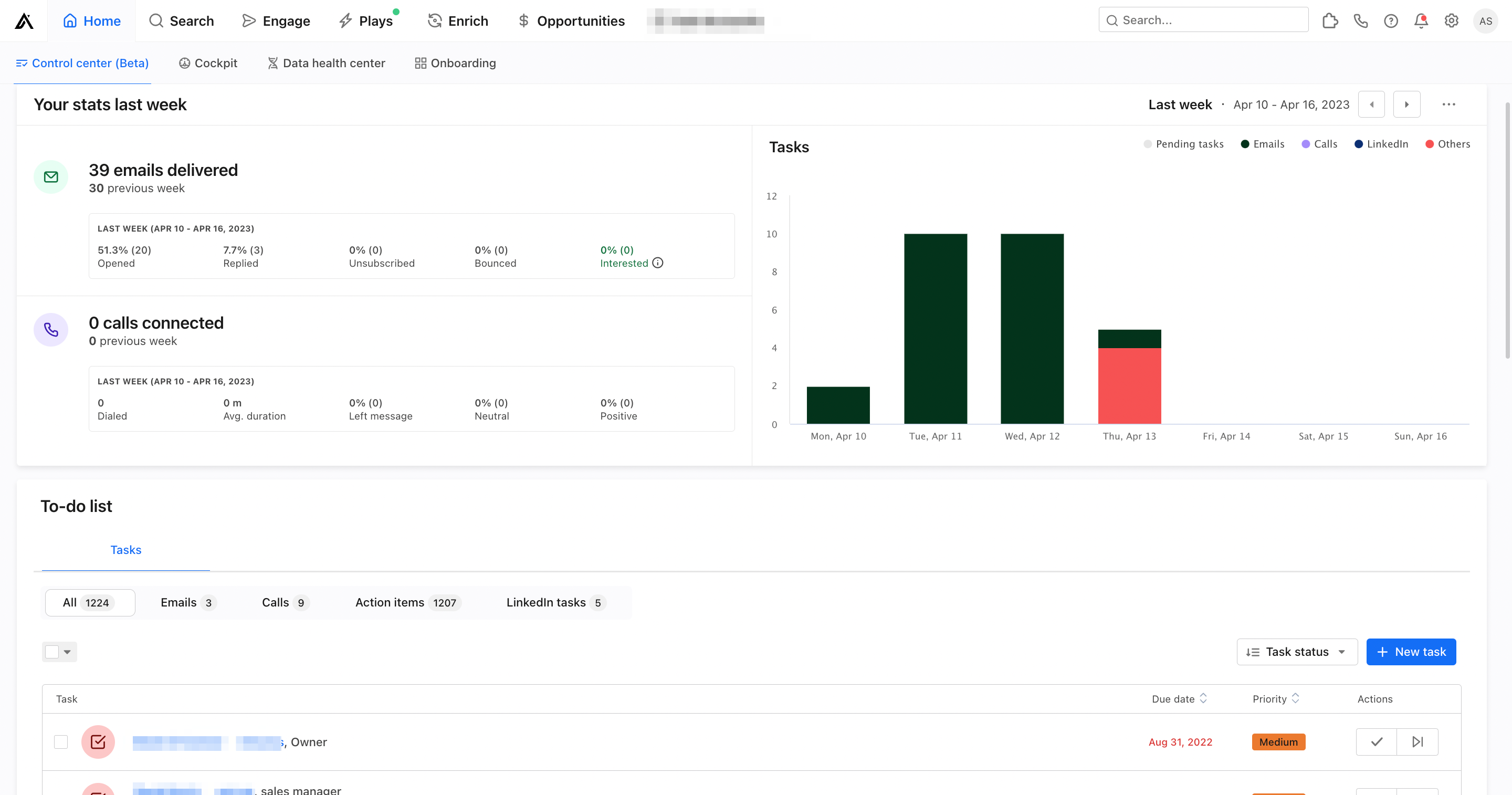 Who's it for?
You use the Apollo engagement suite to connect with your ideal contacts and accounts
You are a seller who wants to track your weekly activities and visualize your to-do list from one place
You are on any Apollo plan—be it custom, professional, basic, or free
What's it do?
The control center provides a holistic view of your upcoming to-do tasks and engagement activity metrics for the previous, current, and upcoming week. Activities include emails sent, calls dialed, action items completed, and pending tasks scheduled.
Example use cases
Track your week's activity metrics and compare them with the previous or upcoming week
Review and complete your upcoming manual tasks from your to-do list
Where to begin?
Your Tasks Take Center Stage
For more information about all things control center, take a peek at the Use the Control Center article.
Improve Your Extension Experience with the Latest Gmail Updates
Do you use the Apollo Chrome Extension in Gmail to access email templates and snippets, automate your follow-up process, and sync your interactions? Then oh my, do we have good news for you because the Apollo Chrome Extension in Gmail just got a makeover!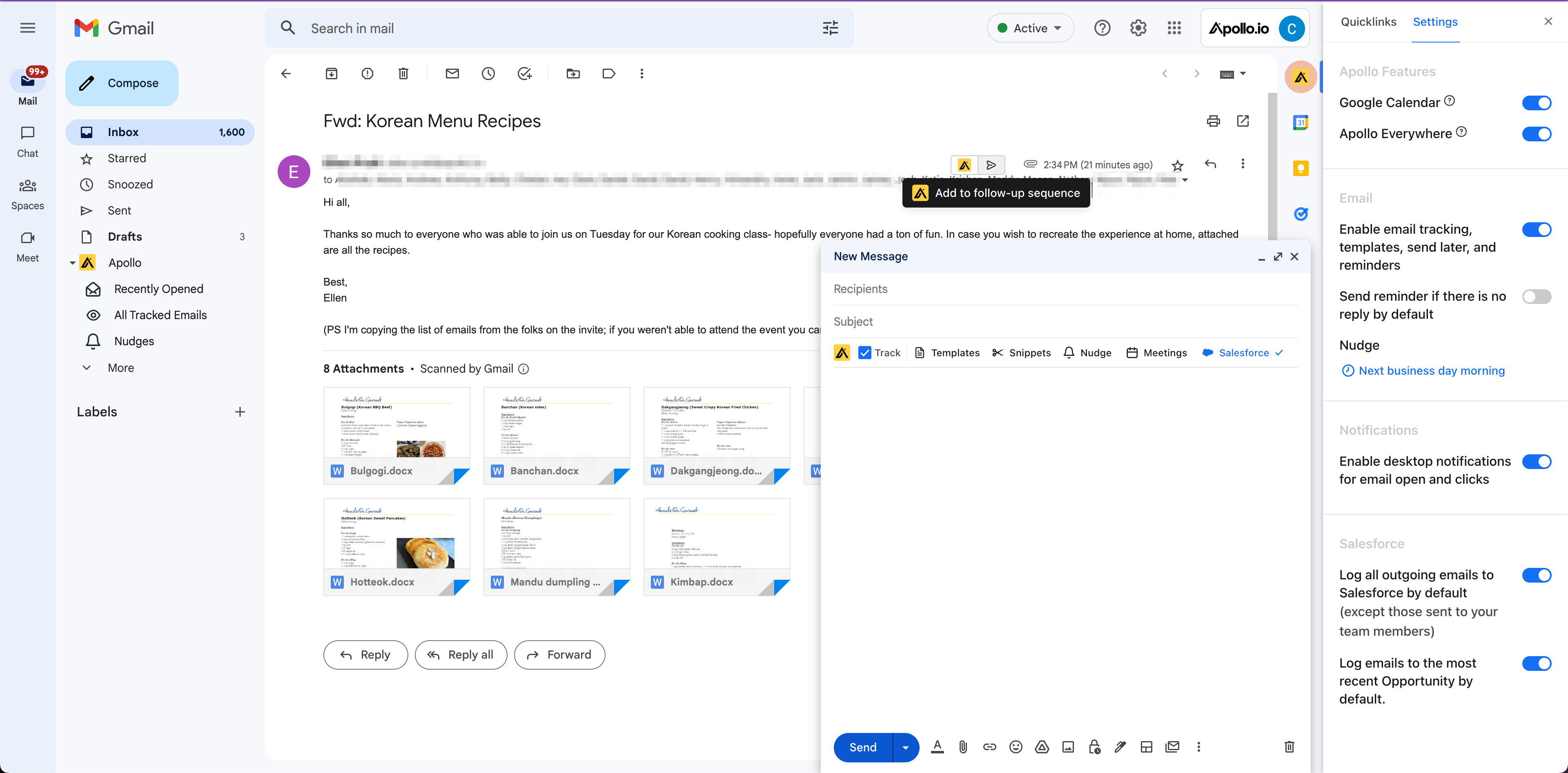 Who's it for?
You use the latest version (V6.1.0) of the Apollo Chrome Extension
You use the Apollo extension in Gmail
You are on any Apollo plan, from custom to free
What's it do?
We've made UX changes to improve the overall experience of the extension in Gmail. From consolidated settings in the extension window to an easy-to-find folder for your tracked emails—we're all about making your workflow between Gmail and Apollo more streamlined and hassle-free.
Example use cases
Track email opens and easily locate all your tracked emails within Gmail
Enroll your email recipients into a sequence directly in Gmail
Easily access and edit your Apollo Chrome Extension settings in one place
Where to begin?
New Seat Management Settings for Your Team
Take a seat and enjoy the Apollo ride! With our new seat management settings, you can streamline how new users join your team in Apollo.

Who's it for?
You are an admin user
You are a new user and you want to find and join your team in Apollo
You have more than 1 user in your Apollo team
You are a sales, revenue, or recruitment leader and want to grow your team with ease
What's it do?
Allow your team members to find and join your team so that you can collaborate in Apollo and grow your sales, marketing, or recruitment efforts at scale.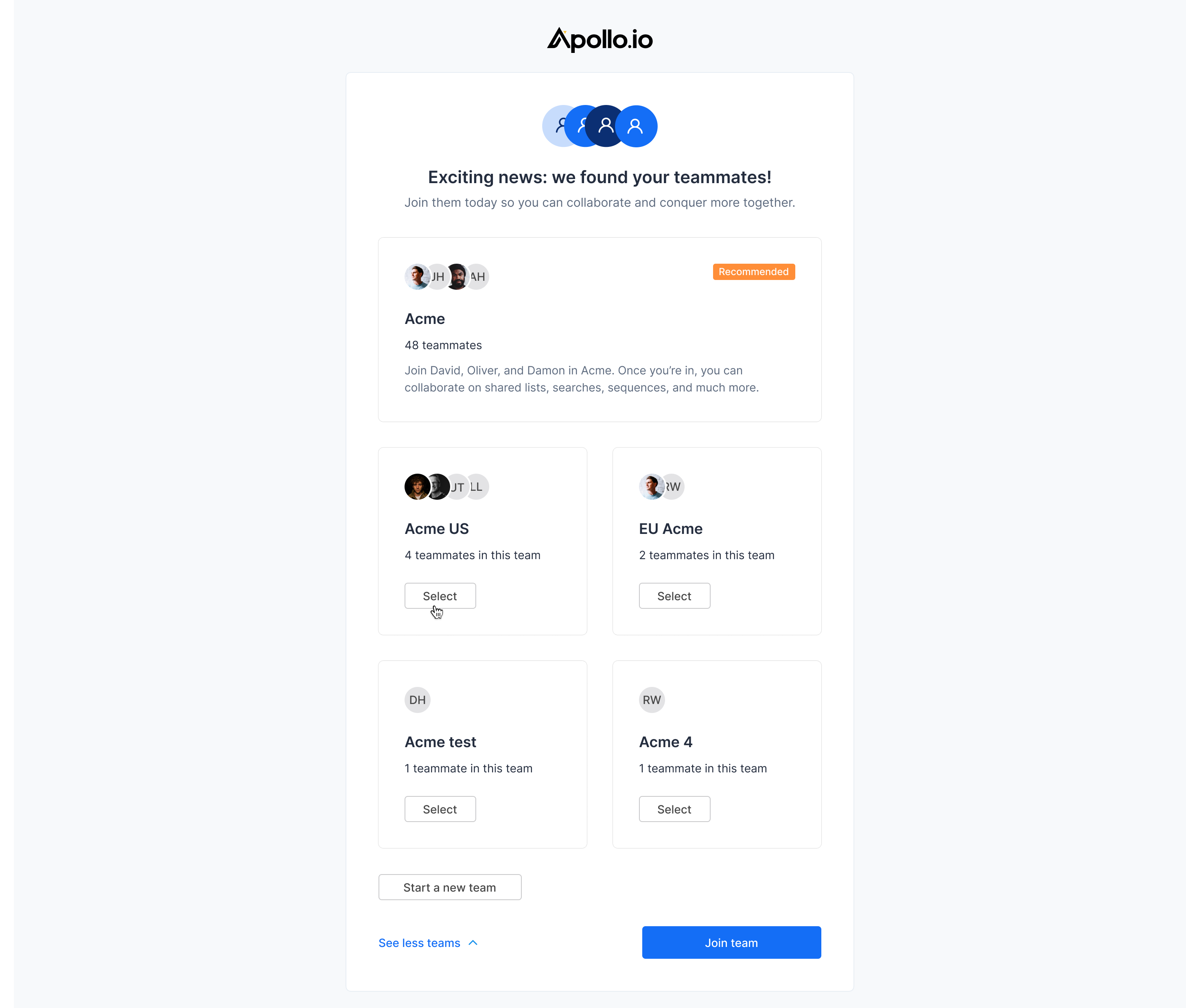 Example use cases
Enable the auto-purchase settings if you want to streamline the approval process and empower anyone in your team to join you in Apollo
Enable the notification setting if you want Apollo to notify you when you don't have available seats for team members who try to join you in Apollo
Where to begin?
Launch Apollo, click Settings, and then click Manage Plan.

Click the License Settings tab.

Scroll to Seat management and enable the radio button of your choice.

Bug Fixes
Developers by day, pest control by night. Here are the latest bugs we've squashed:
Put the Apollo extension in its place for ignoring email push settings in the web app and pushing tracked emails into HubSpot regardless. Now, it toes the line and doesn't dare disobey if push settings are disabled in the web app.
Told the "action type" drop-down in the "Work companies researching your category" template to stop goofing around. Now, it accurately reflects the right action for the play.
Caught the Mailgun integration showing off in the settings and confusing users who don't have access. Taught it to be more humble. Now, it only shows up where it's invited.
Net new contacts were getting left behind when users tried adding them to an Outreach sequence. We updated the flow to save the contacts, push them, and then add them to a sequence—all in one fell swoop. And bingo—they're ready to roll with Outreach again!
New/Updated Documentation
We've been hard at work at our typewriters and stone tablets to bring you knowledge. Feast your eyes on these righteous revisions:
New Videos
Sit back, relax, and enjoy the next best Apollo flicks.
Mastering Email Deliverability: How to Avoid the SPAM Folder
Join Josh Garrison, our Head of Content Marketing, as he walks through some best email deliverability practices to help you avoid that dreaded SPAM folder.
From Our Website
In the mood for a few wise words of Sales and Marketing wisdom? Here's what we've been cooking up: