Overview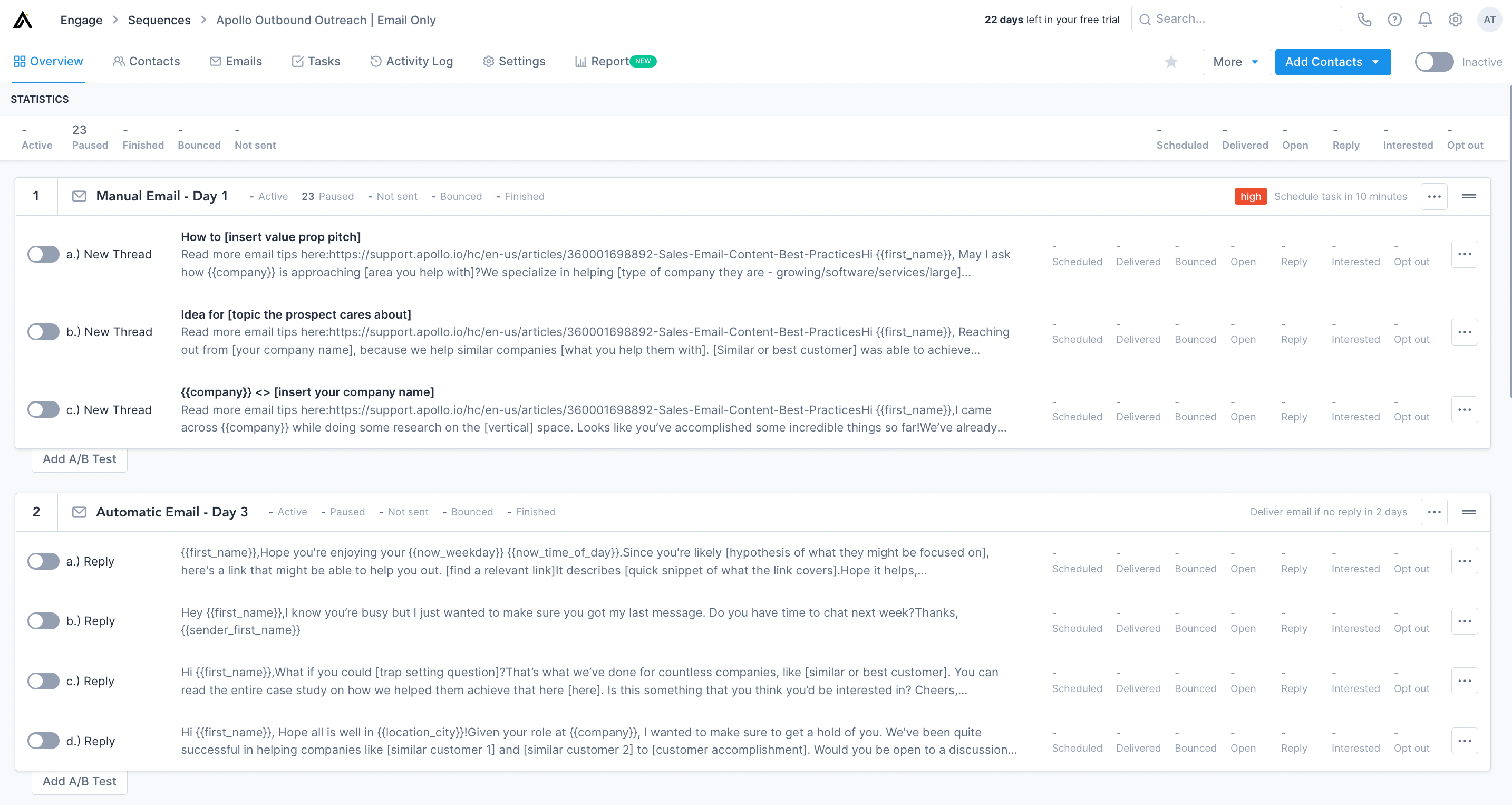 Sequences are outreach campaigns with any number of sequential contact points and tasks that you can customize to personally engage your target audiences at scale. They help your team deliver communications to your customers and complete the right tasks at the right time to speed your prospects through your pipeline and turn them into paying customers as efficiently as possible.
The benefits of Apollo sequences include:
Institutionalized best practices for engaging leads into easy-to-follow guides that automatically add defined tasks to your Apollo dashboards on set schedules, which ensures consistency and accountability for your sales team.
A/B testing for message templates, scripts, and strategies to confirm the best version of any step in your sales process.
Reporting to compare and optimize your approach and help you to confirm the best times for every message you send.
Reports include specific data relative to your messaging, such as how many messages were delivered, opened, replied to, and bounced.
As you use Apollo to hone in on your ideal customer profiles, create sequences to match each type of outbound and/or inbound prospect with automatic and manual messages, LinkedIn engagement, calls, and action items that speak directly to the value propositions they want.
Available Steps in a Sequence
Sequence steps are the individual messages and activities you design for your team to successfully engage with prospects. Sequences are made up of as many steps and with as much time between each step as you choose. There are 8 types of steps to choose from:
Automatic Email: Use any of your Apollo email templates or create new ones to craft personalized and targeted messaging that is delivered based on the parameters you set.
Manual Email: Use to schedule and deliver follow-up emails that you can fully customize for individual prospects.
Phone Call: Add notes, tips, scripts, and any other helpful information with a reminder to call a prospect.
Action Item: A blank canvas to schedule any number of necessary internal communications or processes along the way. Action items include a timeframe, priority, and notes for your team.
LinkedIn: View Profile: Access a contact's LinkedIn profile from within Apollo and document key information that can help you build rapport when engaging with prospects.
LinkedIn: Interact With Post: Review a contact's activities, engage with their recent posts, and give yourself direction with reminders and relevant notes.
LinkedIn: Send a Connection Request: Create connection request templates to make a great first impression.
LinkedIn: Send Message: Send personalized InMail messages using templates and snippets to personalize your approach at scale.
Timing or Spacing Between Steps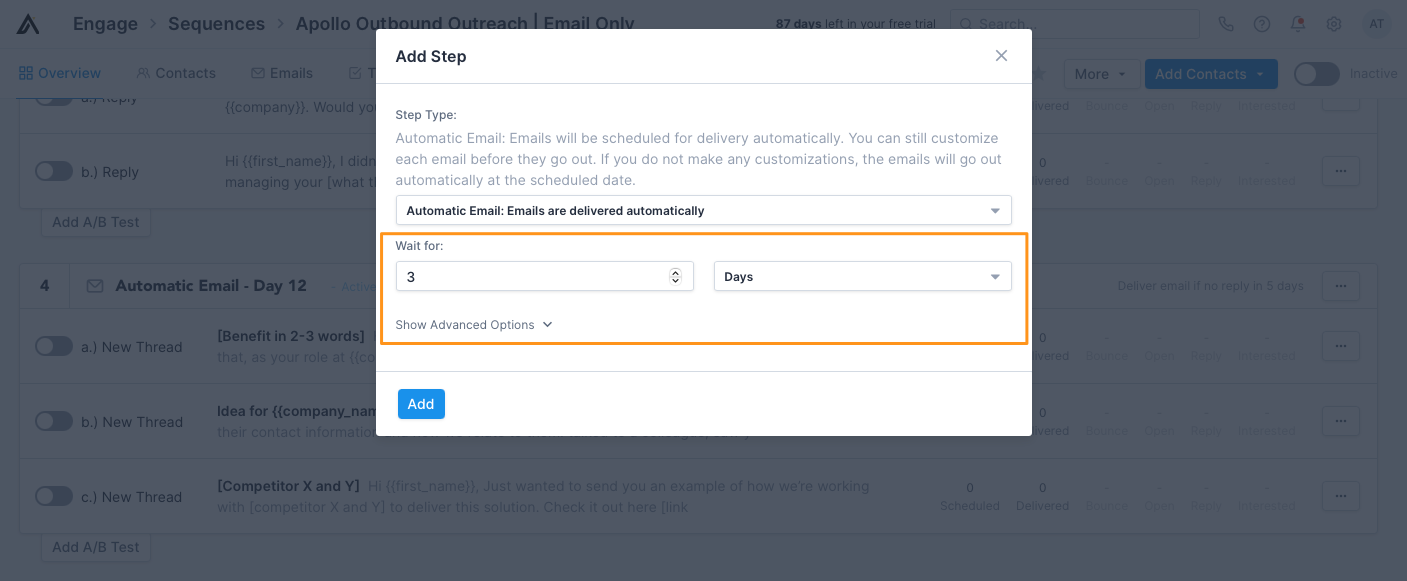 There are 2 factors to determine how much time elapses between sequence steps:
Schedule: The sequence schedule sets the time and the day in which Apollo sends messages to prospects.
"Wait For" time in each step: The "Wait For" time in each step tells Apollo how long to wait in between each step in a sequence.
Find the Sweet Spot!
For more information on how to take advantage of sequence schedules and wait time between steps, please refer to the "Create and Edit Sequence Sending Schedules" article. Please also note, the optimal timing for your target audience will depend on the type of sales strategy you choose. Research your industry, plan your strategy, and then A/B test to find the approach that works best for your ideal customers. For an example use case of how to leverage Apollo sequences, refer to the "Leverage Apollo Email to Increase Your Conversion Rates" article. For general best practices when building an Outbound Sales Process, refer to this Overview article.
Sequence Rulesets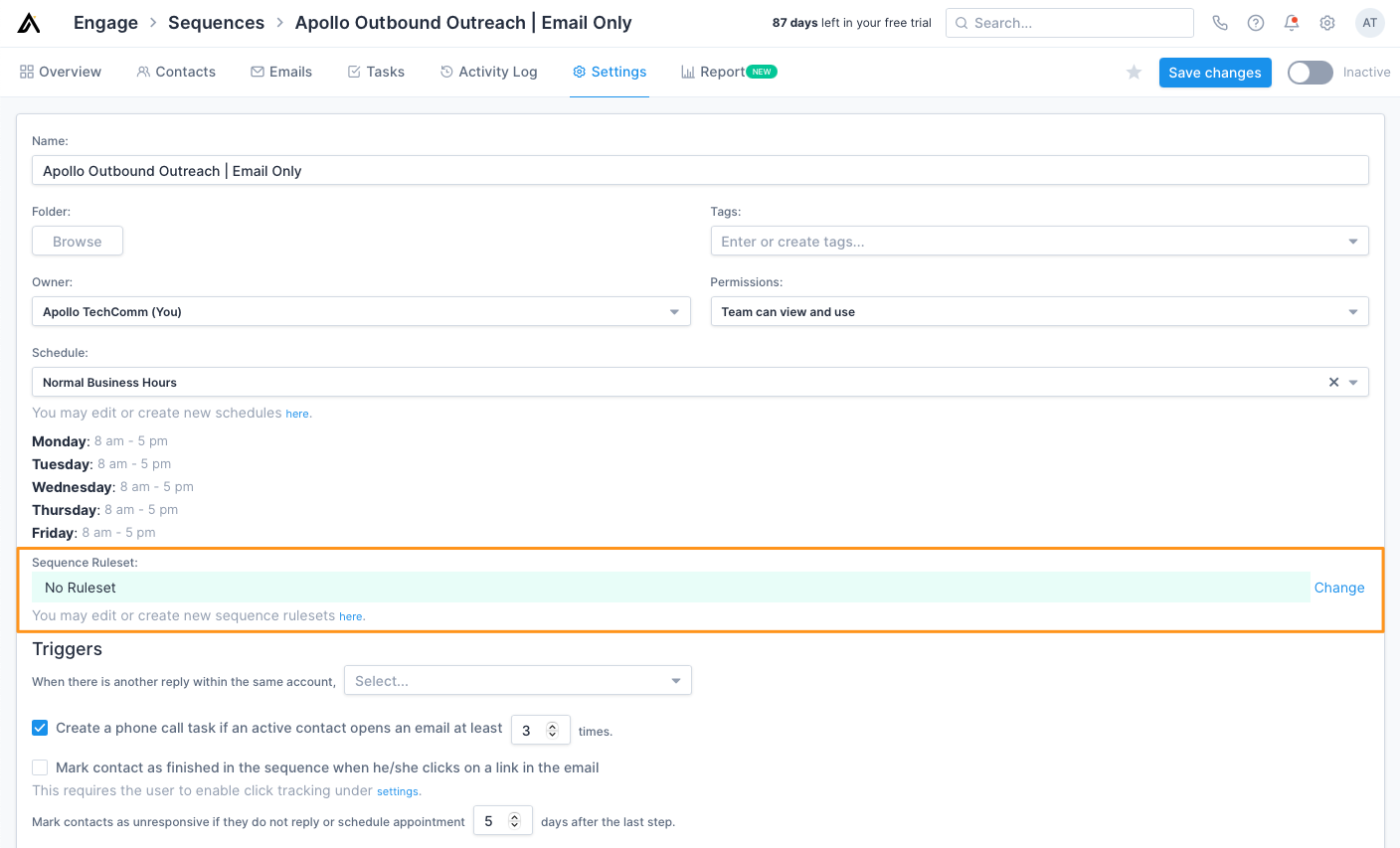 Sequence rulesets allow you to edit default and advanced triggers that automatically update the stage of the contacts and/or the accounts they belong to whenever certain conditions are met as they go through a sequence. For example, a sequence can pause for a certain contact if they confirm their interest. In addition, you can set the maximum amount of emails sent per day, among other settings.
Apollo Technical Support
Sequences give you control over your automated messaging. Please contact Apollo Technical Support if you need assistance.