Overview
One of the most common use cases for the Apollo platform is to enrich customer data in your CRM. Enriching your data allows you to fill in the blanks about what you know about your customers and helps you to find new ways to leverage that information to better engage with them.
CRM Enrichment allows you to update and enrich the existing records in your CRM. Oftentimes, contact and account information is subject to change—companies undergo acquisition or open new offices; people change roles or move to new cities. CRM Enrichment allows you to more readily capture those changes and keep the data in your CRM and the data in Apollo in sync.
To automatically keep track of changes and stay up-to-date with the latest Contact and Account information, use the CRM Enrichment feature in Apollo.
CRM Compatibility
Please note, full functionality of CRM Enrichment is currently available for Salesforce and HubSpot.
Refer to the sections below for a sample workflow that takes you through the process of setting up your CRM and then leveraging Apollo CRM Enrichment to fill in the gaps in your data.
Sample Workflow
The steps below outline a general workflow that you can follow when you set up and use Apollo Enrichment for your account. This workflow provides some best practices, but feel free to alter this process to best fit your individual needs.
Connect/Integrate Your CRM With Apollo
To begin, you need to integrate your CRM with the Apollo platform.
Use the links below for the CRM that you want to integrate and configure with Apollo.
Salesforce
Integration
Credentials
HubSpot
Integration
Wait for the Data to Sync and Map Fields
After you connect a CRM to Apollo, you should wait at least 1-2 hours for your data to fully sync with the Apollo database. You should avoid prospecting any people in Apollo who are actively synced between the two systems during this initial waiting period.
In the meantime, you should verify that your CRM is configured properly and update any field mappings. Refer to the documentation links below to properly configure your CRM. You may also want to learn some more about the way that bi-directional data sync works.
Salesforce
Configuration
HubSpot
Configuration
Begin CRM Enrichment
After you've waited for Apollo and your CRM to fully sync with each other, you can begin to enrich your data.
Enable Autofill and Auto Overwrite
Please note, in order to run CRM Enrichment automatically, you need to first enable the Auto Overwrite and Autofill options. This is available on the "Default Fields" tab for Contacts here and on the "Default Fields" tab for Accounts here. You need to click the Auto Overwrite and Autofill checkbox for every field that you want to enrich in Salesforce.
When you enable Autofill for a Salesforce field, Apollo only enriches the fields with Apollo data where there isn't already a value in Salesforce.
When you enable Auto Overwrite for a Saleforce field, Apollo will enrich the field with Apollo data whenever new information is available.
Due to infrastructure limitations, both settings only run whenever Apollo pulls an update from Salesforce.
Before you begin to enrich your CRM data, you may want to learn a bit more about how Apollo CRM Enrichment works. Once you understand how the feature works, it's time to use it.
When you're ready to begin enriching your data, follow the steps outlined in the "Improve Your Data With CRM Enrichment" article. Keep in mind, it can take up to 24 hours to fully enrich your CRM data.
Review CRM Enrichment Data
After 24 hours, review the new data that Apollo has pushed to your CRM. To do that, launch Apollo and click Enrich.
Click View Records in the CRM Enrichment section.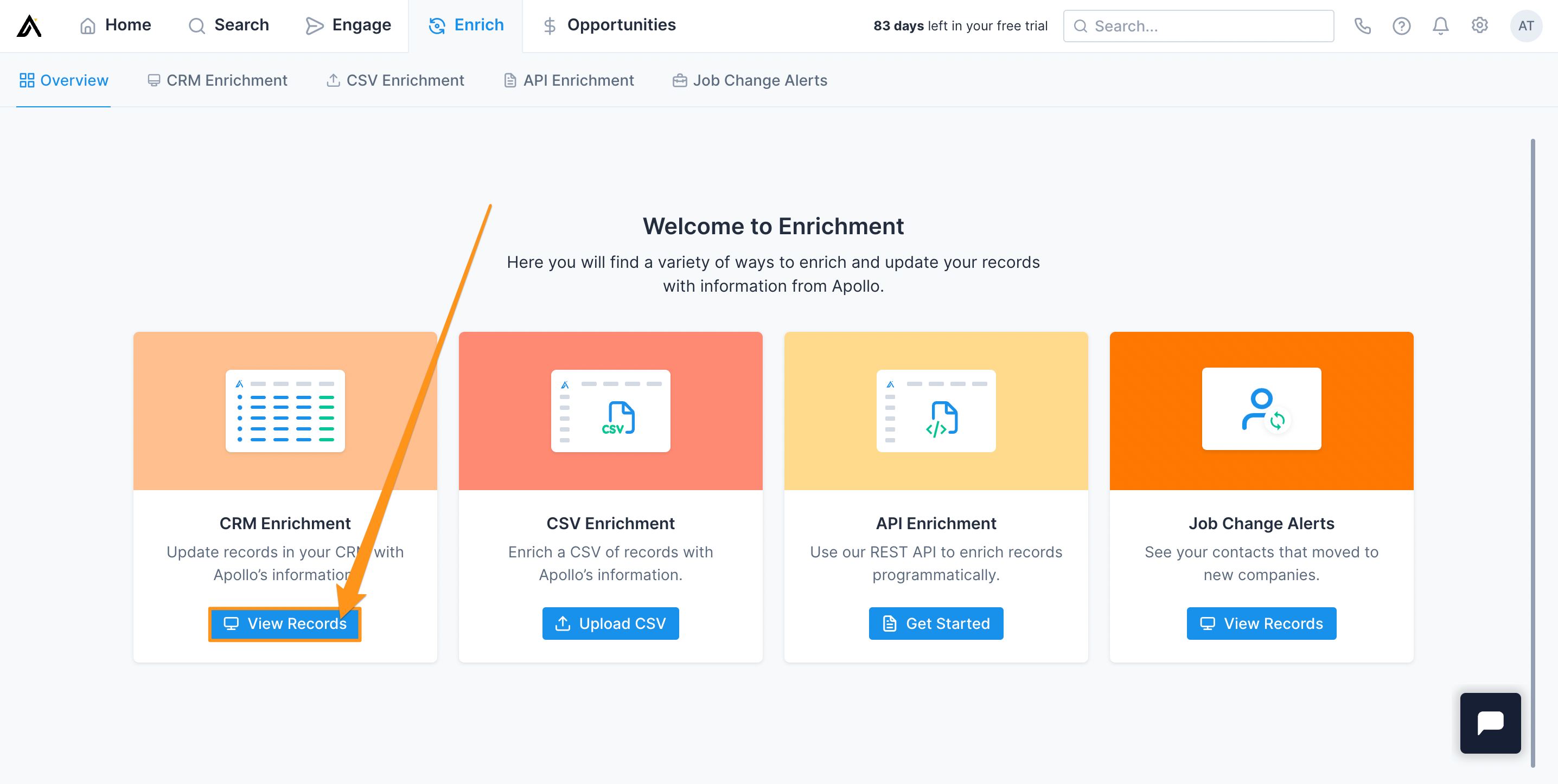 Click the "History" tab.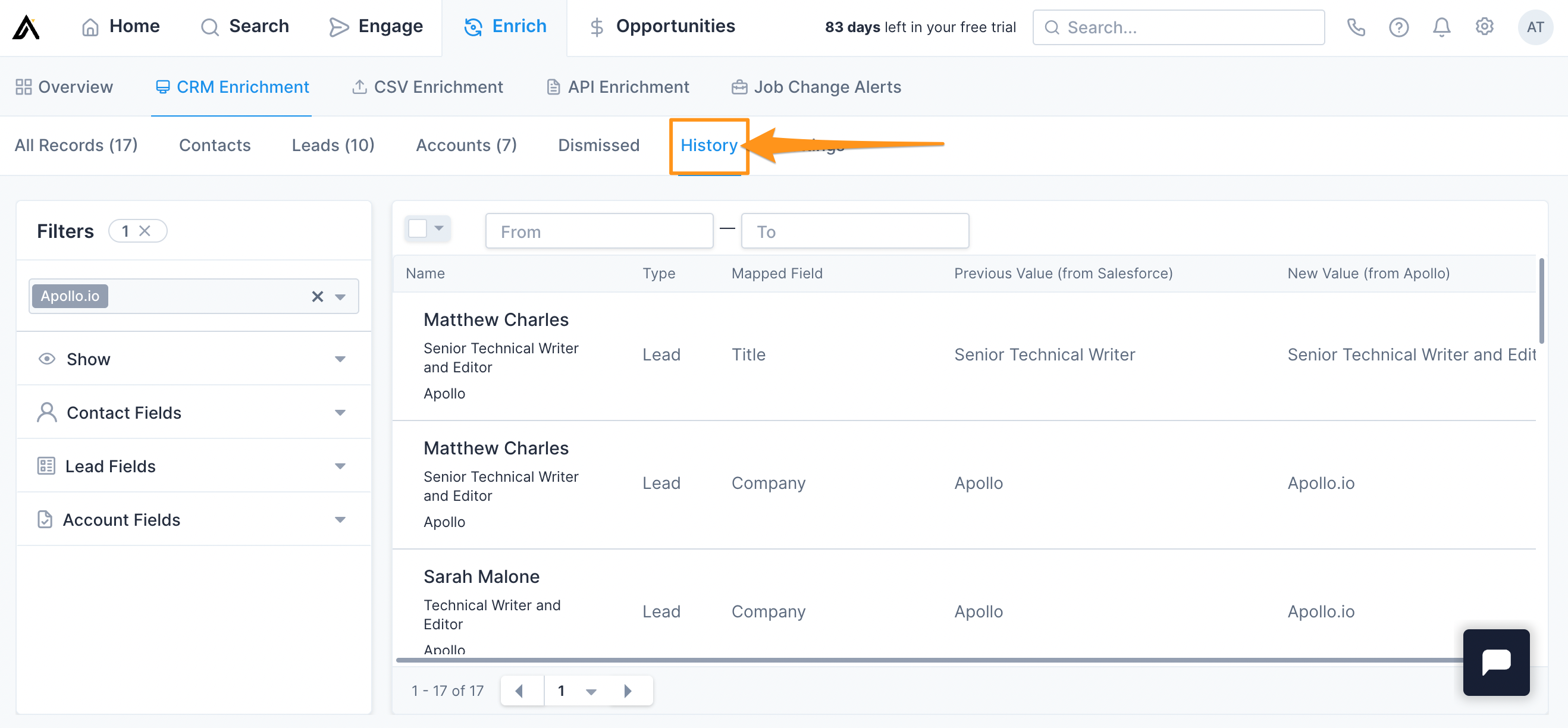 Use the filters along the left-hand side of the screen to refine which enriched records Apollo displays.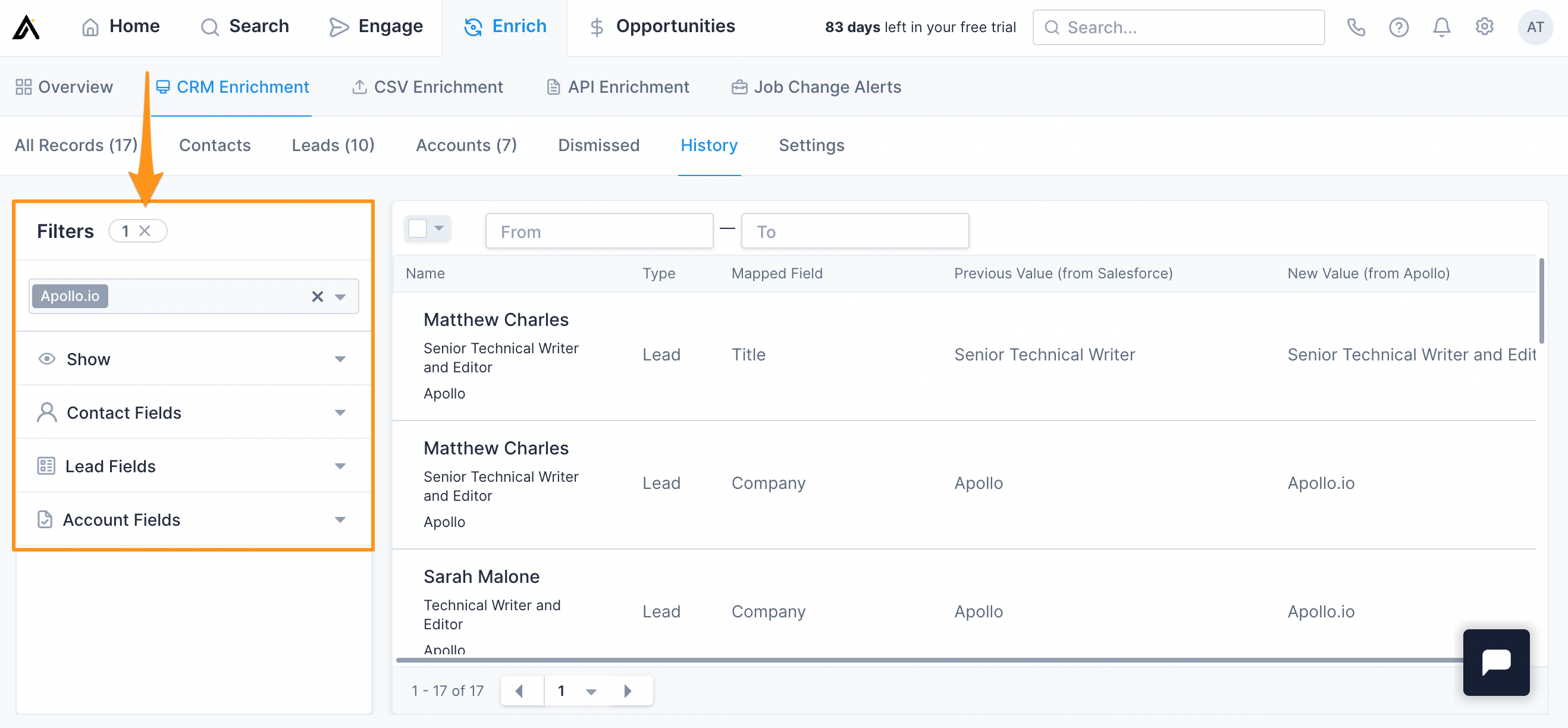 Review the enrichment changes that Apollo made to your CRM data. Each line represents a single change made to a record.