Watch the Video
Overview
Buying intent helps you engage with the right prospects from the right companies at the right time. With timely insights into the online intent-to-buy behaviors of your ideal customer profiles, buying intent allows you to easily identify the solutions and products that your target markets are actively researching online.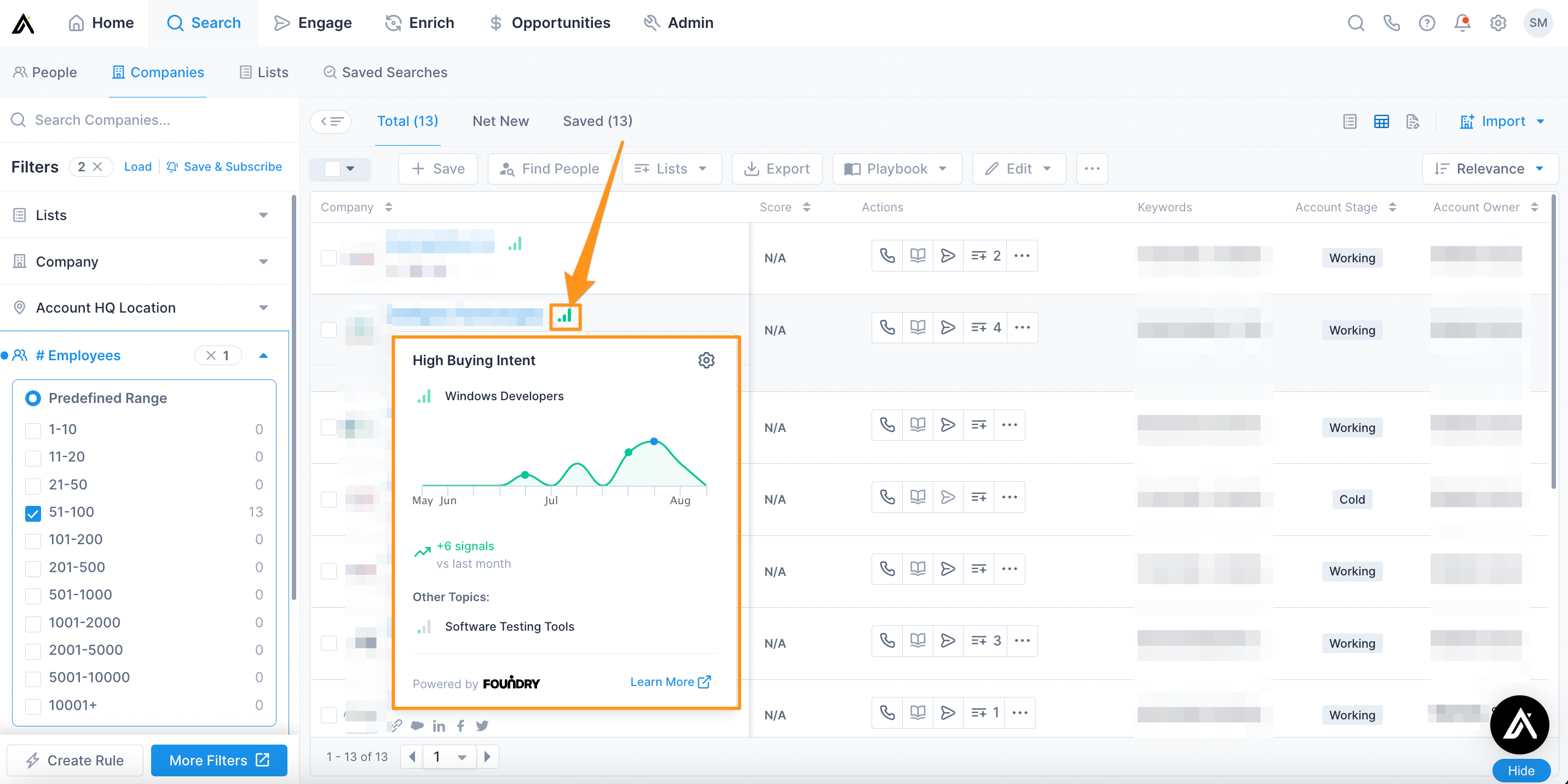 Once you have identified your ideal customer profiles in Apollo, you can use buying intent to visualize key online behavior, filter by the ideal companies with the highest intent scores for your selected topics, and prioritize your pipeline accordingly.
Professional and Custom Only
Please note, you can only filter by intent topics, intent score or time range if you are on a Professional or Custom plan. If you are interested in accessing this filter in your day-to-day workflow, please contact the Apollo Sales Team to discuss your options.
There are numerous benefits of leveraging buying intent within Apollo, including:
Pin-point which companies to reach out to, right when they need your solution the most
Prioritize key accounts with the highest buying intent
Tailor your approach to address the specific pain points of ready-to-buy companies
Refer to the sections below to find out more about how Apollo calculates and sources buying intent and the different intent topics available with Apollo.
Intent Signals
Apollo partners with the intent data provider, LeadSift (a Foundry company). LeadSift collects intent data through multiple sources, merging signals from the public web, social networks, events, job postings, technology installs, and more. Intent signals are collected by crawling the public web sources for buying behaviors and are 98% accurate with no guesswork involved.
Tell Me More!
For more information about how LeadSift source buying intent data, refer to the Buying Intent Sources section below.
When you leverage buying intent in Apollo you can harness a much wider network of contacts within your qualified companies. This means that you can focus your sales efforts on reaching the right accounts at the right time.
To do so, you must first select the different keywords and competitors that you are targeting. Apollo refers to these as intent topics. When a company actively searches for one of your selected intent topics, this triggers an intent signal. Apollo captures and updates intent signals weekly. Based on the frequency, trend, and recency that these intent signals fire, Apollo calculates an intent score.
Intent Score
Apollo uses the intent score to calculate the strength of a company's buying intent. Apollo's proprietary algorithm calculates intent score based on 3 components:
Frequency: How often is a company searching for a particular topic with intent? For example, a company triggers 3 signals within the last 3 months.
Trend: Has there been an upward or downward trend in the search for a particular intent topic over the last 30 days in comparison to the previous 30 days?
Recency: When was the last time a company searched for the intent topic? For example, 1 week ago, 1 month ago, 3 months ago, etc.
Apollo considers each of these components when giving the company a score. Apollo then groups them into 1 of 3 categories—high, medium, or low intent.
High: A company triggers at least 4 intent signals in the last 90 days or demonstrates an upward trend with at least 2 intent signals in the last week.
Medium: A company triggers at least 2 intent signals in the last 90 days and at least 1 intent signal in the last two weeks.
Low: A company triggers at least 1 intent signal in the last 90 days.
The higher a company's overall intent score, the more likely your ideal contacts within the company will engage and convert into paying customers.
Intent Topics
Intent topics are products and services that prospects actively research online, on social media, company websites, job boards, news sites, and other sources. It can be a keyword or even competitor names.
In Apollo, you can choose from over 1,600 intent topics within 110 broader categories such as 3D software, sales, financial services, or IT consulting, to name a few.
Spoilt for Choice with a Custom Plan
Please note, if you are on a Free plan, Apollo allows you to select 1 of these intent topics at no extra cost to your plan. If you are on a Basic plan, you can select up to 6 intent topics at no extra cost. If you are on a Pro plan, you can select up to 6 intent topics and can filter by intent topics, intent score, and time range. If you are on a Custom plan, the world is your oyster! Chat with the Apollo Sales Team to unlock the number of intent topics you need to succeed and use all intent filters to your heart's content!
You can find powerful granularity when searching at the intent topic level in Apollo. This means that you can apply the specific intent topic(s) that best fit your market, even if it is very niche. For example, if you are in the development tools industry you could apply something very granular to your search such as "artificial neural network software," "cookie and website tracker scanning software," or "augmented reality SDK software," to name just a few of your available options.
Close Match
Please note, each intent topic is not an exact match. Apollo's buying intent partner, LeadSift (a Foundry company) has manually put together a taxonomy where each intent topic is aggregated and consists of up to 25 companies and 25 keywords.
Ready to start leveraging buying intent? Refer to the steps in this article to select your topic(s), access key buying intent data insights when using the Apollo Search tool, and if you have a Professional or Custom Apollo plan, filter by intent score, intent topics, and time range too.
Buying Intent Sources
Apollo's partner, LeadSift (a Foundry company), is an industry-leading buying intent provider. LeadSift sources buying intent in several ways, including crawling millions of public web documents for buying behaviors and sourcing research-based intent from publisher sites to identify when buyers actively research relevant topics. Web documents are public sources such as social media sites, blogs, forums, research sites, and hiring boards, to name a few.
Got GDPR on the Mind?
If you are wondering about how to stay GDPR compliant, fear not! LeadSift (a Foundry company), only provides information on accounts that have shown intent to buy. This means LeadSift buying intent falls under legitimate interest and is GDPR compliant. Cue sigh of relief!
Refer to the table below for more specific examples of the typical behaviors for which LeadSift crawls web documents.
| Example Behaviors | Description |
| --- | --- |
| Engagement with industry topics | When a qualified company repeatedly searches the web for the topics most related to your industry and solutions or services. |
| Engagement with custom keywords | When a qualified company searches online for the specific keywords that directly relate to your industry and product or services. |
| Engagement with industry competitors | When the contacts within one of your target companies are actively researching or consuming your main competitors' content. |
| Hiring Plans | When a qualified company is actively hiring for multiple roles that demonstrate growth and potential collaboration or that are most relevant to your company's products, service offerings, or target decision-makers. |
| Installation of relevant technologies | When the contacts within a qualified company install specific software with which you integrate, for which you provide support or solutions, or to which your products or services are connected. |
| Event attendance | When contacts within a target company confirm their attendance at key industry events that demonstrate awareness or interest in your type of solutions or services, or that provide potential networking opportunities that you can leverage as compelling conversation starters. |
| Important Company Milestones | When a qualified company mentions relevant company news or topics in their press releases, SEC filings, or other important locations that demonstrate their need for your type of solutions or services. |
| Recent Funding | When a qualified company in your target market has recently received new funding that could lead to a spike in their search for and investment in new systems, solutions, services, or processes to help them better manage their upcoming growth. |
What's Next?
Ready to buckle up and enjoy the buying intent ride? To get started with buying intent in Apollo, refer to the Use Buying Intent in Apollo article. For more information about how to use the Apollo Engagement tool to start contacting those high-intent prospects, refer to the "Plan Your Outreach Campaign (Sequence)" section of this article.