Set Up Meetings in Apollo
Overview
Leverage Apollo Meetings to remain in control of your schedule while empowering your prospects to proactively book time on your calendar.
Refer to the follow sections for the steps to take to connect your calendar and then configure your default meeting settings.
Connect Your Calendar
Calendar Compatibility
Meetings is currently only compatible with Google Calendar and Microsoft Outlook. If you want to leverage meetings in your sales engagement workflow, you need to connect either an Outlook or Google Calendar account with Apollo.
To connect your calendar and enable meetings to be booked by prospects:
Launch Apollo, click Engage, and then click Meetings.

Click Connect your calendar.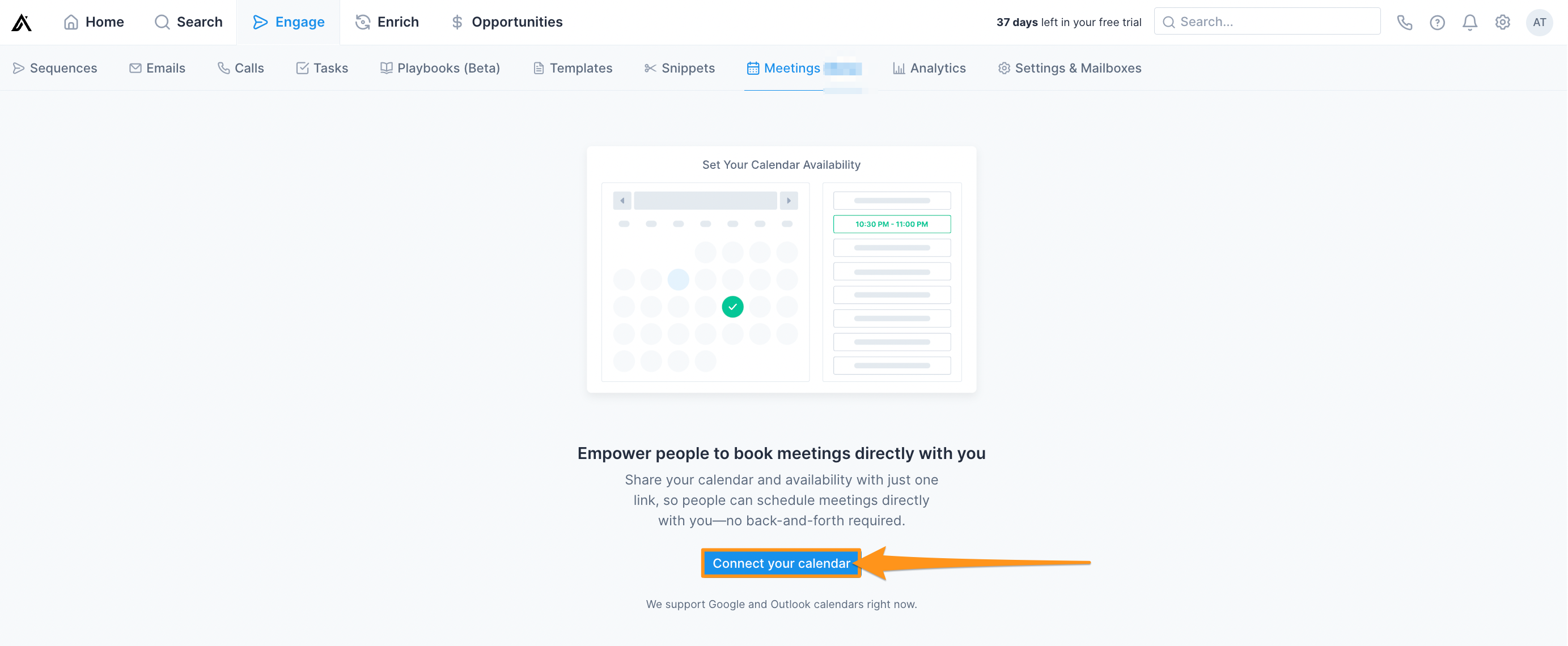 Apollo populates the field in the Link Your Calendar pop-up with your default email address. To connect using a different email, type in the email address. Then, click Link.

This Town Ain't Big Enough for 2 Calendars!
You can only connect one calendar per user, so choose your calendar wisely!
You have now connected your calendar. Click OK in the pop-up that Apollo displays to continue with the set-up process.

Set Your Meeting Preferences
With your calendar connected, you are ready to configure your default meeting settings.
Apollo displays your personal meeting link in the Set Up Your Meeting Preferences screen that appears after you connect your calendar. Share this link with your future guests so that they can schedule time on your calendar.
If you want to personalize the link, click the Your Personal Apollo Meetings Link bar and edit the text according to your preference.

Click the Copy Link icon to copy your meetings link.

Then, scroll to Set Your Availability For Meetings. Apollo automatically adds your default timezone. If you want to change it, click the Current Timezone drop-down and select the timezone of your choice.

By default, Apollo sets your availability to Monday-Friday from 9am to 5pm. To change your availability, click the checkboxes next to the days you want to appear available to prospects. Then, set your available time slots using the drop-down options on the right of each day.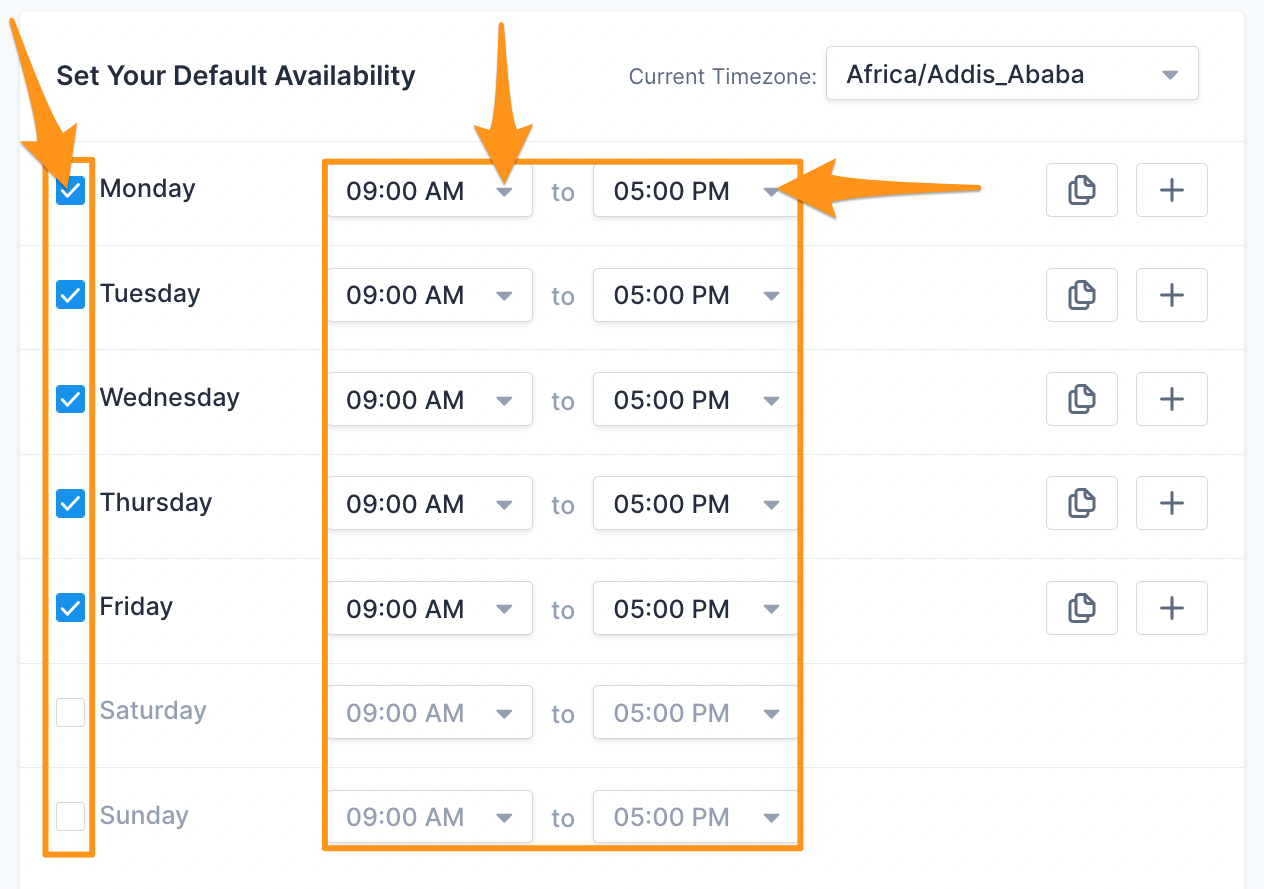 You can also add more than one time slot per day. This is useful if you want to factor in breaks or set time aside to focus on other projects or tasks throughout the day.
To add extra time slots, click the + icon on the right and then use the additional drop-down boxes to configure your availability on a given day.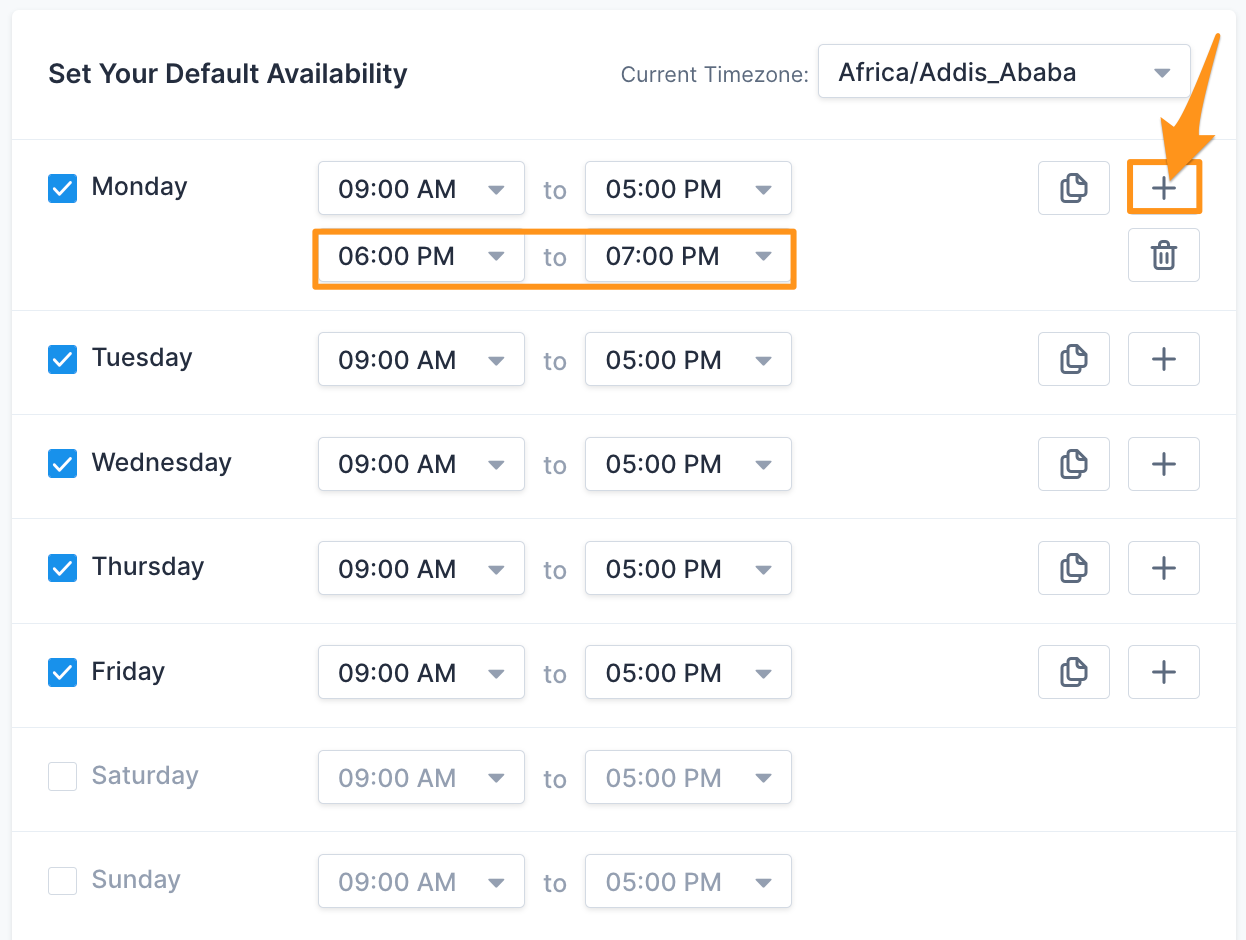 If you want to replicate your availability for other days of the week, click the Copy icon. Then, click the checkbox next to the days you want to enable the same open time slots.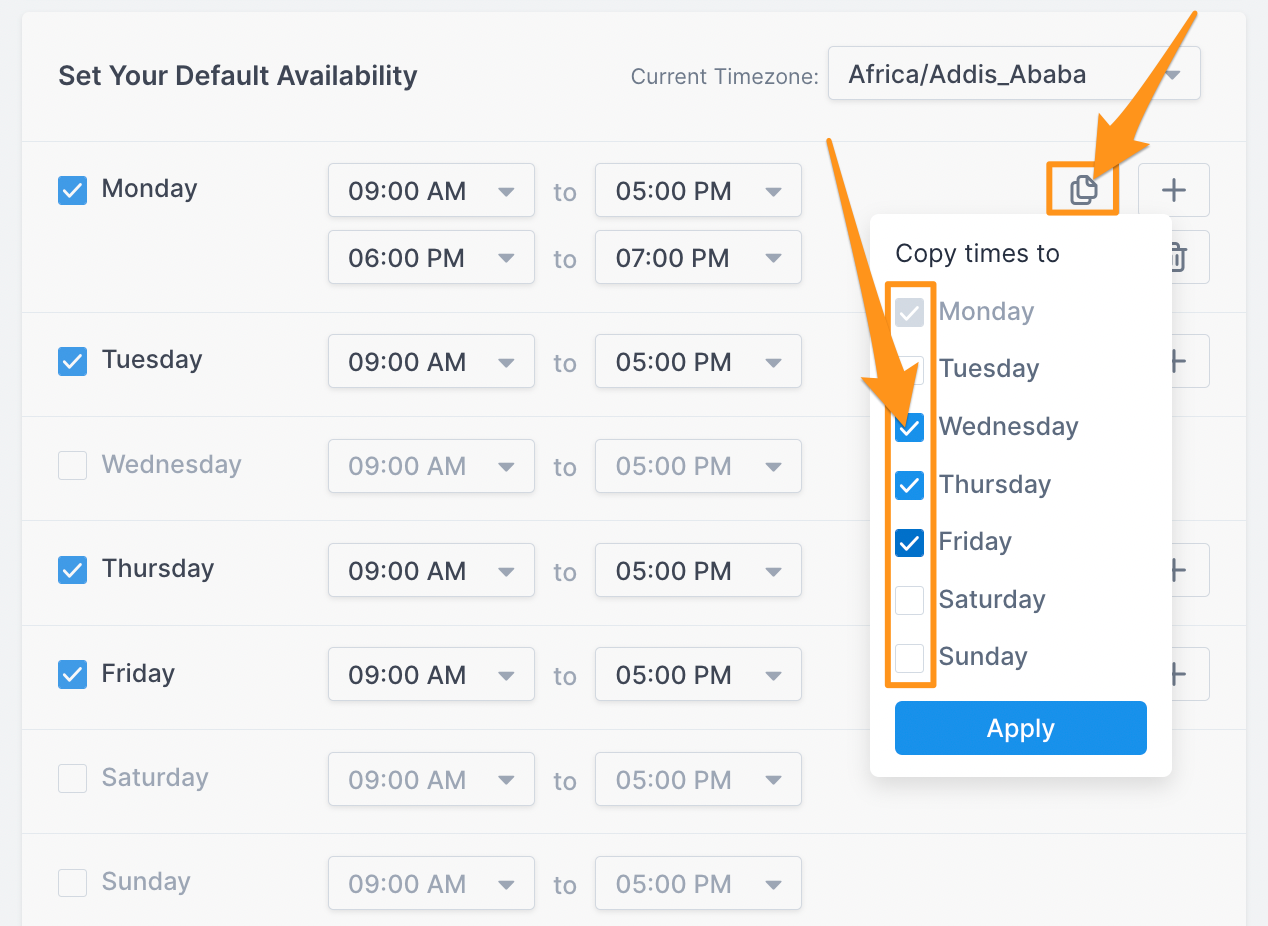 Click Apply.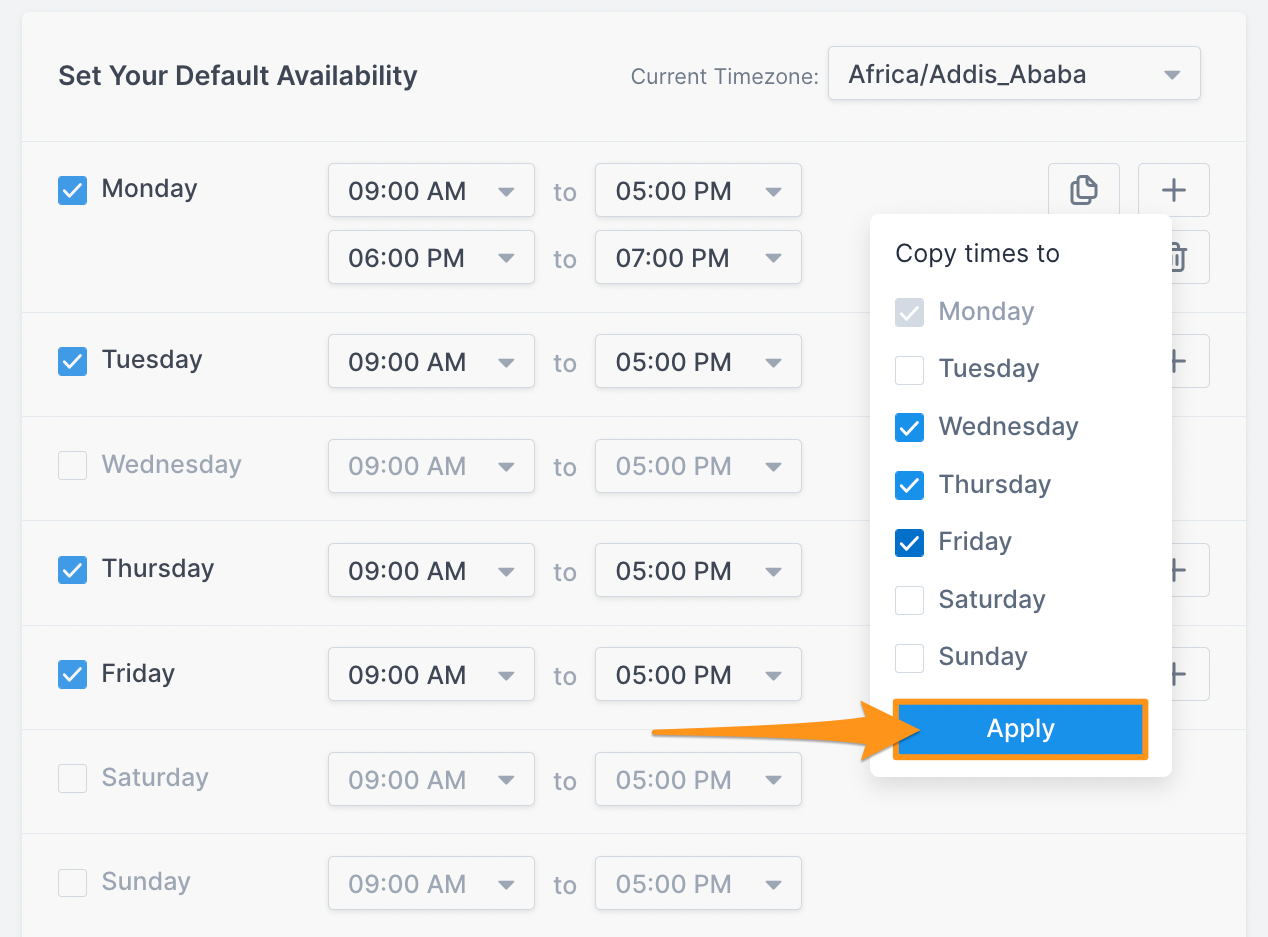 Click the trash can icon to delete an additional time slot.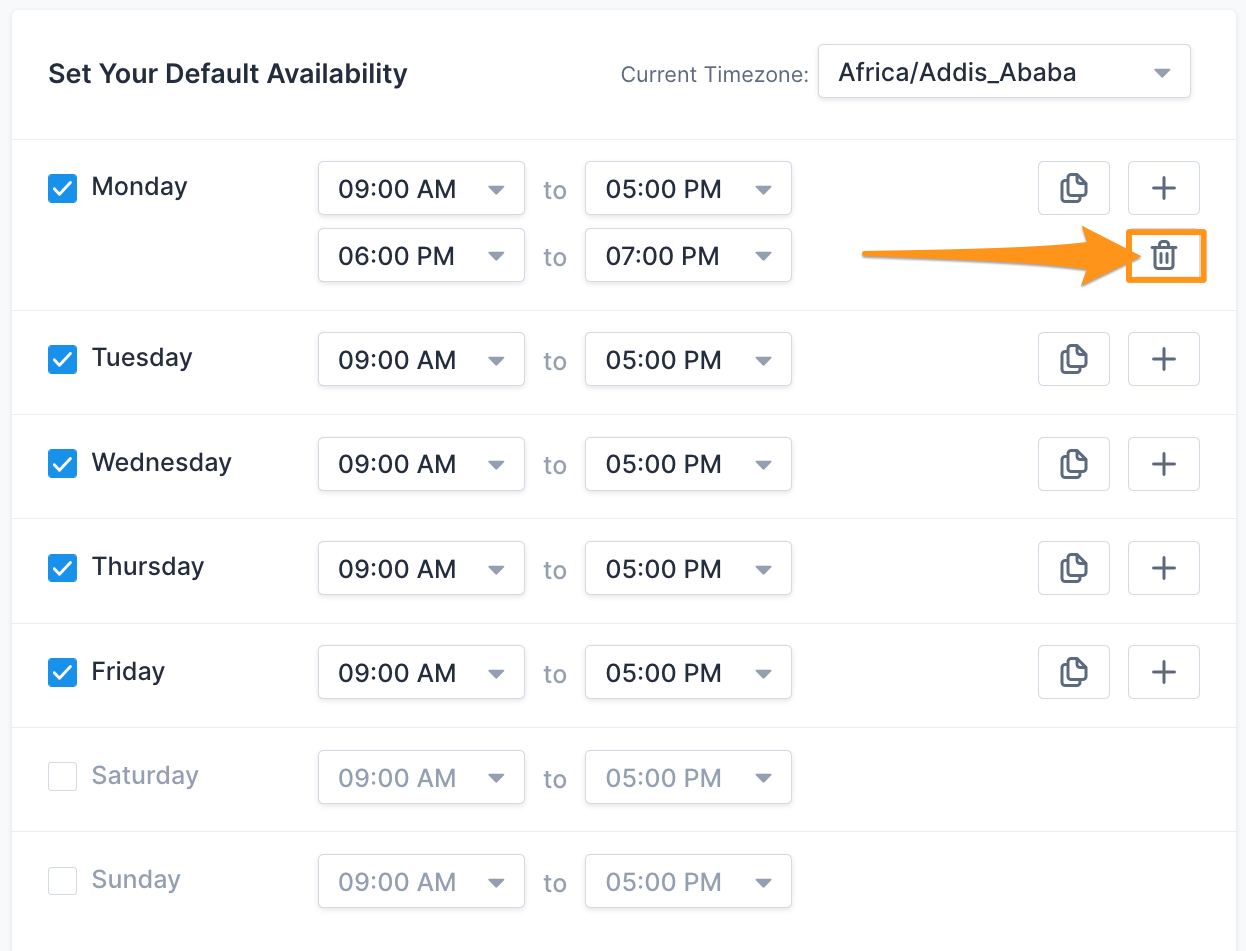 To give yourself time between events, click the Before and After checkboxes. Then, use the drop-down fields to select the time you want to leave before and after each meeting.

Set a minimum schedule notice to prevent prospects from scheduling last-minute meetings with you. Use this option to set the minimum amount of time that you need between a prospect scheduling a meeting and the meeting taking place. For example, if you set the minimum schedule notice at 1 day, prospects can only schedule a meeting with you that is at least 1 day from the current time.

Click the Meeting Location drop-down to set a default location. Apollo supports Google Meet and Zoom natively. To use a different video conference solution, click the Custom meeting link field and paste the link to your meeting room.

Then, click Continue to complete the set-up process.

You have now configured the default settings for your meetings. You can access and edit the settings from the Settings tab at any time.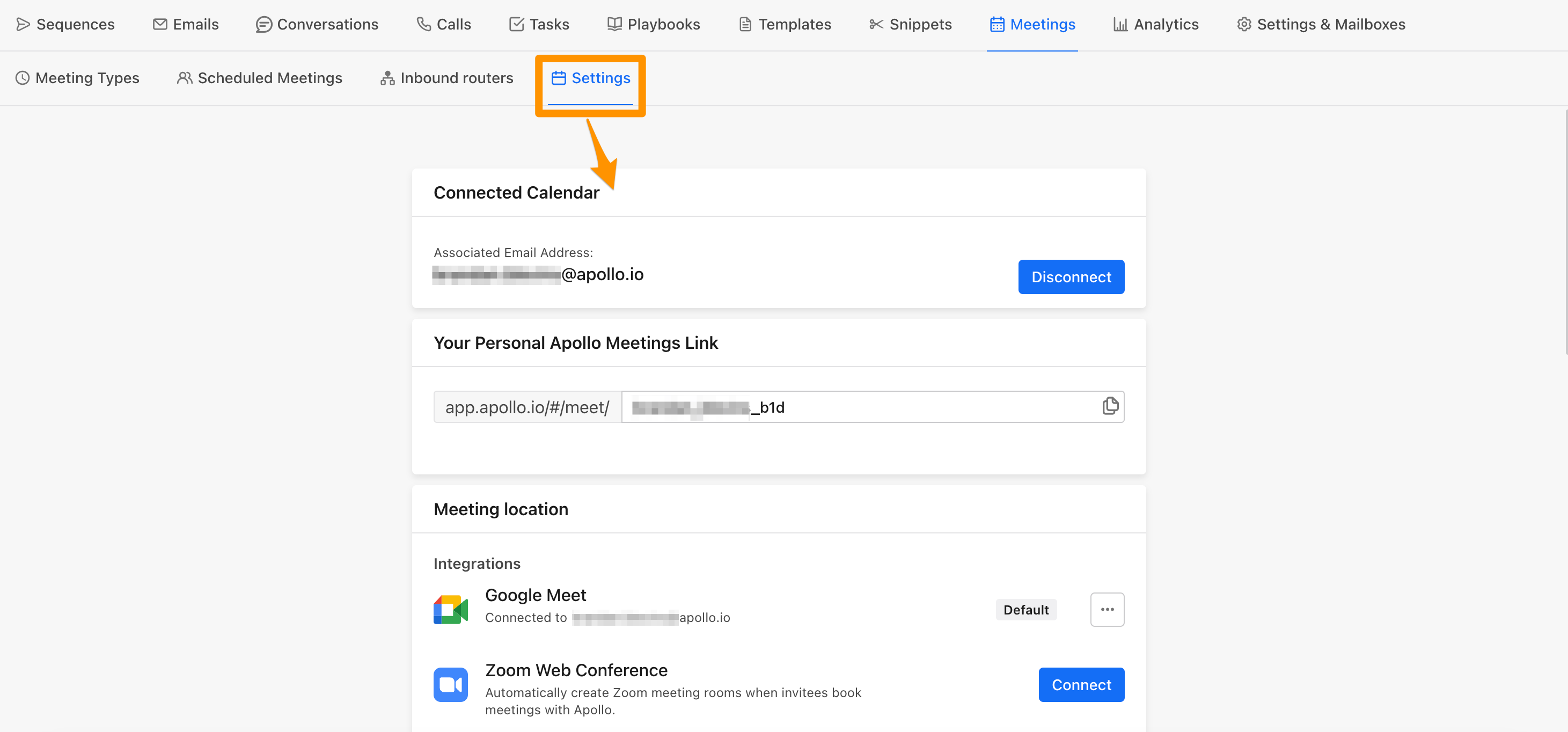 Set a Default Meeting Location
If you connected multiple video conferencing platforms, you can choose which one to set as default. The default selection is used for your meeting location every time you create a new meeting type or customize an existing meeting type.
It's Not the Be-All and End-All
Even with a default meeting location set, you can still edit the location settings for each meeting type at any time. For more information about how to edit a meeting type, refer to the Manage Your Meetings in Apollo article.
To set a default meeting location, click the additional options (...) button on the right of the video conferencing solution of your choice. Then, click Set as default.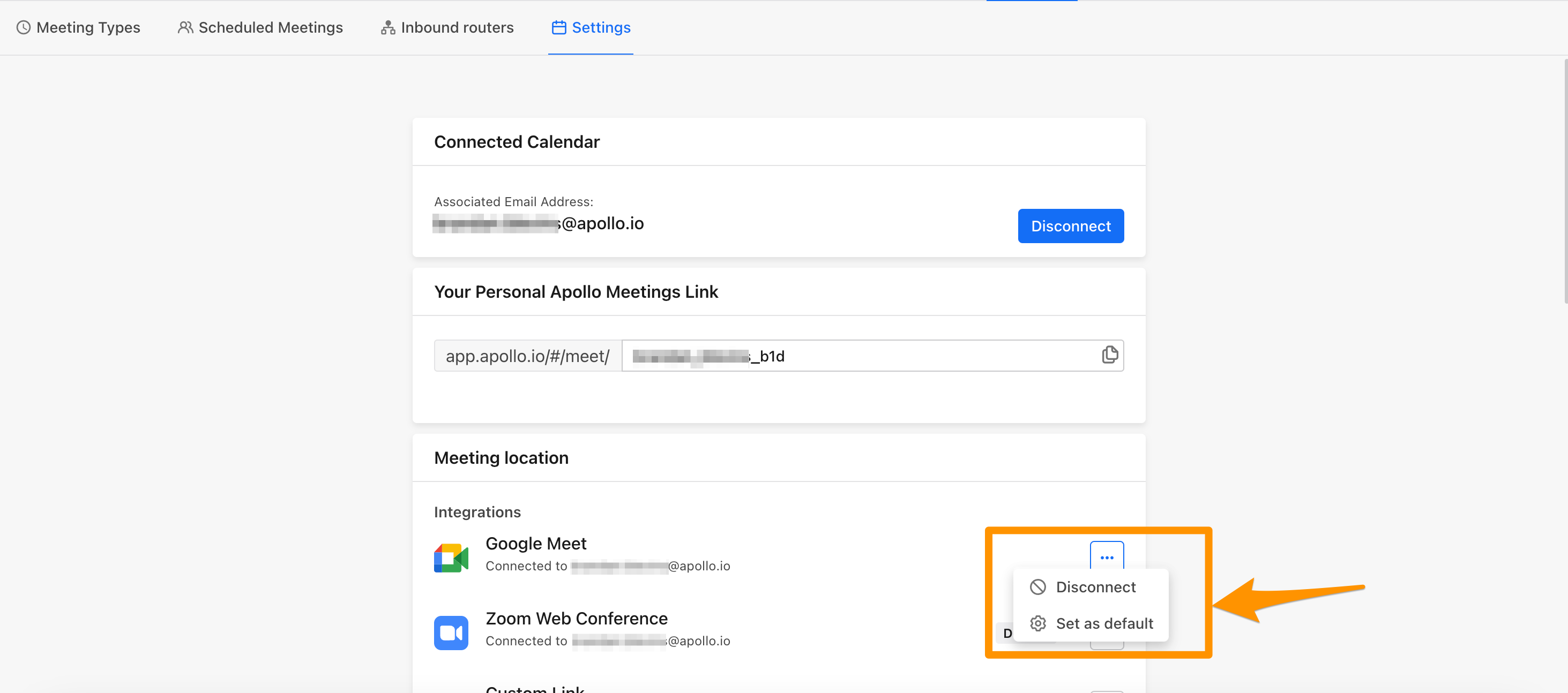 Apollo displays a Default icon next to your selection.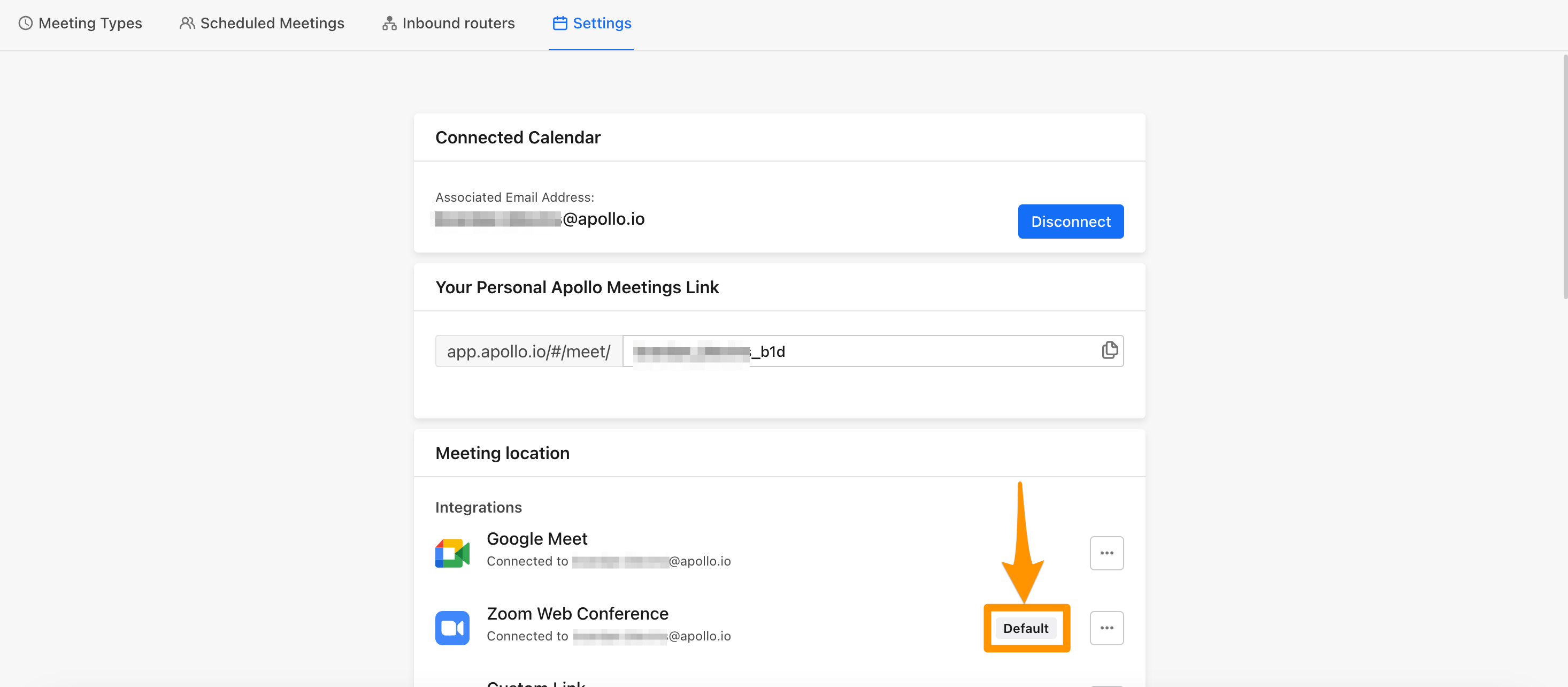 Disconnect Zoom or Google Meet
To remove a video conferencing solution as a location option for your meetings:
Go to Apollo and click Engage > Meetings.
Click the additional options (...) button to the right of the video conferencing solution that you want to disconnect. Then, click Disconnect.




You have successfully disconnected your Zoom or Google Meet account from Meetings.
Only Applies to Apollo Meetings
When you disconnect Google Meet or Zoom from Meetings, Apollo only disconnects the integration from the Meetings feature.

If you have integrated a platform with another Apollo feature such as Zoom with Apollo Conversations, Apollo does not disconnect the integration from the other Apollo feature.