Overview
A Bit of Beta Makes it Better!
Please note, this feature is currently in Beta. If you cannot yet access Apollo Meetings, we haven't forgotten you! Please bear with us while we fine-tune the magic formula.
Leverage Apollo Meetings to remain in control of your schedule while empowering your prospects to proactively book time on your calendar.
Wait—What's This All About?
For more information about the functionality and advantages of Apollo Meetings, please refer to the "Apollo Meetings Overview" article for all the Apollo Meetings gossip!
Refer to the sections below for the steps to take to first connect your calendar and then configure your default settings in Apollo.
Connect Your Calendar
Calendar Compatibility
Please note, Apollo Meetings is currently only compatible with Google Calendar. If you want to leverage Apollo Meetings in your sales engagement workflow, you need to connect a Google Calendar account with Apollo.
Launch Apollo, click Engage, and then click Meetings.

Click Connect Google Calendar.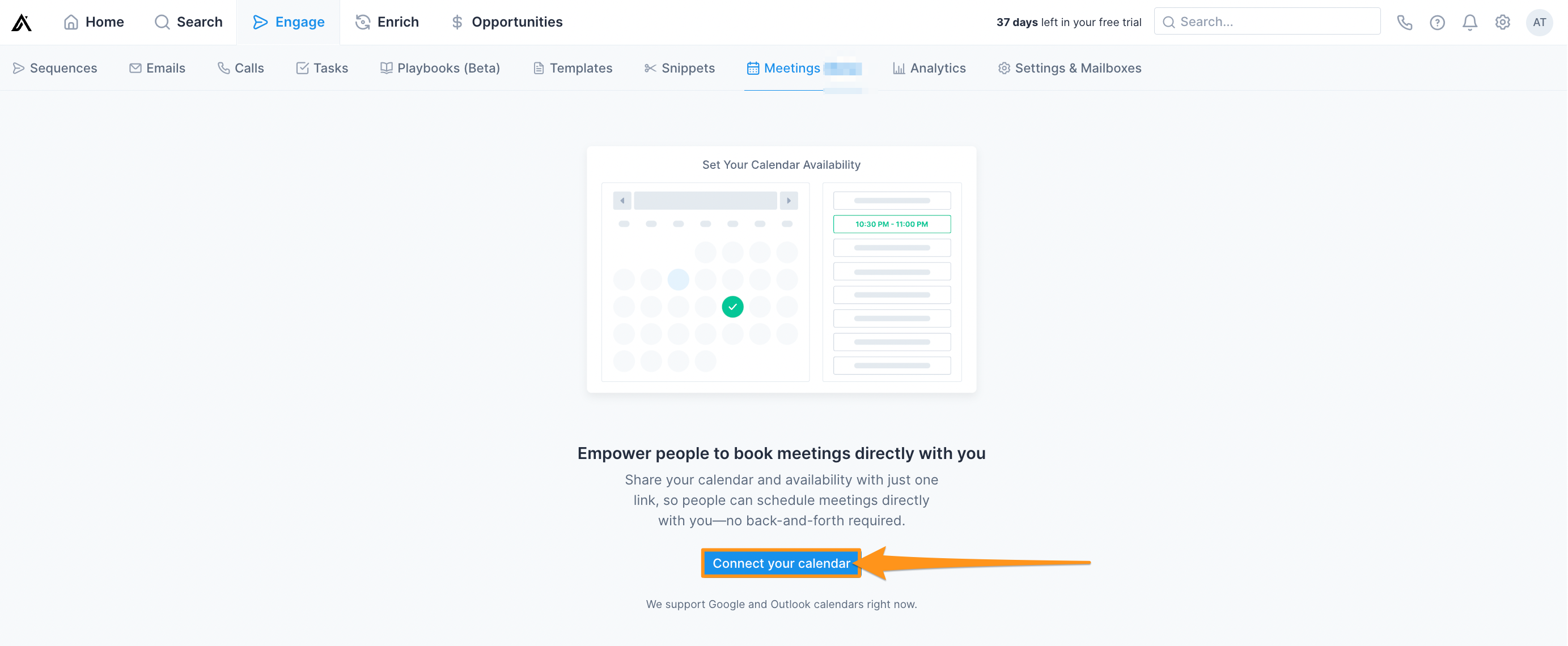 In the Link Your Calendar Modal that appears, Apollo populates this field with your default email address. If you want to connect using a different email, type in the email address of the calendar that you want to link. Then, click Link.

This Town Ain't Big Enough for 2 Calendars!
Please note, you can only connect 1 calendar per user, so choose your calendar wisely!
You have now connected your calendar. Click OK in the Success modal that Apollo displays to continue with the Apollo Meetings setup.

Permission Granted!
Please note, if you add an email that you have not already connected to your Apollo instance, you will need to grant Apollo access to your mailbox and calendar.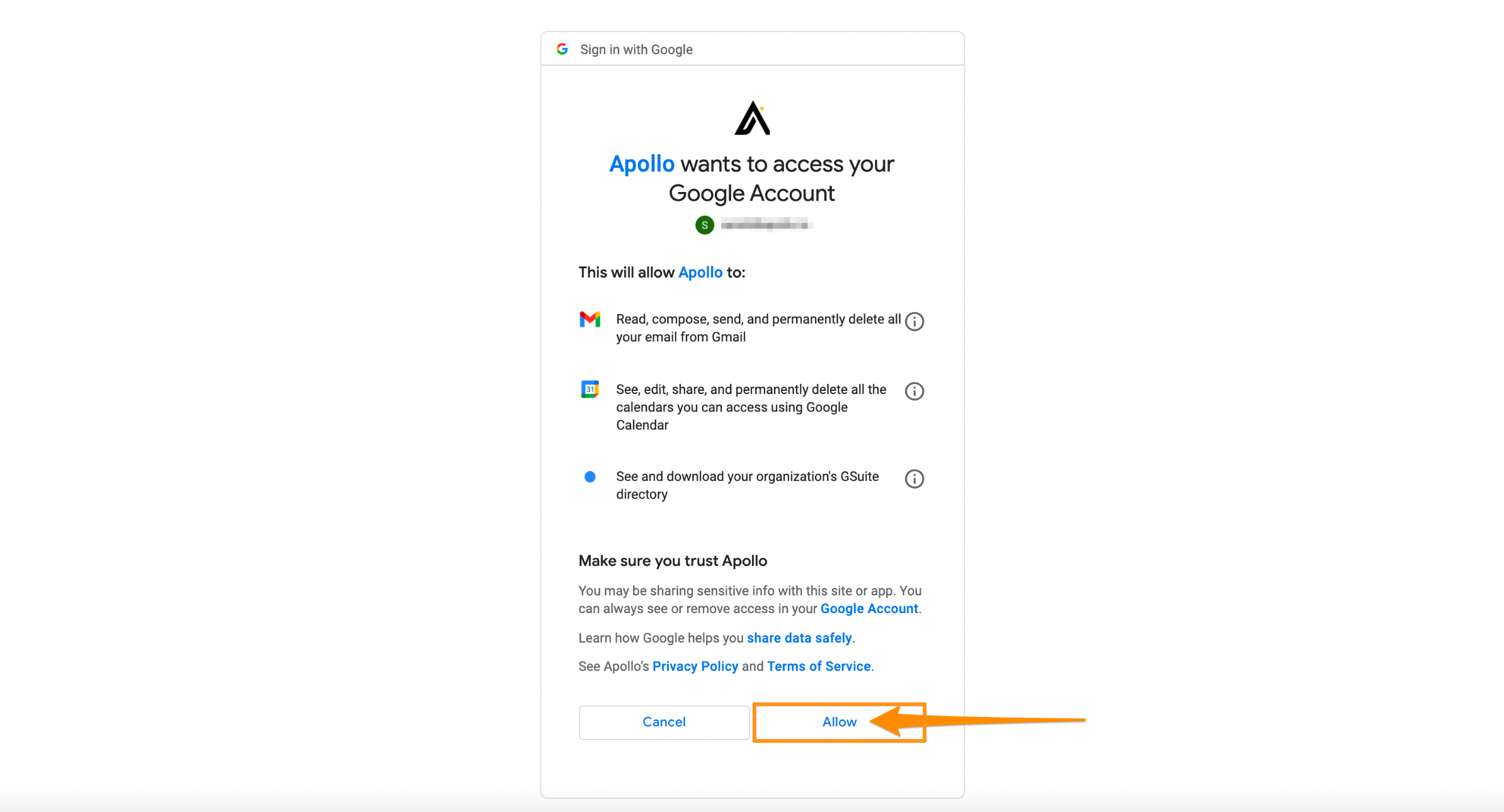 Fear not, we treat your permission with the utmost care and respect and never delete your emails or calendars! When you grant Apollo access to your permissions this allows you to empower contacts to book meetings with you through the Apollo meetings scheduler, automate your emails, create templates and follow-ups, view open rates, and more. Apollo only requests the necessary permissions that Google requires so that our users can gain full functionality of the Apollo engagement suite.
Configure Your Meeting Preferences
Now that you have connected your Google calendar, you are ready to configure your default settings.
In the Set Up Your Meeting Preferences screen that appears after you connect your calendar, Apollo displays your Personal Apollo Meeting Link. This is the link that you will share with your future guests so that they can schedule time on your calendar.
If you want to personalize the link, click the Your Personal Apollo Meetings Link bar and edit the text according to your preference.

Click the Copy Link icon if you want to copy your personal Apollo Meetings link.

Then, scroll to Set Your Availability For Meetings. Apollo automatically adds your default timezone. If you want to make any changes, click the Current Timezone drop-down on the right and select the timezone of your choice.

Click the checkboxes next to the days that you want to appear available to prospects. Then, set your open time slots using the drop-down options on the right of each day.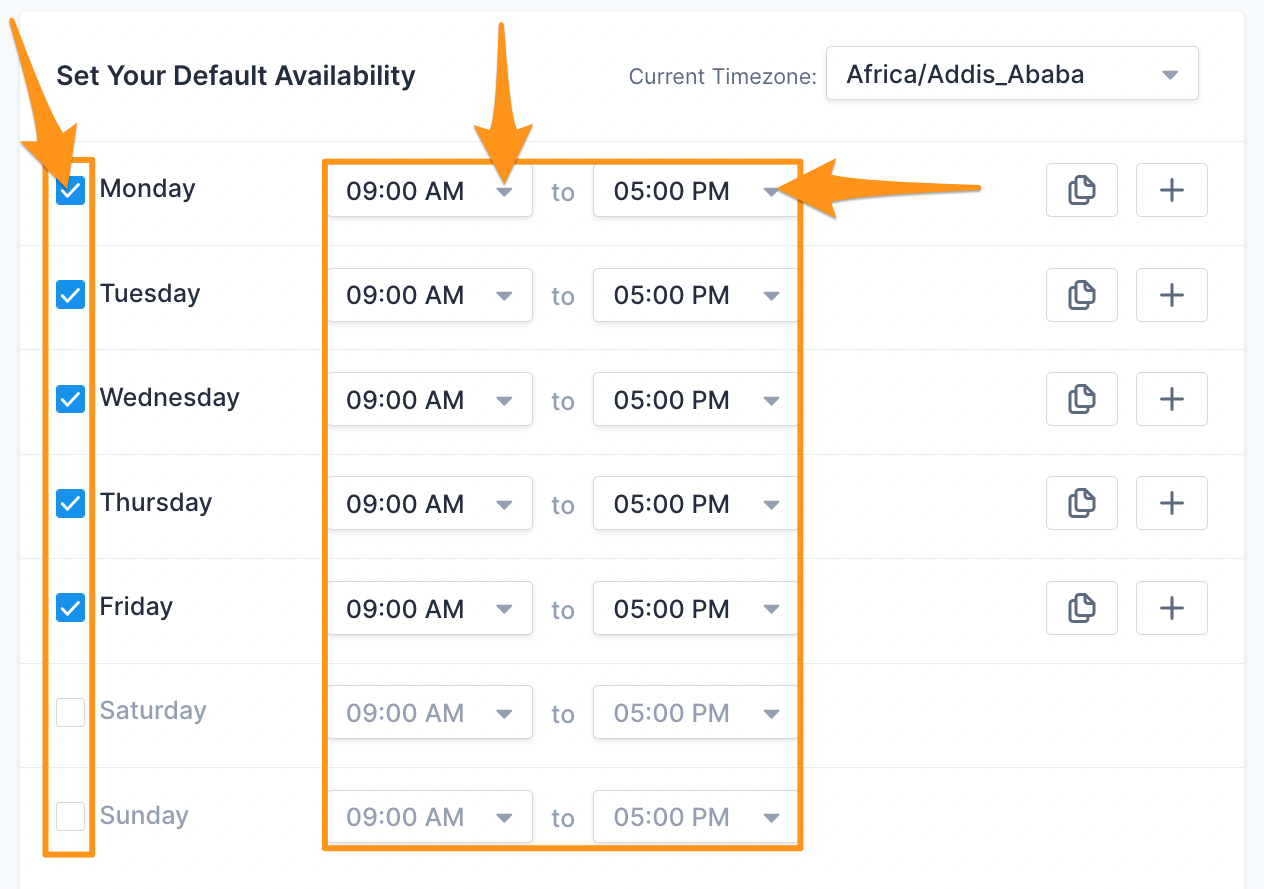 Switch Things Up!
Please note, to make the setup a little easier, Apollo automatically populates your availability from Monday to Friday and between 9 to 5. But don't let that be a hindrance! You can customize the days and time slots according to your preference and availability.
You can also add more than 1 time slot per day. This is useful if you want to factor in breaks or set time aside to focus on other projects or tasks throughout the day.
To add extra time slots, click the + icon on the right and then use the additional drop-down boxes to configure your availability on a given day.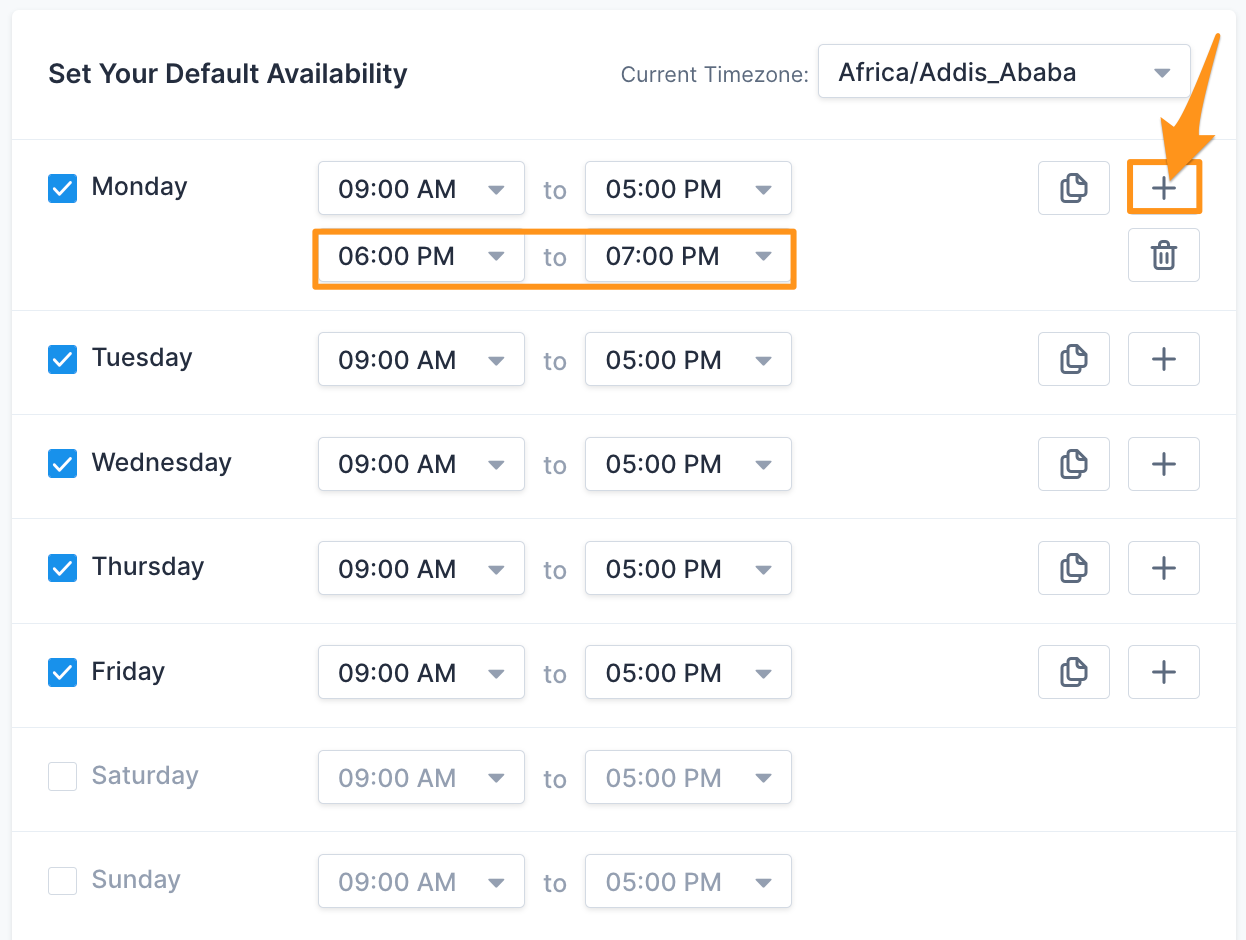 If you want to replicate your availability for other days of the week, click the Copy icon. Then, click the checkbox next to the days for which you want to enable the same open time slots.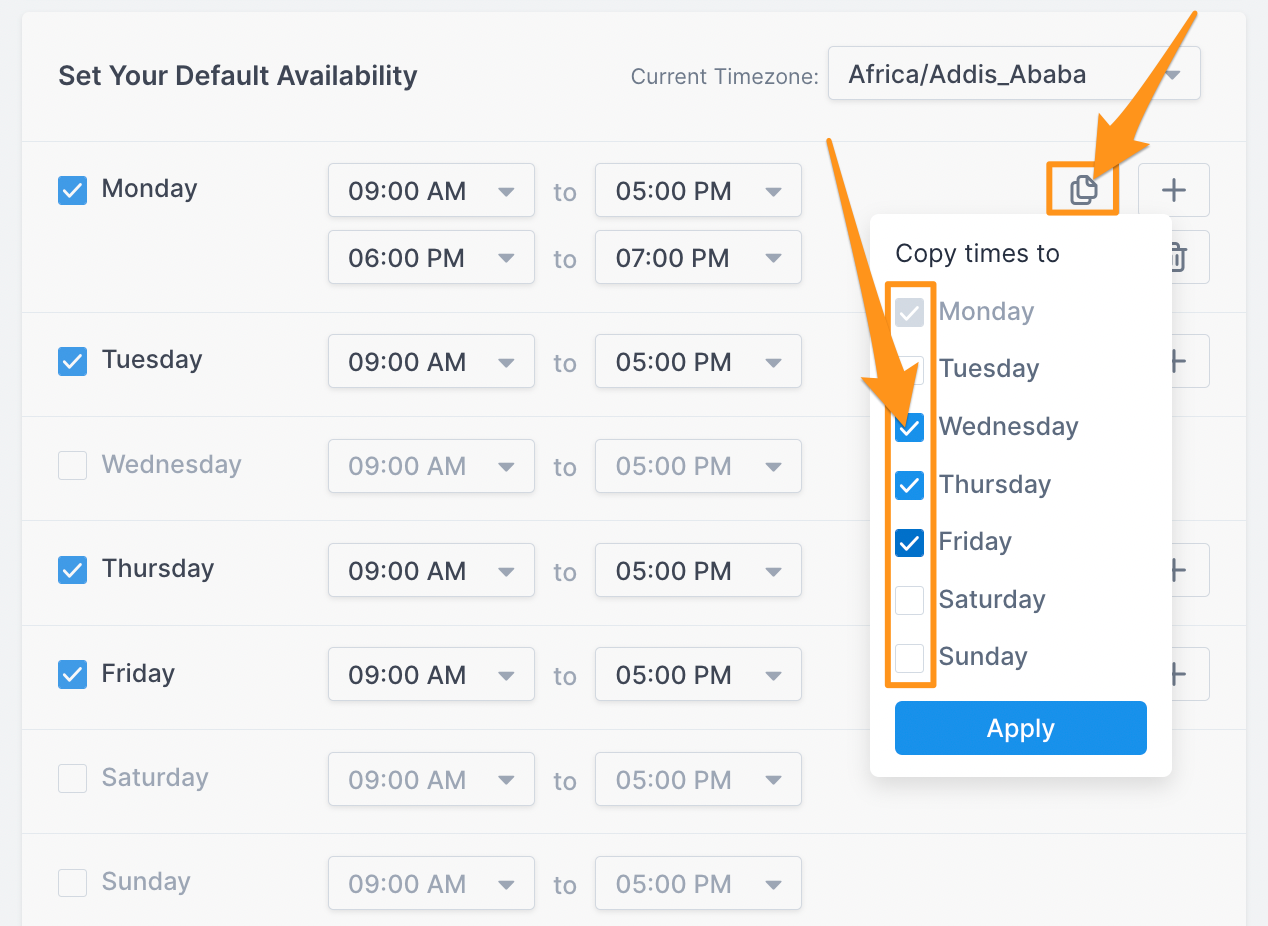 Then, click Apply.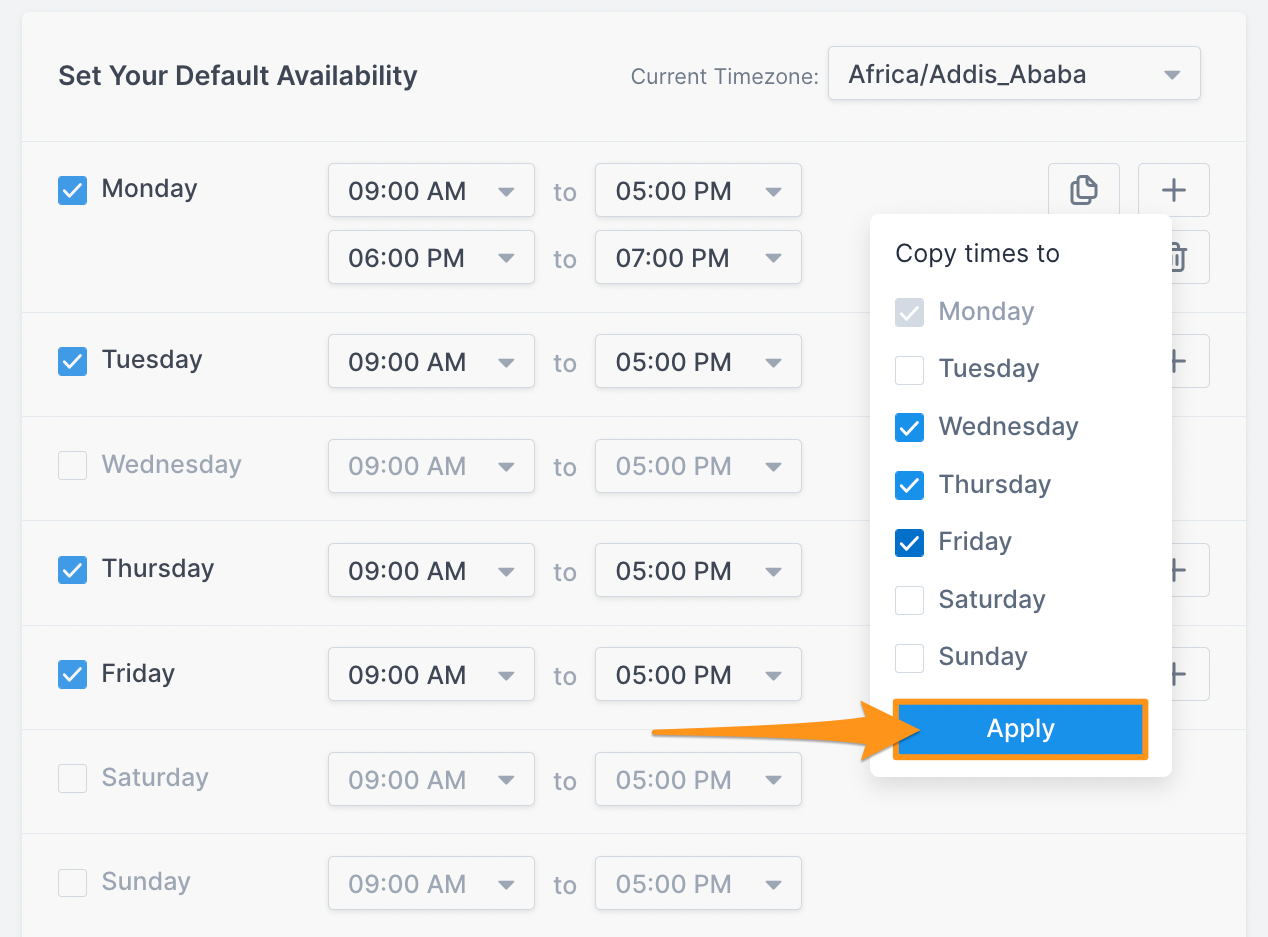 To delete an additional time slot, click the trash can icon.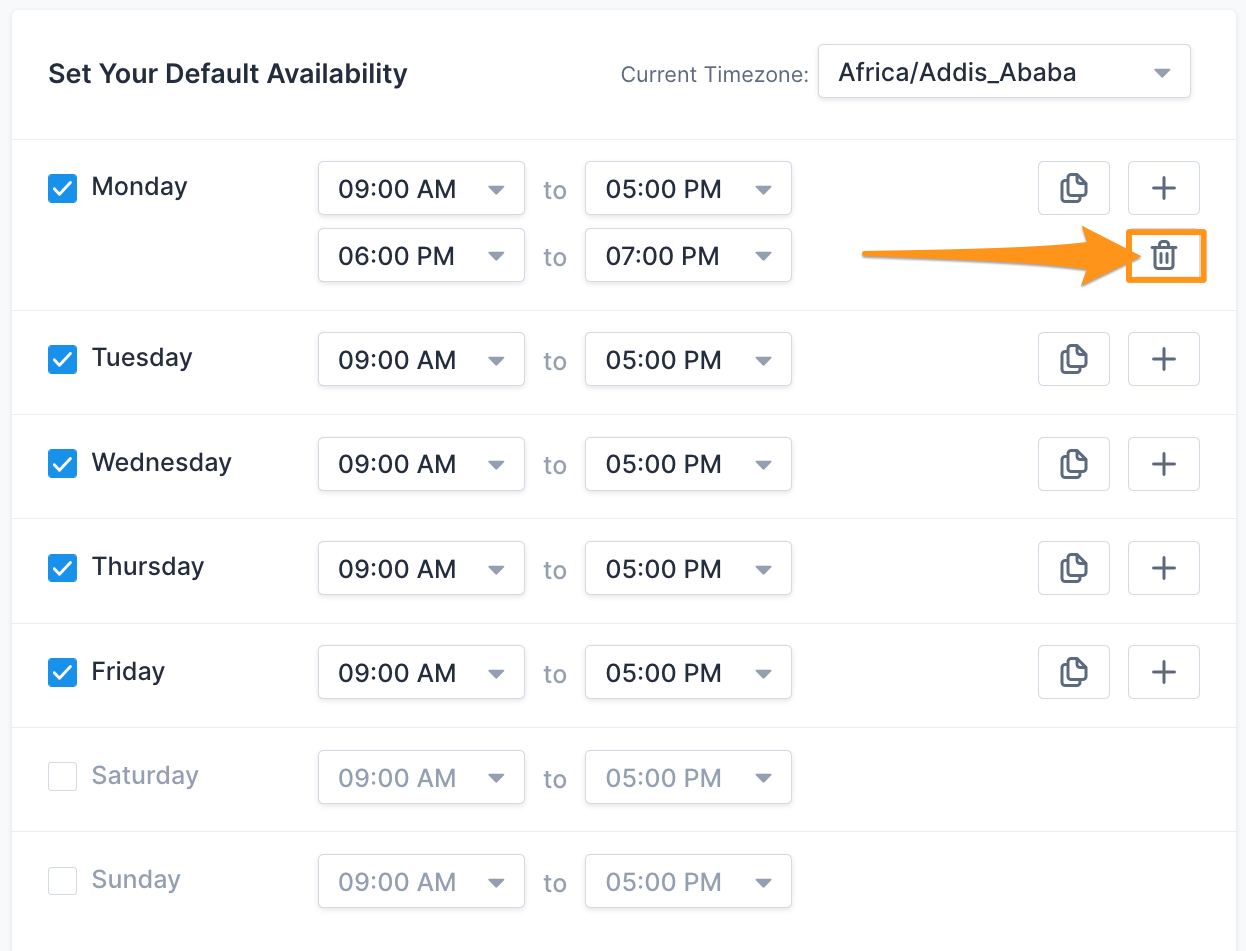 You can also set a minimum schedule notice. This prevents prospects from scheduling last-minute meetings with you. Use this field to set the minimum amount of time that you need between a prospect scheduling a meeting and the meeting taking place. For example, if you set the minimum schedule notice at 1 day, this means that prospects can only book a meeting with you at the latest, 1 day before the scheduled meeting.

Paste your video conference room link in the Video Conference Link text box.

Then, click Continue to complete the Apollo Meetings set-up process.

You have now configured the default settings for Apollo Meetings. Once you have done so, you can access and edit the settings at any time from the Settings tab.