Overview
Click tracking allows you to track the number of clicks a link receives when it is sent in an email sent through Apollo. In order to obtain this information, Apollo routes the link through a click-tracking portal.
Apollo Does Not Recommend Click Tracking
While you can enable Click tracking in the platform, Apollo does not recommend that you use this feature because of the implications it can have on SPAM filters.
Refer to the sections below for additional information on click tracking.
Click Tracking Drawbacks
While on the surface, click tracking seems useful, there are some unfortunate drawbacks. Click tracking greatly increases the length of links.
Starting with a link to your site may look like this:
www.apple.com
Once you enable click tracking, it can be transformed into an unreadable mess of alphanumeric characters like this:
tracking.com/2654a078-1b26-41fd-85ed-871ed7f69650/attcom-tt-3e2ce3ffd157648d9688942800f1b495951c7f4f3c0a91-f994d8cba6f8b41247552f584f78f03c-
Because of the way the links are changed, SPAM filters assume they are potentially dangerous. This can result in your email being marked as SPAM regardless of the rest of the content it contains.
For this reason, Apollo does not enable click tracking by default.
Tracking Link Expiration
Please note, standard tracking links expire after one month and will no longer function after that.
Click Tracking Alternative
In lieu of click tracking, Apollo optimizes for data on Delivery Rates. The platform provides additional data, such as Open Rates and Reply Rates, which does not negatively impact your email deliverability.
To view your email data, launch Apollo, hover over Engage on the navbar, and then click Emails.

Your email data is visible along the top of the menu.

Apollo's automatic tracking provides pertinent information about which of your emails are most effective at engaging your prospects and customers.
Enable Click Tracking
Try Turning it Off and On Again!
Please note, when you enable click tracking in Apollo, you need to turn your active sequences off and on again for the change to take effect.
While click tracking is not something Apollo recommends that you use, it is available in the platform. To enable click tracking, follow these steps:
Launch Apollo then click Settings.

In the General tab, click the toggle to engage Enable click tracking.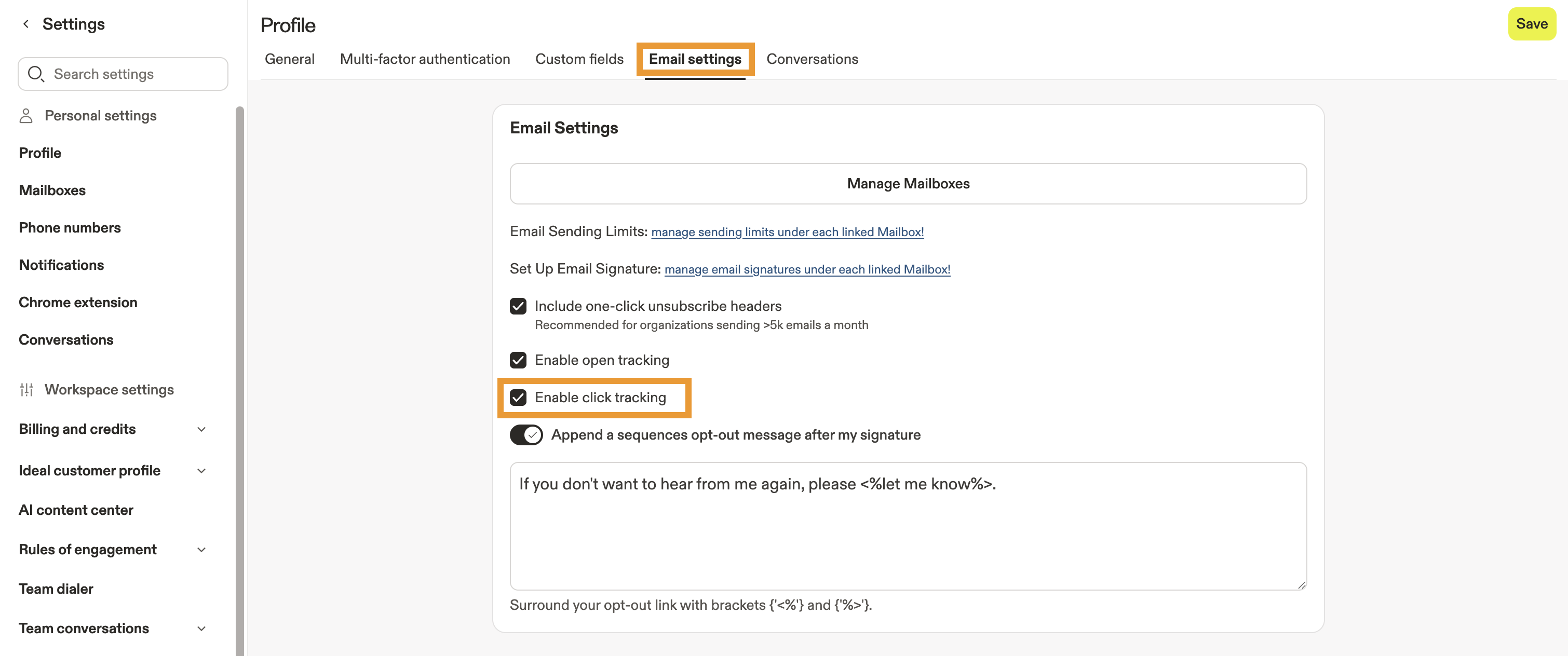 User Permissions
Please note, click tracking is enabled on a per-user basis. If you want everyone at your organization to use click tracking, each user must enable it individually.