Do you have trouble hearing the person you're talking to on the Apollo Dialer? Is your audio cutting out or do you sound like a robot? There are several ways you can try to remedy your situation.
Audio Cuts Out
The Apollo Dialer requires a high speed and low latency network connection. You can take a speed test to verify your network connection speed.
Follow these steps if your connection is slower than expected:
Use an ethernet connection rather than wireless. Wired connections are more reliable.
Exit any other programs that use bandwidth.
Close tabs in Chrome. Some tabs may take up bandwidth.
Talk to your Internet Service Provider if your connection speed does not match what you pay for.
Unclear Audio
Follow these steps if your call audio is garbled or otherwise unclear:
Use a headset instead of your built-in computer microphone.
Reduce ambient noise such as nearby speakers or fans.
Make sure your microphone isn't too close to your mouth to avoid audio clipping.
Adjust the microphone levels in your computer settings. Your input may be too loud.
Ensure that your computer has sufficient memory to process the Apollo Dialer. Apollo recommends at least 16GB of RAM in your computer.
Close any applications that you don't need during calls.
Your antivirus software may be resource-heavy. Try disabling it while you make a call.
Stay Safe Out There!
Please note, Apollo does not recommend disabling your antivirus software unless it is a last resort to troubleshoot an issue. Keep your network and computers safe at all times.
No Audio
Follow these steps if either you or the person you call has no audio:
Confirm you have attached your headset correctly.
Try plugging your headset into a different port.
Confirm you have selected the right device in your sound settings.
The Apollo Dialer integrates with Twilio. You can run a test here. Twilio may be able to pinpoint your issue.
Try a different browser like Microsoft Edge or Firefox.
Chrome Plated
Please note, you can try a different browser to see if the behavior differs, but Apollo recommends you stick with Chrome due to the many integrations and bonuses the Apollo Chrome Extension includes.
Take a speed test to verify your network connection speed.
Confirm you have given Chrome permission to use your microphone.

Go to chrome://settings/content/microphone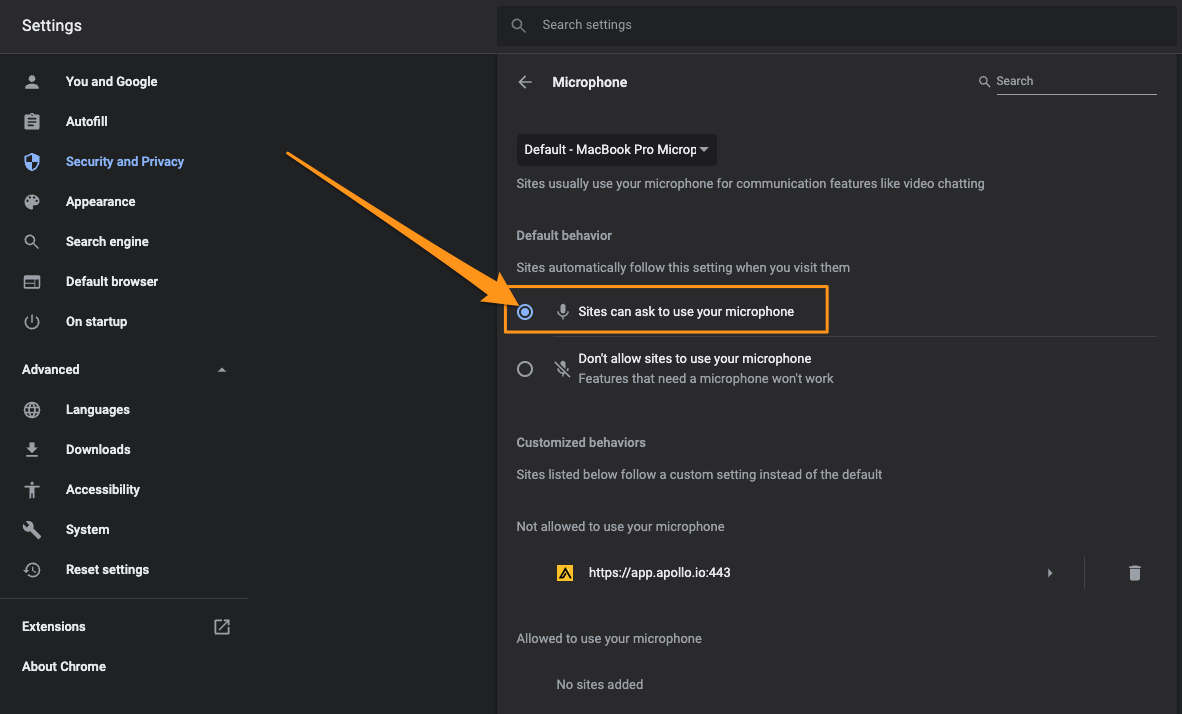 Follow the instructions in the "Make and Receive VoIP Calls" article. When you try to place a call, Chrome will ask permission to use your microphone. Click Allow.
Enable Call Debugging
If the steps above do not fix your issues, enable Call Debugging and then contact The Apollo Support Team.
For more information, follow the steps in the "Configure Call Debugging" section of the "Configure the Dialer" article.