Watch the Video
Overview
Plays is an end-to-end workflow automation tool that helps you reduce manual tasks, increase efficiency, and drive more pipeline.
Create plays in Apollo to automate time-consuming manual actions, take advantage of timely insights, and connect with your ideal customers at scale.
With plays, you can automate fundamental steps in your sales workflow, including adding or removing contacts from a sequence or list, scheduling tasks for your reps, updating contact job changes, and much more. You can also configure alerts to remind you when you need to take manual actions.
Refer to the sections below for a breakdown of the key benefits by role and an overview of example use cases from the play templates library.
The Main Benefits
There are many advantages of leveraging plays to automate your sales workflow. Here are a just few examples of why some of our most frequent users take advantage of this end-to-end feature:
Job Role
Key Benefits
Sales Development Reps (SDRs) and Account Executives (AEs)
Automate your prospecting activities to book more meetings and generate more revenue
Dramatically reduce arduous manual tasks and spend more time in meetings with your ideal prospects
Sales Leaders
Improve your team's efficiency and establish best practices that help you scale the end-to-end workflows that drive the highest impact
Automate successful go-to-market strategies that allow your reps to dedicate more time to the activities that generate the most revenue
Increase and improve pipeline by creating automated, repeatable, and scalable processes that work
Founders and CEOs
Improve team efficiency and automate tedious tasks that help your team focus on the most impactful activities that lead to consistent growth
Automate your entire lead generation and talent recruitment process in one platform to scale your business effectively as your team closes more and more deals
Empower your team to generate more pipeline and automate the entire go-to-market workflow; from lead generation to prospecting to booked meetings and beyond
Demand Gen
Automate lead generation and increase overall TAM coverage with Apollo's B2B data and automation
Improve efficiency across teams and automate manual tasks and CRM syncs to ensure no marketing leads fall through the cracks when you pass them over to sales
Play Templates
To streamline the configuration process, you can leverage play templates. Play templates are tried and tested, automated workflows you can edit and then activate to drive high-impact results with ease.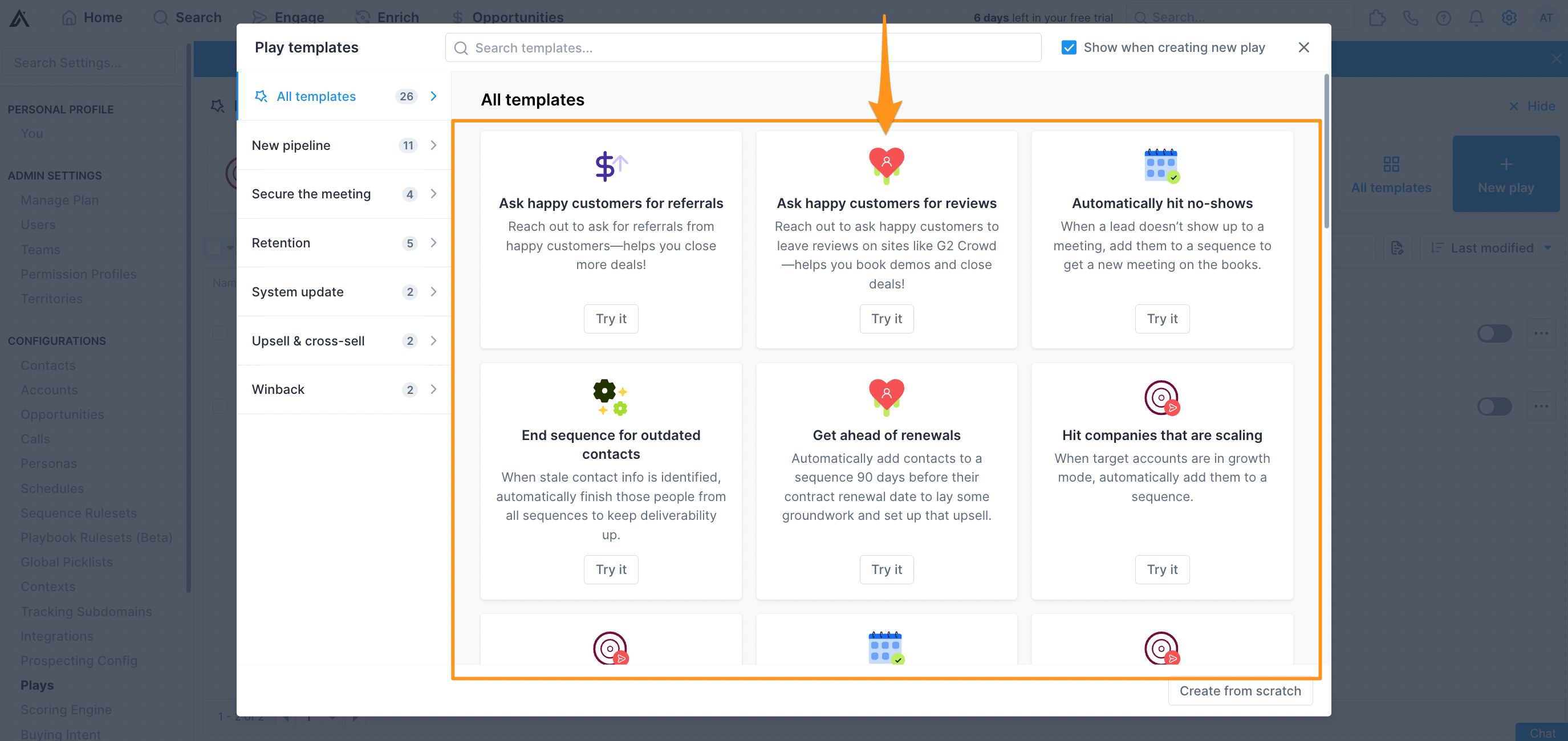 There are currently 6 types of play templates in Apollo:
New pipeline: Plays to get ahead of the competition and take advantage of timely events that can drive more pipeline, such as high buying intent, a recent hire, or company funding
Secure the meeting: Plays to seize the moment and persist until a meeting gets booked
Retention: Plays to strengthen relationships and proactively engage with your existing customer base
System update: Plays to streamline the way you keep on top of data changes
Upsell and cross-sell: Plays that help you take advantage of new opportunities with your existing customers
Winback: Plays that help you cover your bases and ensure you leave no stone unturned!