Overview
It Depends on Your Plan
Please note, the Opportunities feature in Apollo is only available to paying customers on specific plans. If you do not currently have access to Opportunities and would like to upgrade, follow the steps in the Customize and Manage Your Apollo Plan article, or reach out to our friendly support team for help.
Apollo Opportunities helps you to track possible deals with prospective customers. Opportunities, in addition to people and company records, allow you to manage your entire sales pipeline directly within Apollo.
This allows you to engage prospects in more meaningful ways, keep track of everything in one place, and move deals faster. You can associate Opportunities with both companies and people in Apollo and you can also sync them to or from Salesforce.
Refer to the sections below for details about what features are available on the Opportunities page as well as information about how specific roles can benefit from using them.
Opportunities Role Relevance
While Opportunities can be a useful tool for most Apollo users, the roles included below often find Opportunities the most beneficial.
SDRs
Sales Development Reps (SDRs), gain visibility on current or historical Opportunities to help guide contextual conversations at both the individual and account levels. In this instance, SDRs can use the Opportunities screen to help coach their teams and unlock additional sales dollars.
Account Executives
Account Executives gain a seamless workflow for contacts, accounts, and Opportunities. This eliminates the need to navigate to multiple applications (Apollo, Salesforce, etc.) to access and update critical data as the sales cycle progresses. This gives you a full view of your sales funnel, from top to bottom, in one location.
Additionally, Account Executives can send and track messages and add contextual information to Opportunities to ensure things are recorded for posterity.
Understand the Opportunities Page
The Apollo Opportunities page allows you to explore, filter, and create opportunities from a centralized location.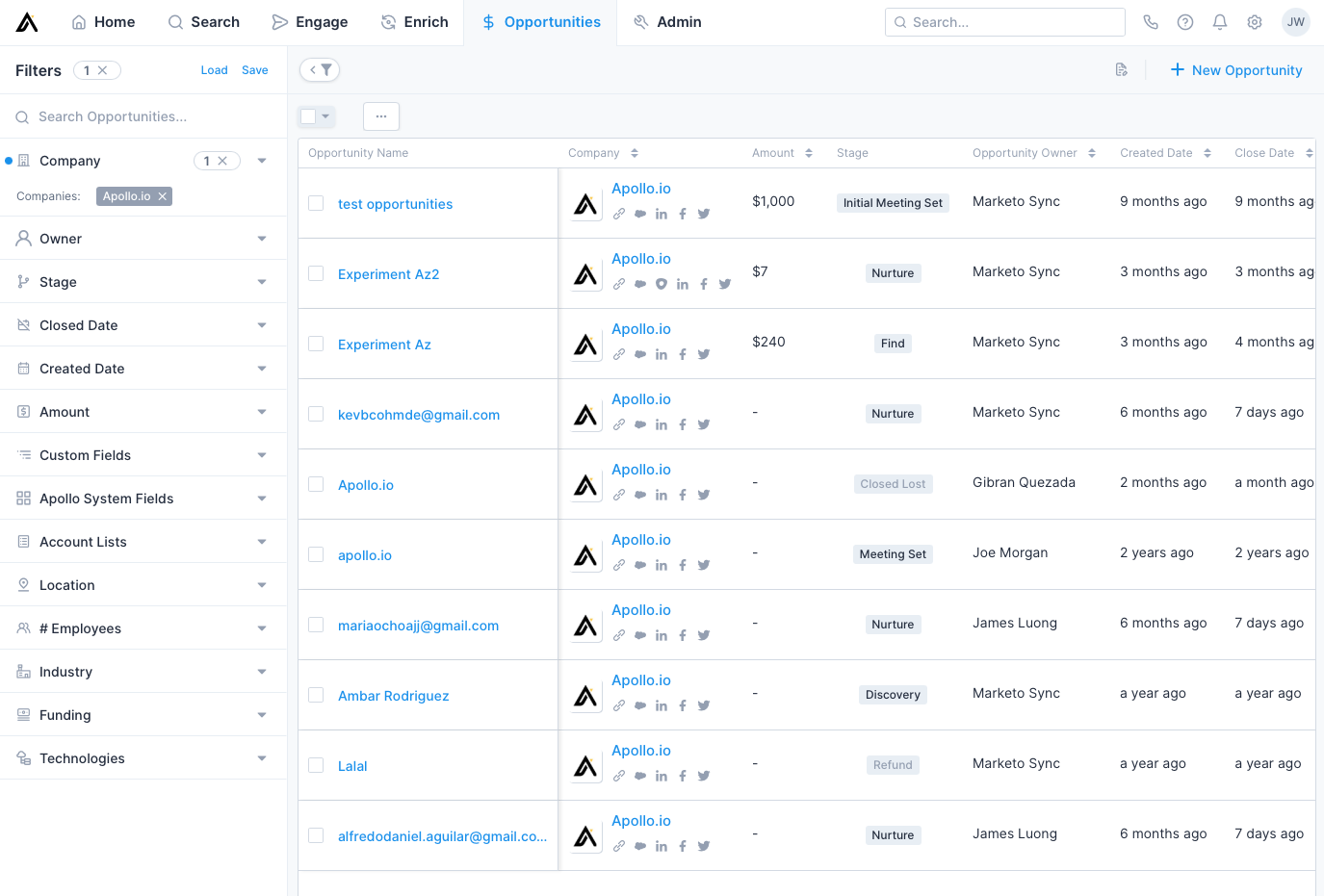 Along the left-hand side of the page, you can look for specific Opportunities using the search bar.

Additionally, you can apply filters to your query using the options below the search bar.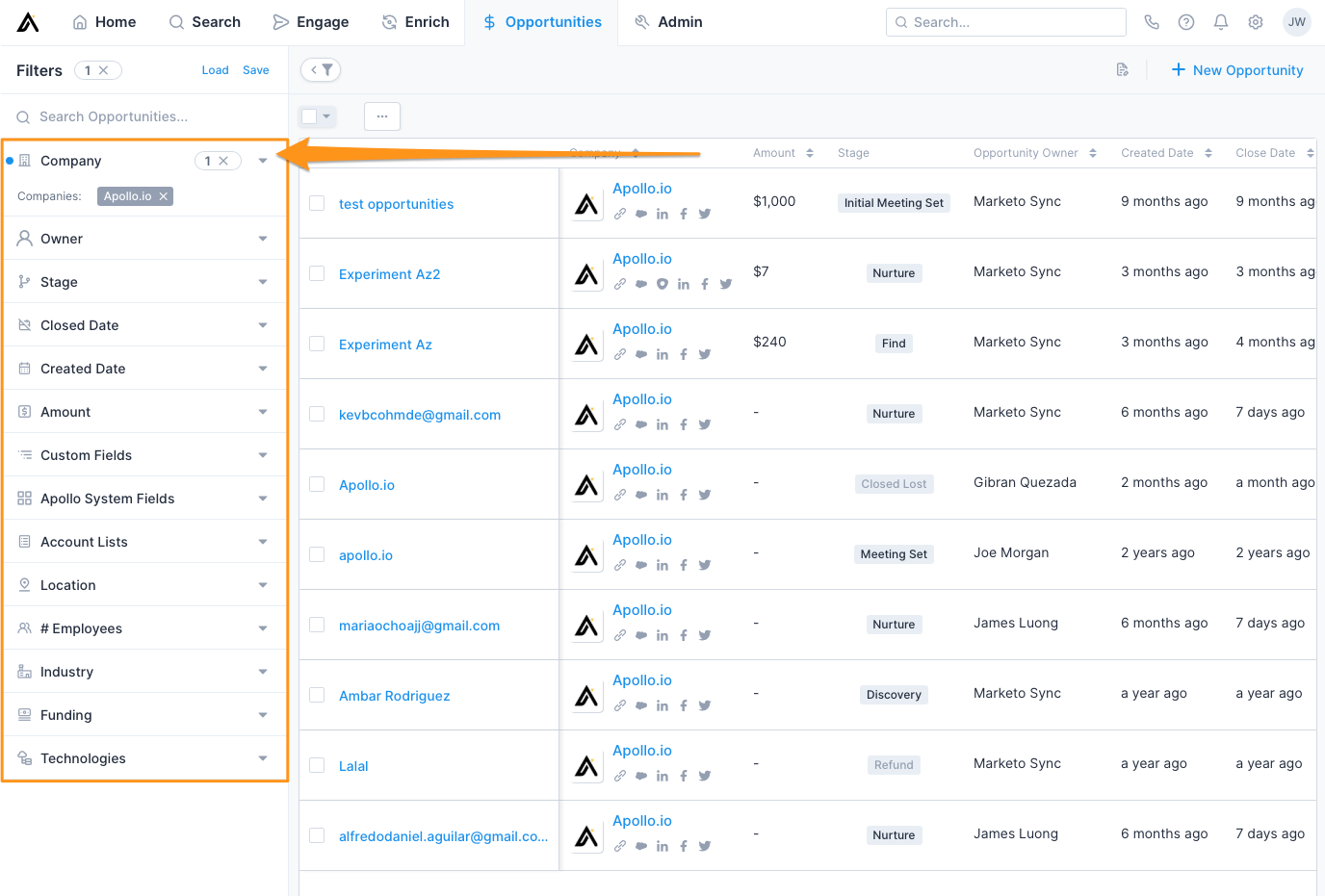 Filters for Opportunities include the following options:
Company
Owner
Stage
Closed Date
Created Date
Amount
Custom Fields
Apollo System Fields
Account Lists
Location
Number (#) of Employees
Industry
Industry
Funding
Technologies
Opportunity Stages and Salesforce
Please note, if you have integrated Salesforce with your Apollo account, Apollo automatically disables the creation of new Opportunity stages. Apollo does this because it is not possible to create or update Opportunity stages through the Salesforce API. The Salesforce Opportunity page is configured as read-only, which means Apollo can only pull this data from Salesforce. Apollo will reflect whatever Opportunity stages you have configured on the Salesforce side.
Within the table portion of the Opportunities screen, you can access at a glance details about each Opportunity. By default, Apollo displays the following column headers:
Opportunity Name
Company
Amount
Stage
Opportunity Owner
Created Date
Closed Date

You can customize the visible data by clicking the Table Column Settings button.

Within the "Columns to Show" modal, you can add and remove columns from the Opportunities table. Click Save to preserve your changes.

Click the row for any Opportunity to open the details sidebar.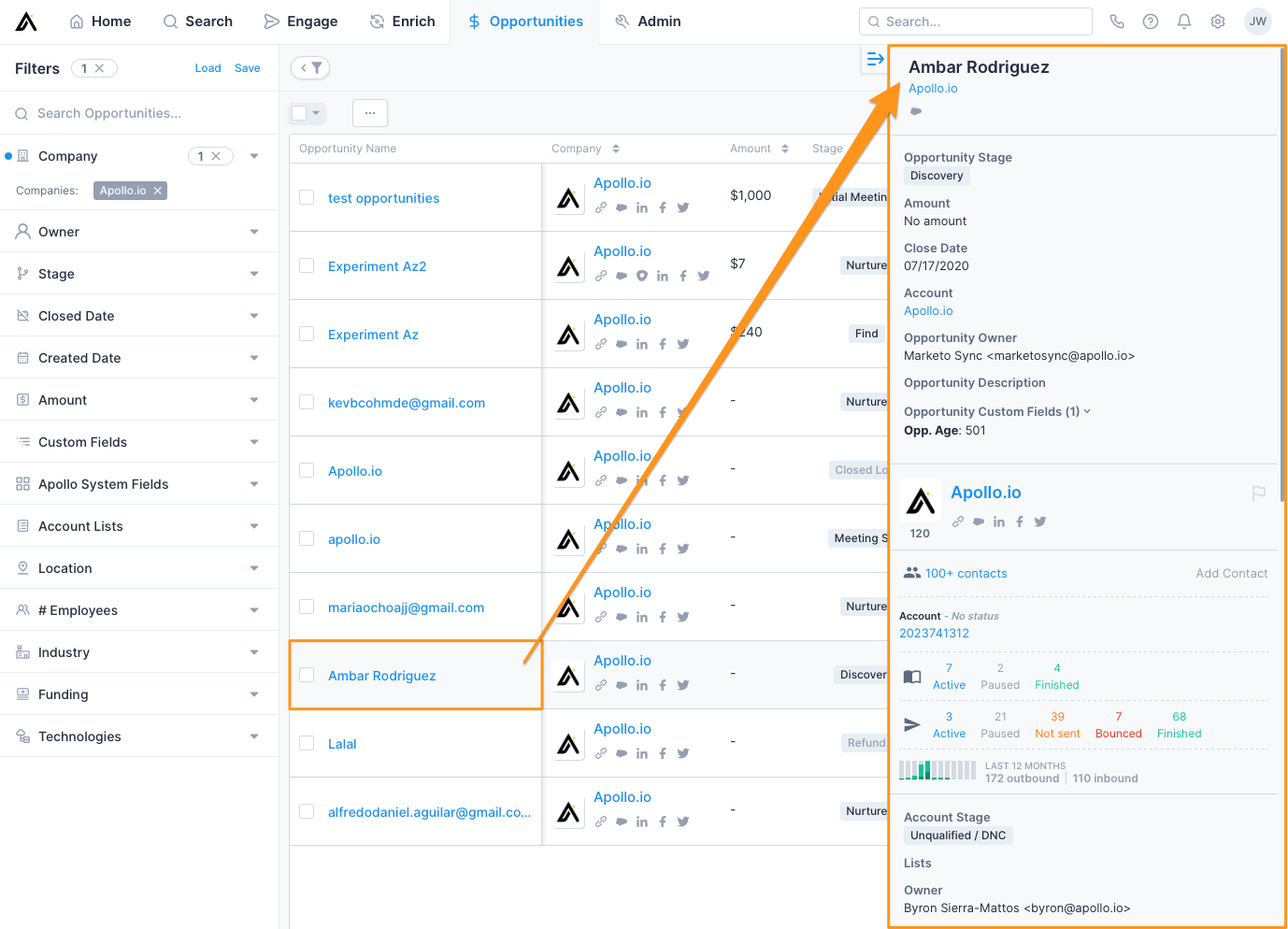 Click the Close button or anywhere outside of the details sidebar to return to the full view of the Opportunities page.

Click the checkbox next to one or more Opportunities to unlock the Additional Options (...) button.

Use the Additional Options (...) to view the Accounts or Contacts included in the selected Opportunities, push Opportunity data to Salesforce, or export Opportunity data to a CSV file.
Click any Opportunity title to open the detail window. From here, you can access a log of all activities within this Opportunity, review and edit the Contact Roles for the people included in the Opportunity, and review the Opportunity details that are also presented in the details sidebar.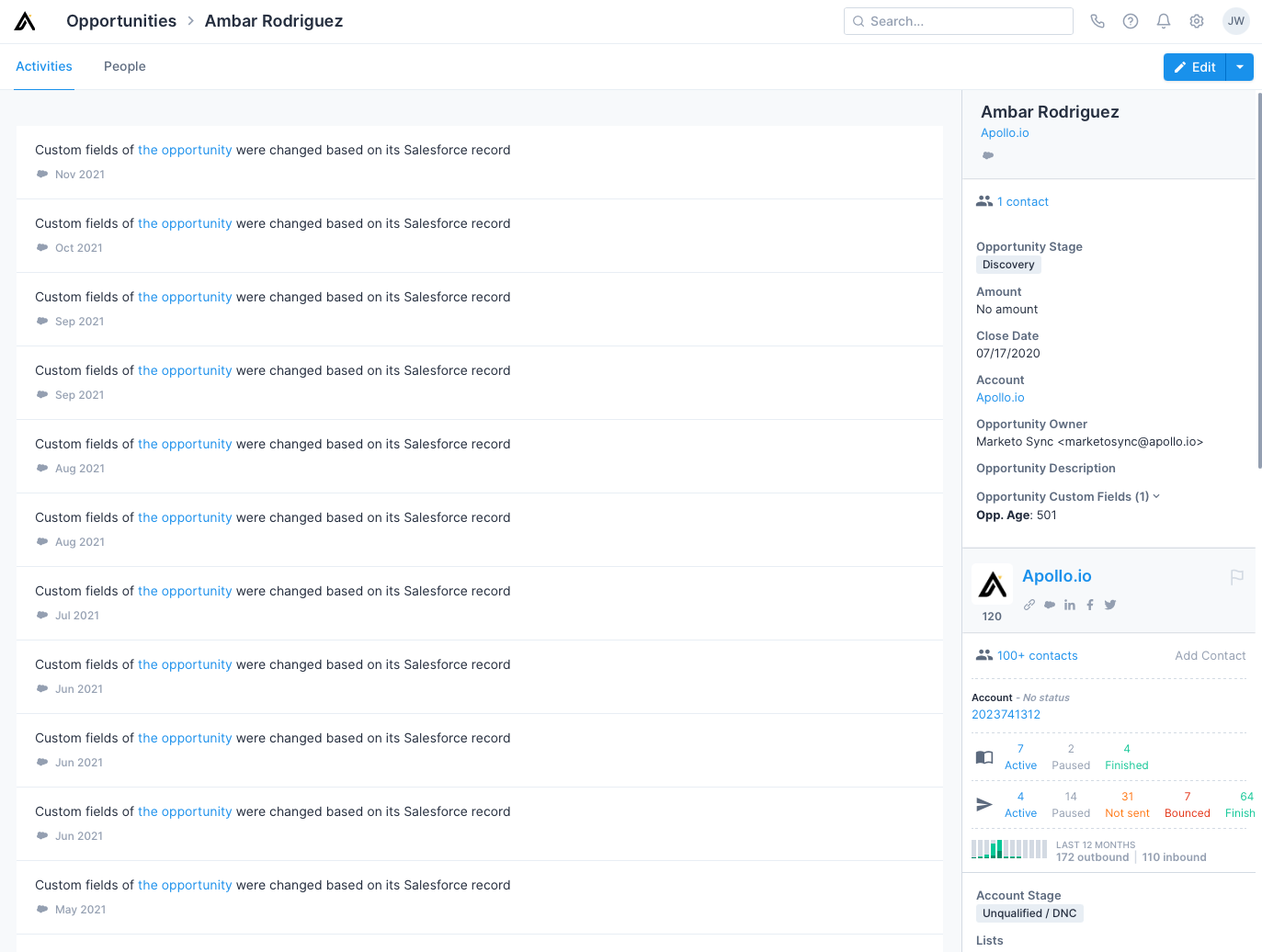 The Activities tab displays the creation source of the Opportunity and a log of any updated information. If your account is integrated with Salesforce and the given Opportunity is synced there, then this feed will also list any updates that come from Salesforce. Activities related to an Opportunity can be found in the Activities tab of the account to which the opportunity is linked.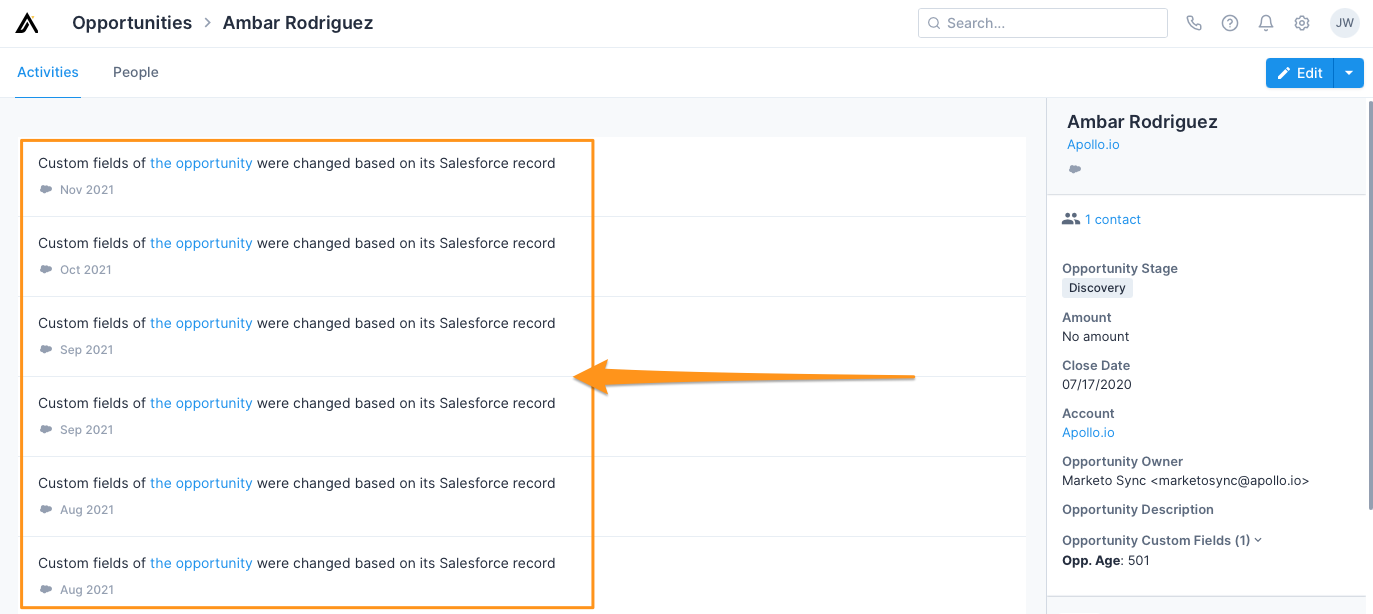 The People tab allows you to both view and add contact roles for an Opportunity. Every Opportunity can support multiple contacts, but only one Primary contact.

People in Opportunities and Salesforce
Please note, removing a person from the people tab in an Opportunity will not remove them from the Opportunity in Salesforce. Unlike Apollo, Salesforce does not allow the same contact to have multiple contact roles listed. Instead, any contacts with multiple roles will appear multiple times (once for each role) underneath the Contact Roles section of a Salesforce Opportunity.