Overview
A Bit of Beta Makes it Better!
Please note, this feature is currently in Beta. If you do not have access to Apollo Conversations just yet, we haven't forgotten you! Please bear with us while we fine-tune the magic formula.
If your team uses Zoom for sales or recruitment calls, you can integrate your Apollo instance with your Zoom account to access your call recordings and leverage important meeting insights from within Apollo.
There are several benefits of integrating Zoom with Apollo, including:
More effectively manage and analyze your team's call recordings
Play back your call recordings, download high-accuracy transcripts, and uncover account and attendee data from each call
Coach and scale successful conversations to increase call conversions
Stay fully compliant and leverage industry-leading video quality from Zoom with every recording that you view, manage, and analyze within Apollo.
Refer to the steps below to set up the Zoom integration in Apollo, configure the settings, and if needed, disconnect the integration from both ends.
Connect Apollo to Zoom
Custom Only
Please note, you can only access this feature if you are on a custom plan. If you are not currently on a custom plan but are interested in leveraging Apollo conversations in your day-to-day workflow, please contact the Apollo sales team to discuss your options.
Launch Apollo, click Engage, and then click Conversations.

Click Sync Zoom account.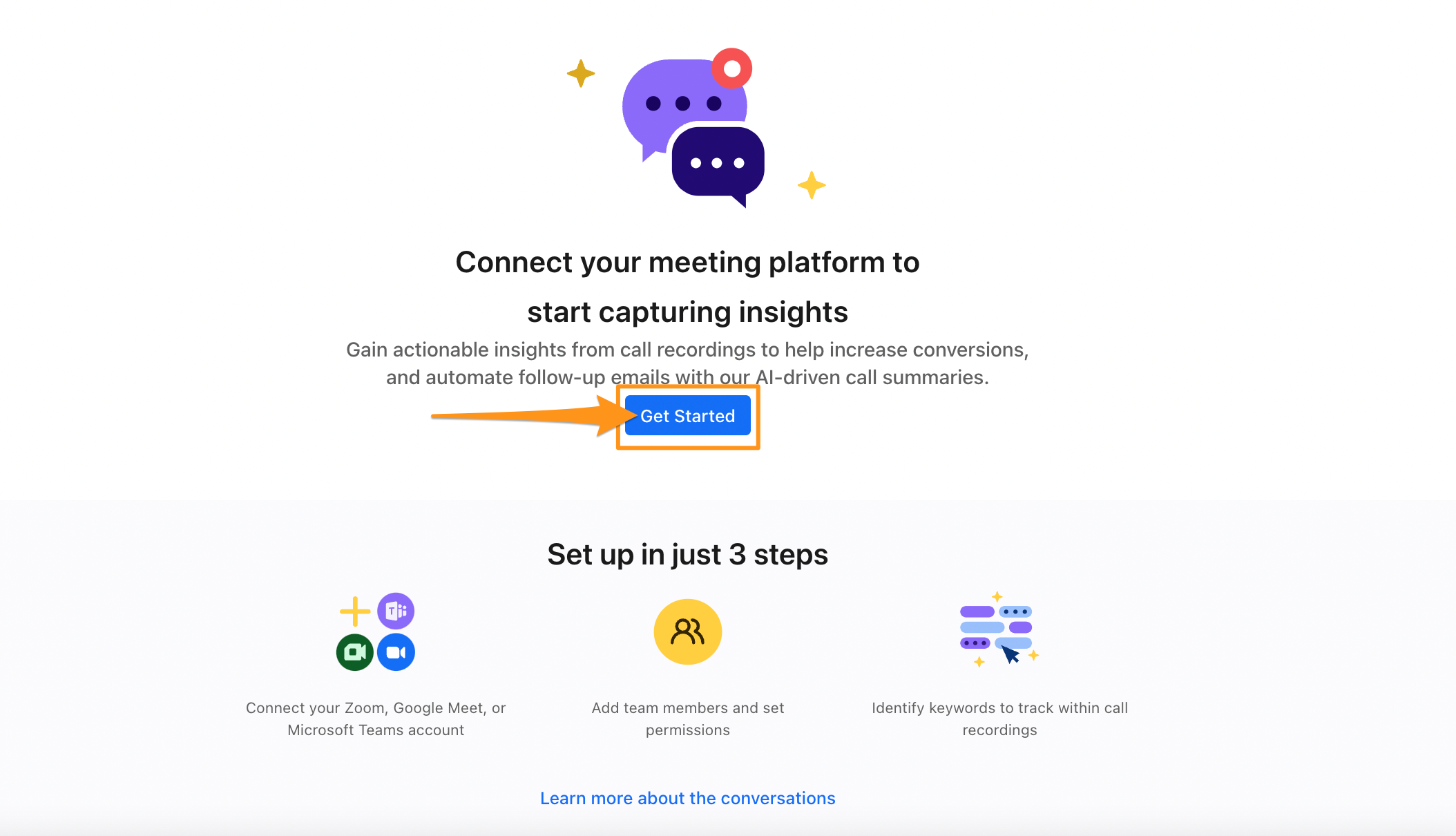 Got Admin Superpowers?
Please note, only Zoom and Apollo admin access members can integrate Zoom with Apollo. If you are not an admin for either account, please contact a member of your team that has the necessary permissions to set up the integration.
Enter the Zoom credentials for your admin account and click Sign In.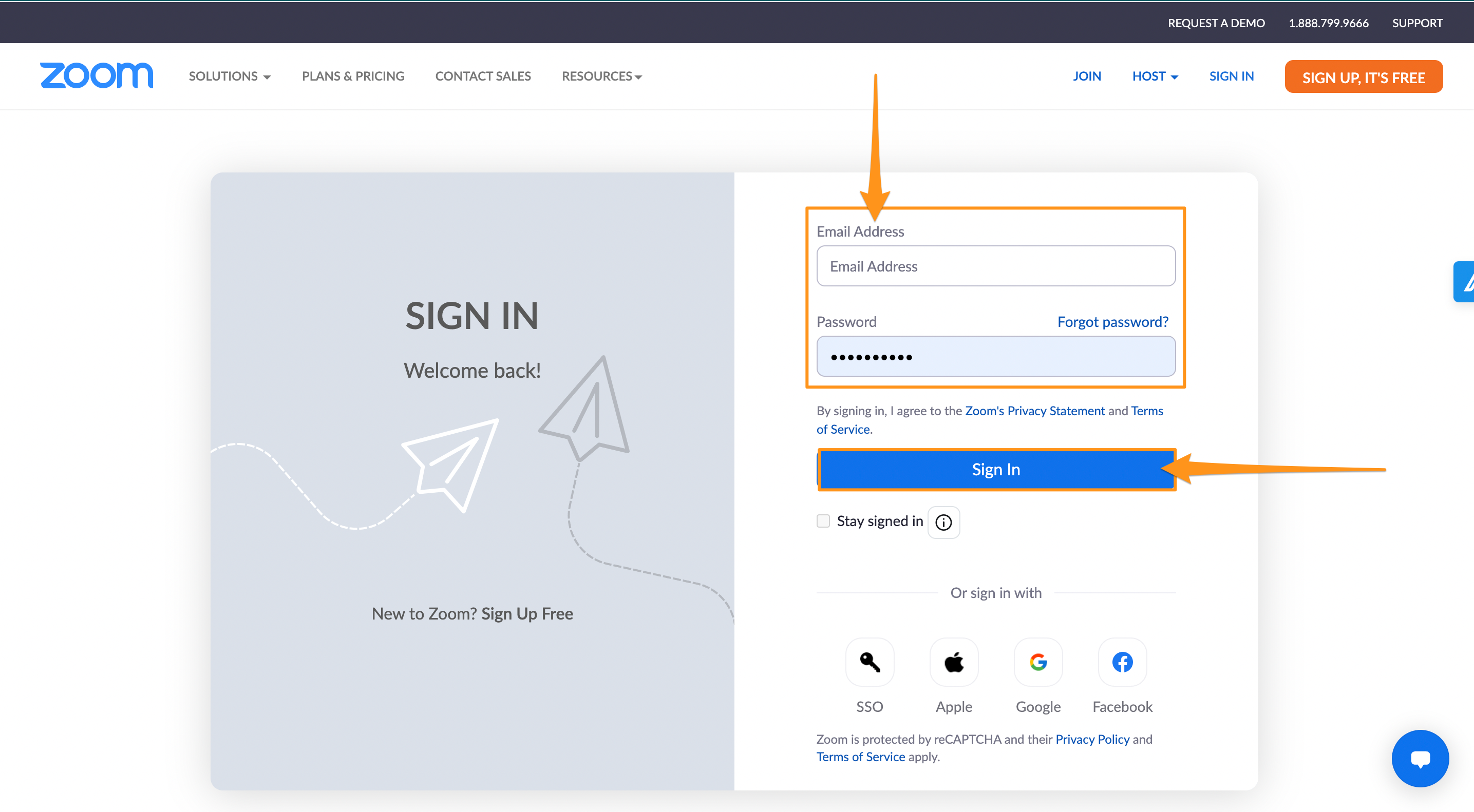 Apollo displays a permissions modal. Review the installation details and then, click Allow to proceed with the setup.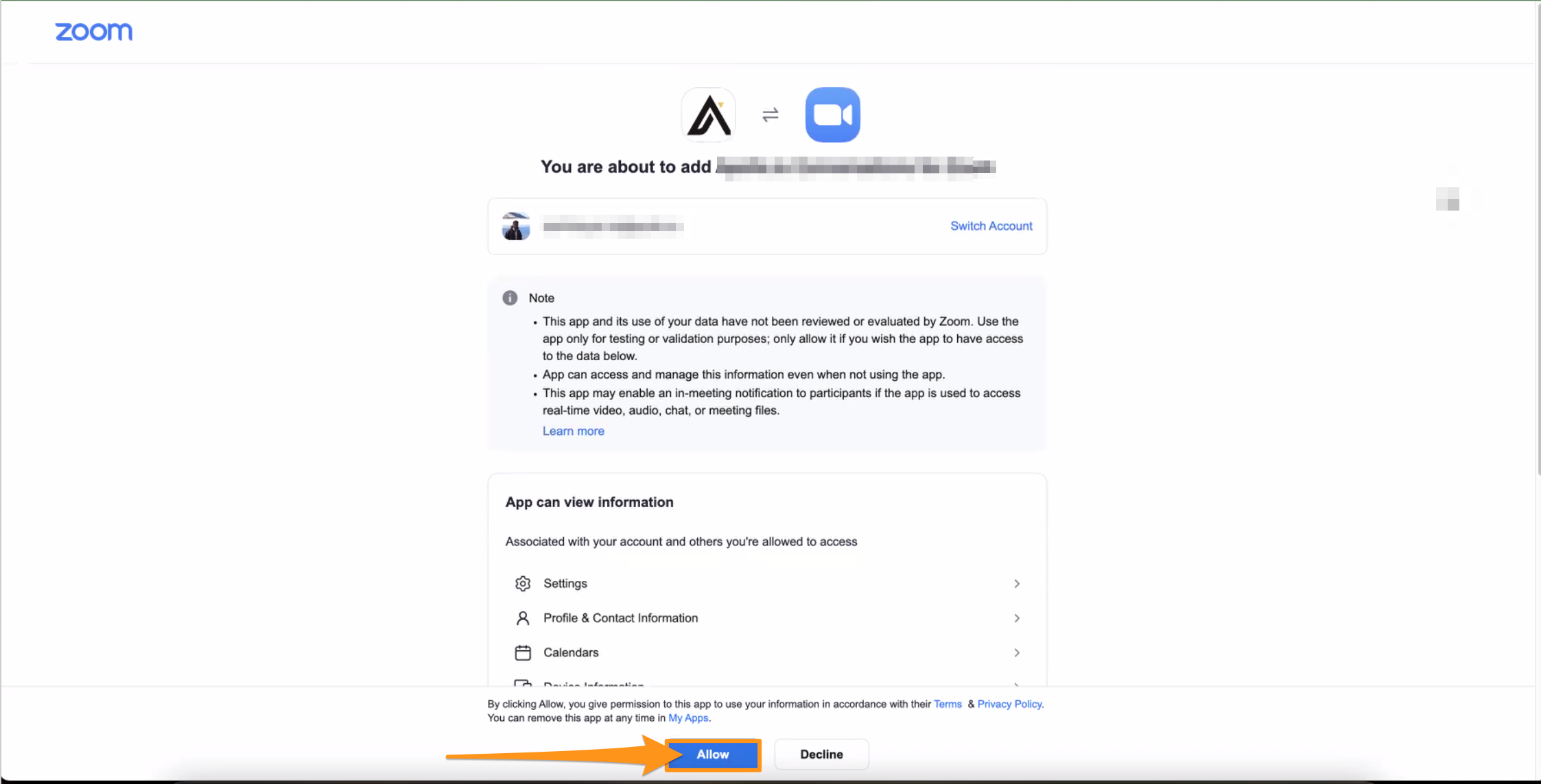 When completed, Apollo redirects you back to the Apollo Conversations tab.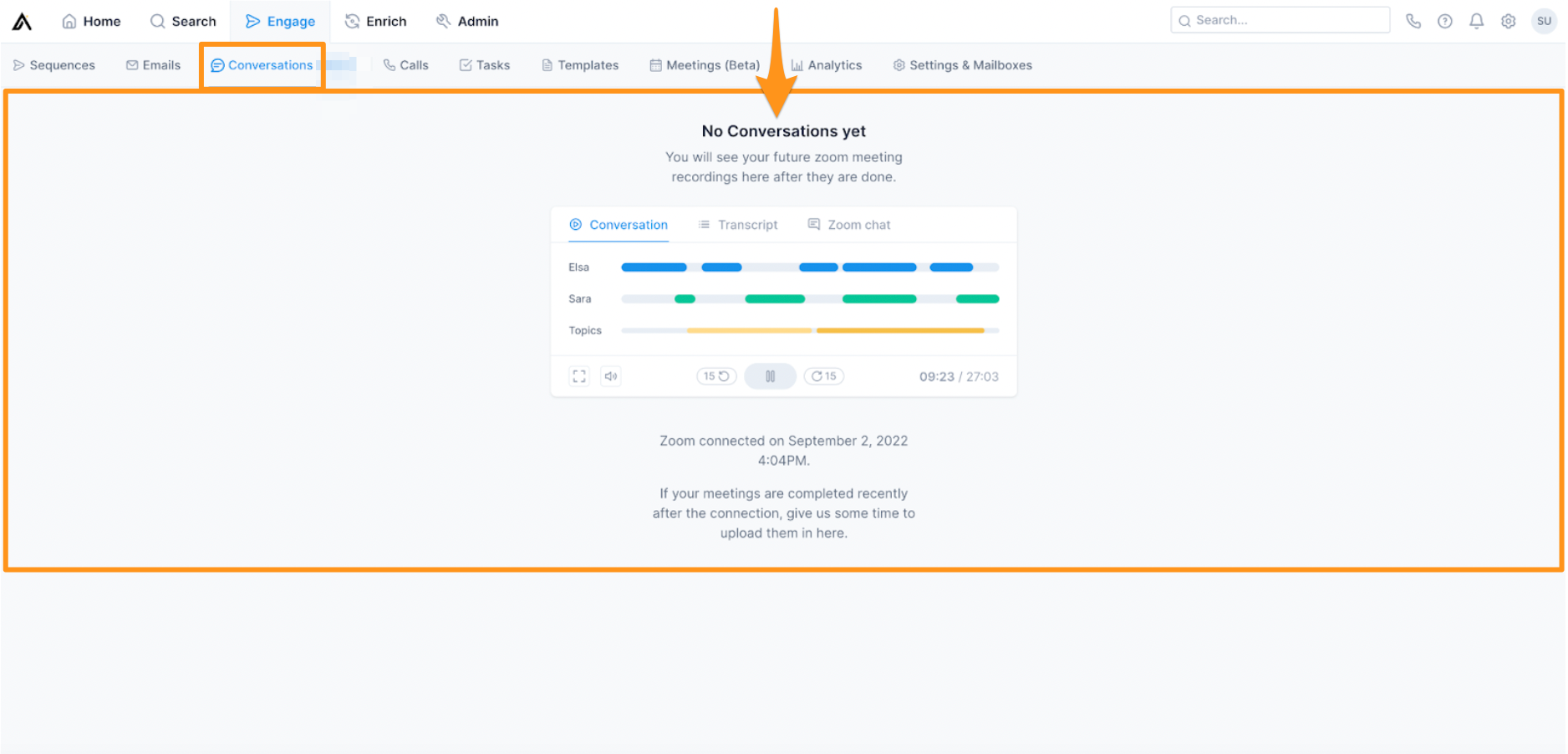 You have connected Apollo to Zoom. Now, every time a user hosts a call in Zoom, you can access it from Apollo Conversations.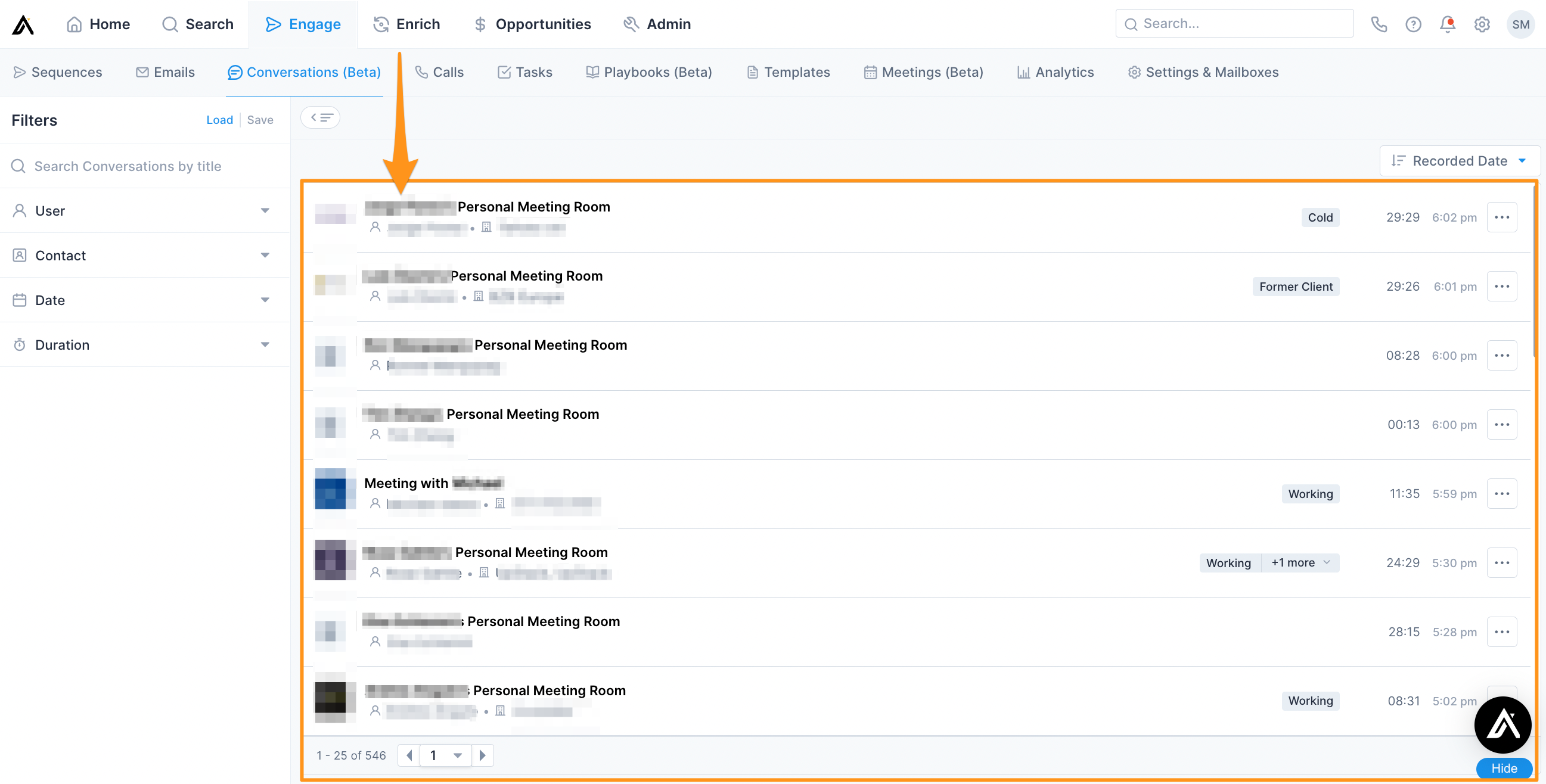 Living Life in the Present
Please note, Apollo starts to pull all new Zoom calls that your team records after you connect Apollo with Zoom. Apollo does not display the previous Zoom conversations that you recorded before you integrated the two platforms.
Configure Your Conversations Settings
Now that you have connected Apollo to Zoom, you can configure your Conversations settings to control which calls your team can access in Apollo.
Launch Apollo, click Settings, and then click Conversations.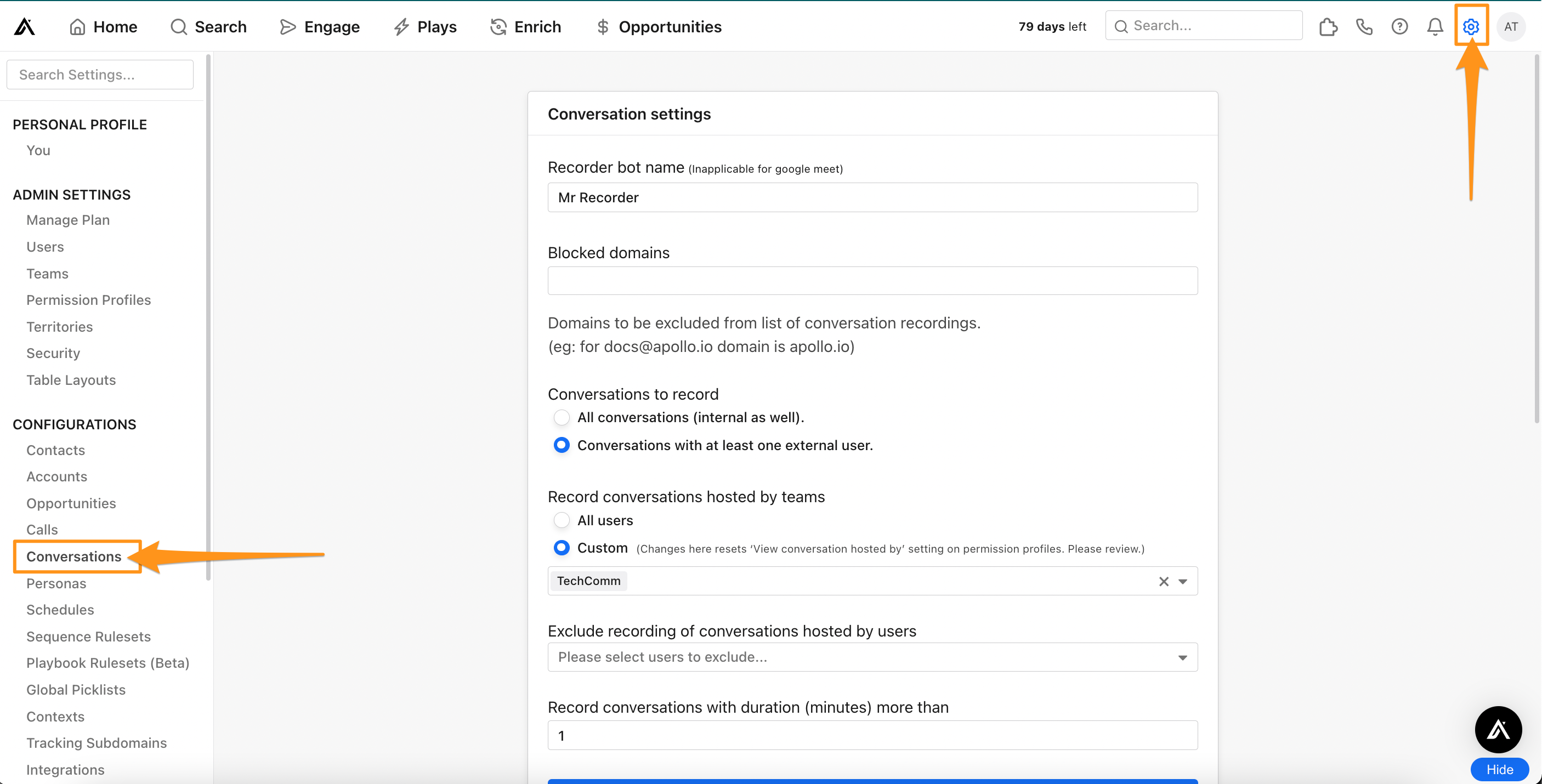 Type in any domains that you want to exclude from the list of recordings that Apollo pulls from Zoom and click enter. Apollo displays them below the Blocked Domains search bar.

Then, click the All conversations radio button if you want Apollo to pull your team's internal and external calls from Zoom.

Alternatively, click the Conversations with at least one external user radio button if you don't want Apollo to pull your team's internal calls from Zoom.

When you are ready, click Save.

You have now configured your Conversations settings in Apollo.
Disconnect Zoom in Apollo
You can disconnect Zoom from Apollo at any time.
Launch Apollo, click Settings, and then click Integrations.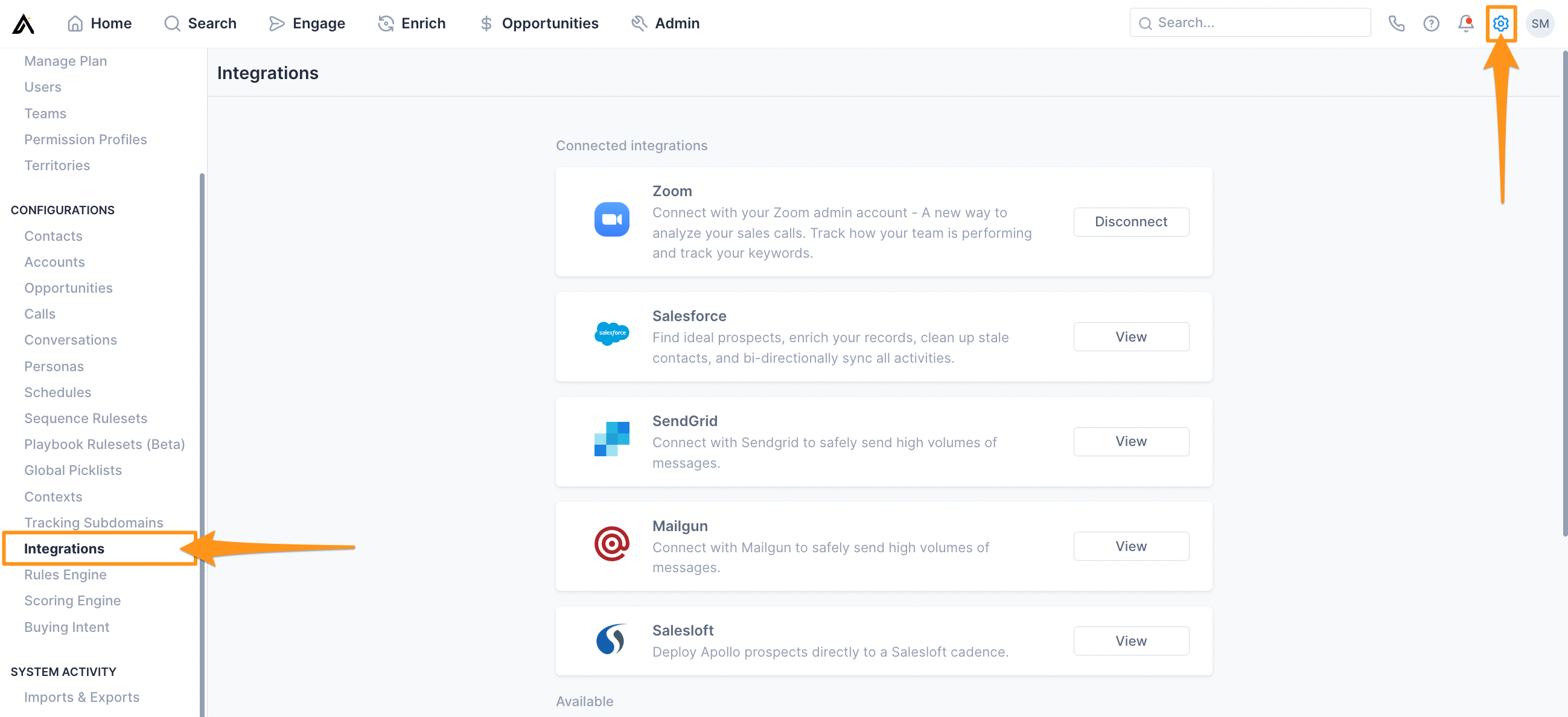 Find Zoom under your "Connected integrations" and then click Disconnect.

Regret Stings!
Are you sure you want to disconnect? You can reconnect at any time. However, please remember that Apollo does not pull in any historical data from Zoom. This means that when you reconnect, Apollo does not display any calls that your team recorded during a period of disconnection.
You have now disconnected your Zoom account from Apollo. If you want to reconnect the 2 platforms at any point, follow the steps in the "Connect Apollo to Zoom" section above.