Watch the Video
Overview
If you use LinkedIn to find and engage with your ideal contacts in a personalized way, you can leverage Apollo automation. LinkedIn task automation helps you increase the efficiency of your workflow while keeping your engagement personal as you scale.
Refer to the section below to discover how to automate LinkedIn tasks with the Apollo Chrome extension.
Lay the Foundations
Before you can automate your tasks on LinkedIn, there are several steps you need to take first:
Download the Apollo Chrome Extension.
Create tasks or build a sequence for your LinkedIn or multi-channel engagement strategy
If you create a sequence, you also need to enroll a list of contacts into it before you can leverage LinkedIn task automation.
Now that you have created new tasks or sequences, you can start to automate your LinkedIn tasks.
Automate Your LinkedIn Tasks
Launch LinkedIn and click the Apollo Chrome Extension widget on the right side of your screen.

Click the Tasks tab.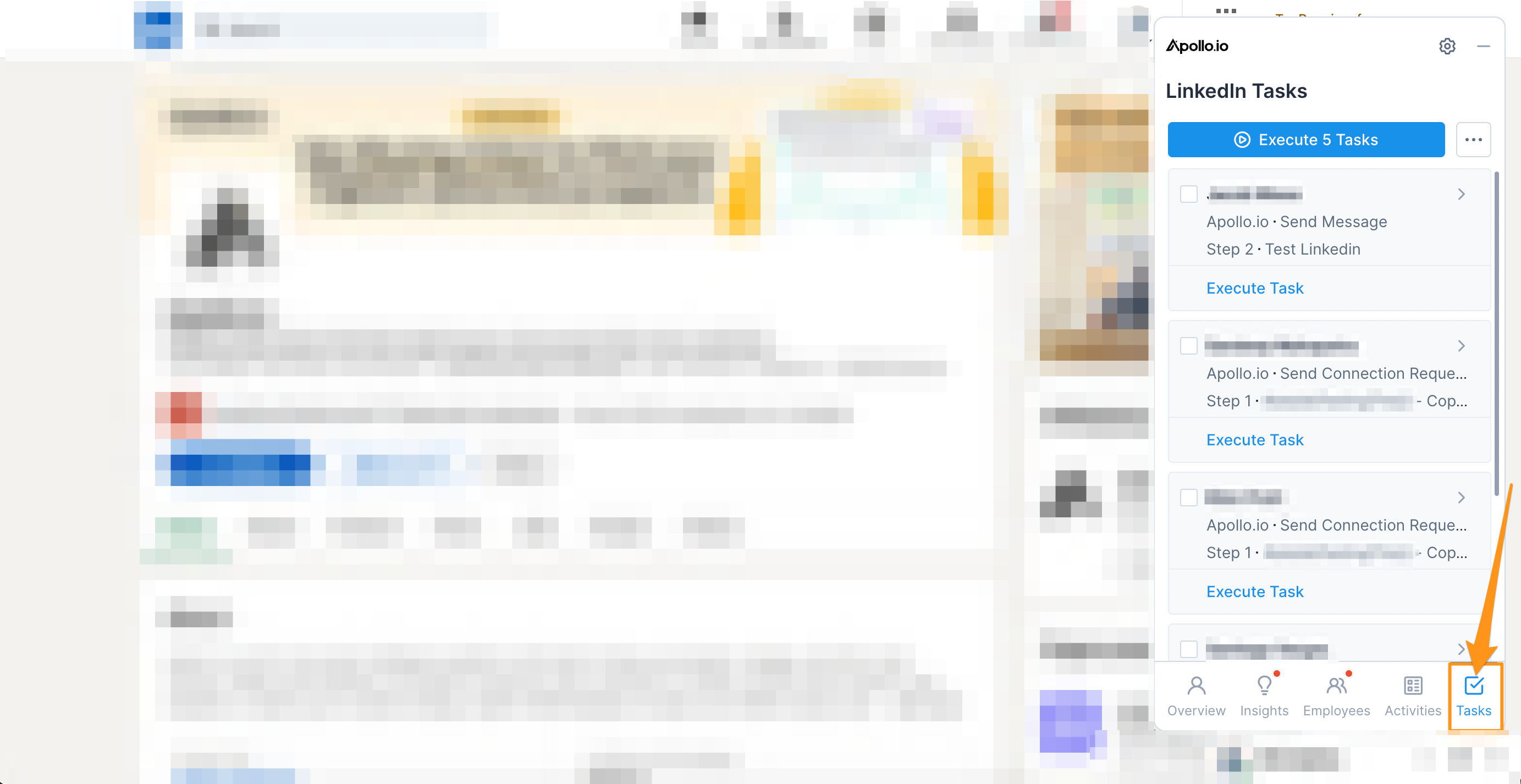 You can view a summary of the pending tasks in the pipeline from this tab.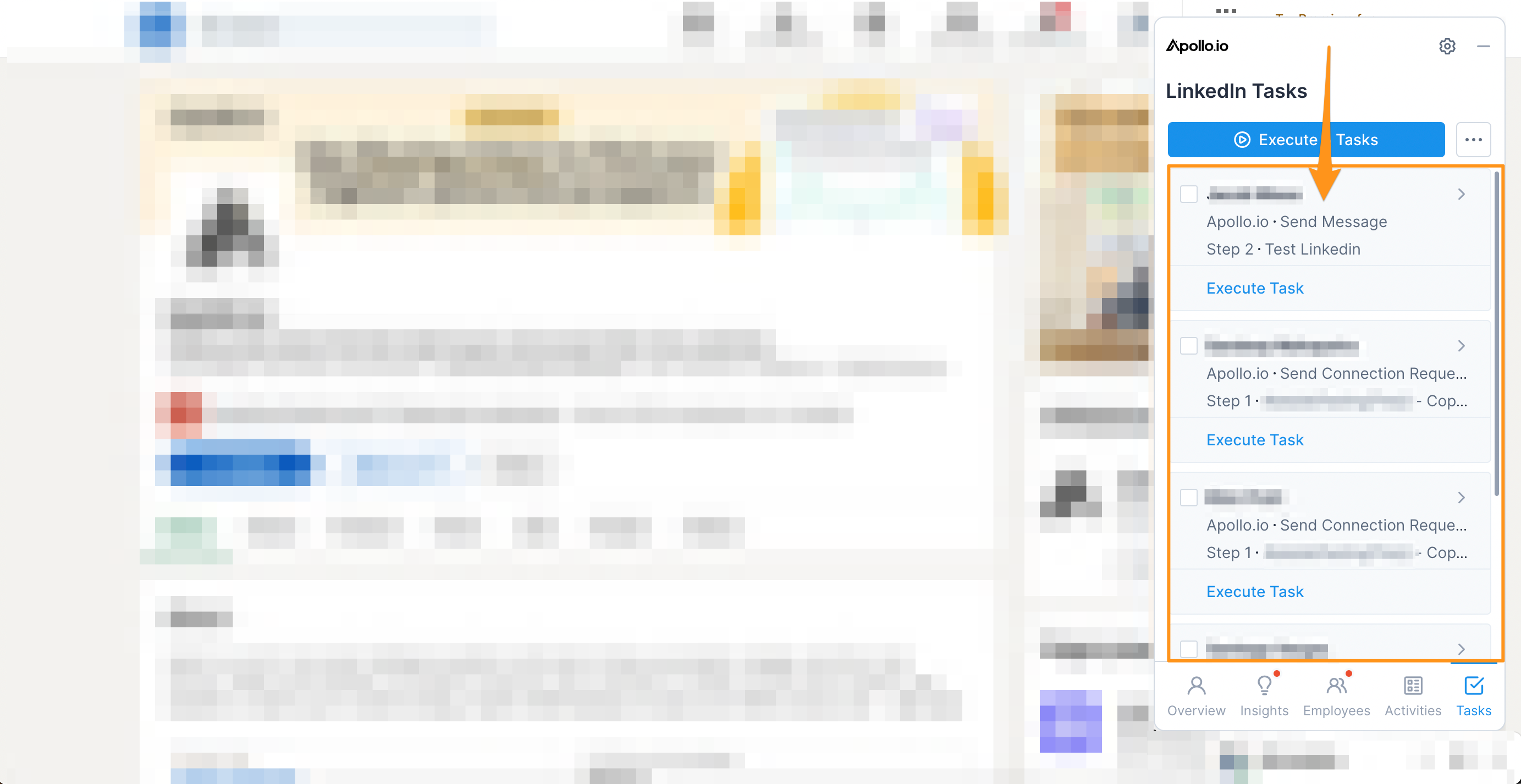 To automate the tasks in bulk, click Execute Tasks.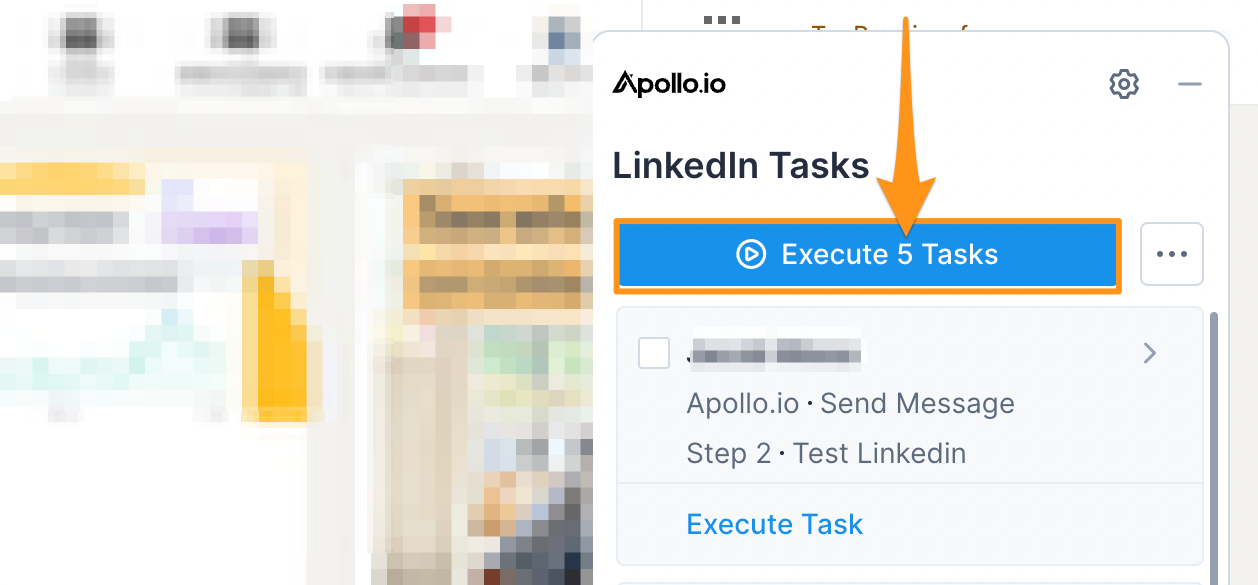 To select specific contacts, click the checkboxes on the left of every task you want to execute. Then, click Execute Selected Tasks.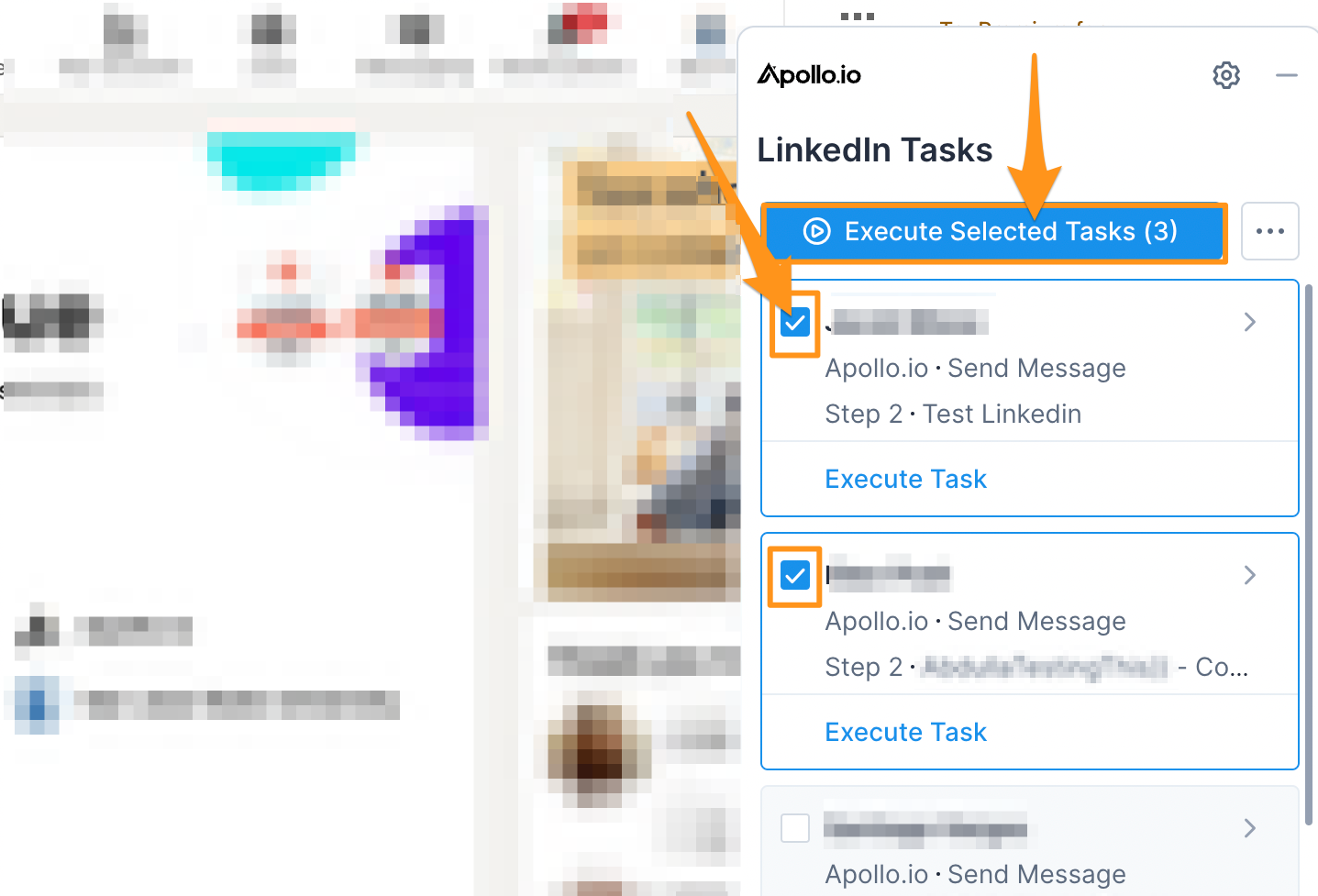 Apollo automatically starts executing all the selected tasks one after another.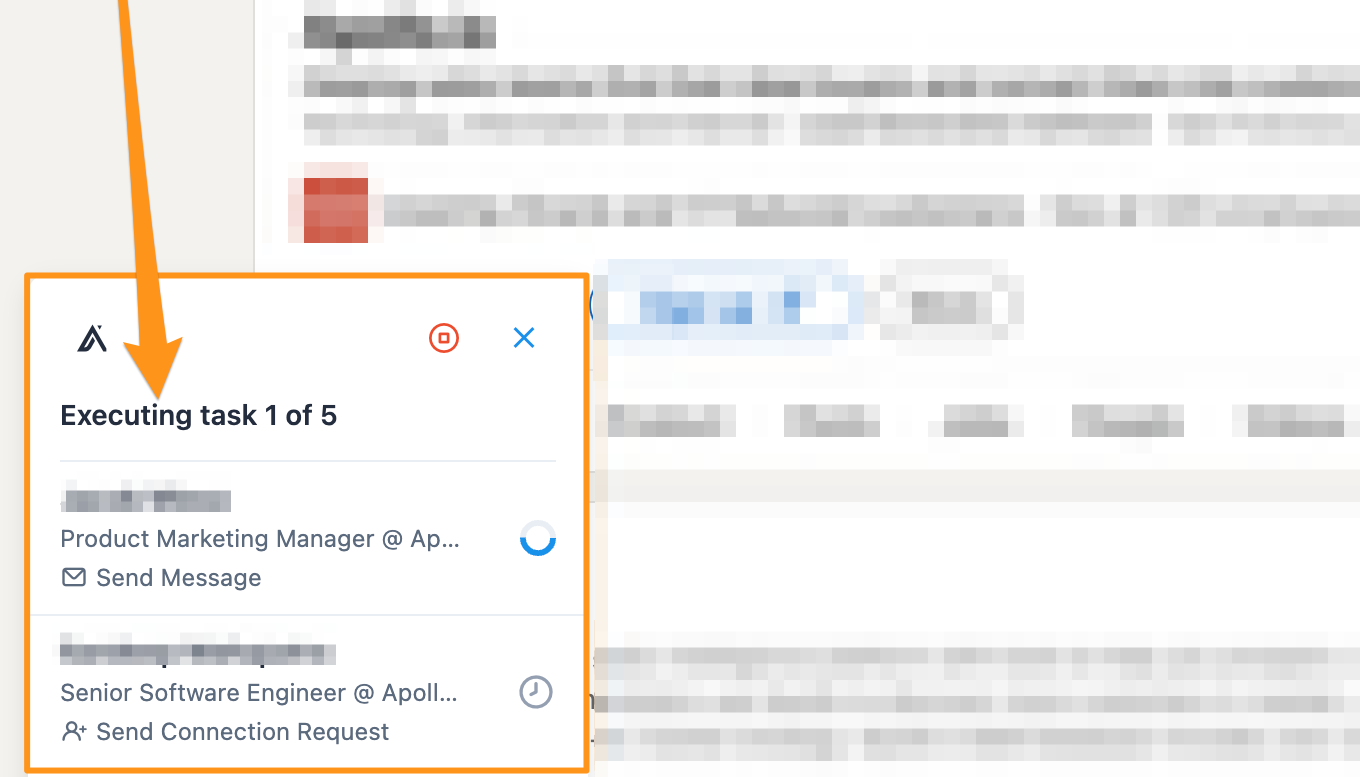 When Apollo successfully executes a task, you will see a green tick icon in the tasks queue modal next to the contact's name.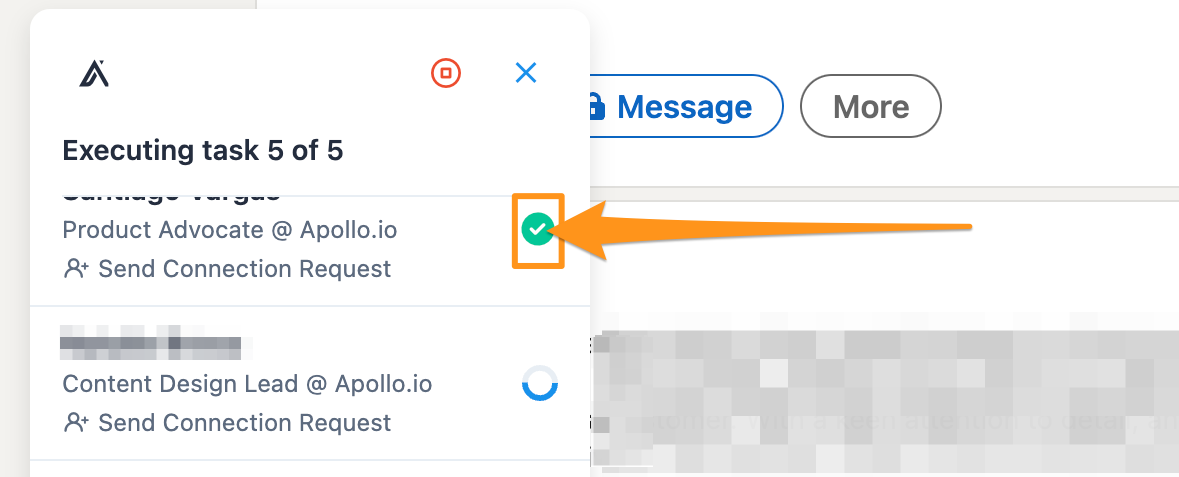 If Apollo encounters a problem executing a task for a specific contact, you will see an error icon in the tasks queue modal next to the contact's name.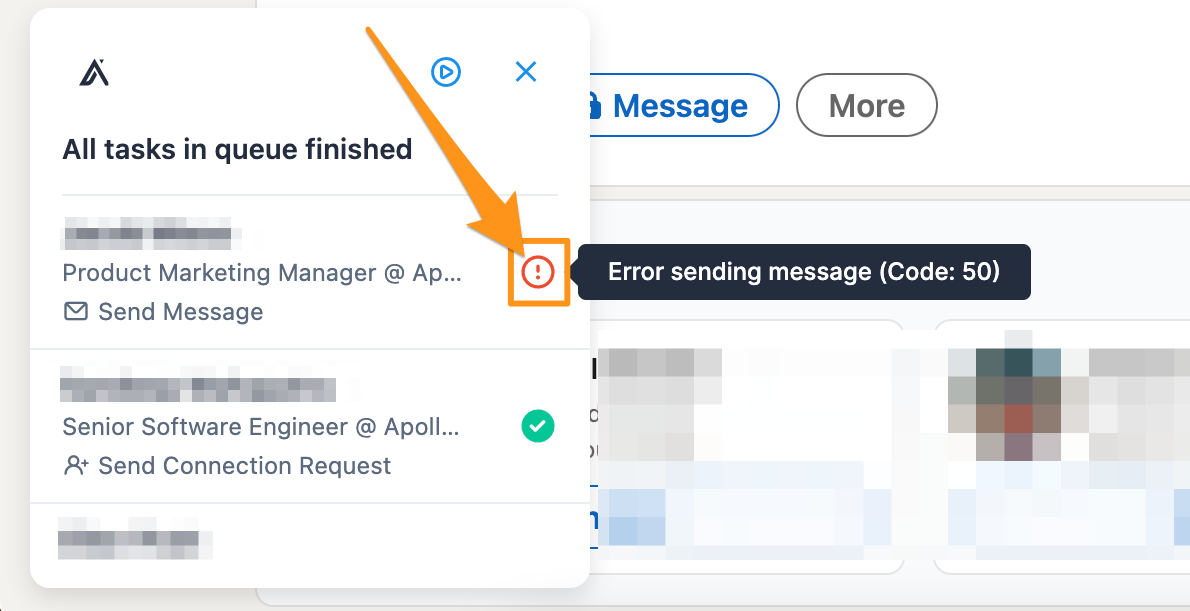 There are 3 main reasons why you may see an error icon in the tasks queue modal:
You have attempted to execute a send message task before the contact has accepted your LinkedIn request. Apollo can only execute send message tasks on contacts that are already part of your LinkedIn network. If you see this error, try executing the task later once the contact has accepted your request to connect.
You have tried to execute a manual task. Apollo can only automate the send connection request and send message tasks. For the view profile and interact with post tasks, you need to perform the task manually and then mark it as complete.
You use Sales Navigator. Unfortunately, Apollo's LinkedIn automation does not currently support automation for "send message" tasks if you have an active Sales Navigator subscription.
You have now automated your LinkedIn tasks using the Apollo Chrome extension.