Overview
You can use LinkedIn to collect valuable insights about a contact, such as education, background, colleagues, and geolocation. You can use this information to personalize messaging and increase the chances of positive interaction.

Be Accountable
Please note, you need a LinkedIn account in order to see any information about a contact. Click here to create a new LinkedIn account. To learn more about how to prospect with LinkedIn, read the Prospect in LinkedIn article.
Refer to the sections below to learn about how to leverage sequences for your Linkedin goals and how to add and engage with contacts in a sequence.
Use a Sequence to Track Your LinkedIn Goals
When you combine prospecting with LinkedIn and the ability to track tasks with sequences, you can reach your goals easier. You can create a sequence that tracks each step of your LinkedIn prospecting process. Launch Apollo and click Engage.

Click the sequence to which you want to add a LinkedIn step.

Click + Add Step.

Click the drop-down and choose the LinkedIn step you want to add.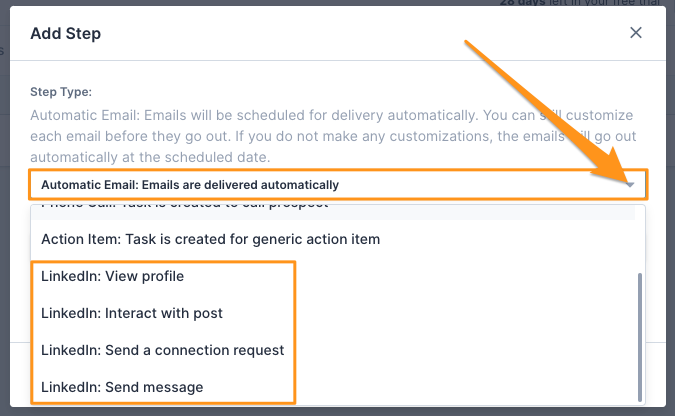 There are 4 different LinkedIn steps you can use in your sequence:
View Profile: This is a reminder for a member of your team to view a contact's LinkedIn profile to gain specific information such as education history, job history, current company details, and colleagues.
Interact with Post: This is a reminder for a member of your team to begin interacting with a contact's posts on LinkedIn. This could be as simple as reacting to posts or something more in-depth like commenting.
Send a Connection Request: This is a reminder for a member of your team to send a connection request to a contact. Connections requests allow you to direct message a contact and, in some cases, is necessary to see and interact with the contact's posts.
Send Message: Send a direct message to a contact. This should be the last step to fostering a relationship with a contact through LinkedIn. You only want to message a contact if you are sure they would like to speak with you. Otherwise, it will feel like SPAM.
When you choose to Send a Connection Request or Send Message, you have the opportunity to create a template. You can use snippets to personalize outreach to your contacts. For more on snippets, please read the Use Basic Snippets article.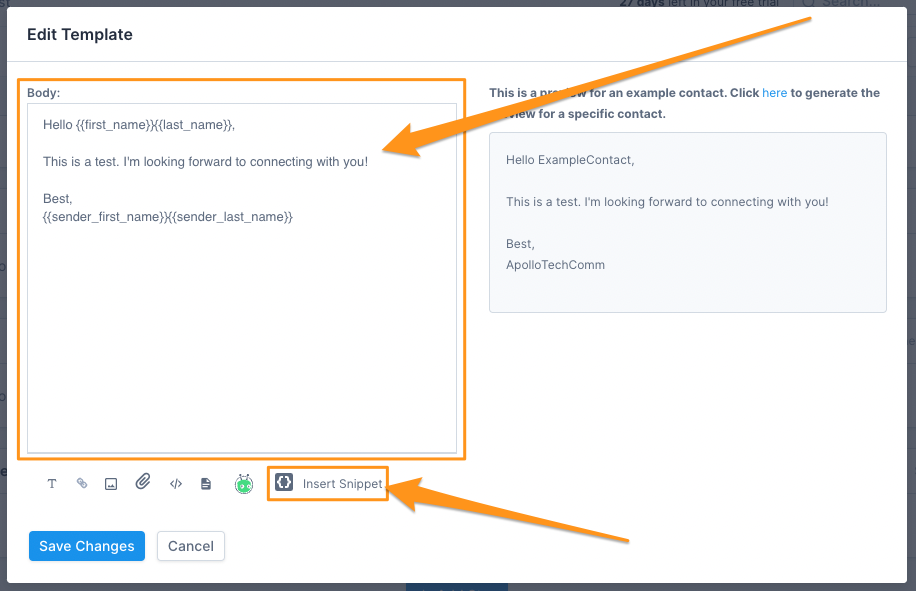 That's NOT All, Folks
For a brief step-by-step instruction on how to add a LinkedIn step to a sequence, please read the Add LinkedIn Steps to a Sequence article.
Add Contacts to Your Sequence
Now that you have your LinkedIn steps in your sequence, you should add contacts. The contacts you add will run through your LinkedIn sequence.
For step-by-step instructions on how to add contacts to a sequence, read the "Add Contacts to a Sequence" article.
One at a Time
Be aware that a contact should only be in one sequence at a time.
Engage With Your Contacts Through Your Sequence
Task 1: View Profile
With a contact added to your sequence, you can use your LinkedIn tasks to guide yourself through engagement. Launch Apollo and click Engage.

Confirm your sequence is on. The toggle should be blue. Click on your sequence after you turn it on.

Confirm your steps are turned on—shown with a blue toggle—and click Contacts.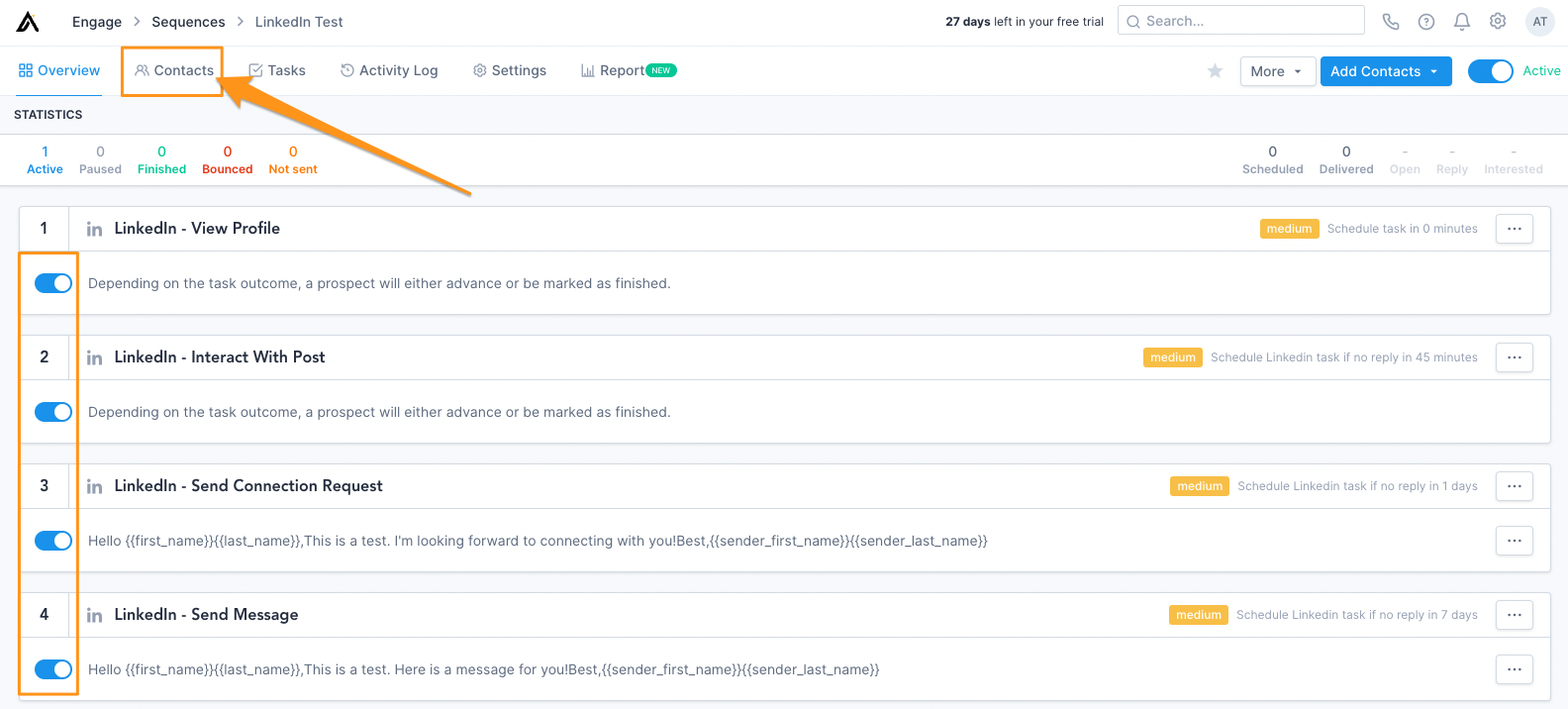 Click the contact with whom you want to engage.

Scroll to the Sequences section of the Contact Card. Then, click on the task from your sequence.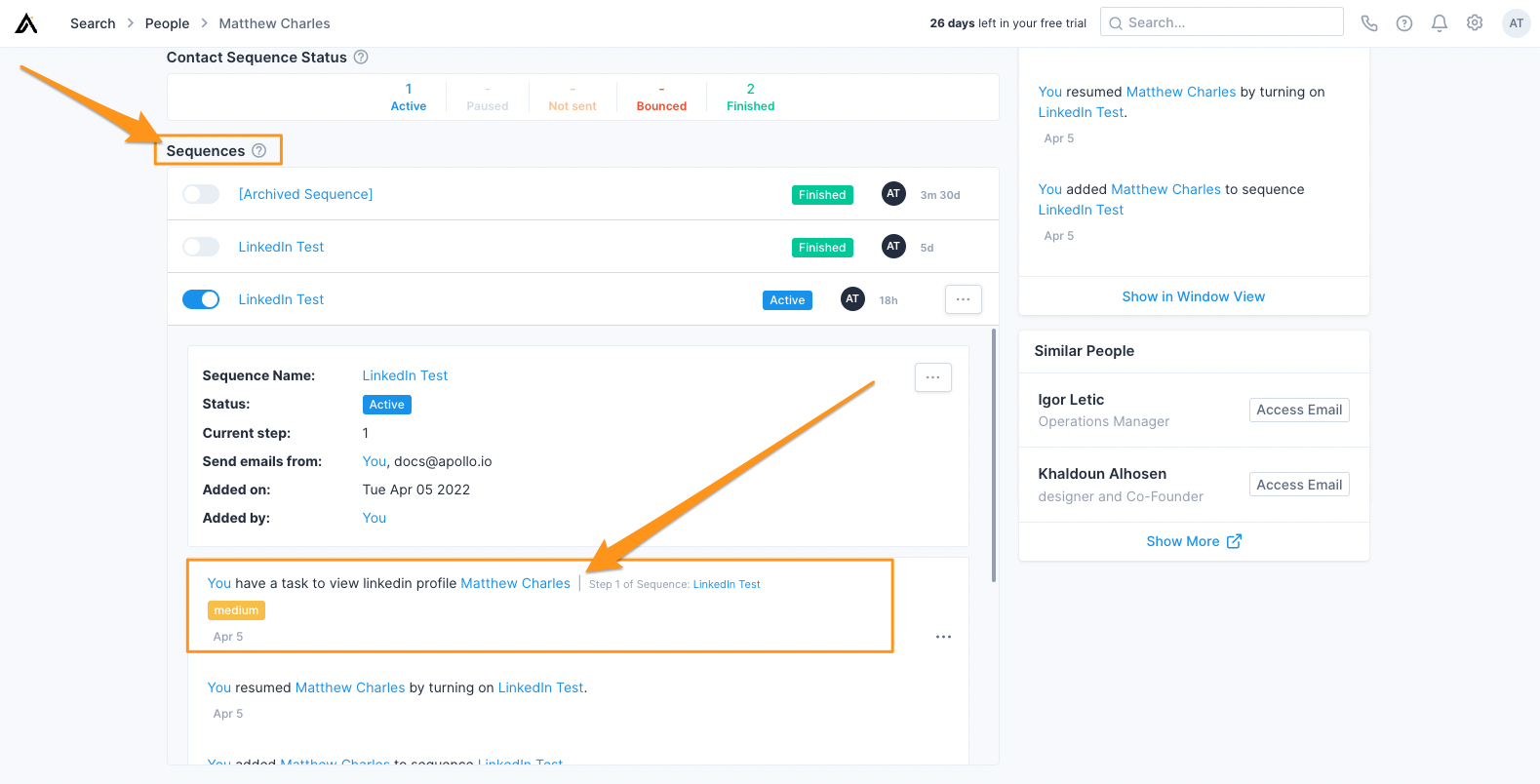 Click View LinkedIn Profile. This is a direct link to your contact's LinkedIn profile.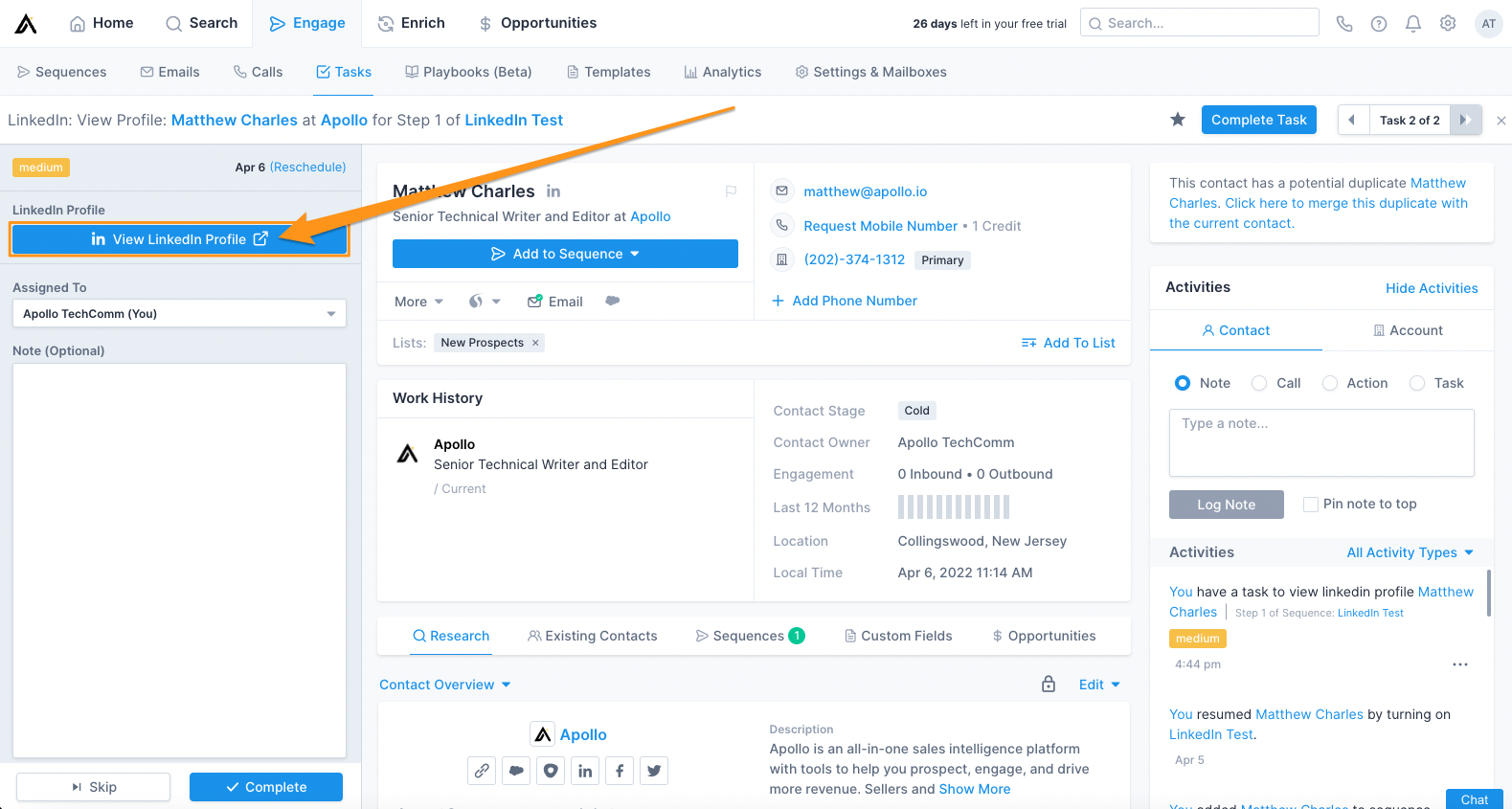 Add relevant information to the Note textbox. Your notes should include any specific information that might be useful about the contact such as educational background, work history, current employer, recent publications, and colleagues.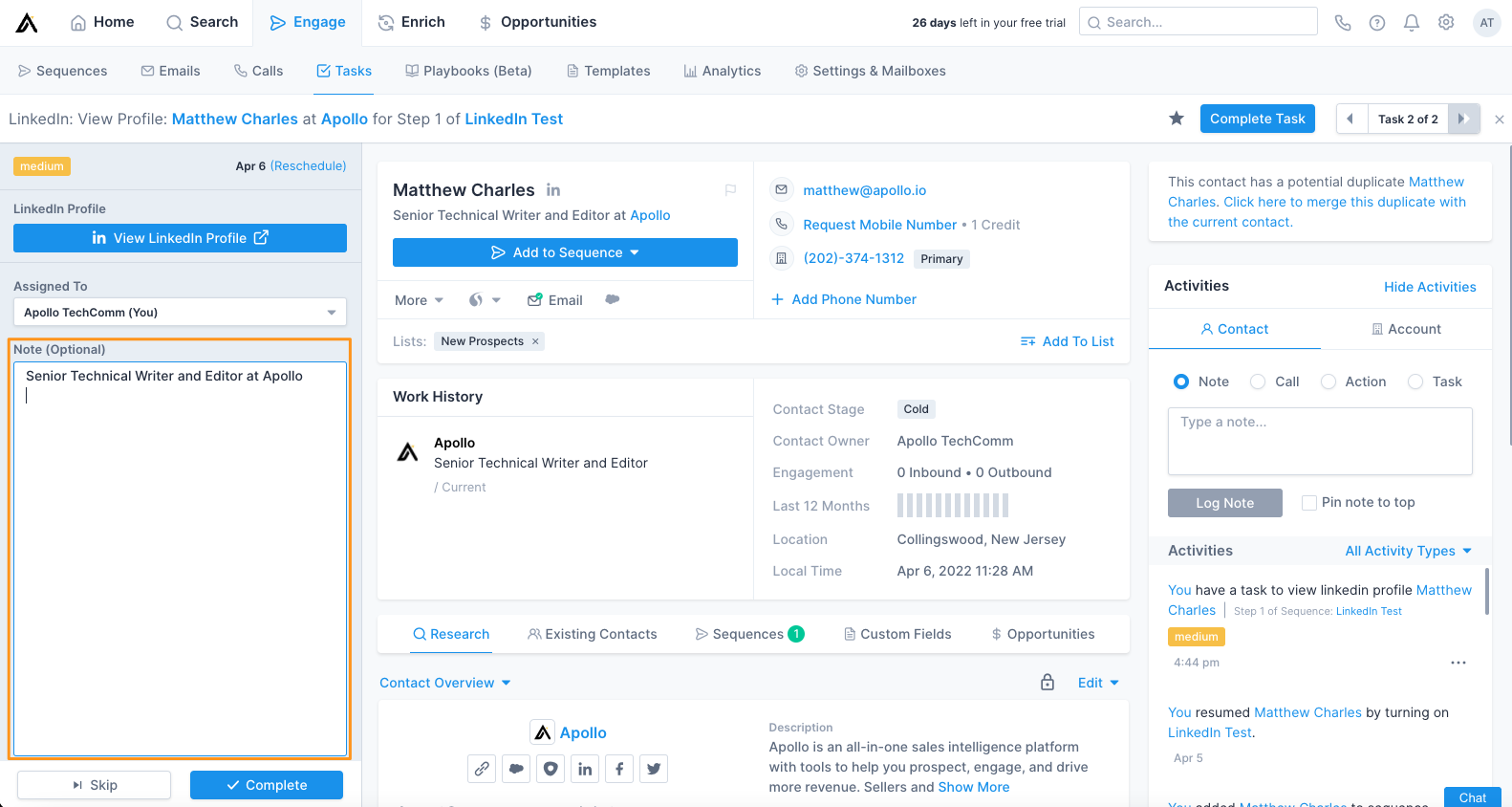 Click Complete to finish the task.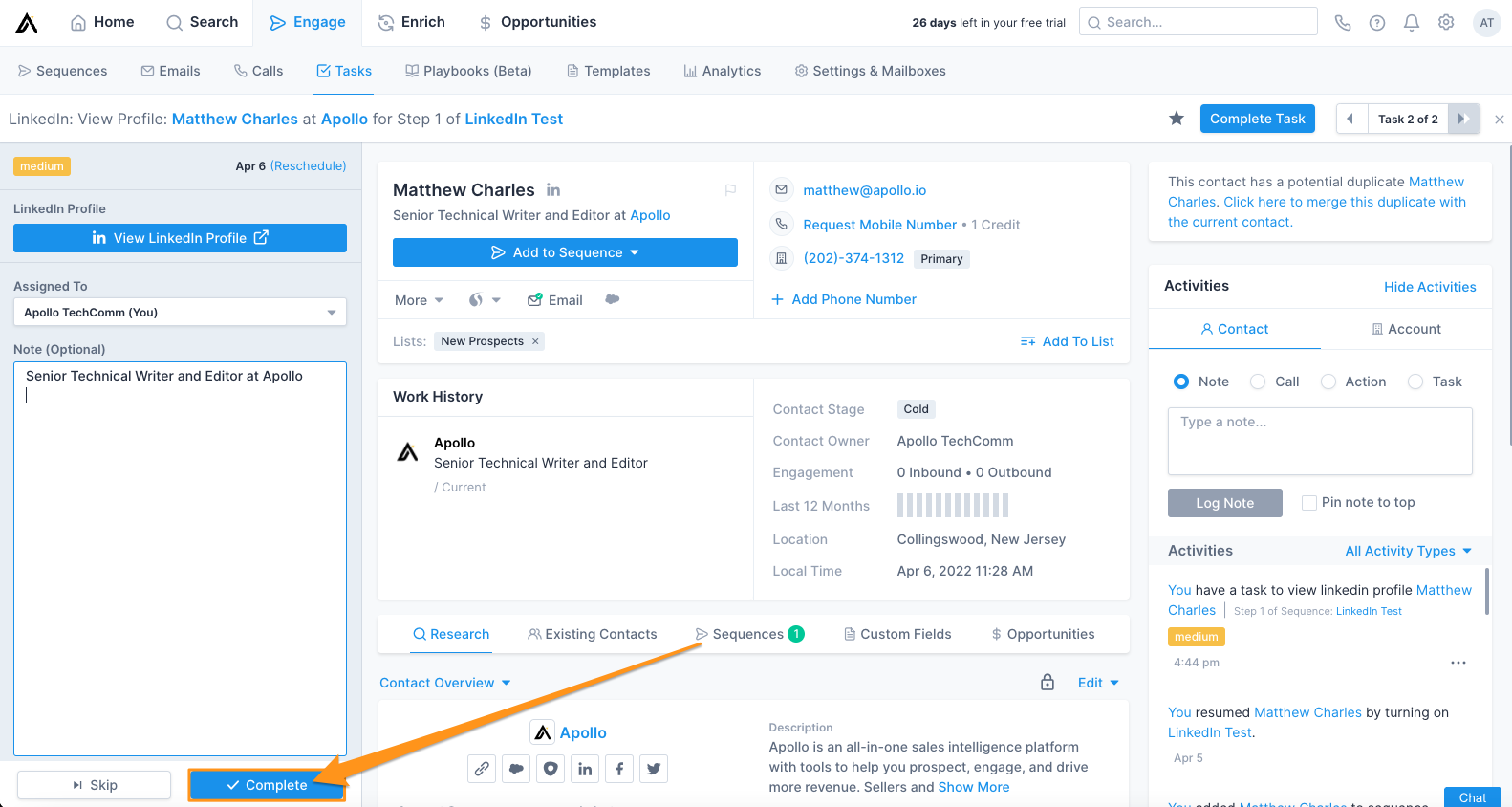 Skipping Stones
Please note, you are not beholden to any of the tasks you create. You can click the Skip button to skip any tasks.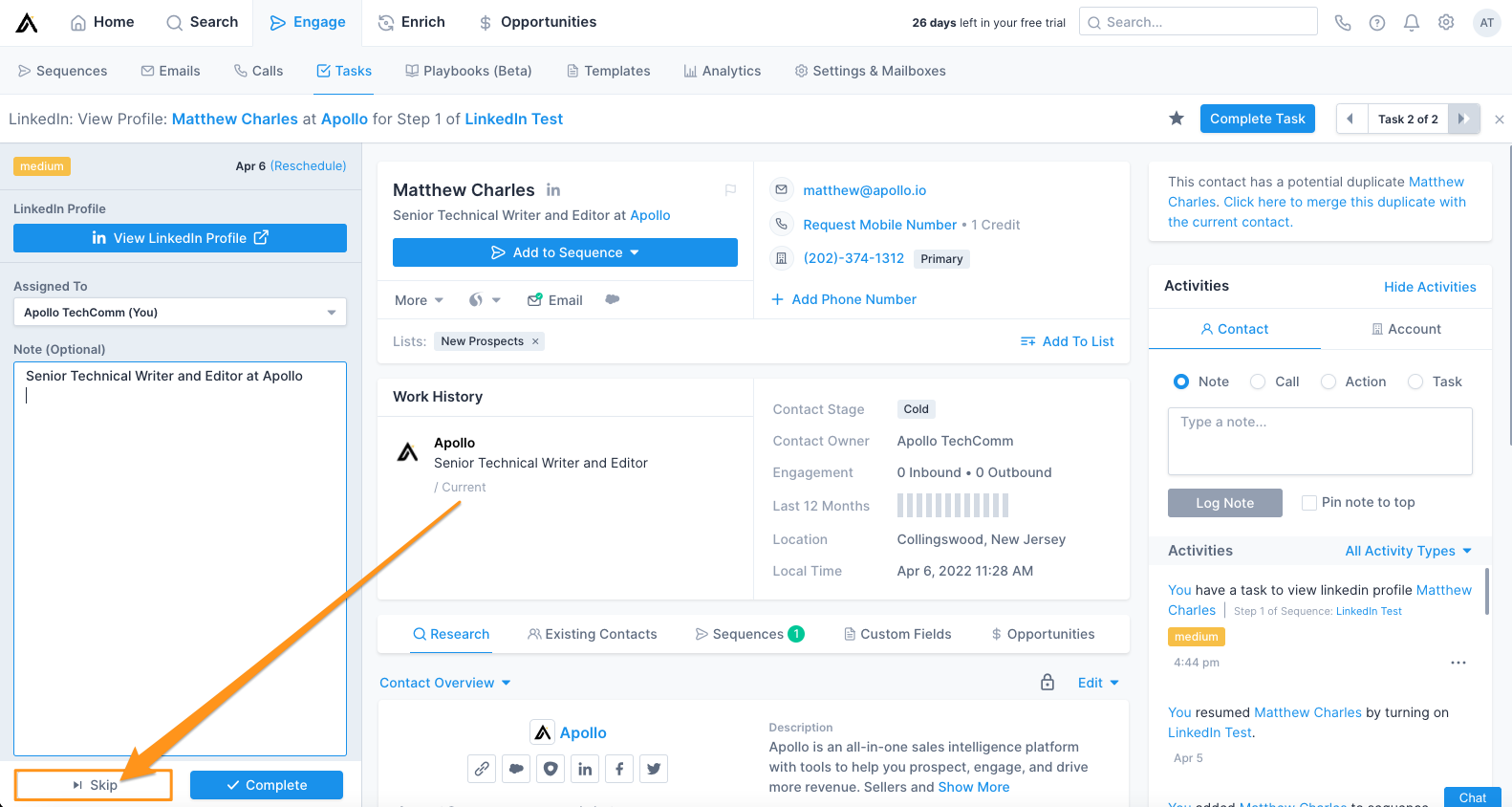 You return to the Task screen after you complete a task. You can prepare for the next task in your sequence and repeat this process until the LinkedIn Sequence is complete.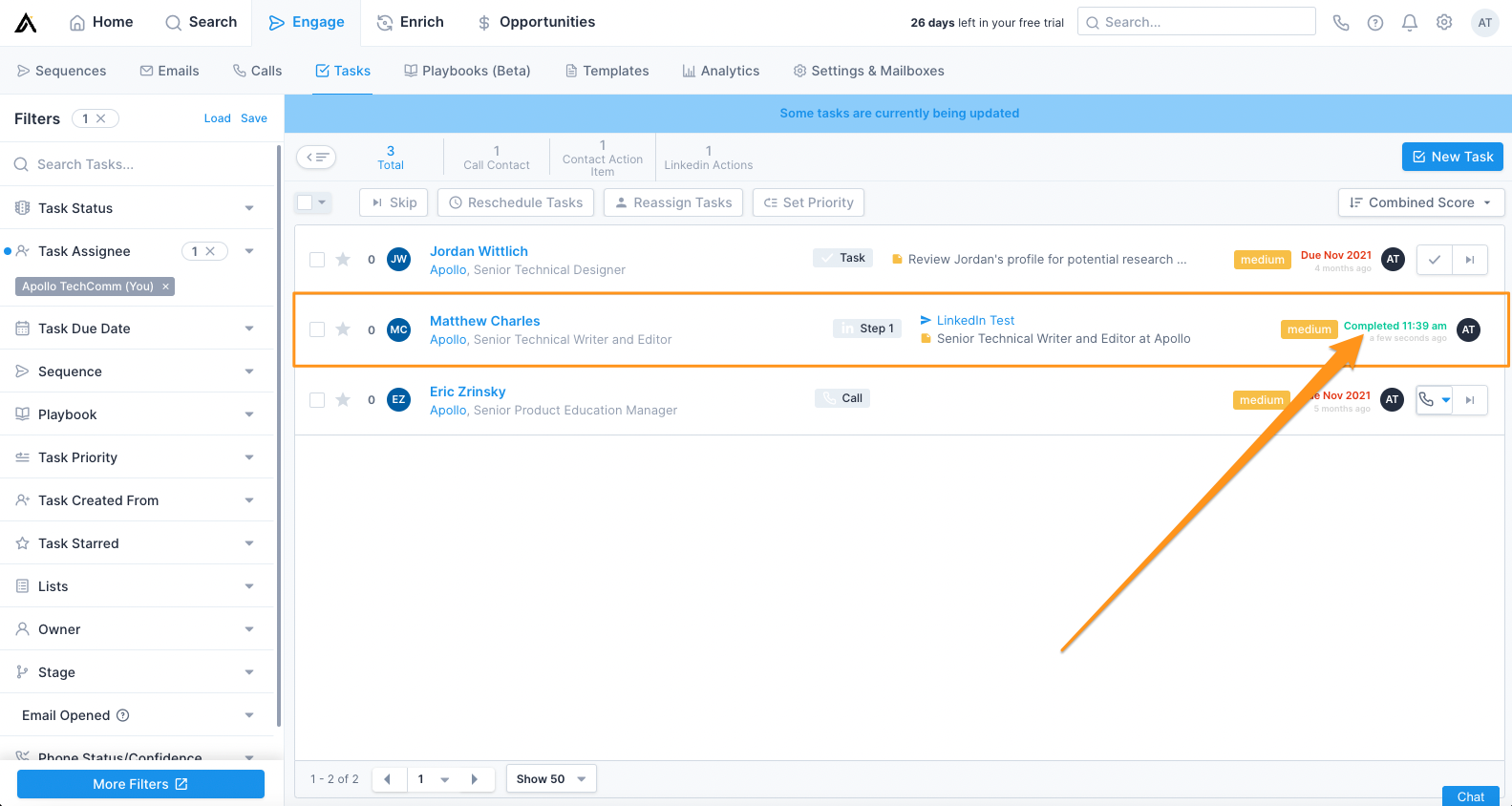 Task 2: Interact With Post
The next step is Interact With Post. The LinkedIn button on the contact's card now says View LinkedIn Activities. This brings you directly to the activities section of the contact's LinkedIn profile. From here, you can see posts and interactions to get a better idea of the interests and thoughts of your contact.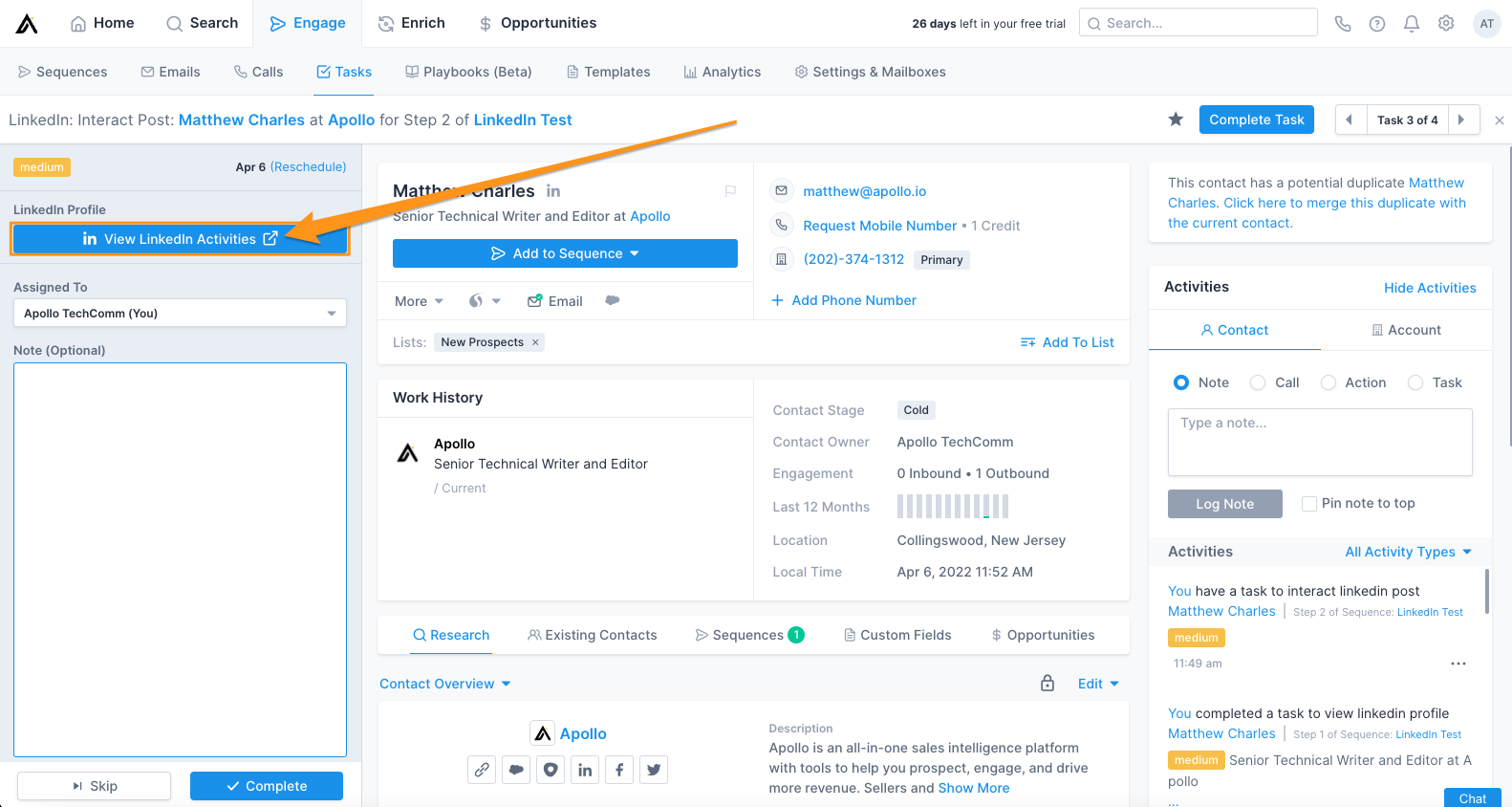 Add any relevant notes and click Complete.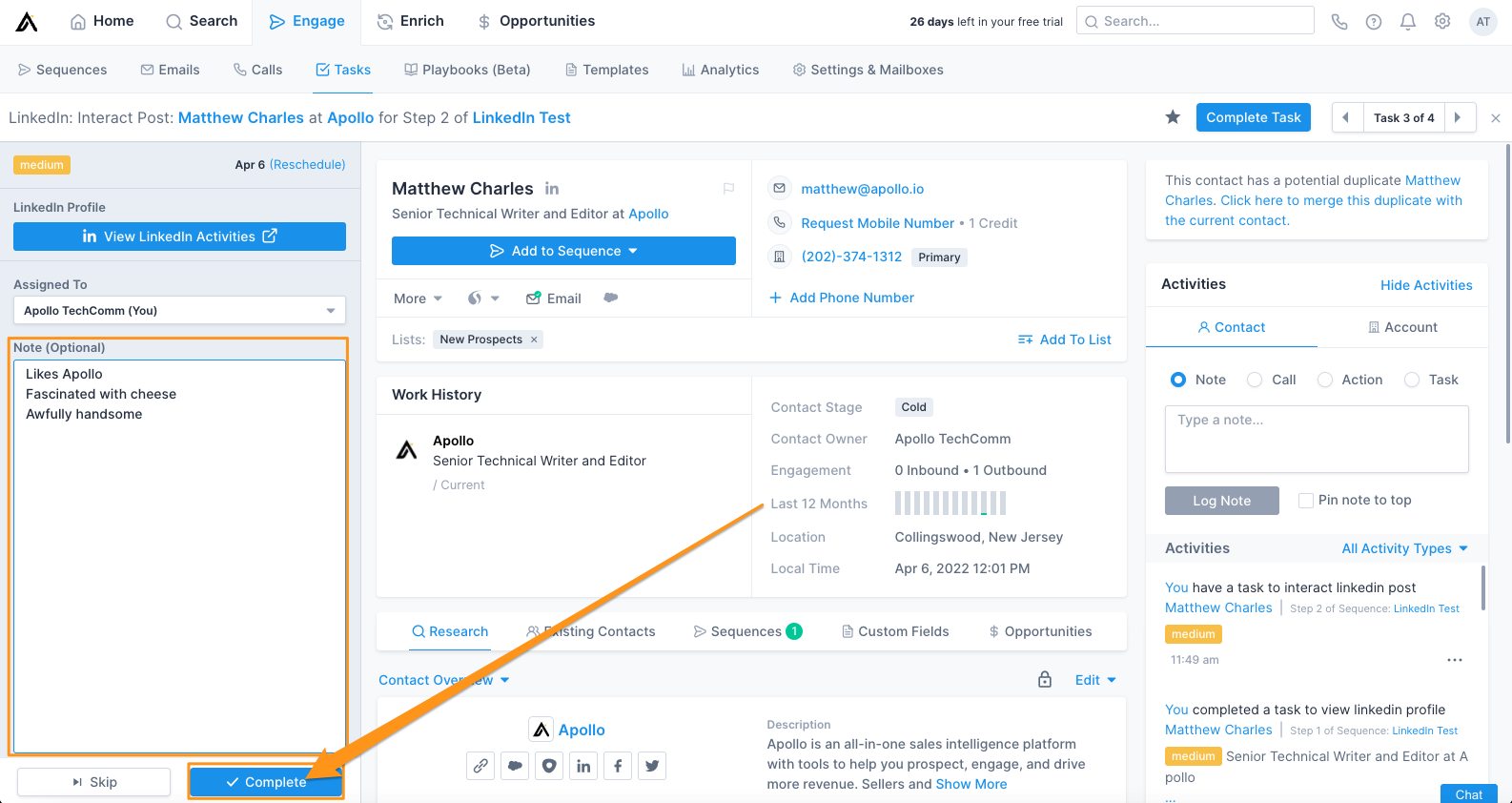 Task 3: Send Connection Request
The next step is Send Connection Request. The template you created earlier populates in the LinkedIn Message textbox. Click Copy Text to copy it to your clipboard. Then, click View LinkedIn Profile. When you send a connection request via LinkedIn, you can paste it into your connection request textbox.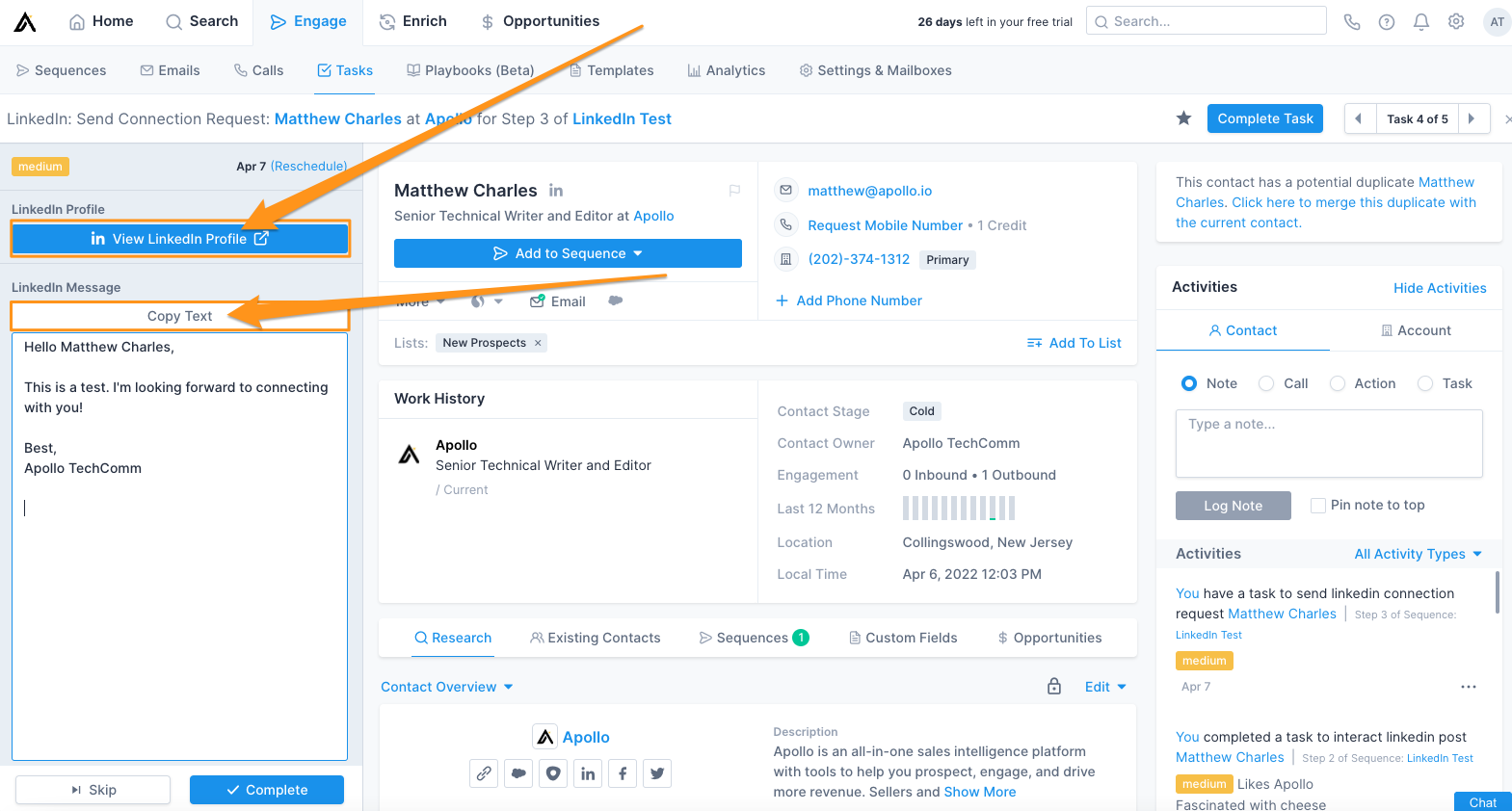 Click Complete after you send the connection request.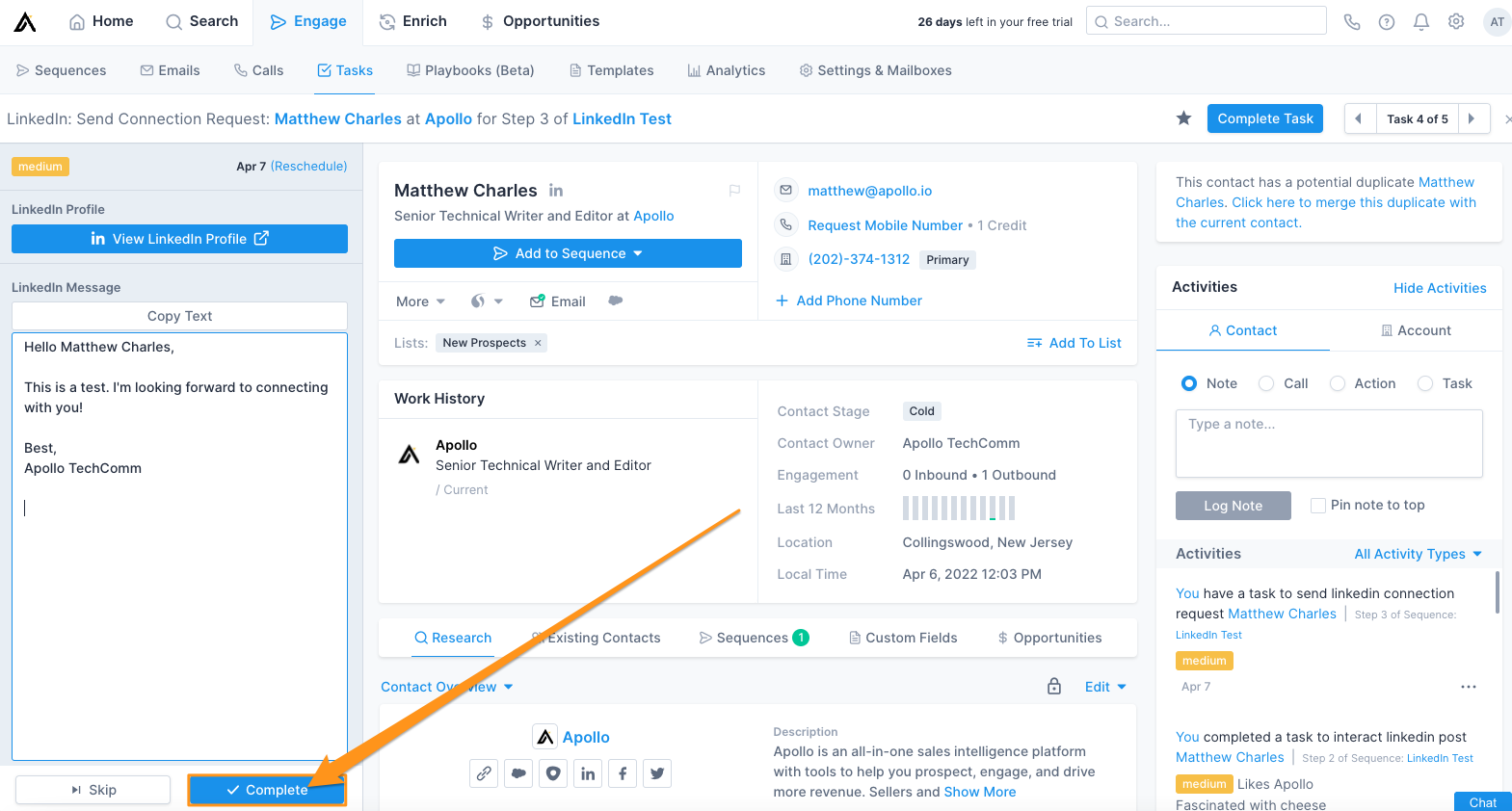 Task 4: Send Message
The final step in your LinkedIn sequence is Send Message. Click Copy Text to copy your message template to your clipboard. Then, click View LinkedIn Profile. From the contact's LinkedIn profile, you can send a message and paste your template text into it.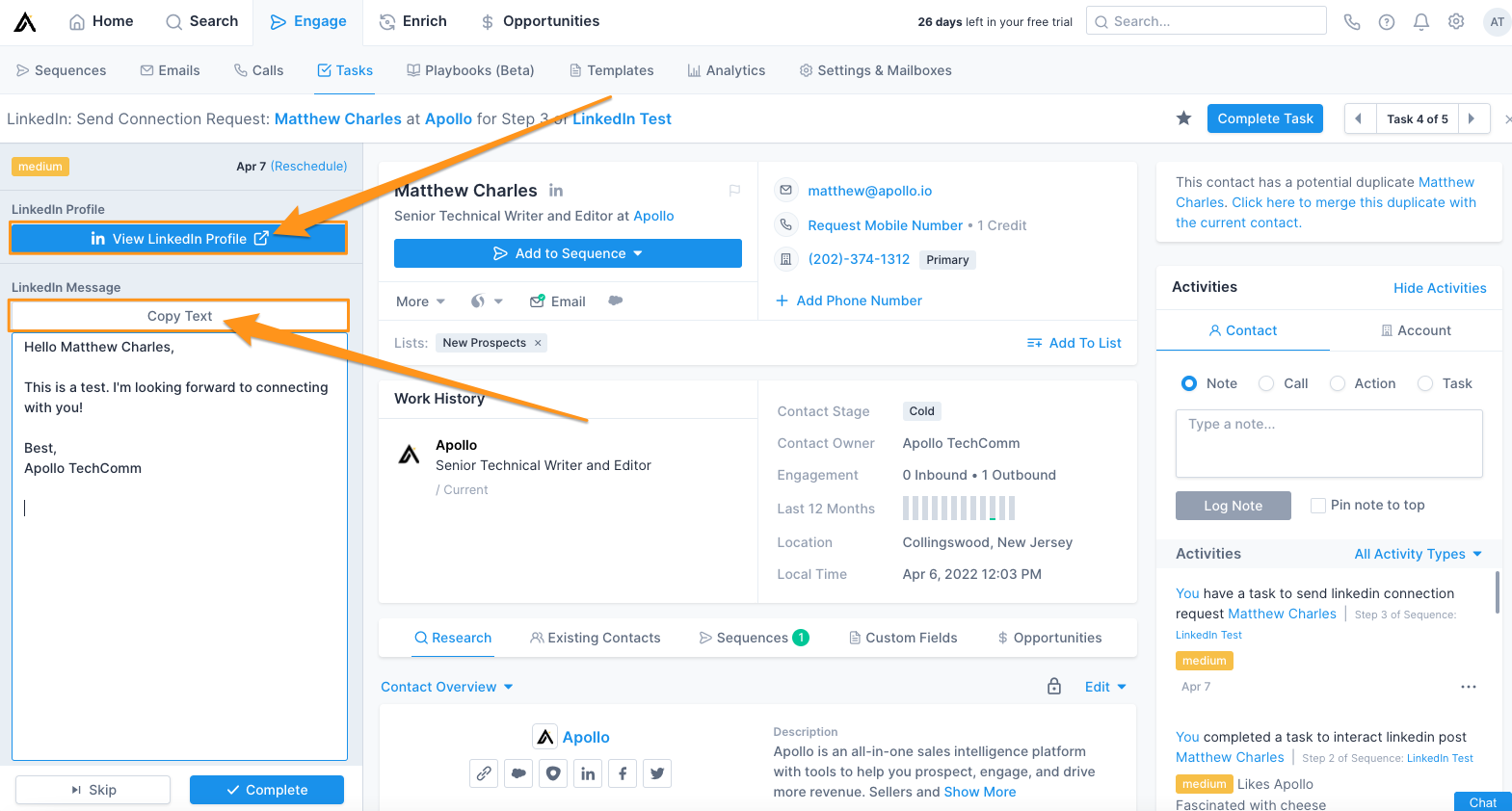 Click Complete after you send a message to your contact.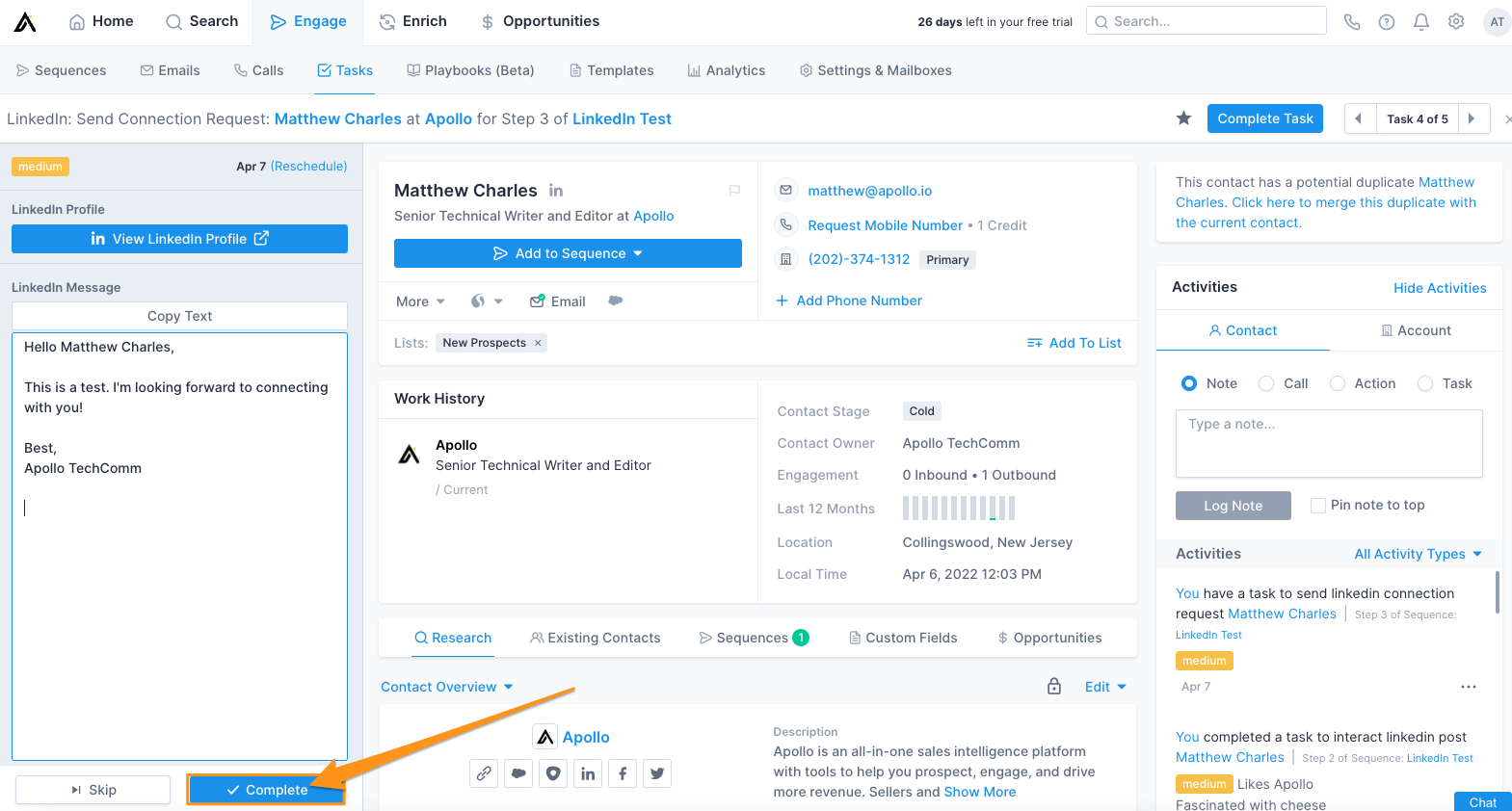 You have now completed a LinkedIn sequence.