Overview
Emails are a powerful engagement tool. With the right messages, you can build and strengthen relationships with your customers. However, writing emails is a time-consuming business! With the Apollo AI writing assistant, you can create and send effective messaging to your contacts at scale to maximize your productivity and outreach.
Apollo AI generates subject lines, copy, and personalized openers for the emails you send through Apollo.
Passionate about Privacy? We are too!
Got questions about data privacy? For more information please read our AI data privacy policy. If you have further questions, you can drop us an email here at any time.
Refer to the sections below to find out more about how personalized openers and AI words work. Then, get ready to leverage AI in your Apollo sequences.
Use Personalized Openers
Manual Emails Only
Please note, personalized openers are currently only available for manual emails in Apollo. Our developer wizards are working hard to bring personalized openers to your automatic emails too, so stay tuned for future updates.
Personalization is a key component of successful email messaging. When you enable personalized openers for your emails, you can tailor each message to the specific events or information most relevant to each contact. This helps grab their attention from the get-go, build rapport, and increase the likelihood of a response.
Apollo adds a Personalized opener placeholder at the top of an email template. For every contact you add to your sequence, Apollo then generates several options for you to choose from, which you review and can edit before sending. This means that you can add a personal touch to your emails, while also significantly reducing research time.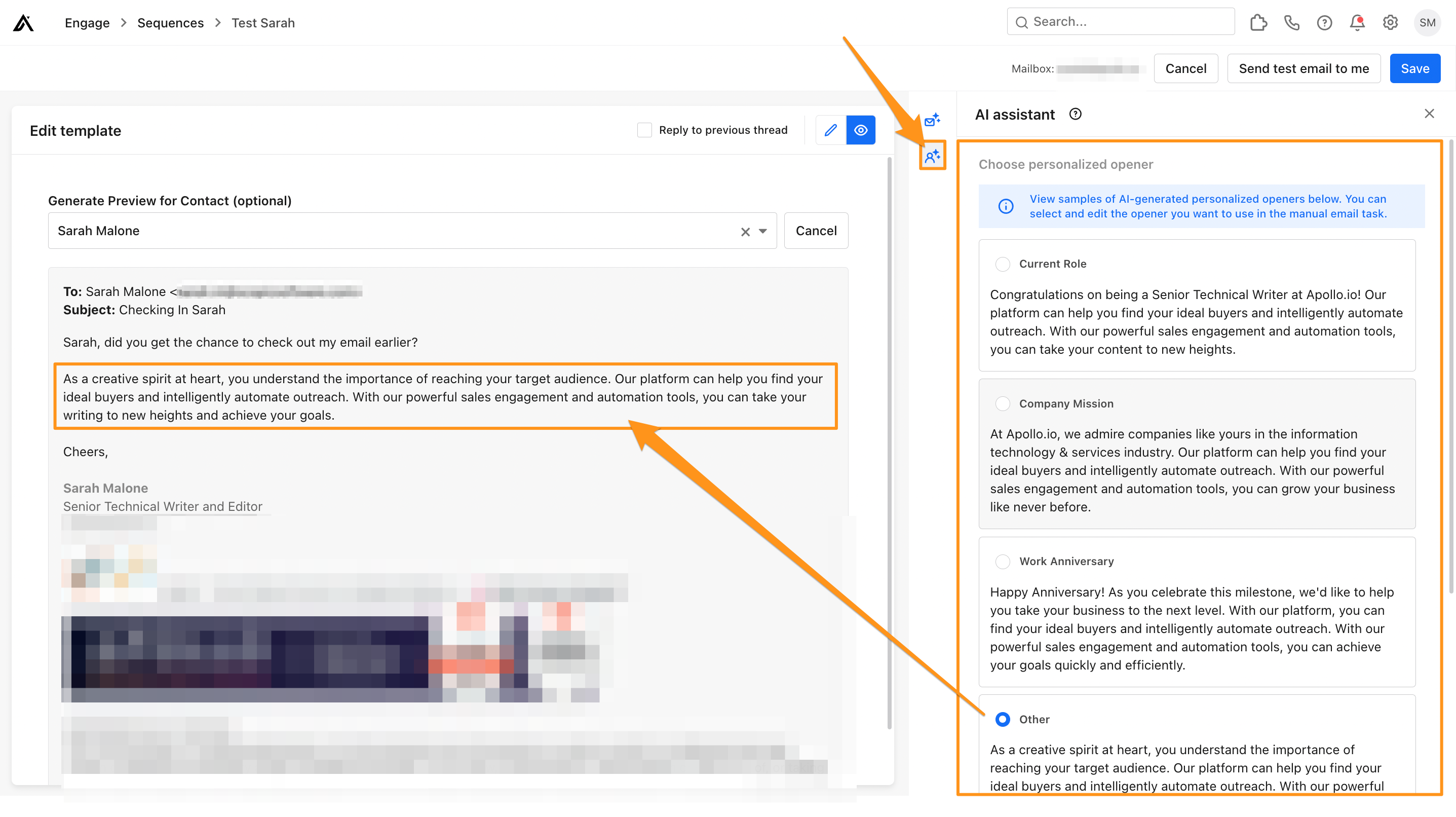 There are currently up to 5 types of personalized openers that Apollo may recommend per contact:
Company Mission: Speak to contacts on their level with openers tailored to their core company goals and values
Current Role: Meet contacts where they are at with openers that relate to their current position within a company
Work Anniversary: Show you've done your research with timely openers that touch on a recent anniversary
Upcoming Anniversary: Build rapport by anticipating upcoming milestones
Job Focus: Tailor the start of your message to the specific areas that contacts care most about
AI Words
It's For (Almost) Everyone!
Please note, the Apollo AI writing assistant is powered by OpenAI. It is currently available on a free trial basis for users on all Apollo plans—be it free, basic, professional, or custom. However, there are certain countries, such as Russia, China, North Korea, Syria, Cuba, and Iran, in which AI features are blocked. If you are based in one of these countries, you cannot currently take advantage of Apollo AI in your messaging workflow. But stay tuned—who knows what the bright, AI-filled future may hold!
The number of words you can generate with Apollo AI varies depending on your plan:
Free Plan: Up to 10,000 words per month, per user
Basic Plan: Up to 250,000 words per month, per user
Professional Plan: Up to 800,000 words per month, per user
Custom Plan: Up to 1 million words per month, per user
One Language at a Time
Please note, currently the Apollo AI writing assistant only speaks English. We hope to bring you a solution with polyglot powers in the future, but language learning takes time, so sit back and enjoy the English version for now.
All the words generated by Apollo AI per user count towards your monthly limit. This includes all the words in the email copy and personalized opener options that Apollo generates for you to choose from.
You Gotta Use It or You'll Lose it!
Please note, unused AI words do not roll over from one month to the next. So make sure you and your team take advantage of Apollo AI from the very start of each month.
If you are an admin user in Apollo, you can track the number of words your team uses within Apollo.
Launch Apollo, click Settings, and then click Credit usage.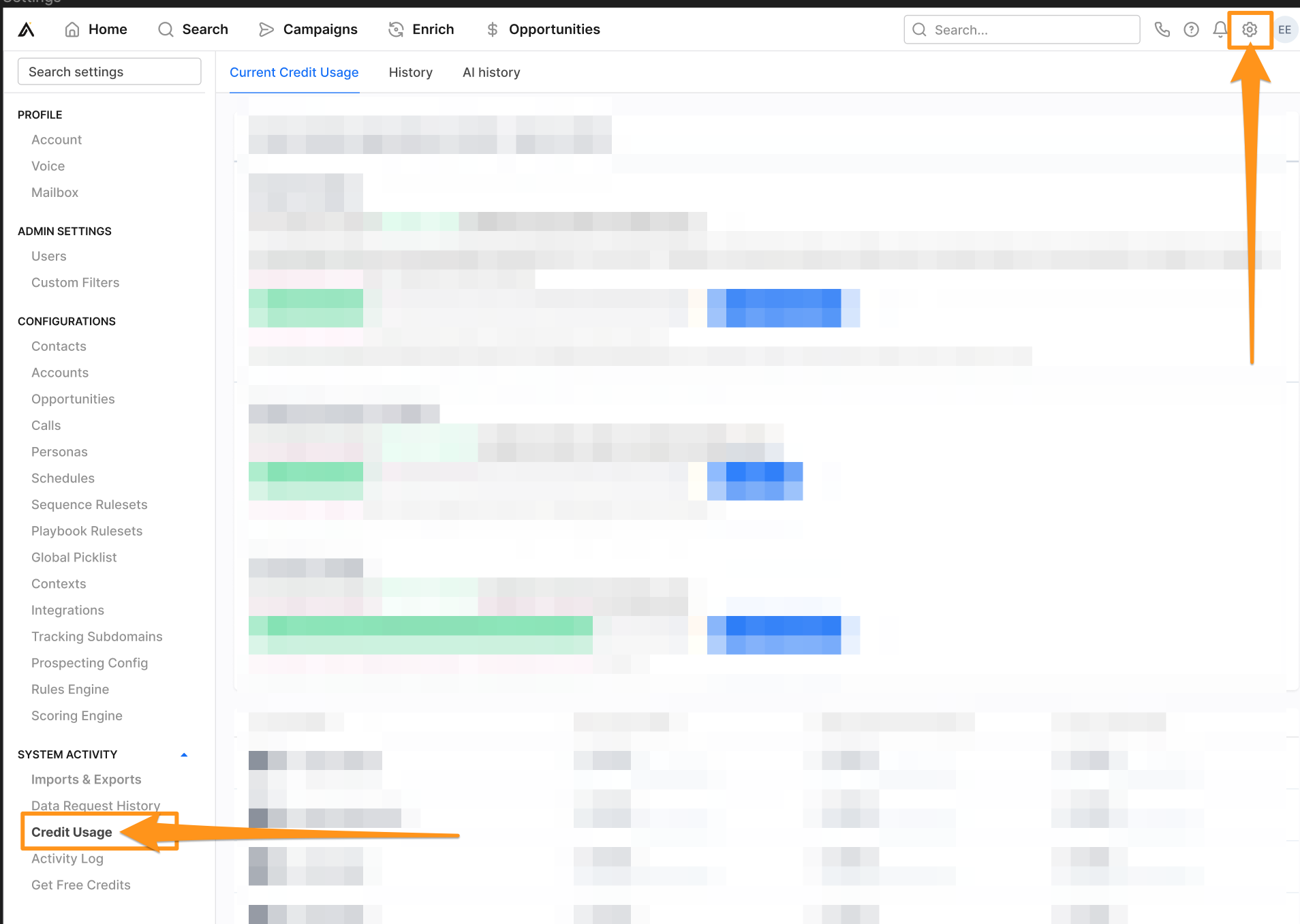 Make sure you are on the Current credit usage tab and scroll to AI word usage. From here, you can view how many AI words your team has generated within the current billing cycle.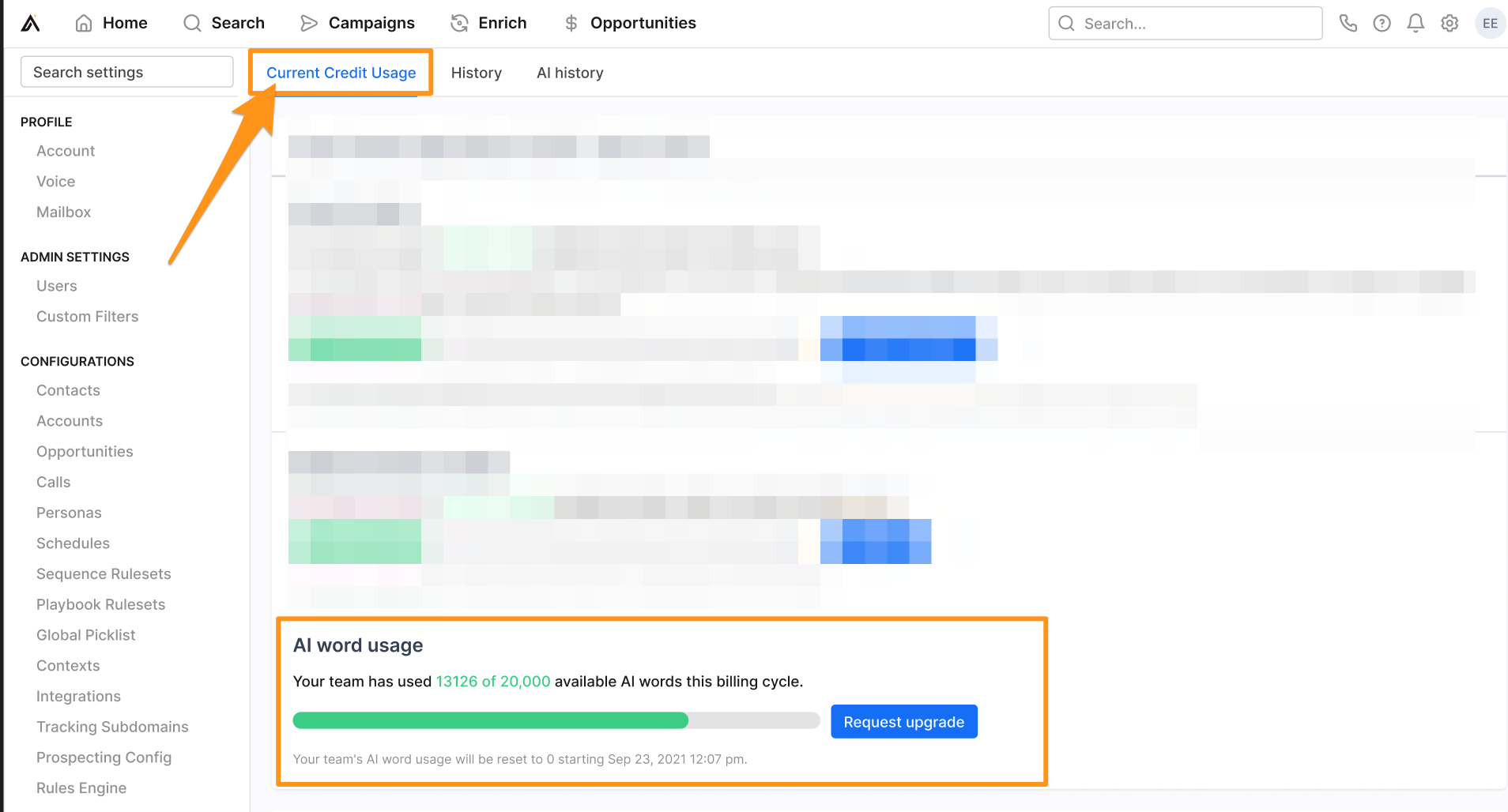 You can also see a breakdown of the number of AI words generated per user in your team.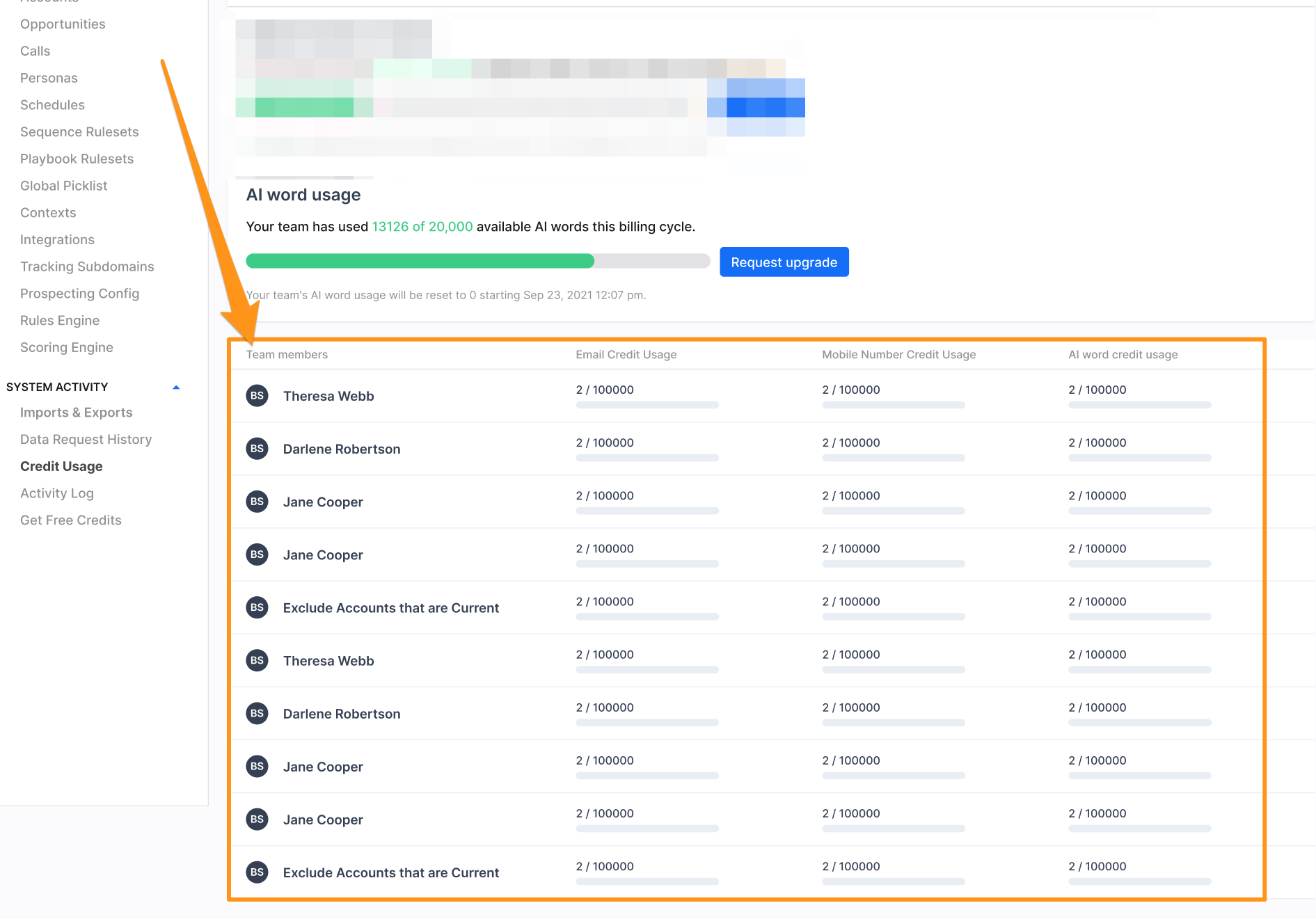 Click the AI history tab to view all the copy Apollo AI has generated for your team within a given timeframe.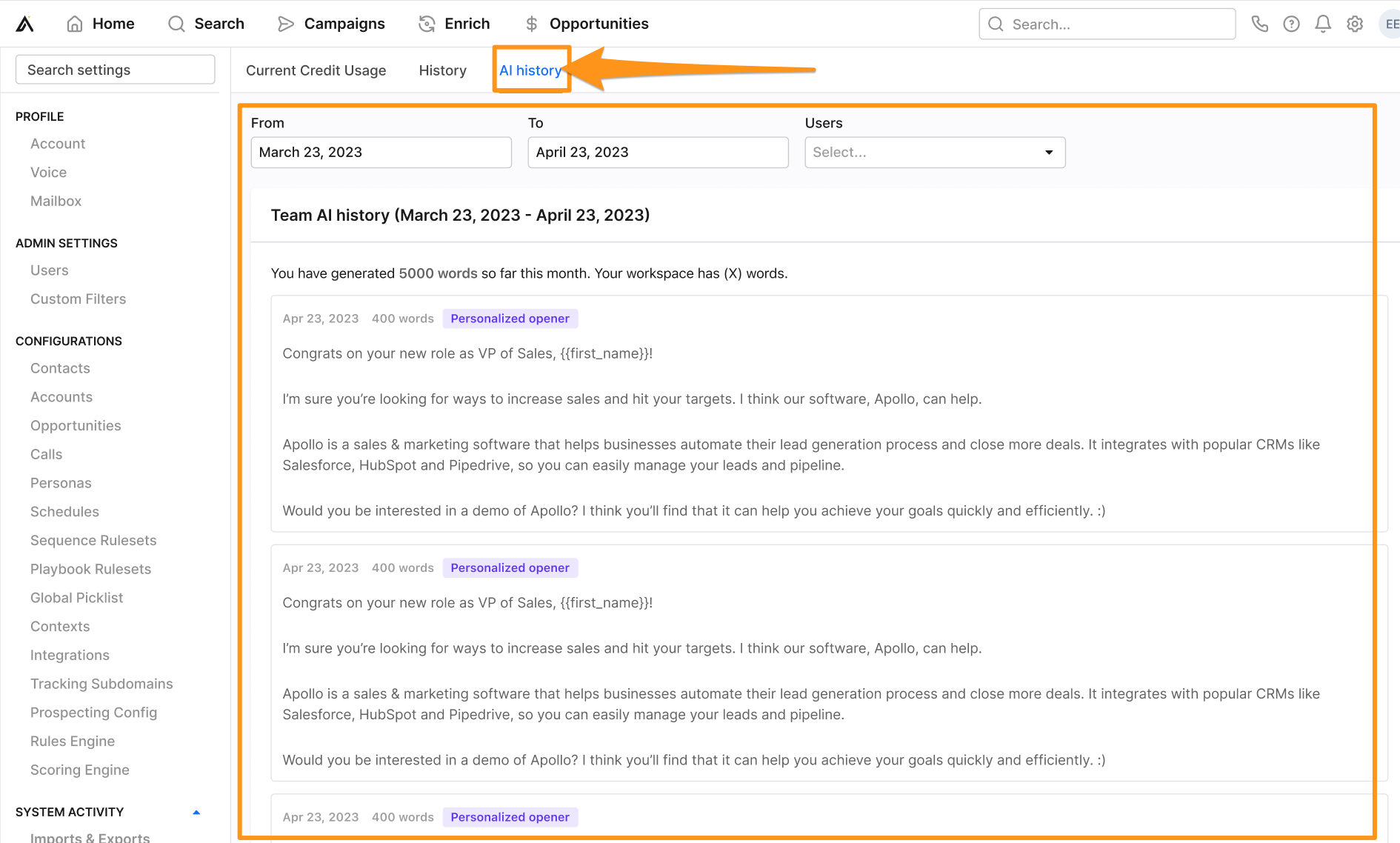 Want More Words?
On an AI roll and want to increase the number of words your team can generate per month? You can upgrade your plan here or reach out to support to increase your seat limit.
Try It in Apollo
What's Next?
Ready to get the ball rolling? Hop right into Apollo Sequences and start drafting emails with the helping hand of Apollo AI!