Watch the Video
Overview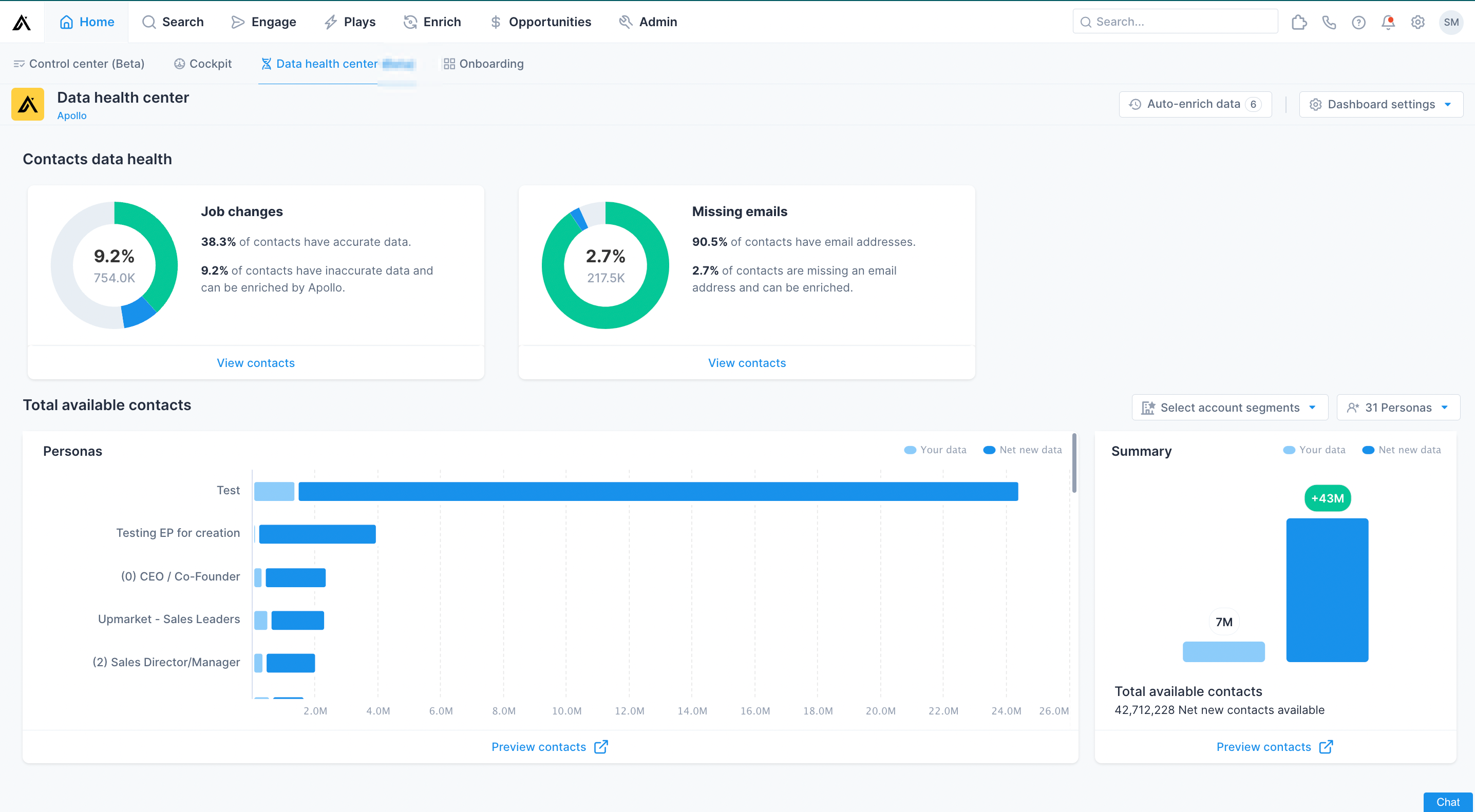 Data is constantly evolving. Every time an employee changes roles, for example, or a business undergoes acquisition, the data in your CRM becomes outdated.
Apollo consistently updates its high-accuracy B2B database to reflect the latest contact and account changes. This means that by integrating your CRM with Apollo and leveraging Apollo data, you can prevent data decay from jeopardizing your sales pipeline.
You can use the Apollo data health center to gain a more holistic view of the current depth and breadth of your CRM or CSV data and take action.
Refer to the sections below for some core benefits and example uses cases.
The Benefits
There are many benefits to leveraging the data health center to uncover your total addressable market and identify market gaps. Here are a just few examples of how some of our users take advantage of this feature:
Job Role
Benefit
Example Use Cases
SDRs and AEs
Access the up-to-date, verified emails of your ideal contacts to book more meetings and smash your sales targets.

Automatically enrich stale data
Access timely job change insights
Target the contacts that best fit your ICP

Sales Leaders
Increase your team's go-to-market efficiency with actionable insights your sales reps can leverage to increase revenue and drive more pipeline.

Monitor and improve your data depth and breadth
Save new leads in bulk
Fine-tune your core personas and account segments to identify gaps in your CRM data
Empower your reps to build more high-quality pipeline

Sales Ops
Empower your team to save time, increase efficiency, and leverage timely insights on contacts that have recently changed jobs or have a missing email.

Schedule the automatic sync of net new data to your CRM
Auto-enrich your existing CRM data to increase accuracy and efficiency