Watch the Video
What Are Sending Limits?
Sending limits are the maximum number of emails your email service provider (ESP) allows you to send from your mailbox per day and hour.
Email Service Provider Limits
Apollo does not send emails on your behalf. When you use Apollo for engagement, you send emails via a mailbox connected to Apollo. You can link multiple email providers to your Apollo account, including Gmail and Microsoft, among others. Every ESP monitors sent emails to ensure you are an individual emailing other individuals.
They each have their own daily and hourly sending limits. However, there are additional unpublished limits based on a variety of factors, including:
The age of your mailbox
The recipients receiving your emails
The type of content in your messages
The number of spam reports you've received
To maintain a healthy email deliverability rate and keep your domain safe, you should aim to keep your email activity as close to average as possible. The average person does not send more than 100 emails a day—even when they're incredibly active via email.
Apollo Sending Limits
Sending limits in Apollo act as an additional safety net to help you adhere to best practices and prevent your ESP from suspending or limiting your email account.
Feeling Limited?
Want to increase the emails you send but don't want to put your reputation on the line? Apollo allows you to connect multiple mailboxes to increase the total volume of emails you send per day without putting your domain at risk.
To gain more control over the number of emails your team sends via a mailbox connected to Apollo, configure sending limits within Apollo. To keep your email account safe, Apollo advises staying within our recommended limits.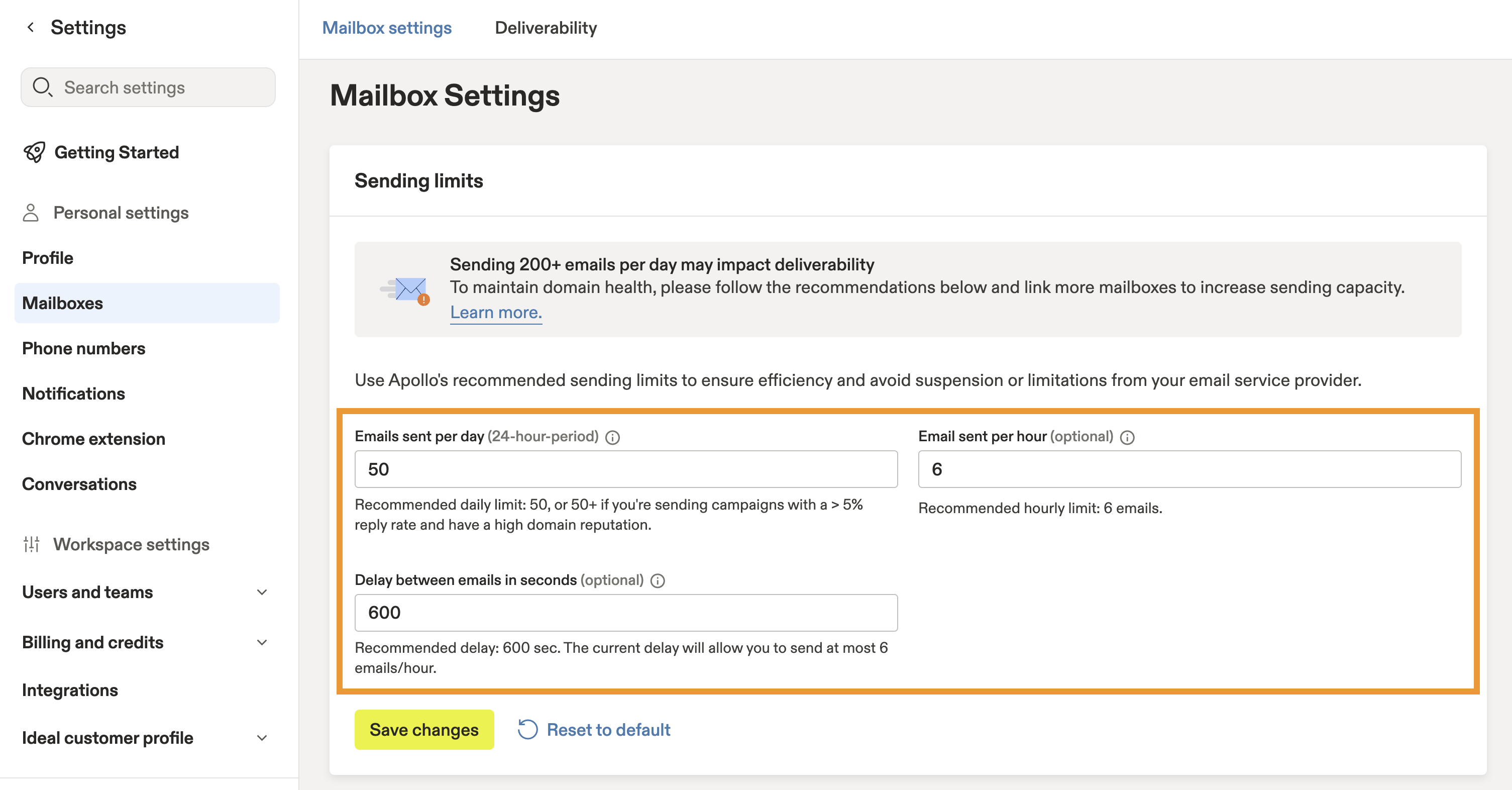 Less Is So Much More!
The email sending science is simple. In general, the lower you set your sending limits, the better your deliverability rates will be. Although you have the flexibility to edit your sending limits in Apollo for each connected mailbox, we do not recommend increasing your limits beyond 100 emails per day. You raise them at your own risk. If you already have a bad domain reputation, you must lower your sending limits immediately.
Refer to the sections below to access and edit your sending limits for a connected mailbox in Apollo, learn about recommended limits, and jump into related faqs.
Ready to Face Your Spam Fears?
Got spam filters on the mind? Sneak a peek at the Avoid Spam Filters article for the best practices to keep your domain safe before you enroll contacts into your sequences.
Edit Sending Limits in Apollo
To access and edit sending limits:
When you reach your hourly or daily limit for a mailbox, Apollo pauses any scheduled emails until the next hour or day.
Daily limits in Apollo are based on a rolling 24-hour period, not the calendar day.
Email Provider Limits and Apollo
Please remember that Apollo does not send emails on your behalf. All the mail you send in Apollo is sent via your connected mailbox(es). Your email provider's daily and hourly limits include all emails you send from a mailbox. If you actively use your mailbox outside of Apollo, lower your limits in Apollo to keep your domain safe and avoid disruption to the other emails you send.
Recommended Sending Limits
Apollo strongly advises you start with the recommended mailbox setting of 100 emails per day, 45 per hour, and with a 90-second delay between emails.
While the maximum number of emails you can send from a connected mailbox via Apollo is higher than this, you should start with 100 and monitor your email performance closely. If you notice any deliverability issues, lower your sending limits immediately.
If you need to increase email volume, add more mailboxes and do not increase your sending limits until you have established solid deliverability and domain reputation. Even then, please remember that higher sending limits often correlate with worse deliverability rates. You increase your sending limits at your own risk.
It's Not Just a Numbers Game!
What you write is as important as who you write to, how many emails you send, and when. Read more about how to write effective sales emails here or watch this webinar for tips on mastering the cold email.
To send a higher volume of emails without putting your domain at risk:
Link additional mailboxes. Each mailbox has its own sending limits. If you are on a professional plan, you can add up to 2 mailboxes per user. If you are on the custom plan, you can link up to 5 mailboxes per user. See the pricing page for more information.
Integrate with SendGrid or Mailgun. Apollo recommends you do this if you already actively use SendGrid or Mailgun for transactional or marketing emails related to your service or product. If you don't, consider using this Apollo partner to help follow deliverability best practices.
Why isn't Apollo sending out enough emails to hit my sending limit?
Your Email Service Provider (ESP) sets sending limits, not Apollo. You can configure limits in Apollo to gain some control within the platform. However, if you try to set a large email-sending limit, your ESP might not allow it. ESPs manage this number natively and might automatically limit how many emails an account can send.
What Happens When I Hit My Limits In Apollo?
If you hit your daily or hourly sending limits, Apollo automatically places the remaining emails in the "scheduled-delayed" queue until the next day or hour.
To check the status of your emails:
Launch Apollo, click Engage, and then click Emails.
If the status is "scheduled-delayed," it is likely because you hit your sending limit. If so, Apollo sends the email the following hour or day when the limit refreshes.
Behind Schedule?
If you see the "scheduled-delayed" status and haven't hit your sending limit, it is likely due to your sequence schedule. For more information on how schedules work in Apollo, refer to the Create and Edit Sequence Schedules article.
What Happens When My Email Provider Limits or Suspends My Account?
If your email service provider suspends or rate limits your email account, it means you've sent too much underperforming content or too many emails per day or hour. You should immediately lower your sending limits in Apollo, check the sequence stats, edit the email content of any messages that received a high bounce or spam-blocked rate, and follow any further instructions from your email provider to get back in their good graces.
Additional Resources: