Watch the Video
Overview
Link your mailboxes with Apollo to gain full functionality of core engagement tools, like emails, sequences, conversations, meetings, and more.
While Gmail is the preferred Email Service Provider (ESP) to get the most out of Apollo's functionality, Apollo supports many different email providers and custom email servers. For a list of supported ESPs and standards, sneak a peek at the Supported Email Service Providers (ESPs) article.
Refer to the following steps to link your mailbox(es) to Apollo.
A Big Difference
Please note, your user email is your login to Apollo. You can also sign in to your Apollo account with any of your linked mailboxes. However, it is your linked mailboxes and not your user email that sends your messages. You must link a mailbox to start sending those sweet, sweet emails.
Link Your Mailbox to Apollo
To link your mailbox to Apollo:
Launch Apollo and click Settings > Mailboxes.
Click Link Mailbox to add a new mailbox. 
Enter your email address in the text box. Then, click the checkbox to agree to Apollo's terms of service and click Link.
Character Check!
Please note, if you try to connect a mailbox that includes any of the following characters, Apollo considers the email invalid:
example--domain.com,
example..domain.com,
example@.domain.com,
example.@domain.com,
example-@domain.com,
example@-domain.com.
Please consider connecting an alternative mailbox.
Adding Gmail Mailboxes
Apollo directs you to the Google sign-in screen if your mailbox uses Gmail.
To link a Gmail mailbox to Apollo:
Click the account that you want to link. Then, click Allow to grant Apollo the access it requires to add your mailbox.
What Rights Do I Give Apollo When I Link My Email or Calendar?
To access the full functionality of the Apollo engagement suite, it is necessary to link your business email account with your Apollo account. When you grant Apollo access to your email account, you can automate emails, create templates and follow-ups, view open rates, and more. Likewise, when you grant Apollo access to your calendar, you can empower contacts to book meetings with you through the Apollo meetings scheduler, attribute success to your booked meetings, and view job changes.
Apollo never deletes your emails or calendars. However, it is important to understand that when you link your email or calendar, Apollo may use automated algorithms to extract certain personal information from your email and calendar content and related metadata, which may be added to Apollo's contributory data network.
Still have questions and want to discuss this with a living, breathing Apollo-er? You can send a message to our friendly technical support team at any time.
You have now connected your Gmail mailbox to Apollo. Repeat the steps to link additional mailboxes.
Google Groups, Beware!
Please note, Apollo does not support Google groups. If you try to link a Google group to Apollo instead of an individual mailbox, you'll be left high and dry!
Adding Non-Gmail Mailboxes
To link a non-Gmail mailbox to Apollo:
If you use a mailbox provider that Apollo recognizes, such as Microsoft, AOL, Yahoo, or iCloud, Apollo redirects you straight to your ESP sign-in screen. Follow the steps to sign into your account.
If Apollo cannot determine the type of mailbox your email address uses, Apollo redirects you to a screen to select your email provider.
Click See all providers.
Then, scroll through the list, click the accordion next to your provider, and follow the steps to sign in.
Click Custom IMAP settings if you want to log in with IMAP.
Then enter your mailbox credentials, which should include:
Email address
Email password
IMAP host
Port number
SMTP host
If you are unsure where to find these credentials, contact your email mailbox provider for help. Once you've added your credentials, click Log In.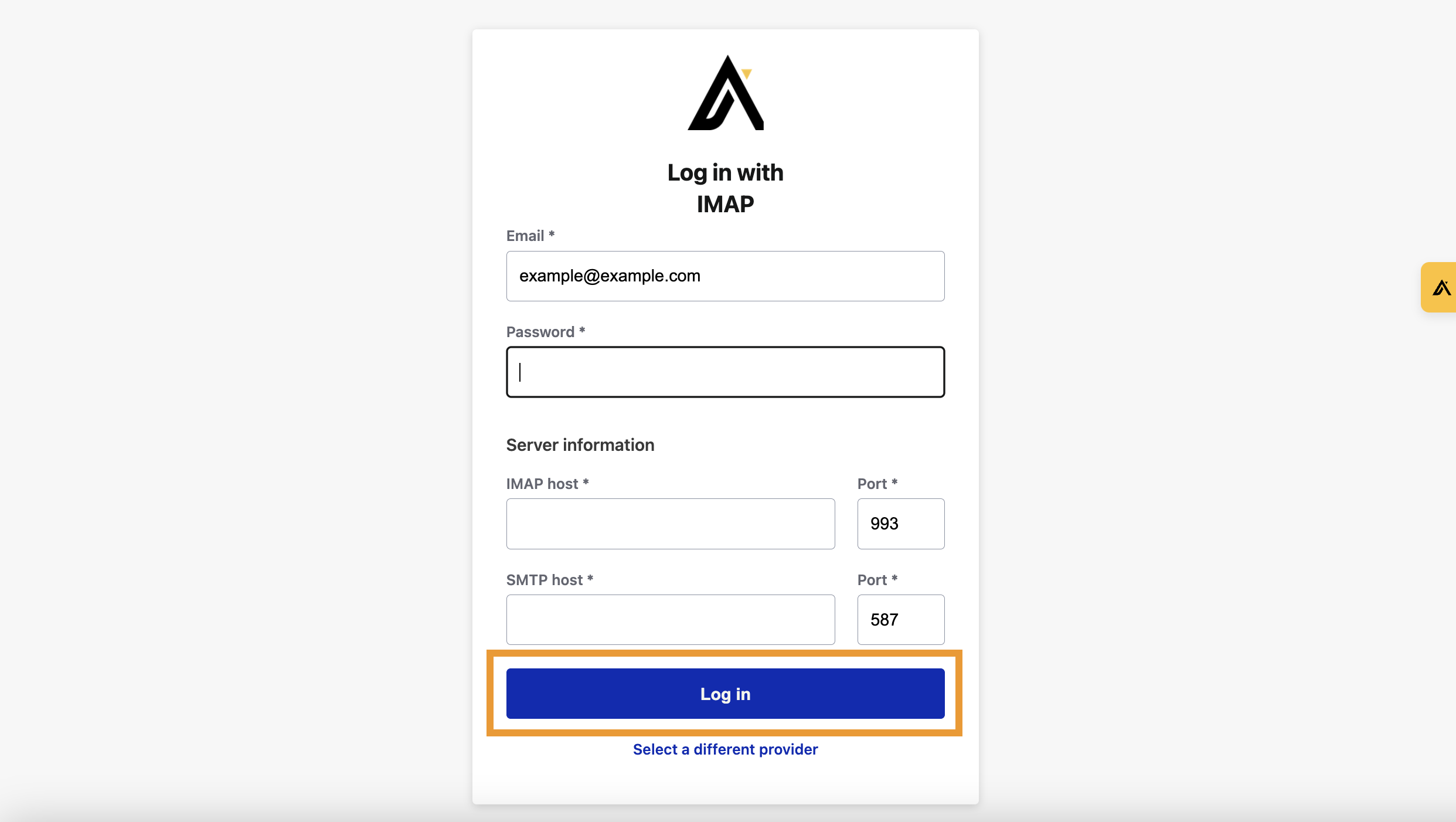 You have now linked your mailbox to your Apollo account. Repeat the steps to connect additional mailboxes.
Troubleshooting: Why Can't I Connect My Mailbox?
Amend Your Settings if Your Domain Is Set Up Under Post Office Protocol (POP/POP3)
Nylas Mail, Apollo's third-party provider for non-Gmail email syncs, does not support connecting to mailbox accounts via POP/POP3. Check with your provider's support team to see if your domain is set up under POP/POP3 as default. Most mail providers who support POP3 also support the IMAP standard and can connect to Apollo via SMTP. Nylas Mail also supports the SMTP standard.
Check with Your Colleagues
You can only link each unique mailbox to one Apollo instance at a time. If you or your team have already linked a mailbox to another Apollo account, you need to unlink it from the first account before you can connect it to a different one.
Turn Your Gmail Service On
If you encounter an error when you try to link a Gmail mailbox, your team's Google admin may have turned off the Gmail service for your account.
To resolve the issue:
For more information, refer to the Control Gmail Access For Your Organization's Users article in the Google Knowledge Base.
Check Your Domain Settings
If Apollo routes you to a Google login page when you're trying to link a Microsoft mailbox:
Ask your IT admin to remove the following TXT record from your Domain Name System (DNS): v=spf1 a mx include:_spf.google.com
Try to link the mailbox again.
Speak to Support
If you're still having issues connecting a mailbox to your Apollo account, we're only a message away! Reach out via the chatbot or send an email to Apollo support for more help.