Watch the Video
Overview
Apollo Meetings empowers your prospects to schedule meetings with you in seconds. When you sync your calendar with Apollo, you can manage your availability for meetings, create different types of meetings, and view your scheduled meetings.
There are several advantages of leveraging meetings in your sales workflow, including:
Streamline the Scheduling Workflow: Sync your calendar, configure your default meeting settings, and set your availability for each type of meeting to automate the scheduling process.
Encourage Proactive Engagement: Make it easy for your prospects to reach you first so you can spend more time engaging in meaningful conversations and less time on administrative tasks.
Facilitate Ease of Attendance: Eliminate friction between third-party platforms and reduce the risk of no-shows with automated meeting reminders.
Refer to the following sections for an overview of the different Meetings features available.
Meeting Types
Meeting types are the different meetings that you want to host. This is useful if you want to encourage different types of contacts to schedule different types of meetings with you. Example meeting types could include scoping calls, demos, brainstorming sessions, and partnership meetings.
Leverage meeting types to remain in control of your schedule and provide your prospects with more context about the type of meetings they can book with you.

Up to Your Eyeballs in Meetings?
Trying to keep on top of all those many meetings? You can create numerous meeting types to help you clearly define the types of meetings participants can schedule with you. If you are on a free plan, you can activate up to 6 meeting types at a time.

However, if you are on a paid plan, the world is your oyster! You can create and activate as many meeting types as you need.
There are 3 different types of meetings that you can create:
Single-host: This meeting type only ever has one host. Single-host meetings should be used for one-on-one discussions with your prospect.
Multi-host: This meeting type has multiple hosts that co-host the meeting. When a prospect schedules a meeting of this type, all hosts must be available at the same time for the calendar slot to be available.
Round robin host: This meeting type rotates between different hosts each time it is used to schedule a meeting. Round-robin meetings should also be used for one-on-one discussions. You can choose to rotate hosts based on either the availability of hosts for certain time slots or the equal distribution of hosts so that each host is booked as part of a rotation one by one.
When you create a Meeting Type, you can specify the duration of the call, provide the appropriate meeting links, add a description, and set your availability.
Let's Get Those Meetings Started!
For more information about how to manage, edit, and personalize your meeting types, follow the steps in the Manage Your Meetings in Apollo article.
Scheduled Meetings
Go to the Scheduled Meetings tab to view your upcoming meetings and keep track of the meetings that you previously attended. Meetings include details about the participants, the scheduled time for the meeting, and the meeting's duration.

Inbound Routers
Inbound routers enable Apollo admins to automate the flow of scheduled meetings to different meeting types based on several factors, including contact names, emails, company sizes, and more. By setting up the appropriate logic for your inbound routers, you can ensure that specific prospects can easily schedule meeting with the right teams or sales reps.
Only Apollo admins can create inbound routers. Other users can be assigned meetings via inbound routers and view them, but cannot create them.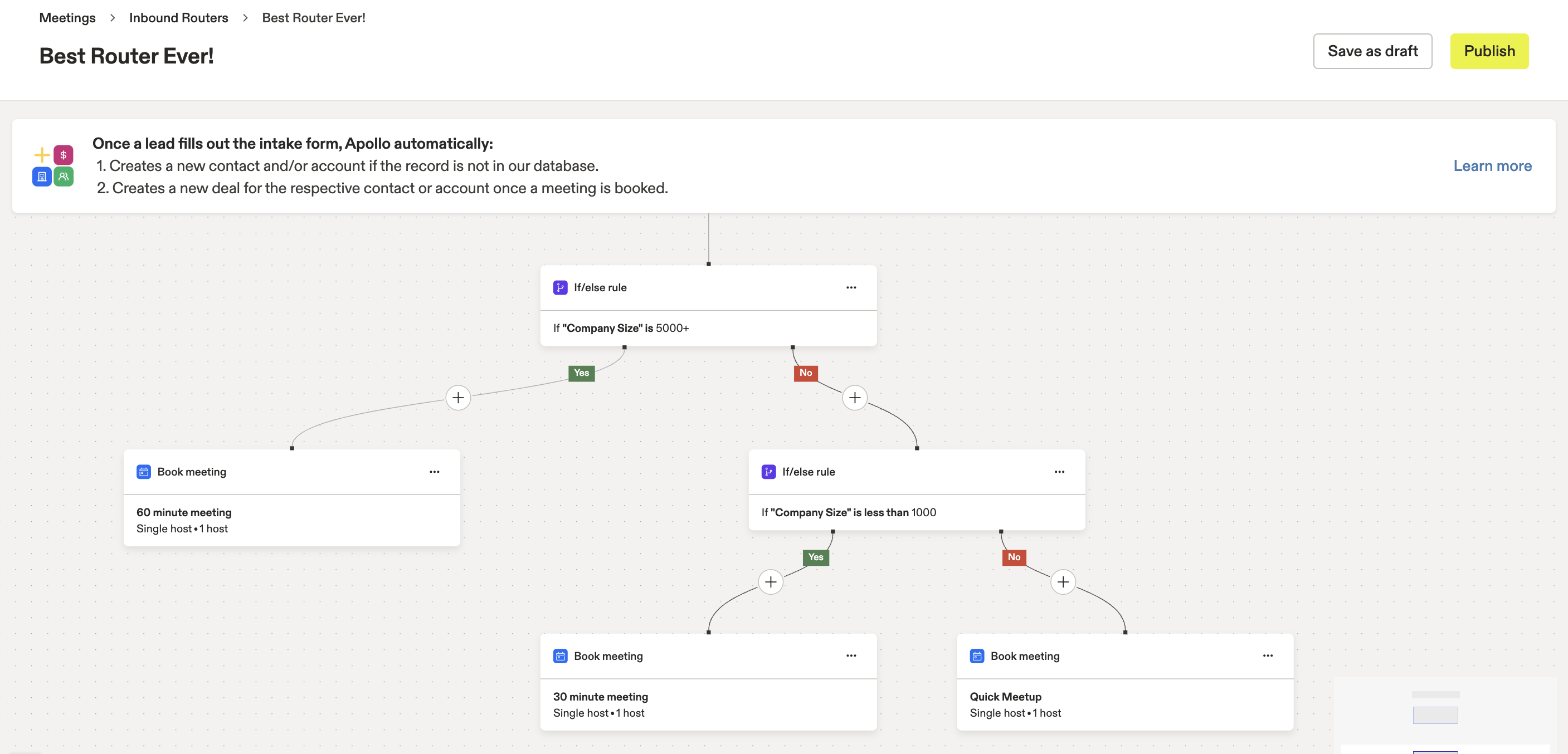 Settings
To update your meeting settings, go to the Settings tab. From here, you can view your connected calendar, personalize your meeting link, edit your video conference link, adjust your default availability, and set your minimum schedule notice to avoid participants from booking you up at the last minute.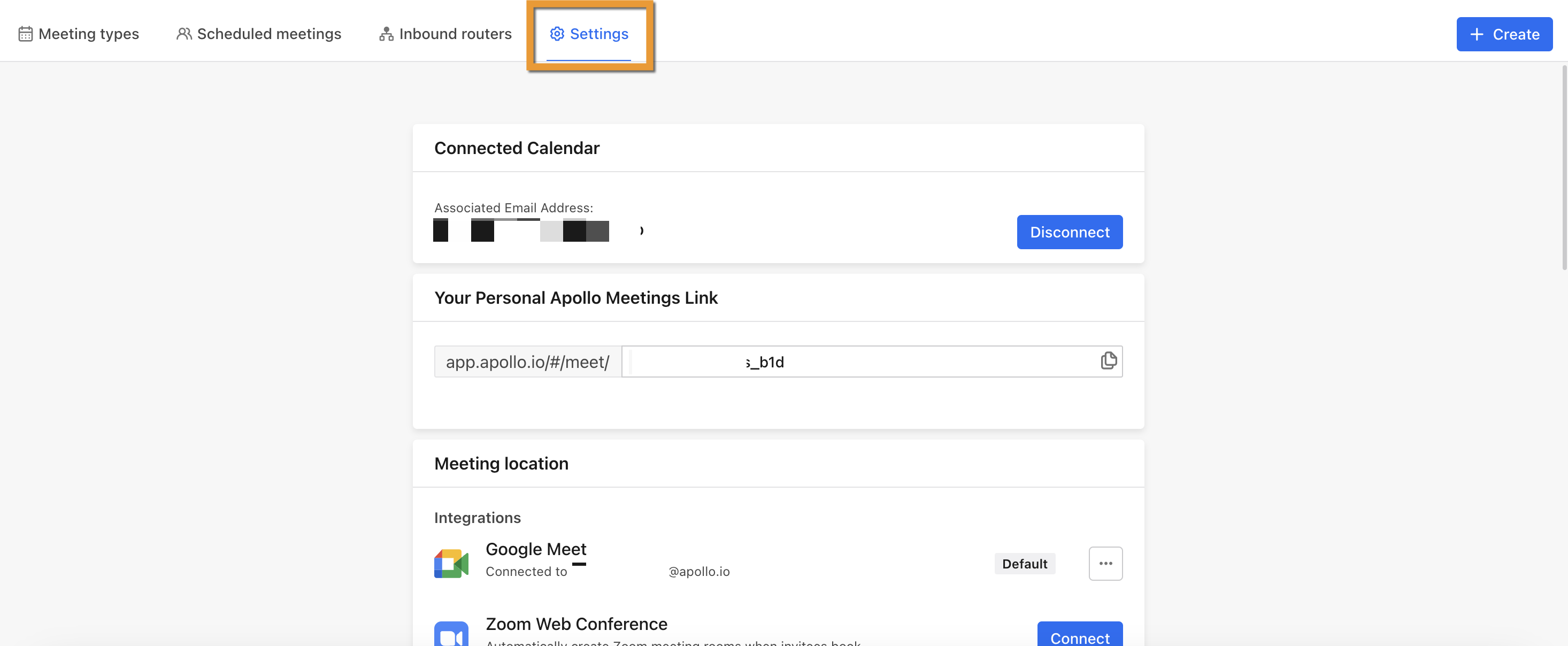 Meetings in Gmail
If you install the Apollo Chrome Extension, you can use meeting functionality directly in Gmail. The Meetings tab in the Chrome extension enables you to:
Provide a link in your email for one of your single-host meetings. The guest can book any time you have availability based on the chosen meeting's settings.
Set aside specific times for a meeting. The guest can only book the times you make available, and in the meantime, you can make sure those times are not scheduled for any other purpose.

FAQ: Help Prospects Add Meeting Invites to Their Calendars
Email providers, including Google and Microsoft, might prevent meeting invites from being automatically added to prospects' calendar. For example, Google provides users the ability to control whether invites are automatically added to Calendar based on whether they have previously interacted with an email address. If a prospect books a meeting with you and never receives the meeting invitation, these settings could be causing the problem.
If a prospect does not receive a meeting invitation, first tell them to check the spam folder of their mailbox.
For Google mailboxes, advise them to click the I know the sender option in the email if they find the invitation. This adds the sender to Google Calendar's safe sender list, which means future invites from the same email address will be automatically added to the prospect's calendar.

If a prospect prefers to automatically add meeting invites from all senders to their calendar, advise them to change the Add invitations to my calendar setting in Google Calendar to From everyone. Provide Google's Manage invitations in Calendar support article to help them change the setting.