Overview
A Bit of Beta Makes it Better!
Please note, this feature is currently in Beta. If you cannot see the opt-in toggle yet, we haven't forgotten you! Please bear with us while we fine-tune the magic formula. Alternatively, if you're feeling the icy effects of FOMO, reach out to the Apollo Support Team to join in on the beta warm-up action.
Before you start sending outbound emails at scale in Apollo, consider warming up your connected mailboxes first. Mailbox warm-up helps you generate consistent email activity and encourages SPAM filters to deem your account trustworthy. This increases your sender score, improves your email deliverability, and ultimately empowers you to convert more contacts into closed deals.
Whoah! Slow Down, Maurice—What's a Sender Score?
The sender score is a number from 0-100 that represents the quality of your sender reputation. It measures the performance of your IP address and represents the health of your mailbox through the eyes of mailbox providers. The lower your score, the harder it is to ensure your emails land in your contacts' inboxes—safe and sound. 0 is the worst score. 100 is the best. A score of 80+ is the sweet spot you should aim for to increase your chances of avoiding that dreaded SPAM folder.
When you opt-in to Apollo's mailbox warm-up, you join a pool of fellow Apollo users who also care about email deliverability. You can select how many emails you send and receive daily from within our mail-warming network. Then, we'll automate the process.
The Apollo mailbox warm-up tool mimics human behavior to ensure your email activity appears authentic. Once you opt-in, we automatically send, open, mark as important, remove from SPAM, and reply to a percentage of the mail-warming emails we send via your mailbox.
Refer to the steps below to opt-in to Apollo mailbox warm-up, configure the settings, and create a mail-warming rule in your email inbox.
It's One Part of the Potion
Please note, raising your sender score through mail warming is an important step, but it is not the only piece of the outbound mastery puzzle. For more information about other email best practices that keep your domain reputation safe and your email deliverability rates high, refer to the "Avoid SPAM Filters" article. And if you're in the mood for a little extra reading, hop into the "Email Verification: A Brief Introduction" article to learn more about email verification best practices.
Opt-In to Apollo Mailbox Warm-Up
Launch Apollo, click Settings, select the Mailboxes tab, and then click an existing mailbox.

Hey—What About New Mailboxes?
Want to connect a new mailbox and opt-in right away? Wise choice, my friend! First, follow the steps in the "Link Your Mailbox to Apollo.io" article to get connected. When Apollo refreshes the Mailbox tab, click the new mailbox. Then, follow the steps below to opt-in to the Apollo mailbox warm-up feature.
Scroll to the Mailbox warm-up settings and enable the toggle on the right.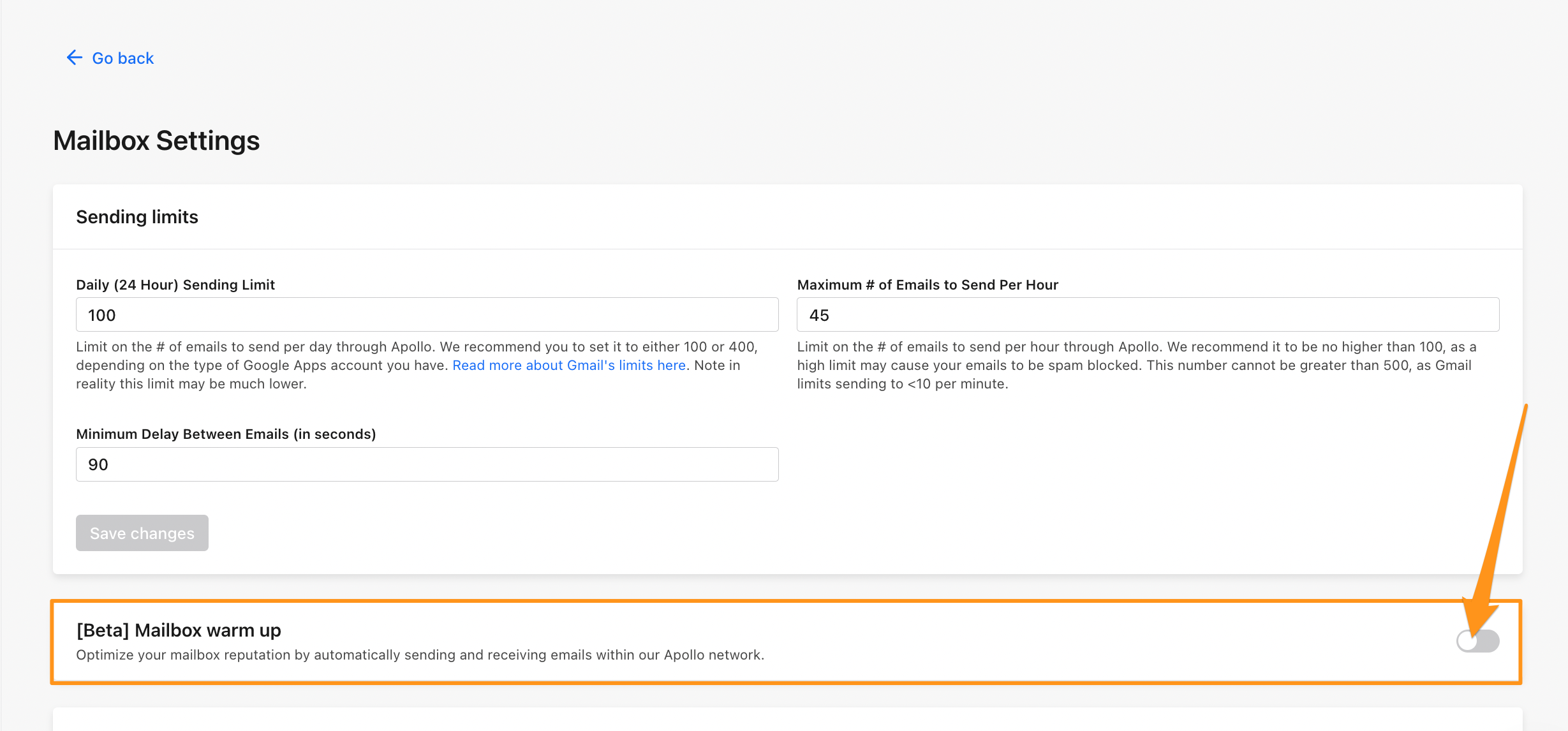 Configure the Mailbox Warm-up Settings
Edit the "daily maximum" field with the number of emails you want to receive per day from fellow Apollo mail-warmers.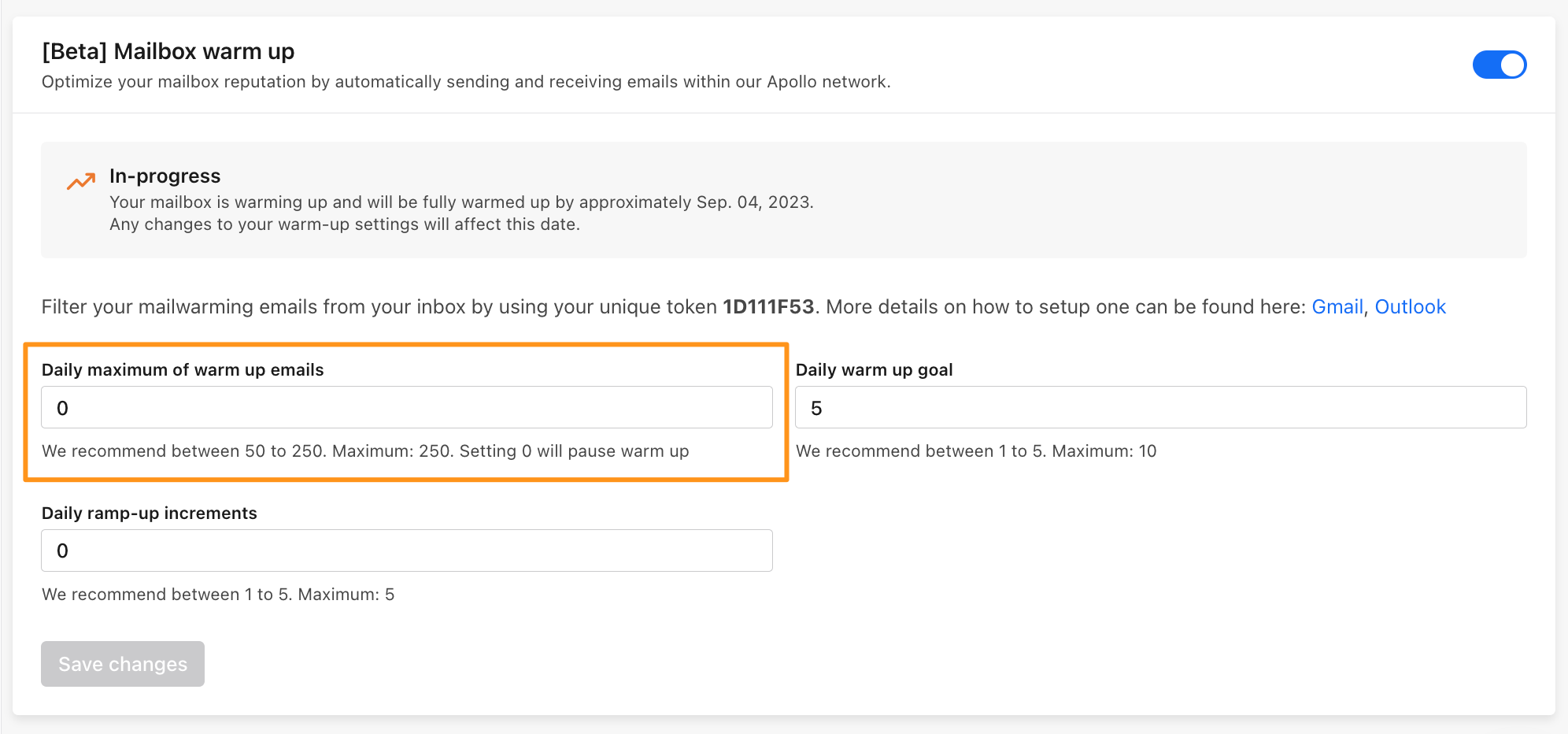 Edit the "warm-up goal" field with the number of emails you want to send to fellow Apollo mail-warmers per day.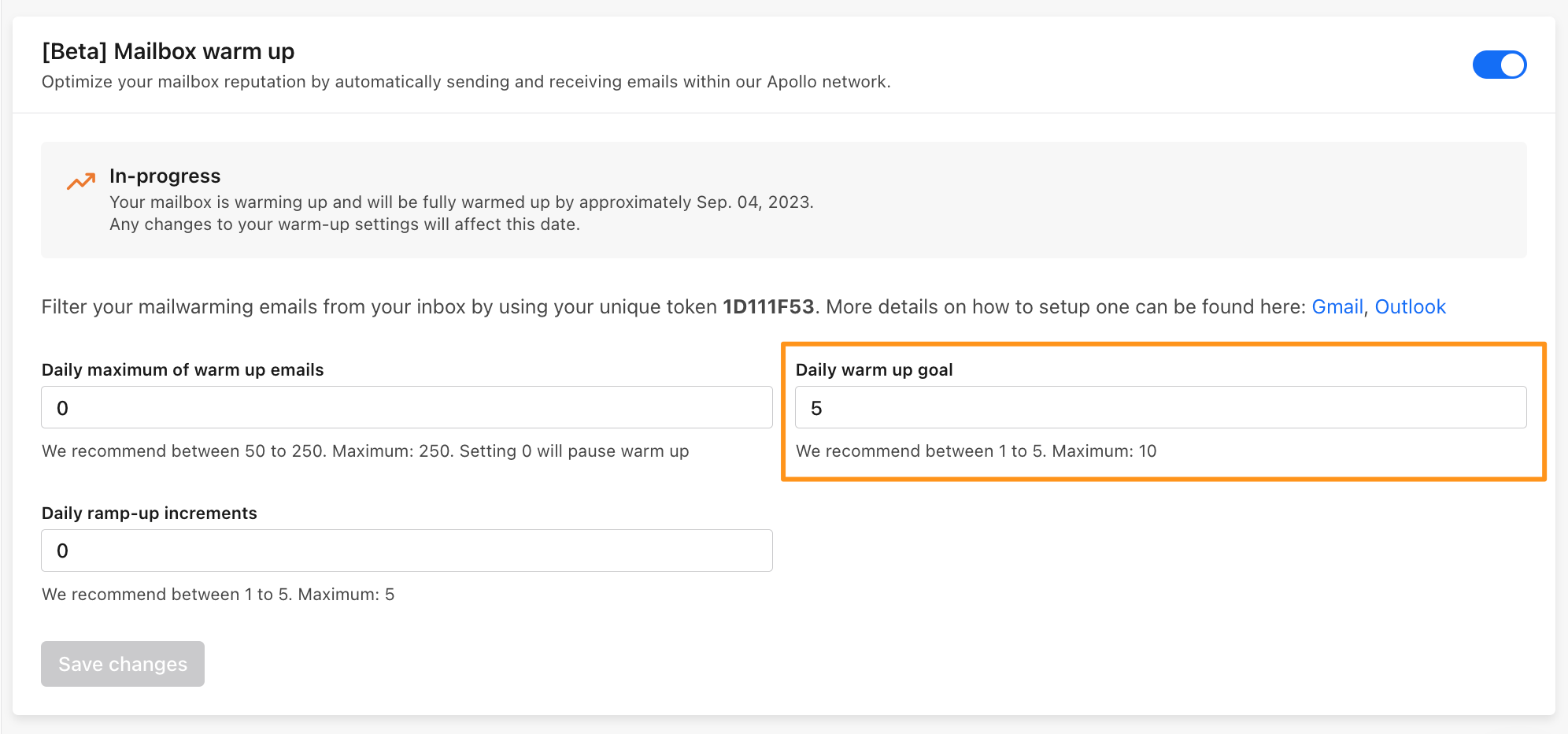 Apollo recommends that you ramp up incrementally to reach your ideal warm-up goals in a more organic way. To specify the ramp-up speed, enter the number of emails you want to increase sending each day until you reach your desired daily goal.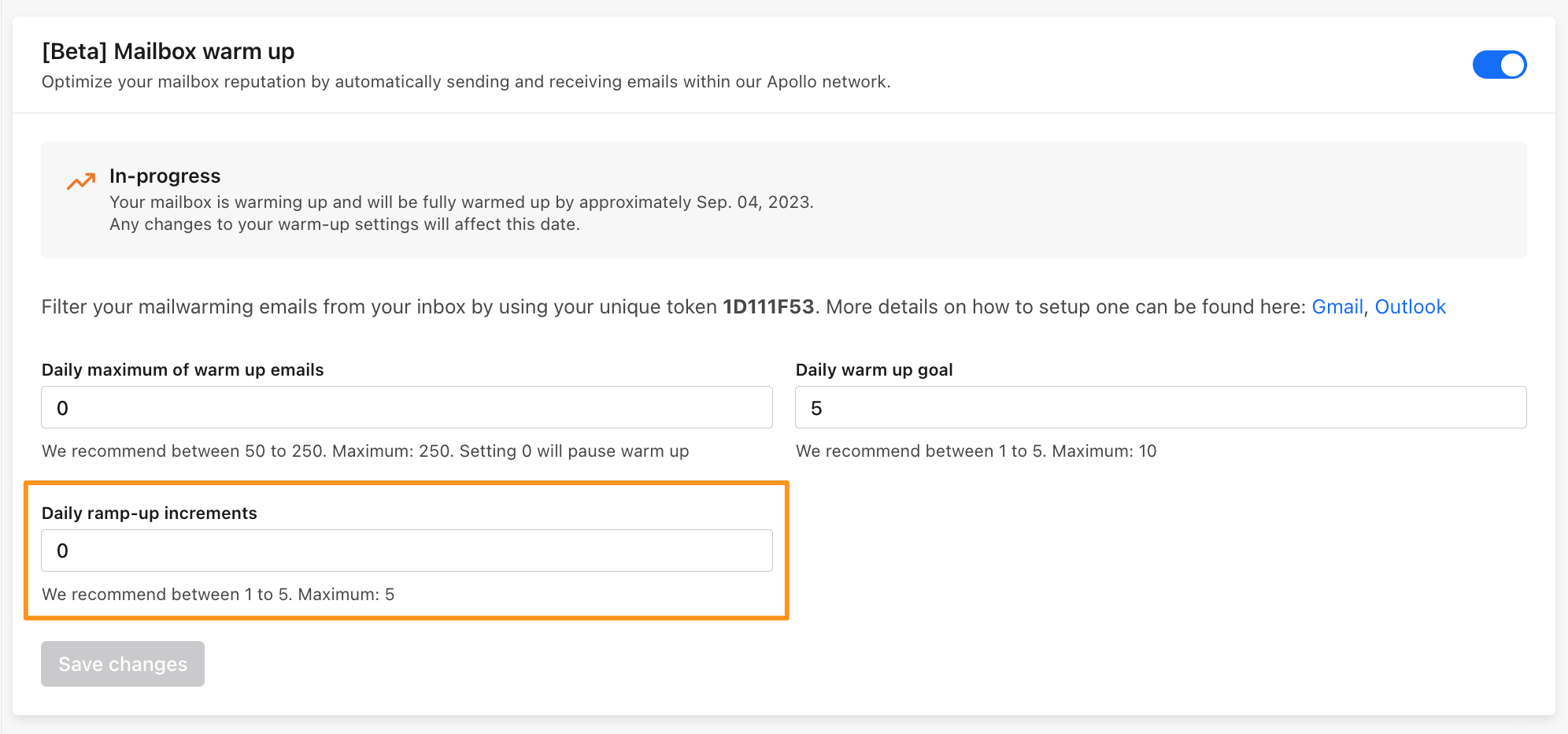 Click Save changes.

You have now opted-in to the Apollo mailbox warm-up feature.

Follow the instructions below to finish the setup process in Gmail.
Create a Warm-Up Filter in Gmail
Psst, this is important!
This is an important step to ensure the mail-warming emails do not clutter your inbox or interfere with your daily workflow in Gmail.
Launch Gmail and click the Show search options icon in the search bar at the top of the page.

Type ApolloMailwarmingProposal into the Includes the words field. Then, click Create filter.

Click the Skip the inbox (Archive it) checkbox and then click Create filter.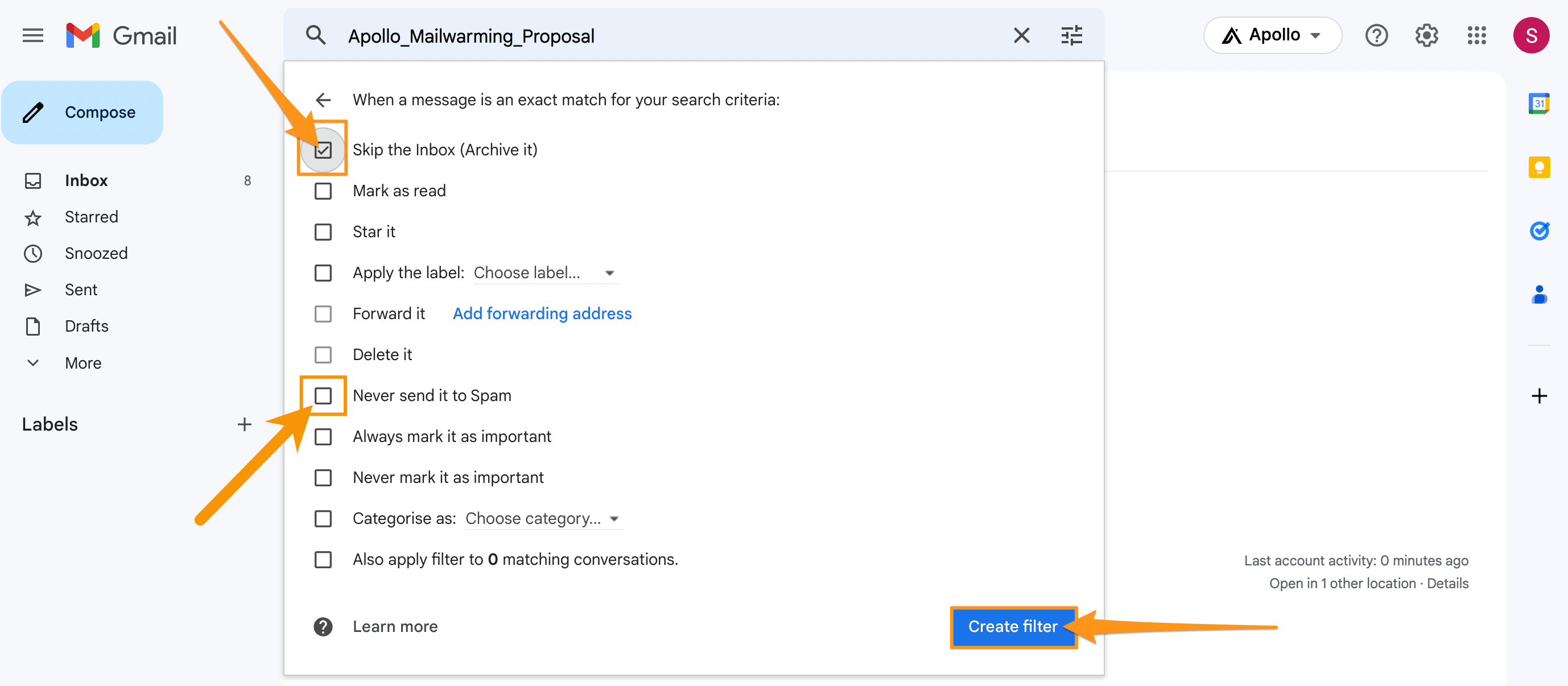 Gmail Left You Wanting More?
For more information about how filters work in Gmail, please refer to the "Create a Filter" article in the Google Knowledge Base.
You have now created a filter for incoming mail-warming emails in Gmail. This means that they will not land in your main inbox. Once you start receiving emails, you can view them at any time from the Apollo Mailwarming label on the left.

More of a Die-Hard Microsoft Fan?
Want to warm up a Microsoft mailbox? Fear not—the Apollo mail warm-up feature is available to you too! For an overview of the steps to take to set up rules in Microsoft, please refer to the "Manage Email Messages by Using Rules" article in the Microsoft Knowledge Base. For a more comprehensive guide to all things rules related, hop into the Microsoft "Use Inbox Rules in Outlook" article.