A Data Request refers to the contact information that you can purchase with email or mobile credits in Apollo.
Apollo Pricing
For more information on Apollo pricing, click here. Alternatively, if you would like further details about how to customize your plan and access more email and mobile credits, refer to the "Manage and Customize Your Apollo Plan" article.
When you request a prospect's email or mobile number, Apollo verifies this data. Refer to the information below for additional details about the Data Request process.
The Data Request Process
You can request a prospect's contact information from the People or Companies sections in the Apollo Search tool.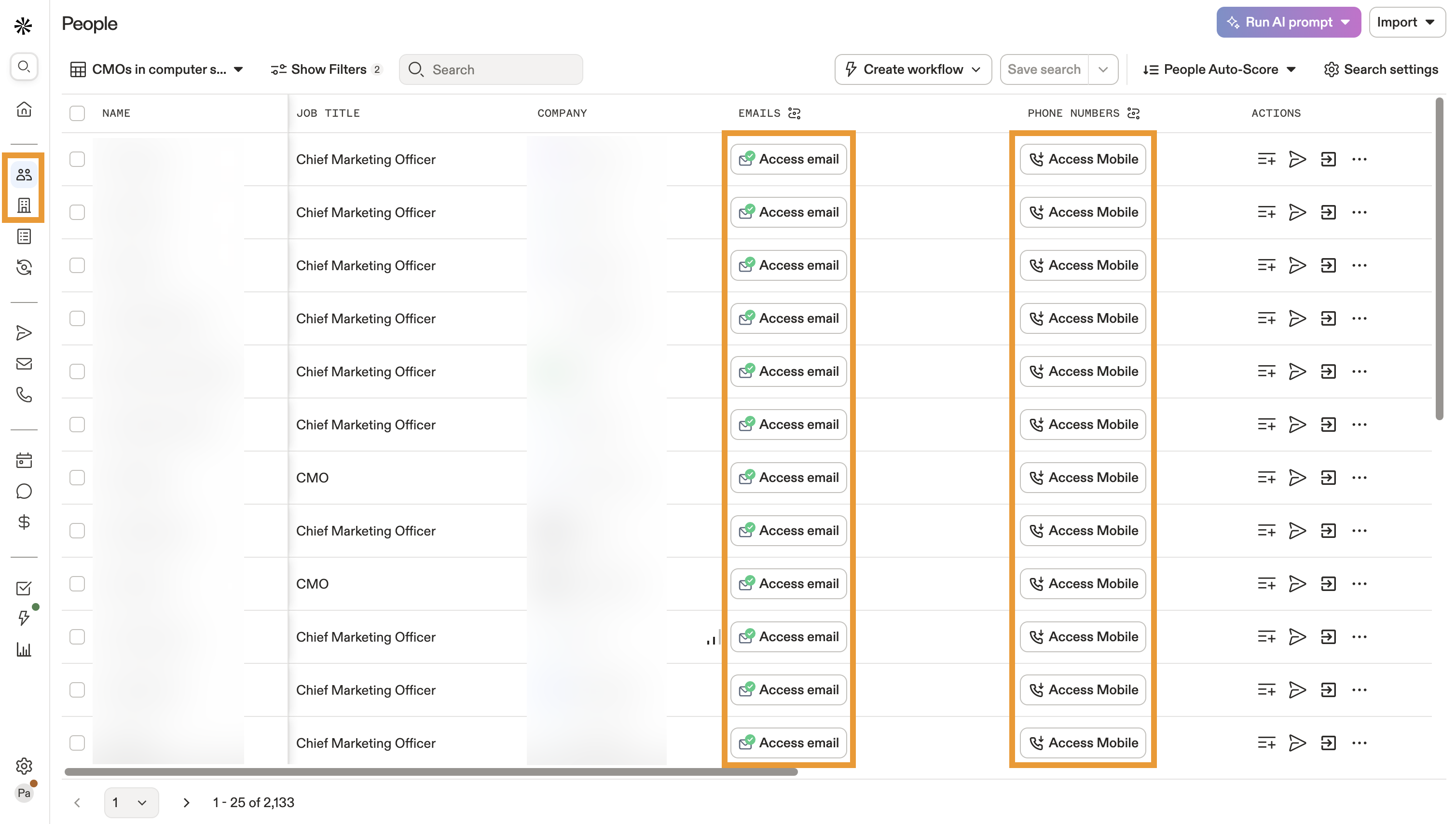 How to Request Data
Got your eyes on the prize, but not sure how to buy? For more information about how to save and enrich Contacts and Accounts in Apollo, please refer to the "Request a New Contact" video in the "Save Contacts and Accounts" article.
Apollo attempts to automatically verify the emails and mobile numbers for the net new Contacts that you requested.
Because You're Worth It!
Please note, if you request a contact's email address, Apollo also verifies their office phone number at the same time. Apollo doesn't charge you any extra credits for this.
When available, Apollo provides you with verified emails and verified mobile numbers. For each verified email or verified mobile number, Apollo charges one credit. For each enriched email or enriched mobile number, Apollo also charges one credit.
Choose Your Enrichment Requests Wisely
Please note, if you request to enrich a Contact that has an existing email or mobile number and Apollo finds that information it contains is accurate, the verification process still costs you one credit. Peace of mind, on the other hand, remains priceless!
If Apollo cannot fully verify an email or mobile number but is 60%-90% confident that the details are correct, Apollo shares this information with you as a Guessed Email. You do not pay any credits for Guessed Emails. To view the confidence level of a Guessed Email, click the Email drop-down on the right of the contact's name.

If Apollo cannot find a requested contact's email, Apollo will refund your credits.
If you send a message to an Apollo Verified Email within 30 days of requesting the details and the email bounces, Apollo will also refund your credits.
Only in Apollo
Please note, Apollo can only refund your email credit(s) for the email(s) that you send within Apollo.