Overview
Data is the bread and butter of business at Apollo. As a result, Apollo takes data privacy and compliance very seriously and strives to be fully transparent about how it sources, collects, verifies, and maintains the Apollo database.
Have burning questions about Apollo data? You're in the right spot! Refer to the following sections for more information on all things data at Apollo.
How Is Apollo Data Sourced and Collected?
Apollo collects and verifies data against multiple data sources to identify the best source of truth. There are 4 main ways in which Apollo collects data:
Data contributor network: Apollo has a strong database thanks to its large network of over 1.7 million data contributors that share information about their business contacts with Apollo in the course of using Apollo services. This means that Apollo can run verification checks against connected inboxes and CRMs.
Engagement suite: Apollo's powerful engagement tools enable it to track email replies and bounces to collect and verify valid emails against invalid ones.
Public data crawling: Apollo has proprietary algorithms that regularly crawl the web at scale, parse public-facing websites, and build a web-wide index of people and company data.
Third-party data providers: Apollo processes over 270 million records monthly from carefully vetted third-party data providers. These partnerships help to complement Apollo's already highly accurate and ever-growing database with additional high-quality verified data.
At Apollo, data isn't single-sourced. The combination of its multiple data sources, proprietary algorithms, and data network of over 1.7 million contributors allow Apollo to provide the best-in-class data coverage and quality.
For more information, refer to the Living Data Networks page.
What Is the Data Coverage on a Specific Ideal Customer Profile (ICP)?
The specific criteria of an ICP varies from company to company. The best way to identify the data coverage on your target audience is to launch Apollo and apply the applicable filters to a search.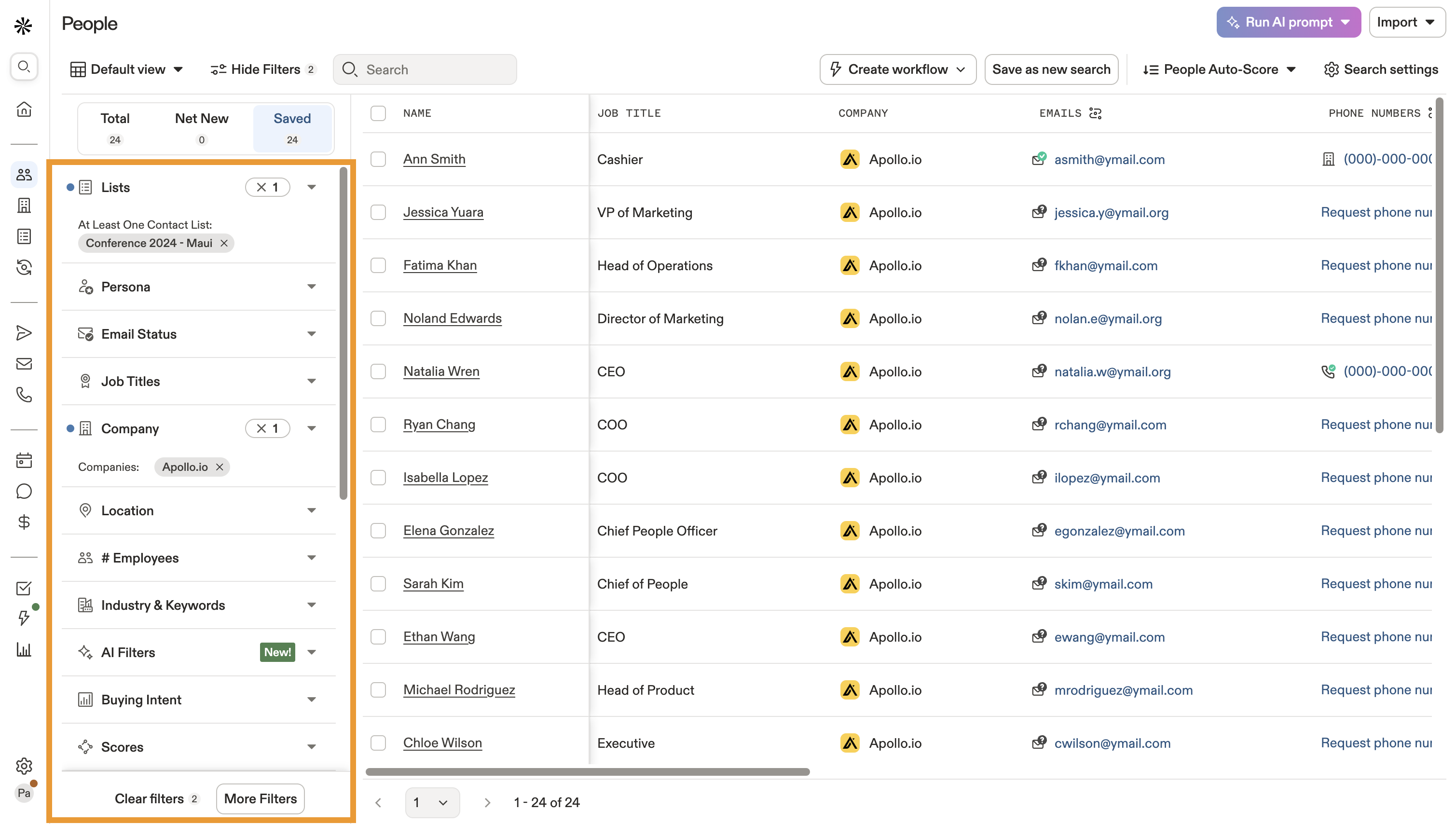 Apollo then loads the total number of records that match the criteria of your ICP.
Hold the Phone—What's an ICP?
An Ideal Customer Profile (ICP) is a fictitious company that combines the key characteristics that best portray your ideal customer. By analyzing firmographics such as company size, industry, location, annual revenue, and budget, you can more easily define the types of companies that you serve best.
(Recommended) Apply the email status filter to your search to find Apollo-verified emails.
How Does Apollo Ensure Data Is Accurate?
Lead data is Apollo's bread and butter. The Apollo team constantly improves and refines how it collects and verifies data to provide its users with a best-in-class solution.
Apollo's proprietary approach and automated multi-step verification process help it maintain a highly accurate database and keep records up-to-date. The secret potion includes:
A 7-step email verification process to identify valid emails within catch-all domains, verify data in real-time, predict email bounces, and automatically clean invalid emails. Learn more about Apollo's email verification process here.
An automated, real-time verification process for direct dial requests. Apollo's proprietary algorithm runs the number through multiple checks using its large dataset to verify a number's accuracy.
The instant refresh of contact and company information every time a data signal, such as a job change or a new direct dial or email, informs Apollo of an update.
How Often Does Apollo Update Its Data?
Apollo takes data accuracy and compliance very seriously. As a result, Apollo:
Refreshes data in real-time whenever the Apollo system captures a data signal, such as a job change or a new phone number or email. This signal triggers the system to check for new data and verify its validity.
Runs monthly checks on its database to ensure that contact data stays accurate and up-to-date.
Regularly refreshes its database for individuals who request to opt out of Apollo services and from third parties who pass along opt-out requests from individuals to Apollo.
Why Do Third-Party Email Verification Vendors Flag Apollo's Verified Emails as Invalid?
If you use a third-party tool in conjunction with Apollo, you may find that the tool flags some Apollo-verified emails as invalid. This is because the majority of popular tools use a method called SMTP tickling, which cannot differentiate between valid and invalid emails from catch-all domains.
Within Apollo's 7-step email verification process, Apollo leverages its powerful engagement tools to track email replies and bounces. This means that Apollo can collect and verify valid emails within catch-all domains. For more information, refer to the How Apollo Verifies Emails article.
How Can a User Claim or Remove Their Profile in the Apollo Database?
Accurate data also means compliant data. Apollo takes opt-out requests and regulations seriously and has implemented the following practices:
A clear, transparent, and consumer-friendly opt-out request process. You can learn more about it here. Apollo processes opt-out requests promptly to ensure its data is up-to-date with consumer opt-out rights.
Once an opt-out occurs, Apollo deletes the contact from its database. Apollo then retains their email address solely to respect their opt-out preference and ensure they do not reappear in the Apollo database.
Customers can and should filter data based on location. In Apollo, you can target your use of the Apollo dataset to certain locales, industries, people, or businesses where you have a legitimate interest in reaching out and where your reach-outs are compliant with local law.
Privacy Matters
Head to the the privacy center if you want to submit a request for information access or request to remove your profile from the Apollo database. The Apollo privacy team will then take action accordingly.
Does Apollo Notify Contacts When It Adds Them to Its Database?
Apollo automatically sends an email notification to every new contact in certain regions—such as the European Union, the United Kingdom, and Switzerland—when it adds them to its database.
Subject to notification requirements, the email explains how Apollo processes contact data and informs the contacts of their rights.
How Does Apollo's Data Compare to Others?
Apollo consistently expands and refines its database to offer you the most accessible, trustworthy B2B data. To identify the best source of truth, Apollo collects and verifies data against multiple data sources as well as via its:
Network of over 1.7 million data contributors.
Email engagement tools.
Verified third-party data providers.
Crawling of public data sources.
Compared to other B2B databases, Apollo offers over 65+ data attribute filters so you can find and reach your entire target market.
Let's Go Head to Head!
For a data comparison of Apollo vs. others, refer to the "Battle Royale" section of this customer story.
Why Does Apollo Display Guessed Emails?
Apollo strives to help you connect with as many of your ideal customers as possible. As a result, whenever Apollo cannot fully verify an email but finds multiple pieces of evidence that suggest a probable email, Apollo marks it as guessed and indicates the confidence level. Apollo only returns guessed emails if the confidence level is 50% or above.
Use the guessed filter with caution to keep your domain safe. If you don't want to include any guessed emails in your sales outreach, you can filter contacts by email status.
Why Do I Have a High Bounce Rate for Emails Sent Via a Mailbox Connected to Apollo?
If you notice a high bounce rate from the emails you send via a mailbox connected to Apollo, you need to take action to lower the number of bounces and protect your sending reputation.
How High is High?
As a point of reference, if you consistently notice a bounce rate of 8% or above—cue the alarm bells! It's time to act fast to keep your domain safe and sound.
Multiple factors can contribute to high bounce rates. Refer to this article for more information on the potential causes and steps to take to rectify any issues you may be facing.
What Permissions Does Apollo Need Access To When I Connect My Email or Calendar?
To access the full functionality of Apollo prospecting and engagement tools, it is necessary to link your business email and calendar with your Apollo account.
Apollo never deletes your emails or calendars. However, as providers like Google bundle all access as a single group of permissions, Apollo cannot request individual permissions for the specific privileges it needs to ensure Apollo features function correctly.
It is important to understand that when you link your email or calendar, Apollo may use automated algorithms to extract certain personal information from your email and calendar content and related metadata, which may be added to Apollo's contributory data network. However, this data is never tied to a specific customer. Apollo only adds a piece of data to its database if multiple separate users and accounts have the same verified information for that contact, account, or industry.
When you give Apollo the necessary access and permissions, Apollo can help you to:
Mailbox: Automate emails, create templates and follow-ups, view open rates, and more.
Google Calendar: Empower contacts to book meetings with you through the Apollo meetings scheduler, attribute success to your booked meetings, view job changes, and more.
Need a Helping Hand?
Got this far but couldn't find the answer you're looking for? Reach out to our friendly support team via the chat widget, or send us an email, and we'll be at hand to help in any way we can.