Overview
Once you have connected your calendar and configured your default meeting settings, you can access the Apollo Meetings dashboard. From here, you can:
Create, edit, and activate meeting types.
Access your meeting schedule links.
View your scheduled, past, and canceled meetings.
Amend your default settings.
Create and Edit Meeting Types
Create meeting types to distinguish between the meetings you host and remain in control of who can book you, when prospects can schedule meetings, and for what purpose.
You can edit the existing default meeting types or create new ones. There are 3 different types of meetings that you can create:
Single-host: This meeting type only ever has one host. Single-host meetings should be used for one-on-one discussions with your prospect.
Multi-host: This meeting type has multiple hosts that co-host the meeting. When a prospect schedules a meeting of this type, all hosts must be available at the same time for the calendar slot to be available.
Round robin host: This meeting type rotates between different hosts each time it is used to schedule a meeting. Round-robin meetings should also be used for one-on-one discussions. You can choose to rotate hosts based on either the availability of hosts for certain time slots or the equal distribution of hosts so that each host is booked as part of a rotation one by one.
Different Plan, Different Possibilities
If you are on a free Apollo plan, you can activate up to 6 meeting types at a time.

However, if you are on a paid plan, the world is your oyster! You can create and activate as many meeting types as you like.
Step 1: Create a New Meeting Type
This process walks you through the specifics of creating a new single-host meeting type, but multi-host and round-robin host meeting types are created in a similar way. To learn about the small differences when creating those meeting types, refer to the Create Multi-Host and Round Robin Host Meeting Types section of this article.
To create a new single-host meeting type:
Launch Apollo, click Engage, and then click Meetings.

Click the Meeting Types tab, and then click Create. Choose the Single-host option.

Step 2: Add the Meeting Type Details
First, name your meeting type. This will make it easier for your prospects to identify if they are booking you up for the right type of meeting.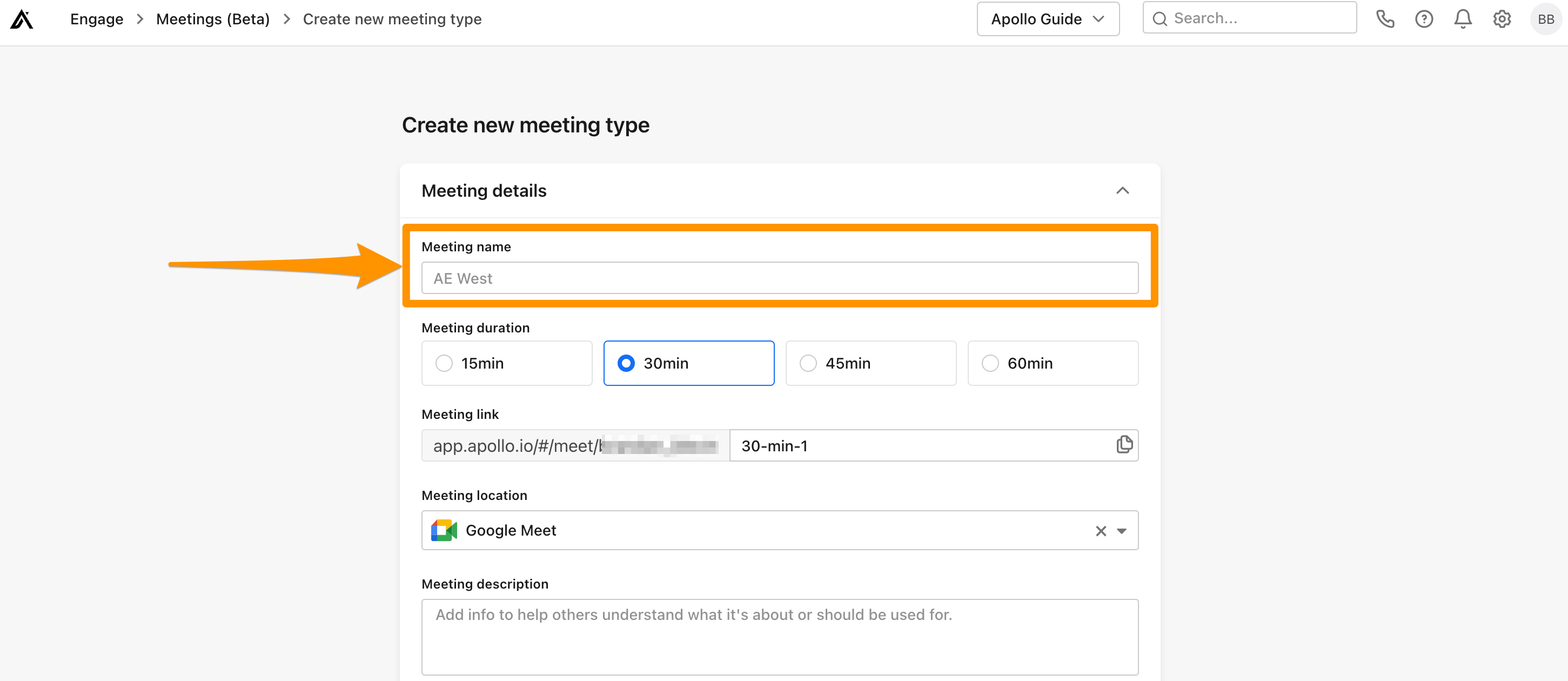 Then, click the Meeting duration radio button to specify how long you want this type of meeting to last.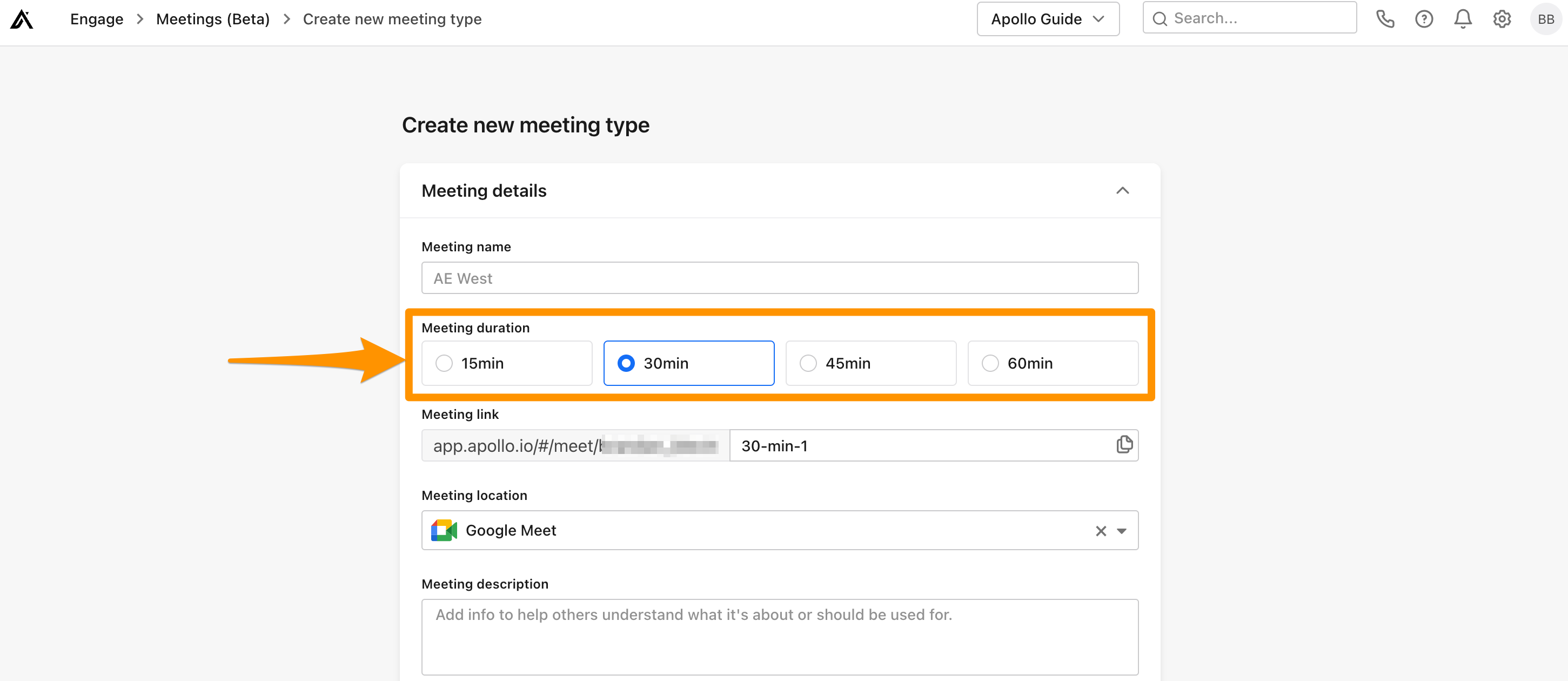 To personalize the link for this meeting type, edit the text in the Meeting link text box. Click the Copy icon on the right to copy the link.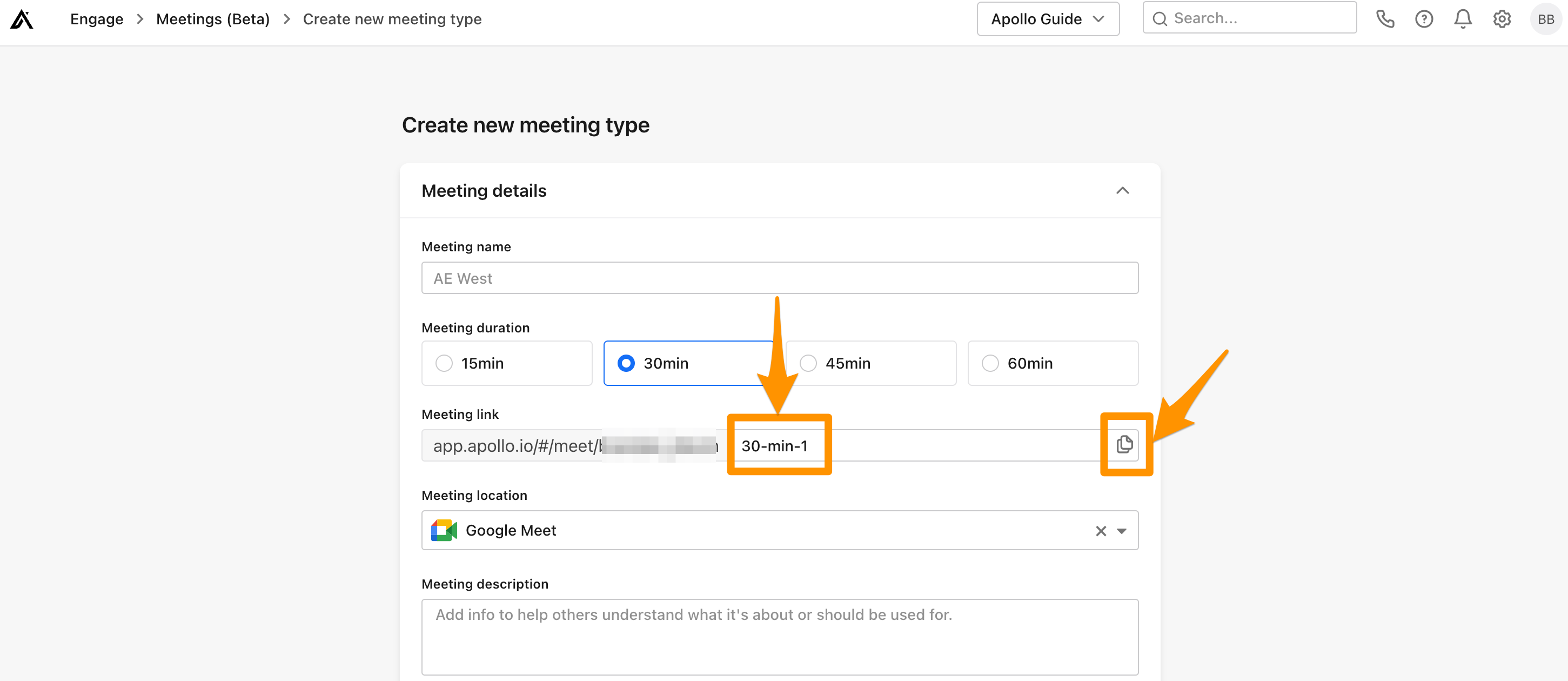 Click the meeting location drop-down and choose which video conference platform will host your meetings: Google Meet, Zoom, or a Custom meeting link.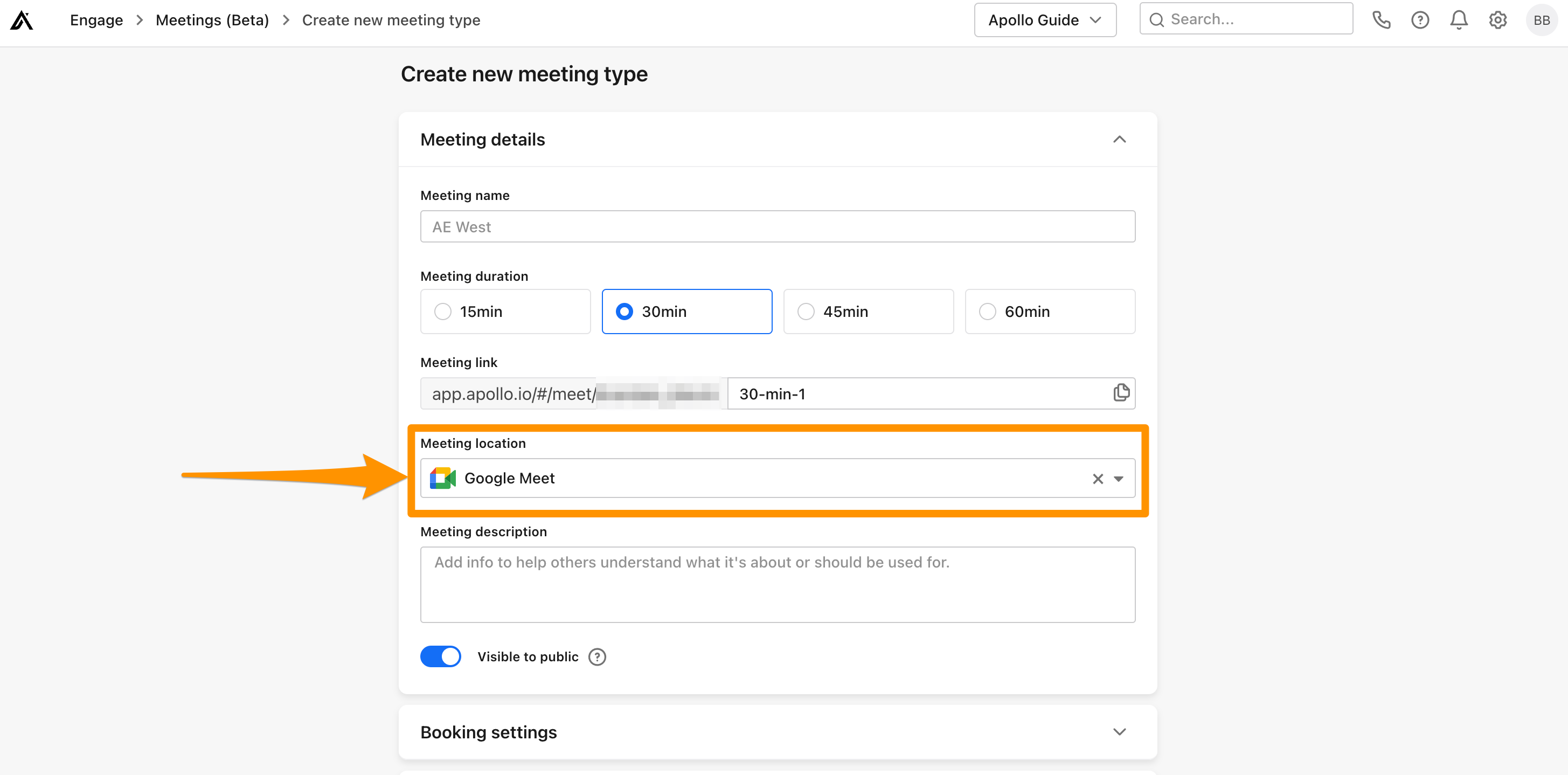 Add a description in the Meeting Description text box to give guests more context about the purpose of this meeting type.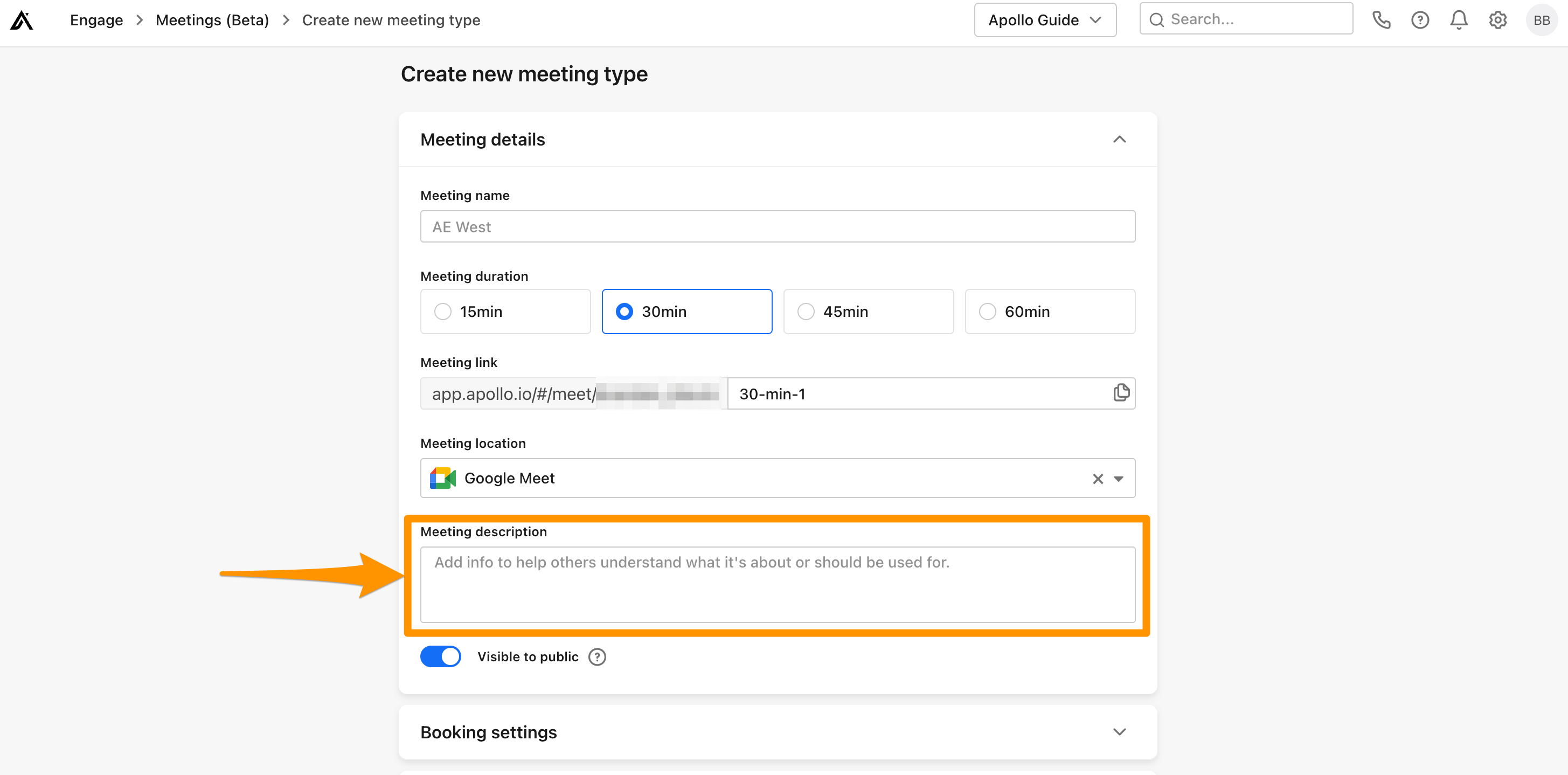 Step 3: Set Your Availability
Now you are ready to set your availability for this meeting type. Click the Booking settings drop-down to get started.

Apollo automatically adds your default timezone to this meeting type. If you want to make any changes, click the Current timezone drop-down on the right and select the timezone of your choice.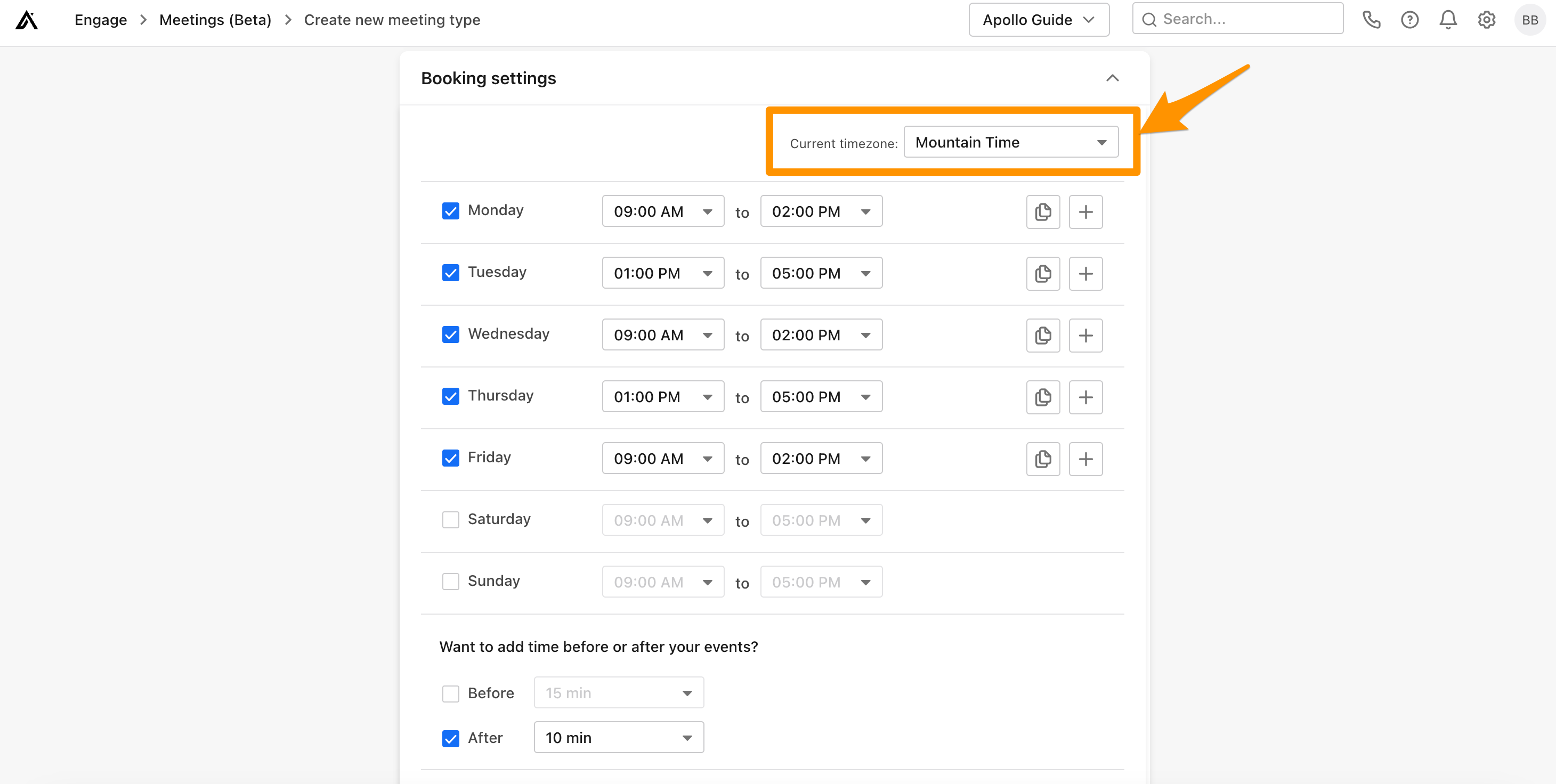 Click the checkboxes next to the days you want to appear available to guests for this type of meeting. Then, set your open time slots using the drop-down options on the right of each day.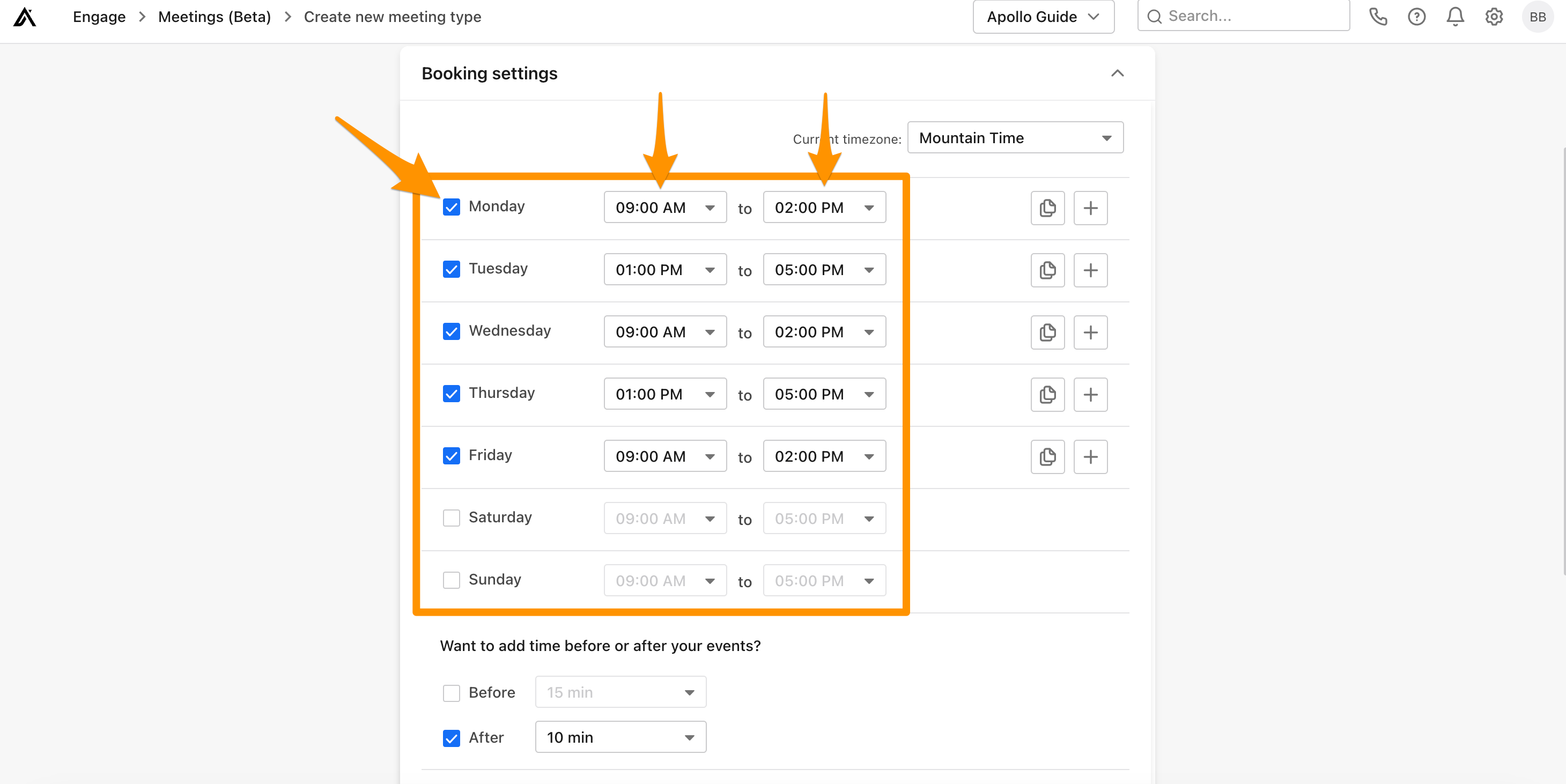 As Easy As Pie
Please note, Apollo displays the default time slots you configured in the settings during the initial set-up. Only follow the steps to change your open time slots if you want to customize your availability for this specific meeting type.
Click the + button on the right to create additional time slots per day. Then, use the drop-down to amend the times according to your availability. You can add as many extra time slots per day as you like.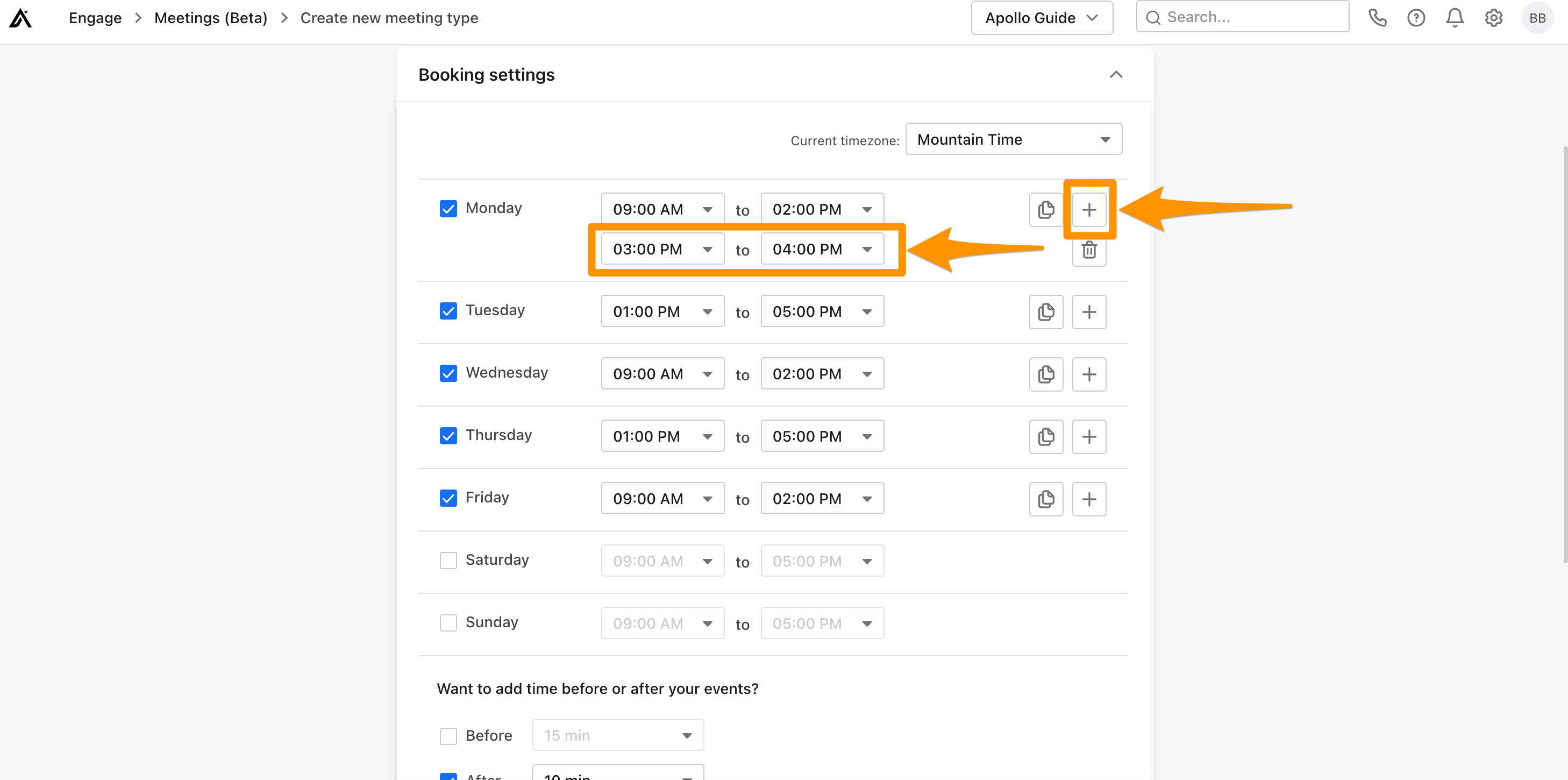 If you want to replicate your availability for other days of the week, click the Copy icon. Then, click the checkbox next to the days for which you want to enable the same open time slots. When ready, click Apply.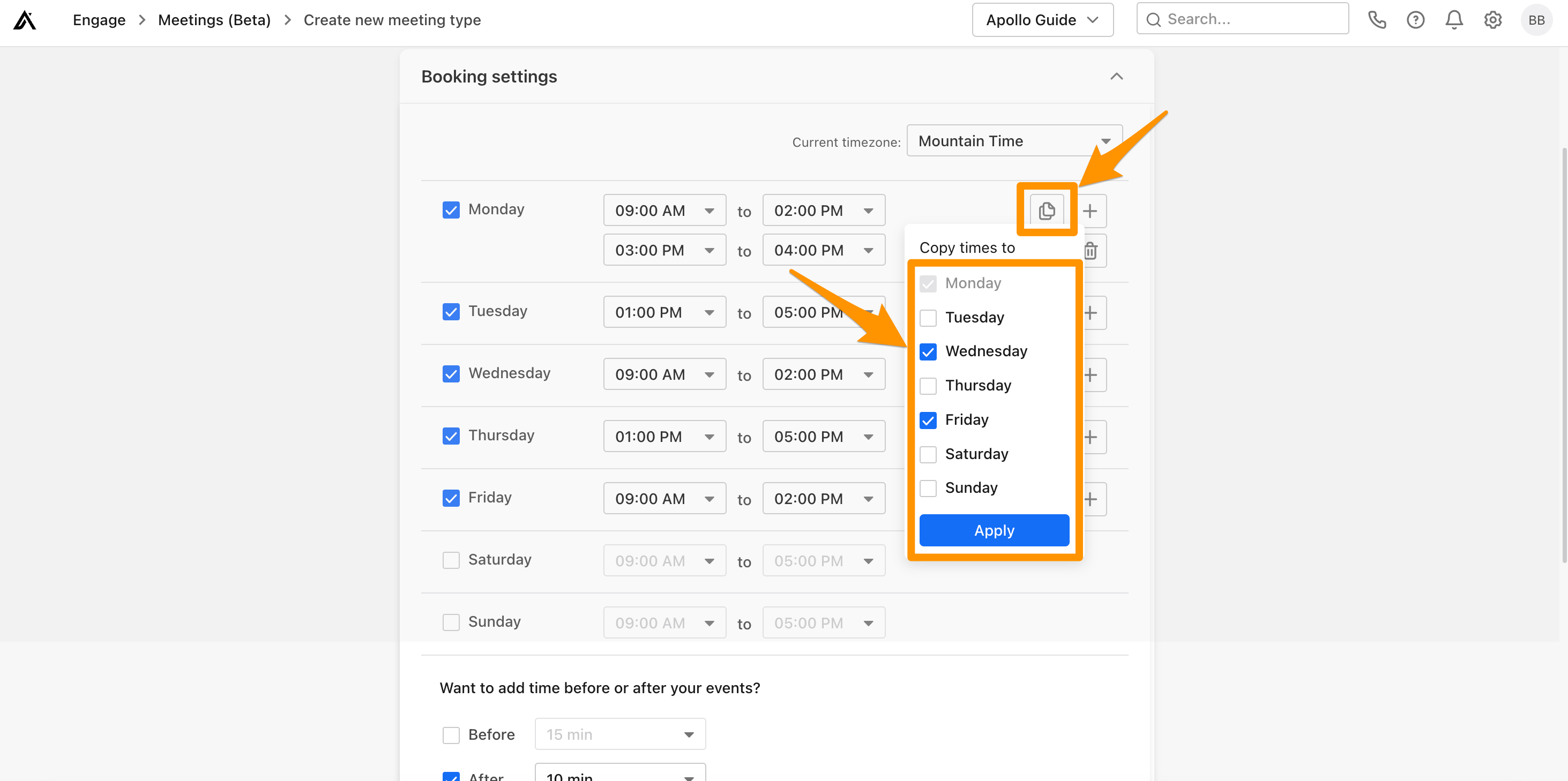 Click the trash can icon to delete an additional time slot.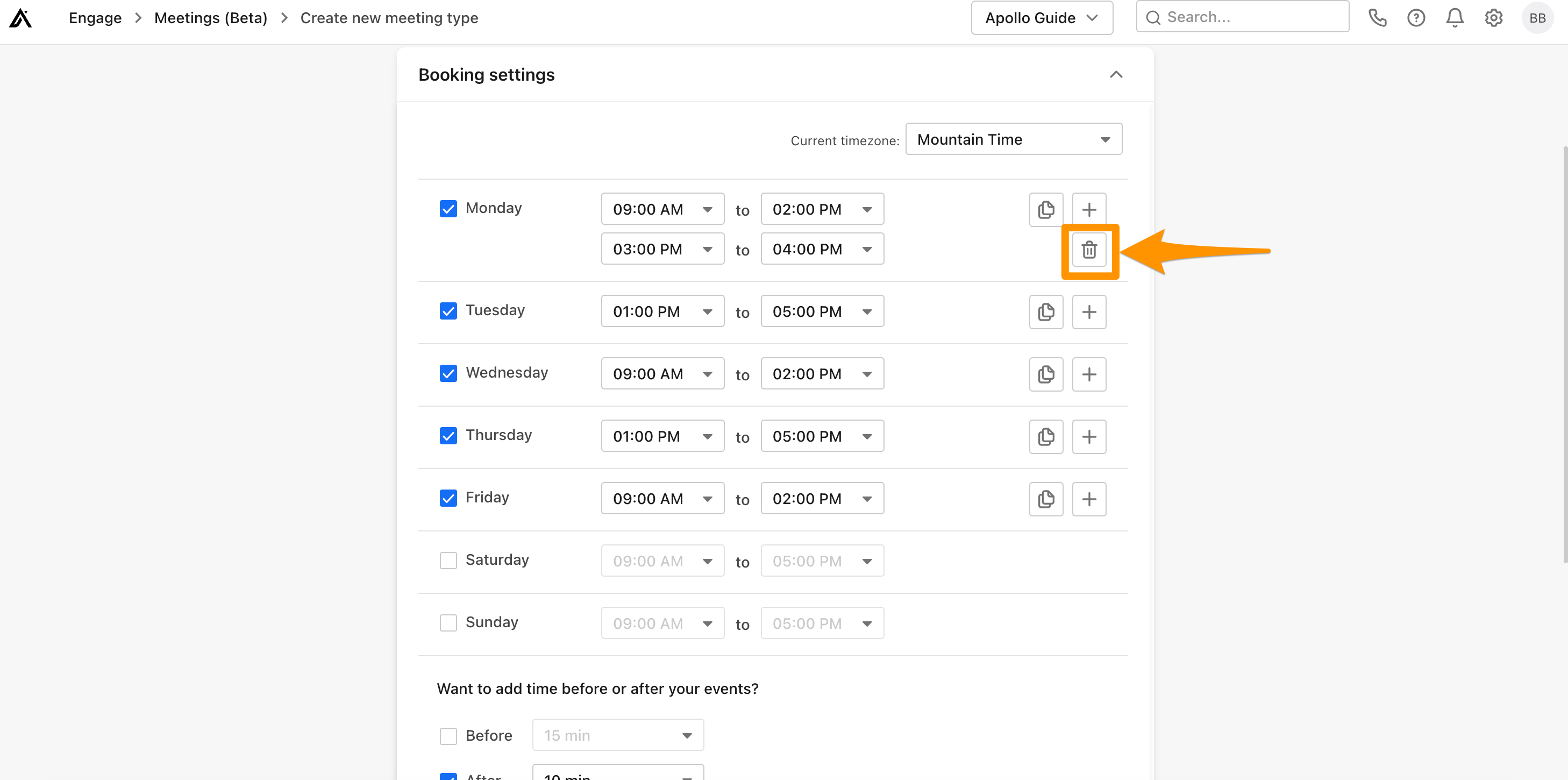 Next, set your meeting buffers. This option ensures that you cannot be booked for a certain amount of time you set before and/or after a meeting.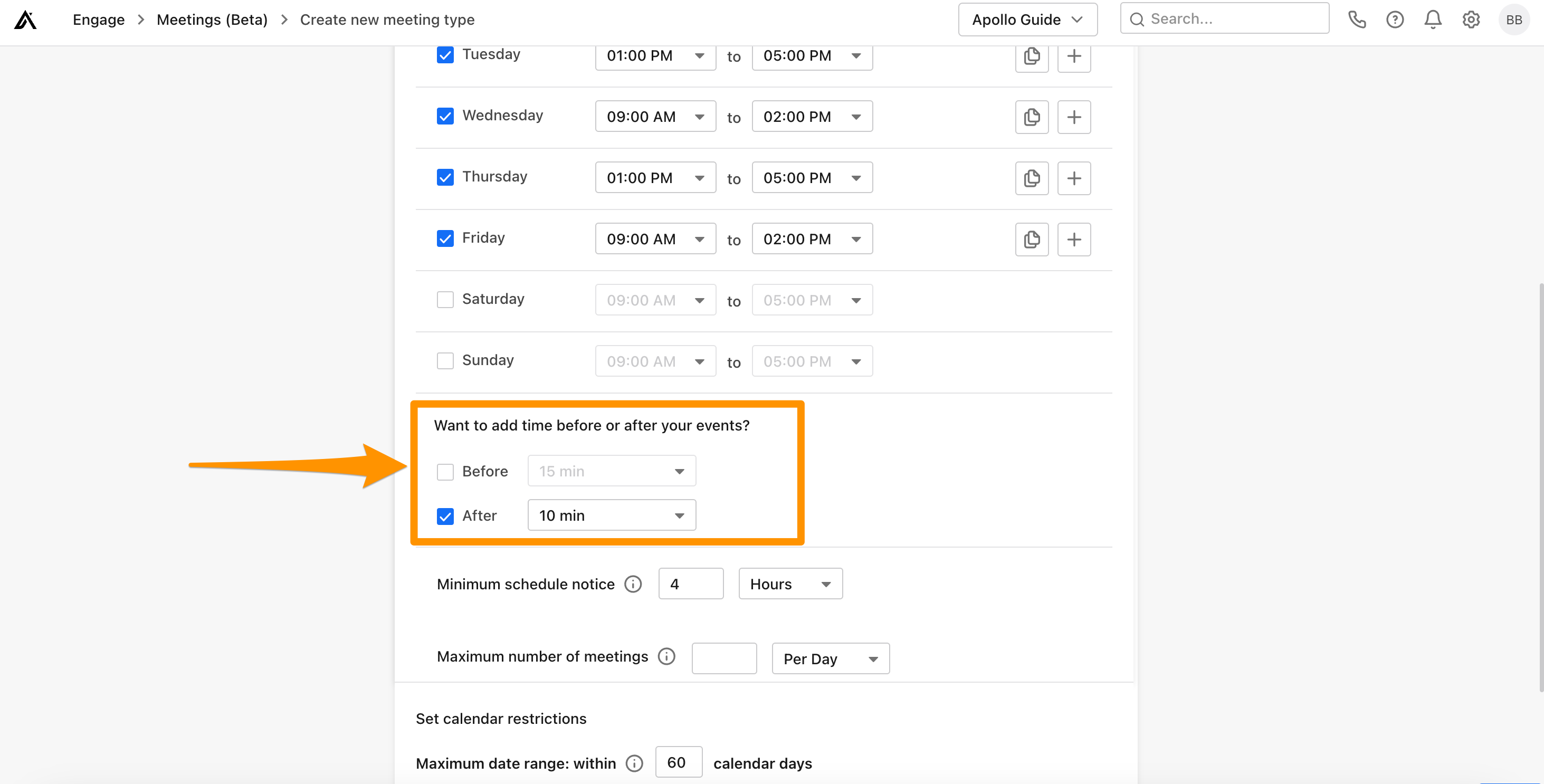 Set a minimum schedule notice to prevent guests from scheduling last-minute meetings with you. Set a maximum number of meetings to prevent overbooking your calendar during certain periods.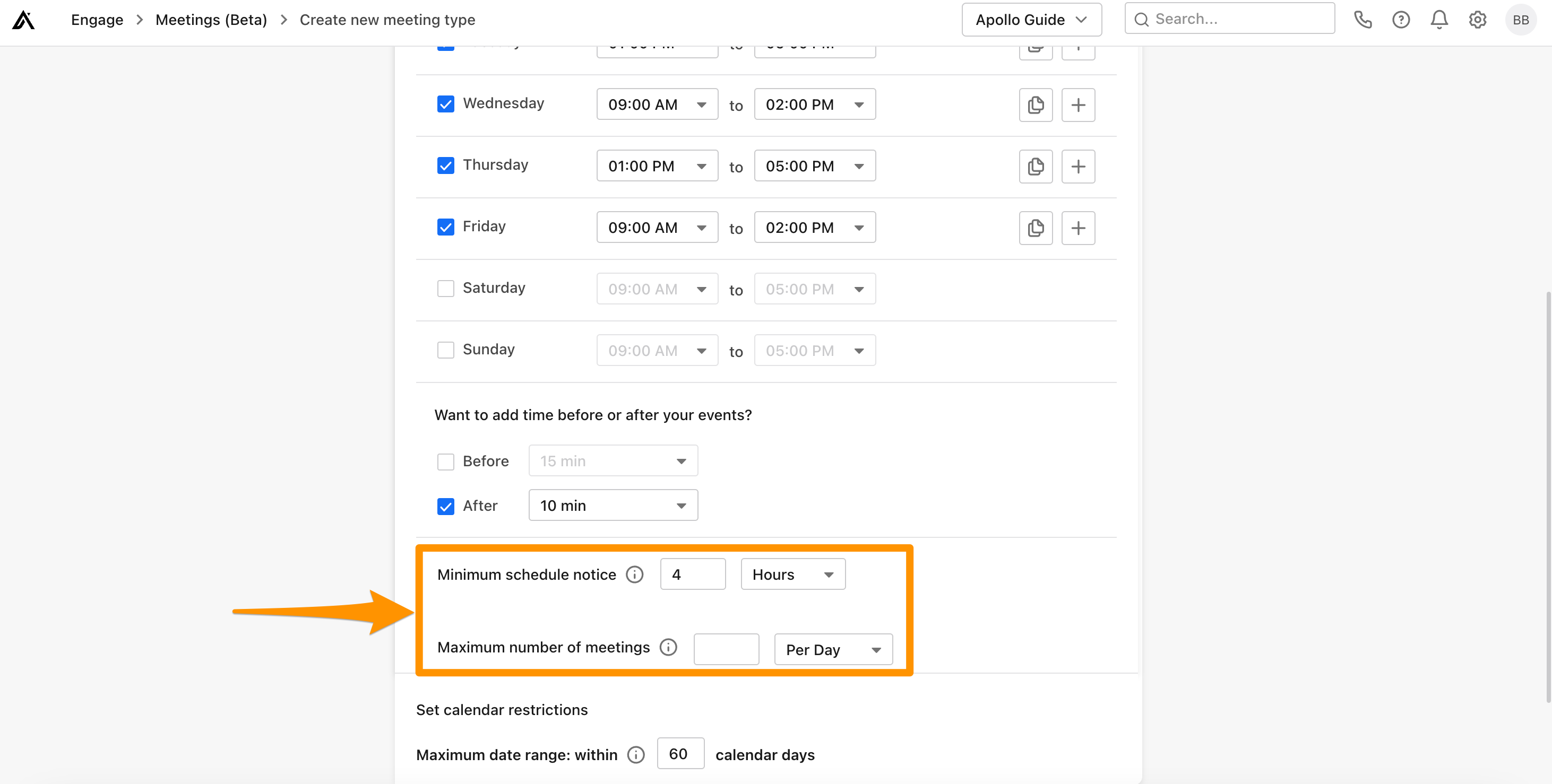 You can also set a maximum date range to ensure your guests don't schedule time with you too far into the future.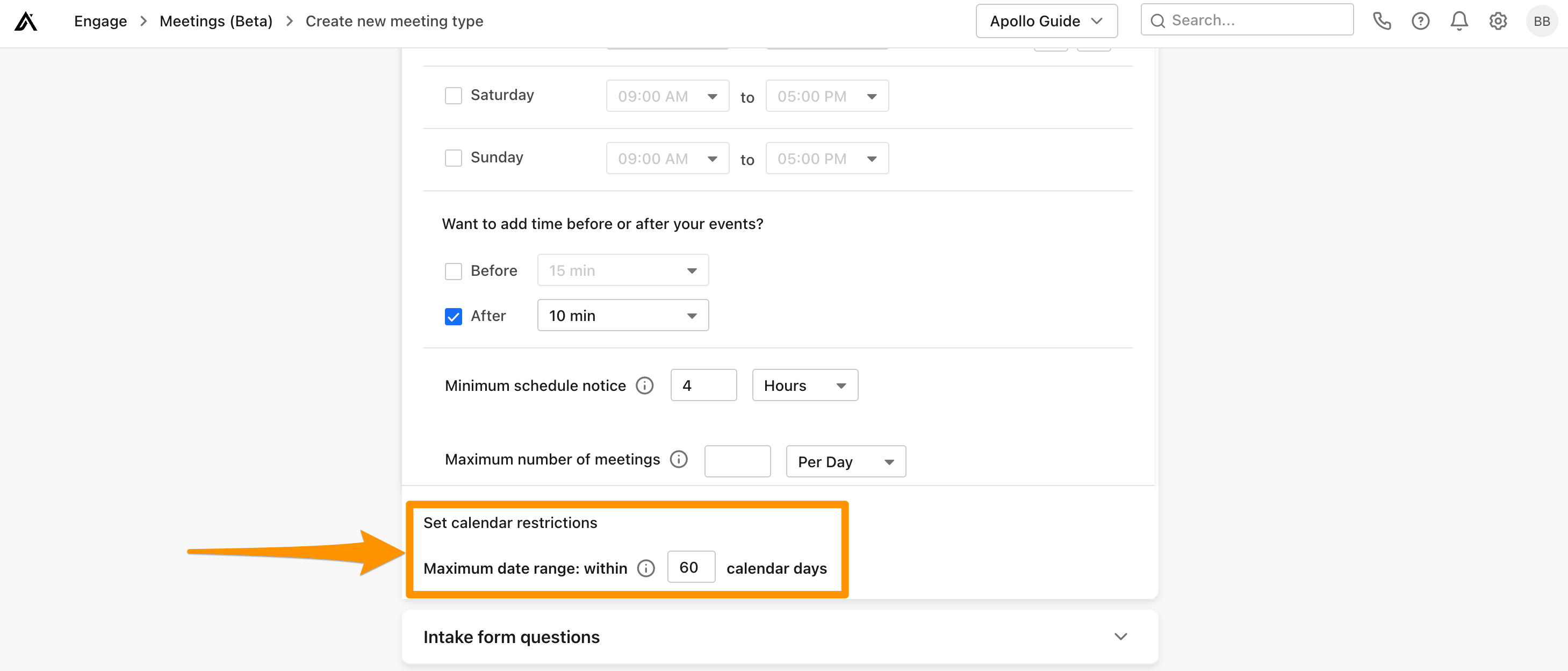 Step 4: Choose Your Intake Form Questions
By default, your intake form requires prospects to enter their name and email address. You cannot edit or remove these fields from your form.
To add more questions to your form:
Click Add a question.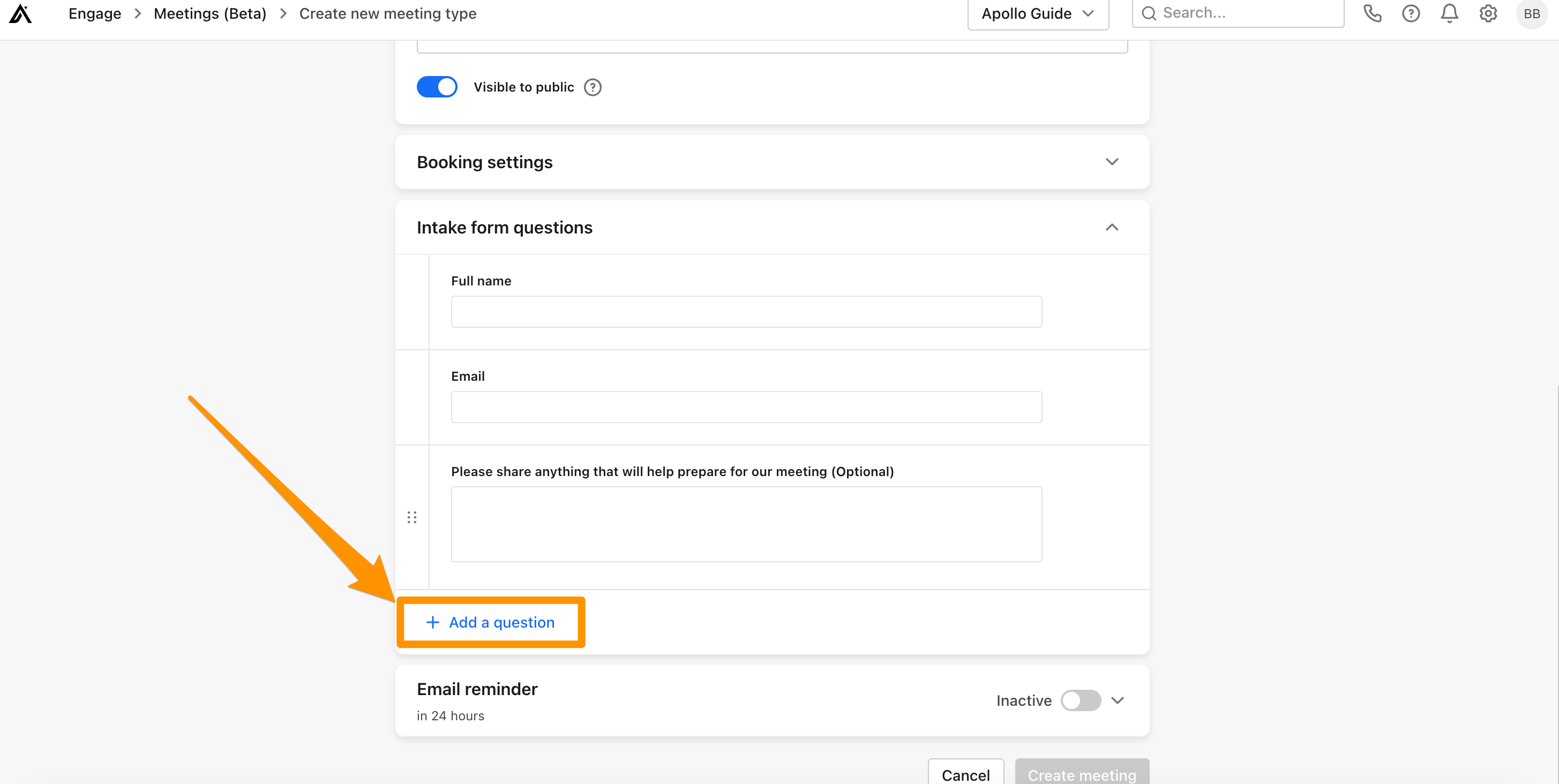 Choose from standard options such as company size and phone number, or create a custom question with your own input types.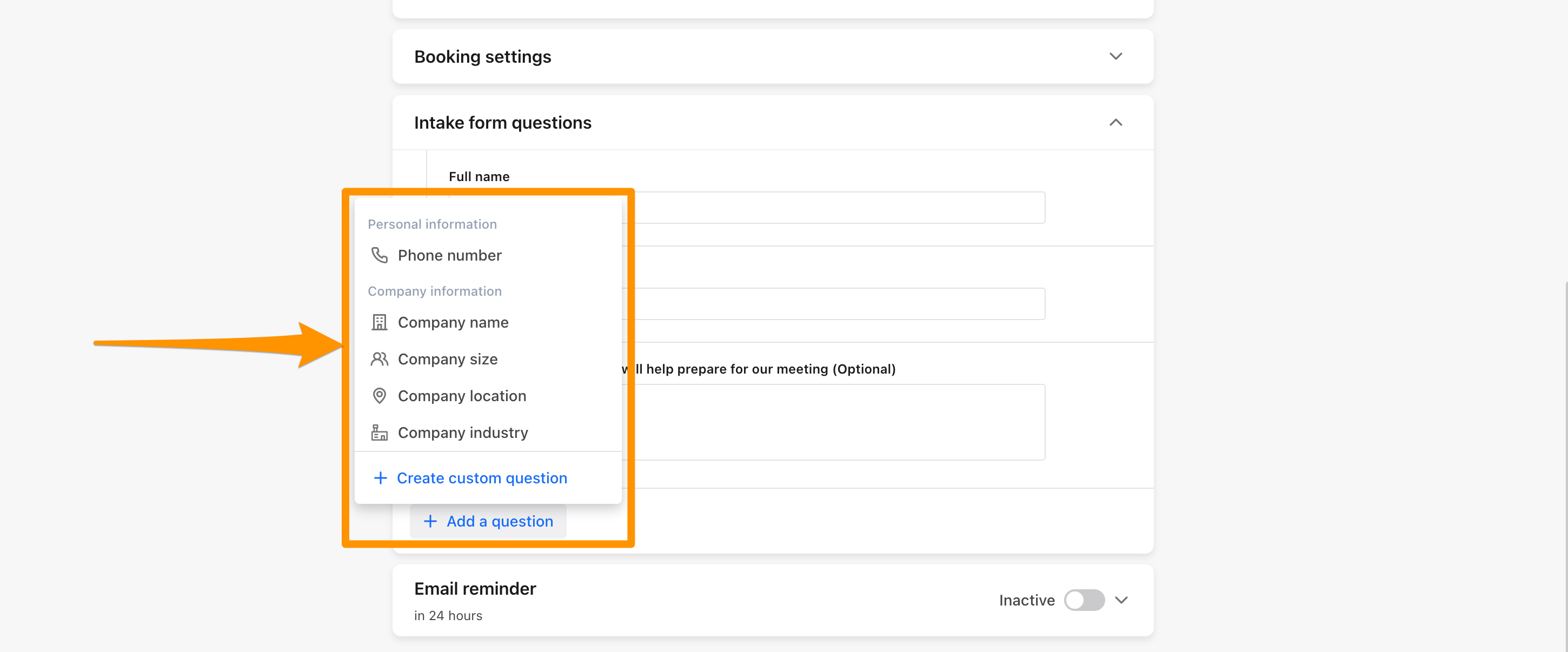 If you choose Single-select or Multi-select as your input type for a custom question, you need to provide answers that the prospects can select.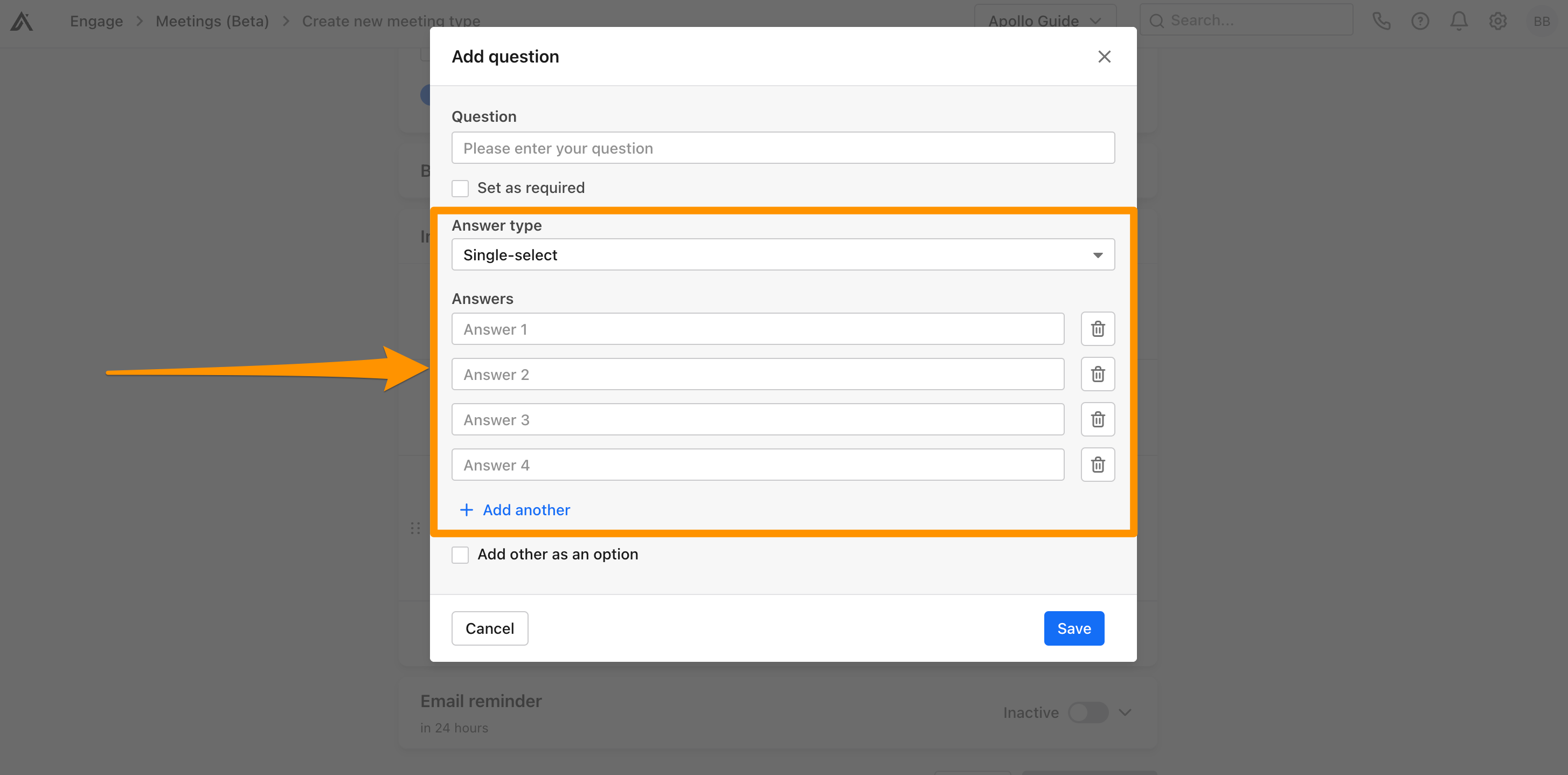 By default, Apollo sets added questions as optional. This means that the prospect does not need to answer them to schedule a meeting. Click the Set as required checkbox if you want to make a question mandatory. Then, click Save.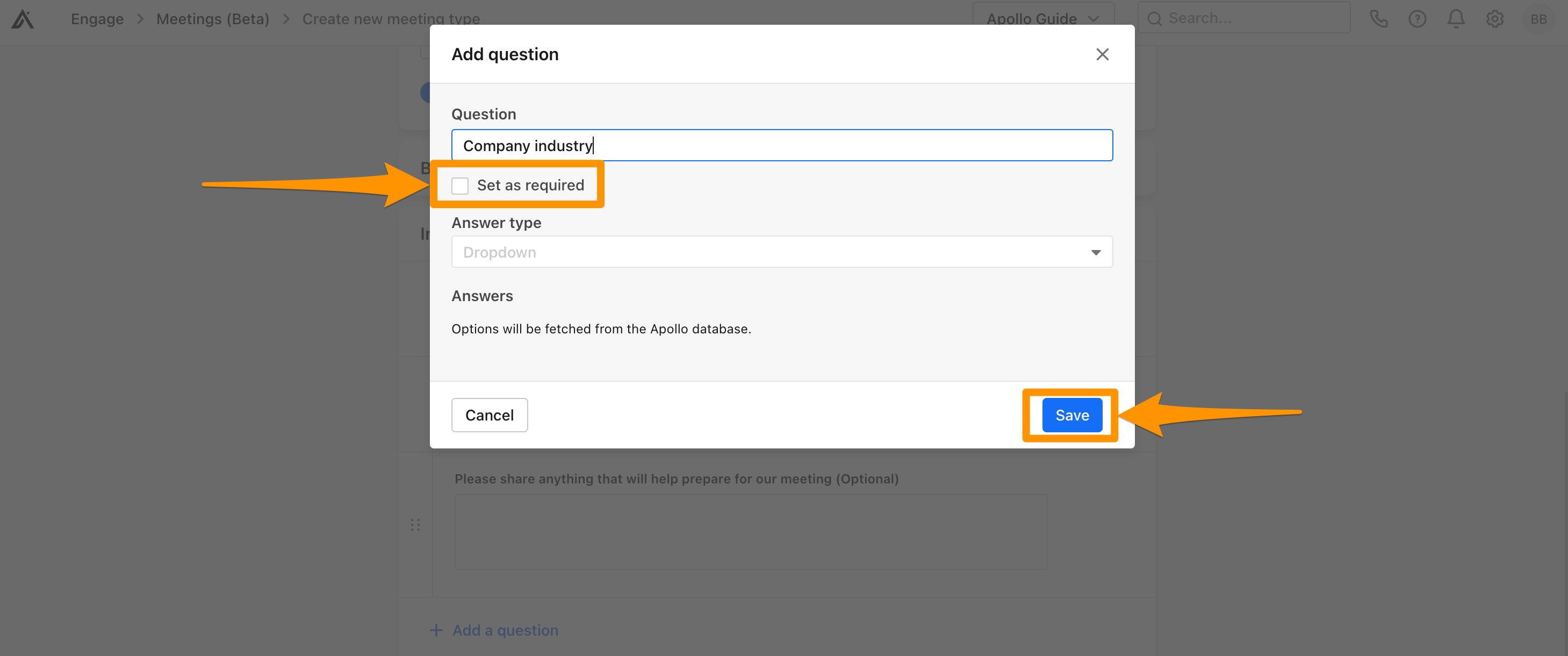 To sort your questions in a different order, drag and drop the question you want to move using the icon on the left side.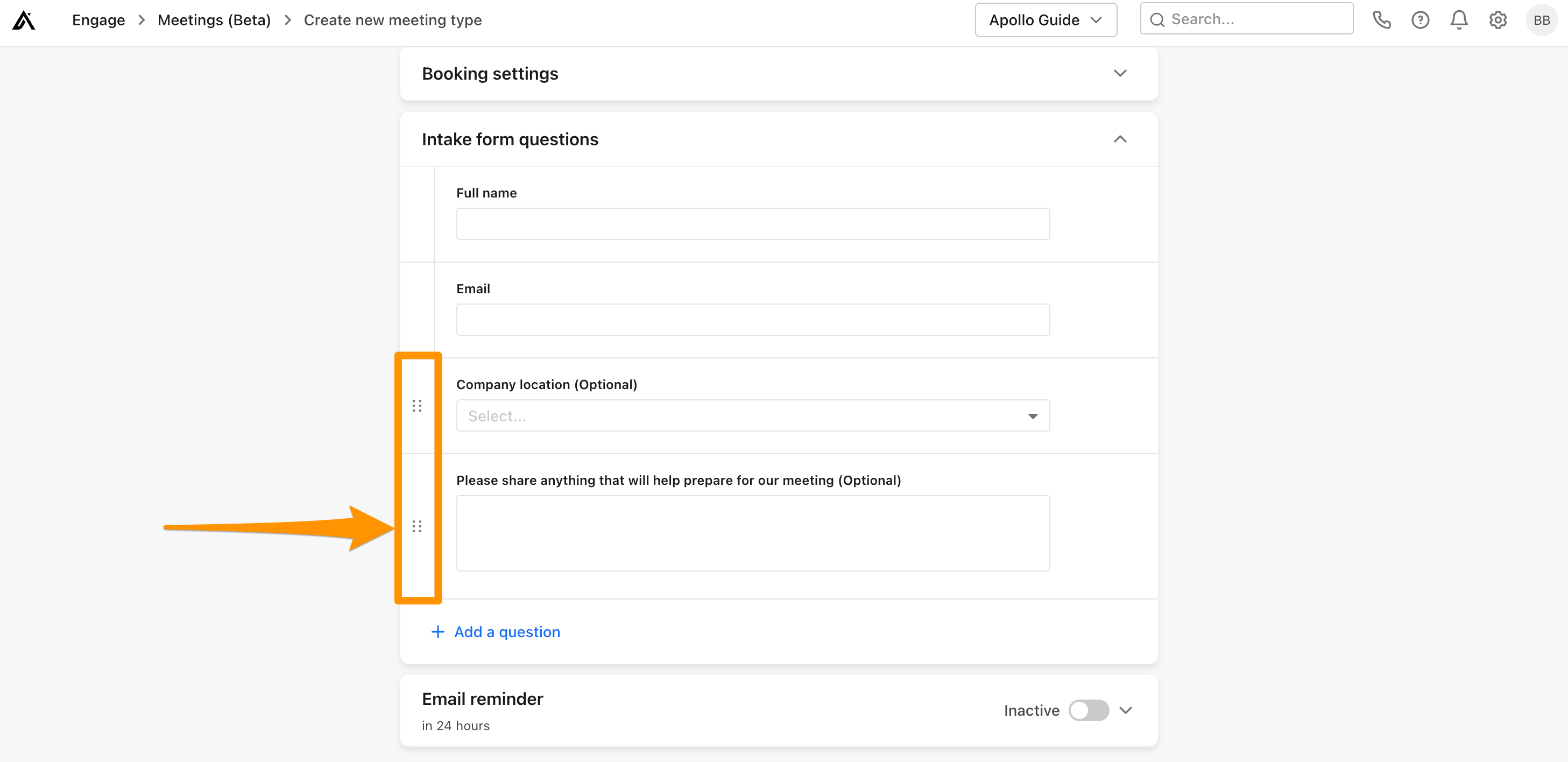 To edit a question, click the pencil icon on the right side of it. To delete the question from your form, click the trash can icon.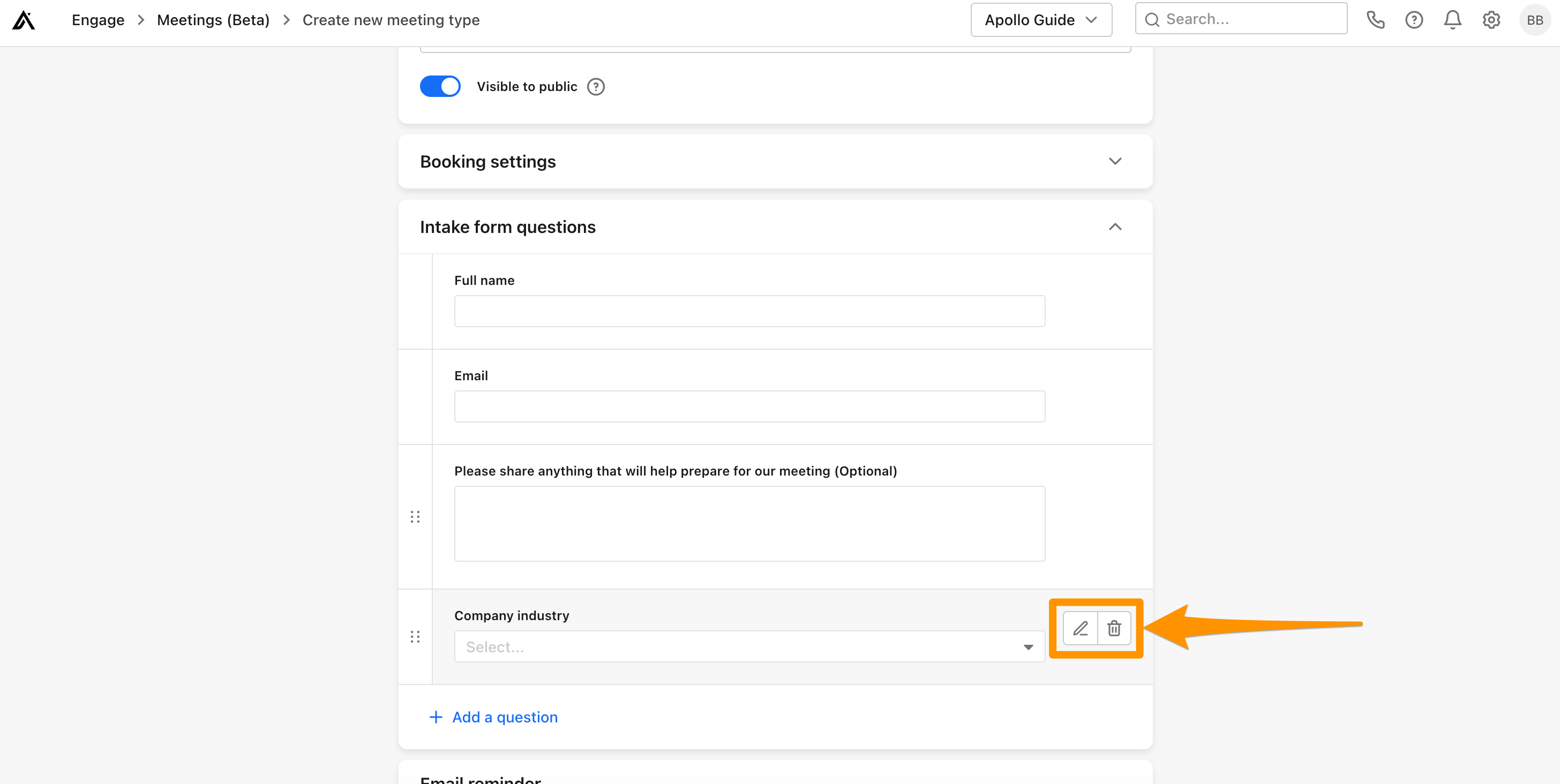 Step 5: Add an Email Reminder
To ensure that a prospect remembers to attend a meeting they booked with you, set up an automatic email reminder for them. You can skip this step if you prefer not to send a reminder.
To set up an email reminder:
Toggle the Inactive option to Active.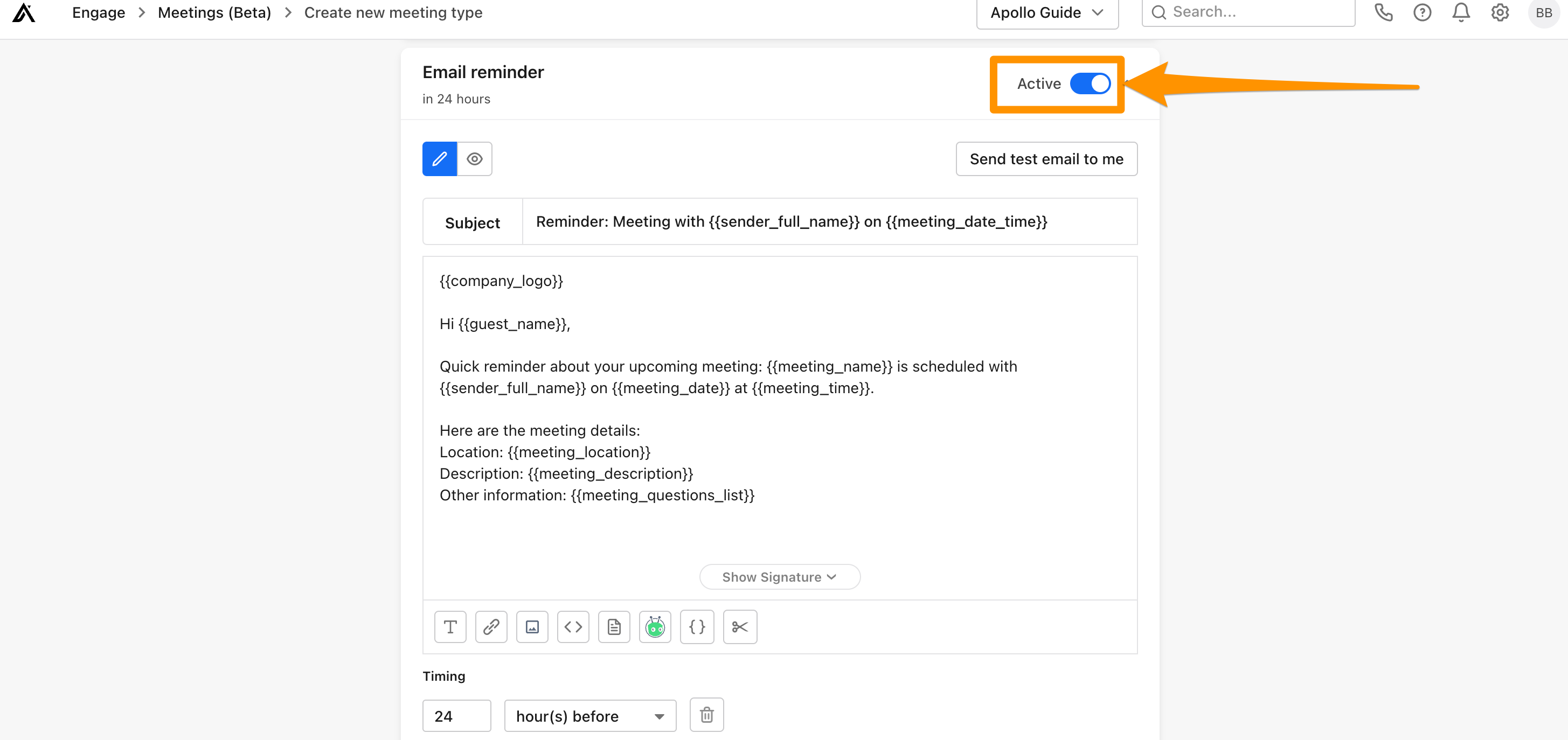 You can keep or edit the default email subject and text Apollo provides. To edit the text field, use the options along the edit bar at the bottom of the field. You can insert links, images, dyanmic variables, and snippets.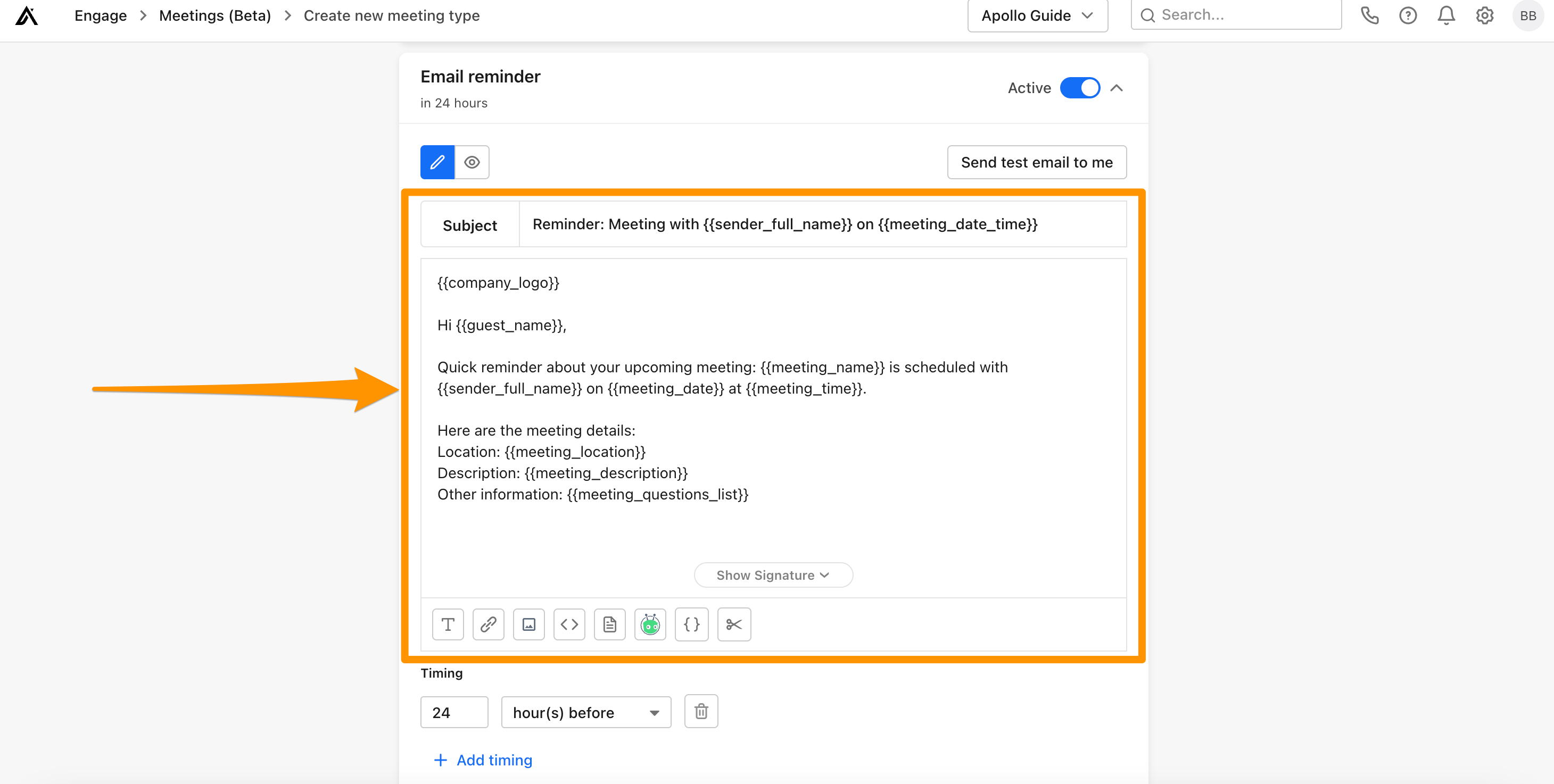 To preview your email, click the eyeball icon at the top left. If you want to preview the email in an inbox, click Send test email to me. Apollo then sends the preview to the default email inbox connected to your Apollo account.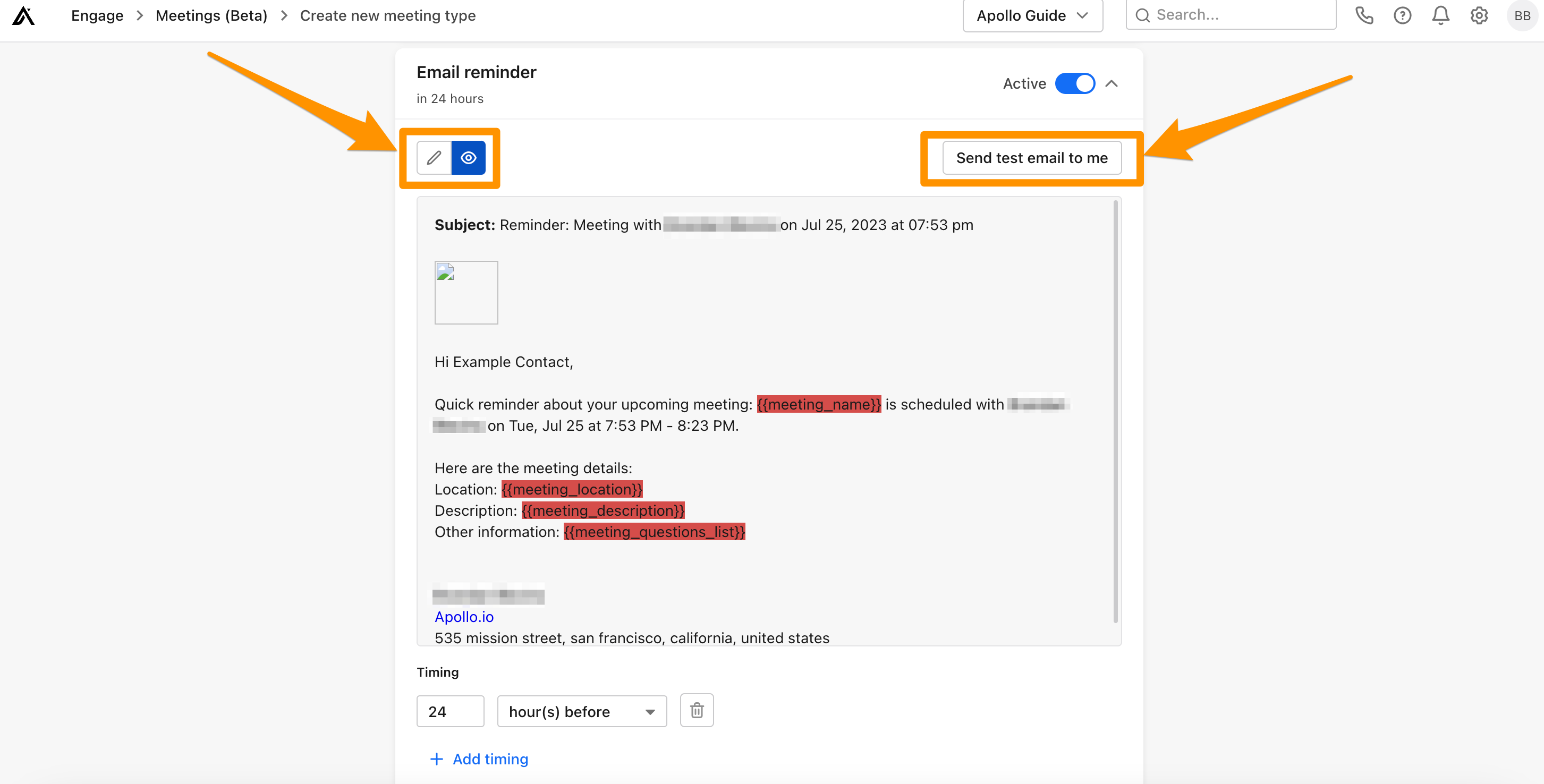 In the timing section, choose when you want to send your email reminder. If you want to send multiple reminders, click Add timing. You can add up to 3 reminders.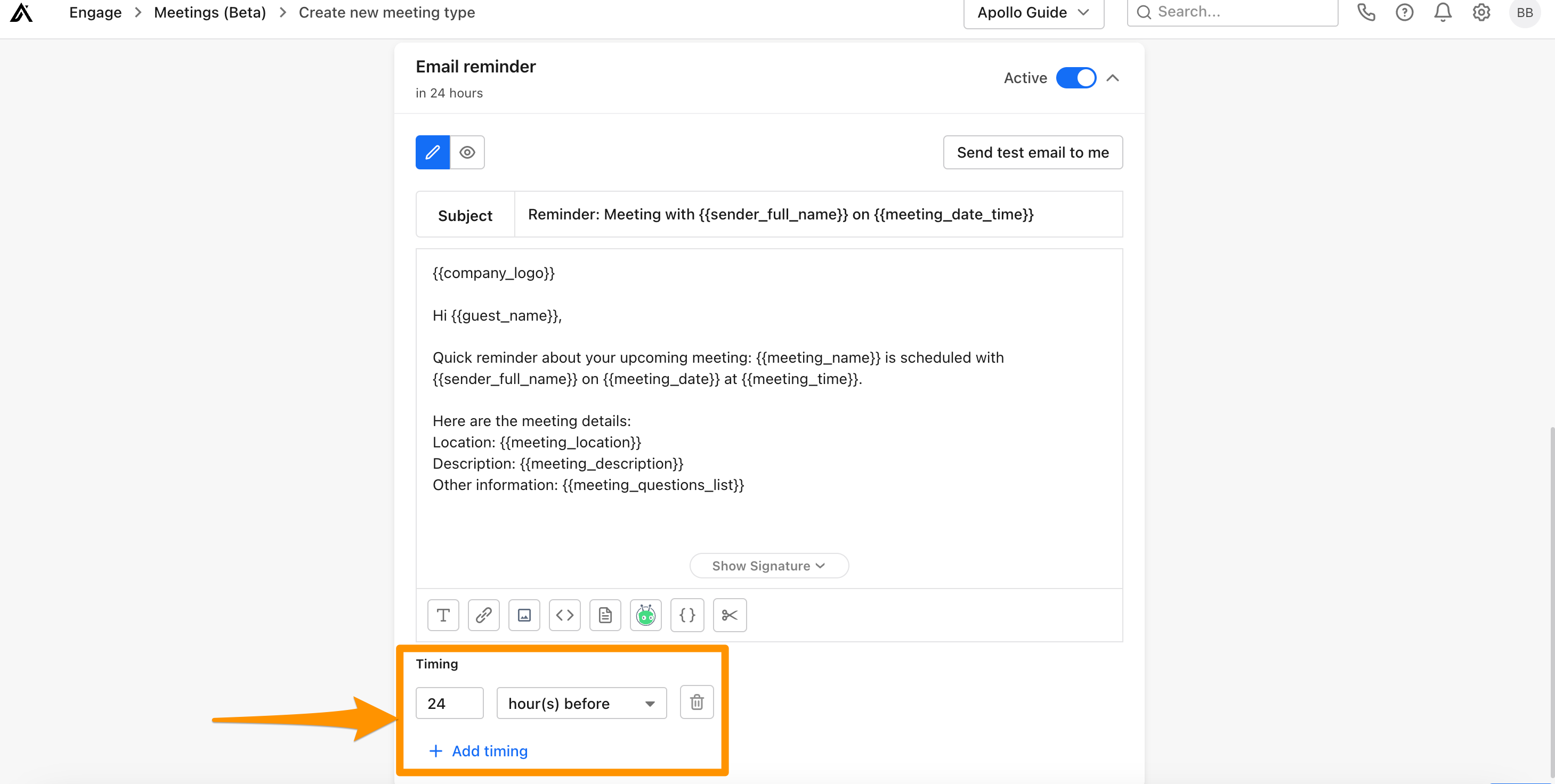 When you have added all details for this single-host meeting type, click Create meeting.

You have now created a new single-host meeting type.
Create Multi-Host and Round Robin Host Meeting Types
The steps you follow to create these meeting types are very similar to single-host meetings. However, Apollo does not directly support all the same options for multi-host and round-robin meeting types. There are currently a few slight differences:
You cannot edit the intake form or add email reminders.
For multi-host meetings, you only add the meeting type details and the hosts.
For round-robin meetings, you must also decide between two scheduling options:

Optimize for availability: Choose hosts based on their schedule availability. Use this option to provide prospects with the most options when booking a meeting.
Optimize for equal distribution: Rotate hosts one by one through an established order. The prospect scheduling the meeting can only view the calendar of the current host in the rotation. Use this option to ensure that your hosts are booking meetings equally.
All other steps are the same. Follow the instructions in the sections above to create multi-host or round robin meeting types.
Inbound Routers Bring More than Meeting Routing
Apollo admins can add an intake form to the scheduling process for all meeting types by creating an inbound router! This enables admins to add more questions to intake forms, and route prospects to different meeting types based on their answers.
Edit an Existing Meeting Type
To edit a meeting type:
Launch Apollo, click Engage, and then click Meetings.

Click the Additional Options (...) button on the top right of the meeting type you want to edit. Then, click Edit.

Make edits to the meeting type details and then click Submit.

You have now edited an existing meeting type.
Access Your Meeting Schedule Links
Now that you have created or edited your meeting types, you can copy the meeting schedule links and then share them with your future guests.
To access the link:
Launch Apollo, click Engage, and then click Meetings.

Click the Meeting Types tab. Then, click Copy link under the meeting type you want to share with a prospect.

You have now copied the unique meeting schedule link for a specific meeting type.
Preview the Guest Scheduling Workflow
To gauge your guests' scheduling experience and ensure you have configured the details of each meeting type correctly, you can access a preview of the guest scheduling workflow.
Launch Apollo, click Engage, and then click Meetings.

Click the Preview button on the bottom-right of the meeting type you want to edit.

Apollo directs you to the same scheduling process as the one prospects will follow for that meeting type. Click through the workflow to visualize the steps they will take to book time on your calendar.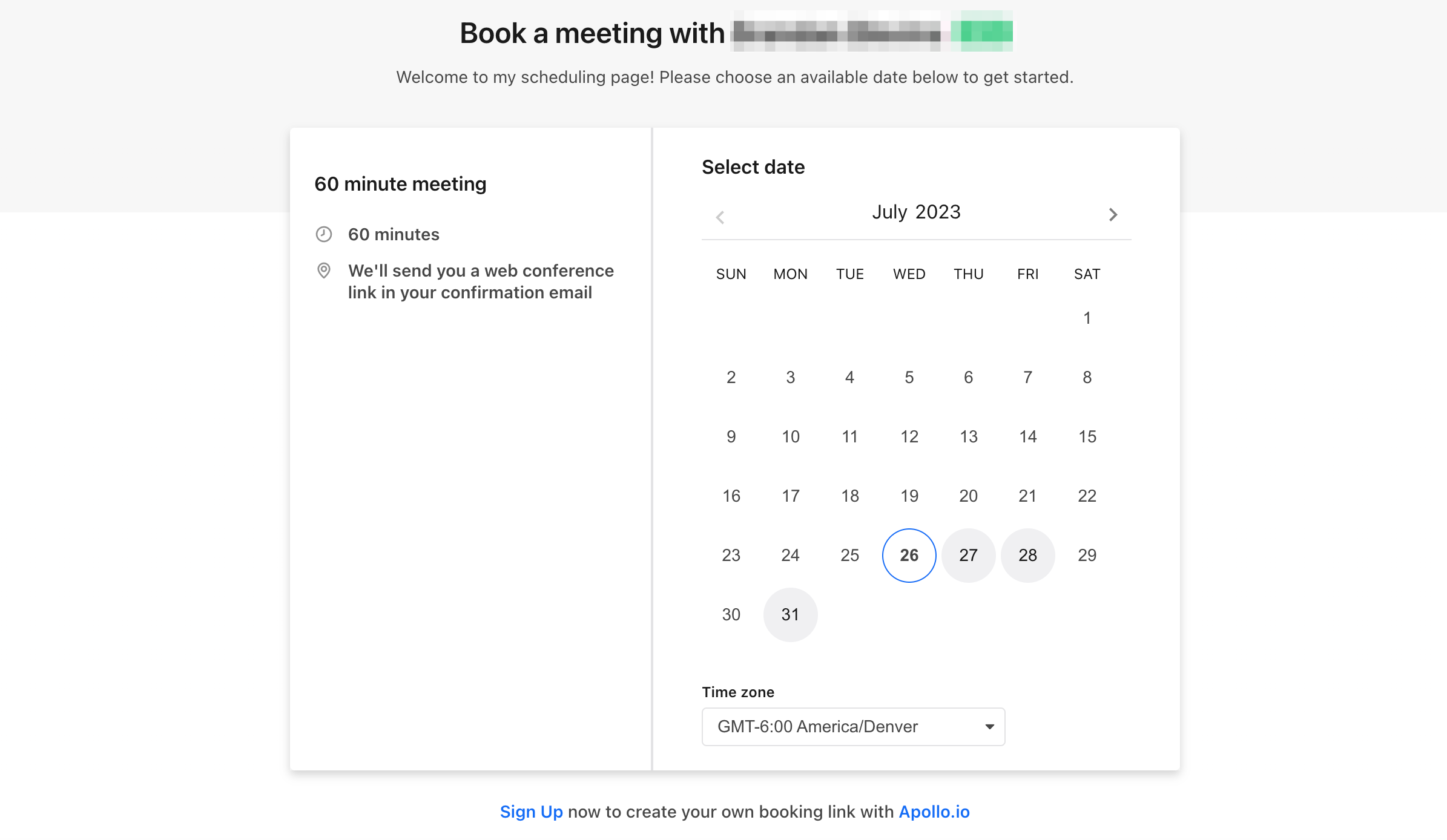 To edit the workflow, return to the Meeting Types tab in Apollo. Then, follow the steps in the Edit an Existing Meeting Type section of this article.
View Your Scheduled Meetings
To view your scheduled meetings:
Launch Apollo, click Engage, and then click Meetings. Then, click the Scheduled Meetings tab.
Click Upcoming to view the meetings in your pipeline. From here, you can view the date, time, and duration of your upcoming meetings.

Click the guest name to access more information about the contact that scheduled time with you.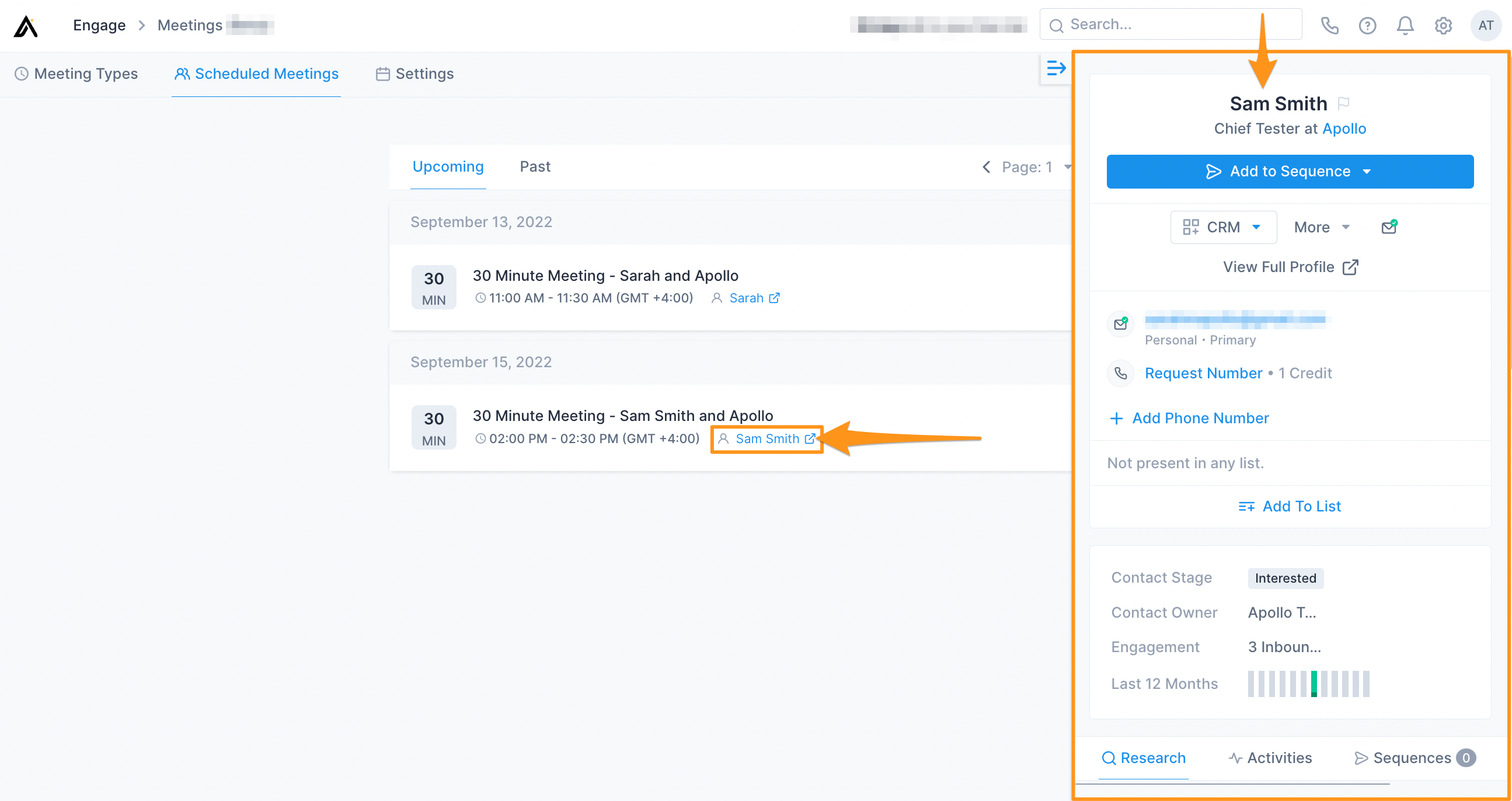 Click Pending to view meetings that have not been booked yet. This tab tracks the specific times you set aside for prospects when adding meeting links in Gmail via the Apollo Chrome extension. When a prospect books a time, you can find the meeting information in the Upcoming tab.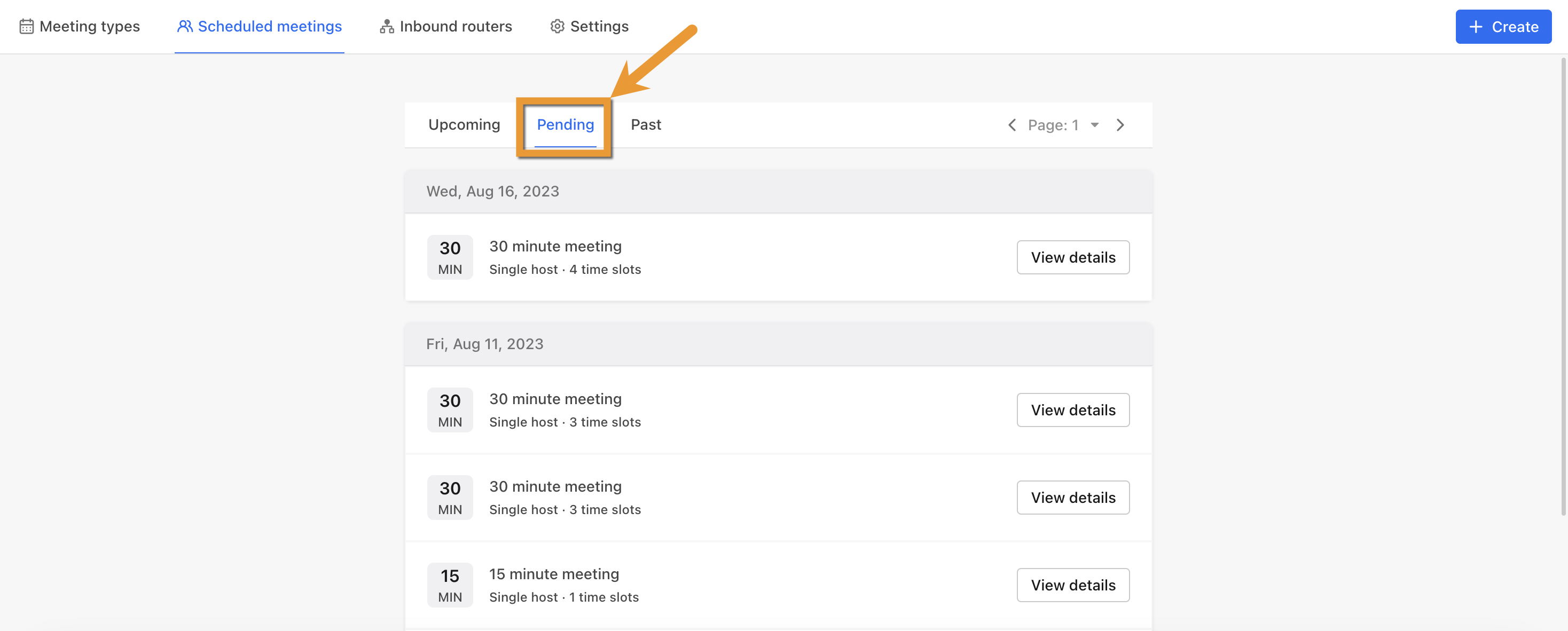 Click Past to view the meetings that you have already attended.