If you face any issues with the Apollo Web App, there are several actions you can take to try and resolve the problem.
Hard Refresh Your Browser
You can refresh your browser to clear the cache for a specific page. If you have a Mac, press Command+Shift+R. If you have a PC, press Ctrl+F5.
Confirm Google Chrome is Up-to-Date
You can check to see if Google Chrome is up-to-date. Type chrome://settings/help in the Search bar. You should see this message:

If Google Chrome is not up-to-date, you need to update it and then relaunch the browser.
Relaunch the Browser
If Google Chrome is up-to-date and a hard refresh doesn't resolve the issue, you should restart the browser.
Save all of your work before you close your Chrome browser.
Check for Duplicates
If after following the steps above you still have issues, double-check that there is only one Apollo instance open in Chrome. If you have more than one open, try closing all but one.
Check Your Extensions
You may have a compatibility issue between Apollo and another extension. The extensions below are known for their interference with the Apollo experience.
Ghostery
Grammar.ly
CirrusInsights
Salesforce IQ
Outreach.io
Persist IQ
Compatibility Issues
Please note, if you experience compatibility issues between any of the above extensions, there is, unfortunately, nothing Apollo can do to prevent the interference. Apollo recommends that you temporarily turn off or remove the interfering extension. You can also try to whitelist the website on which you are having problems—provided the extension offers this functionality. Alternatively, you can try using Apollo in a separate Chrome profile that does not include the extension in question.
You can test each extension that you are running to identify if there is an issue. Open Chrome and type chrome://extensions into the Search bar.

Click Details.

Scroll to the "Allow in Incognito" section and click to enable the toggle.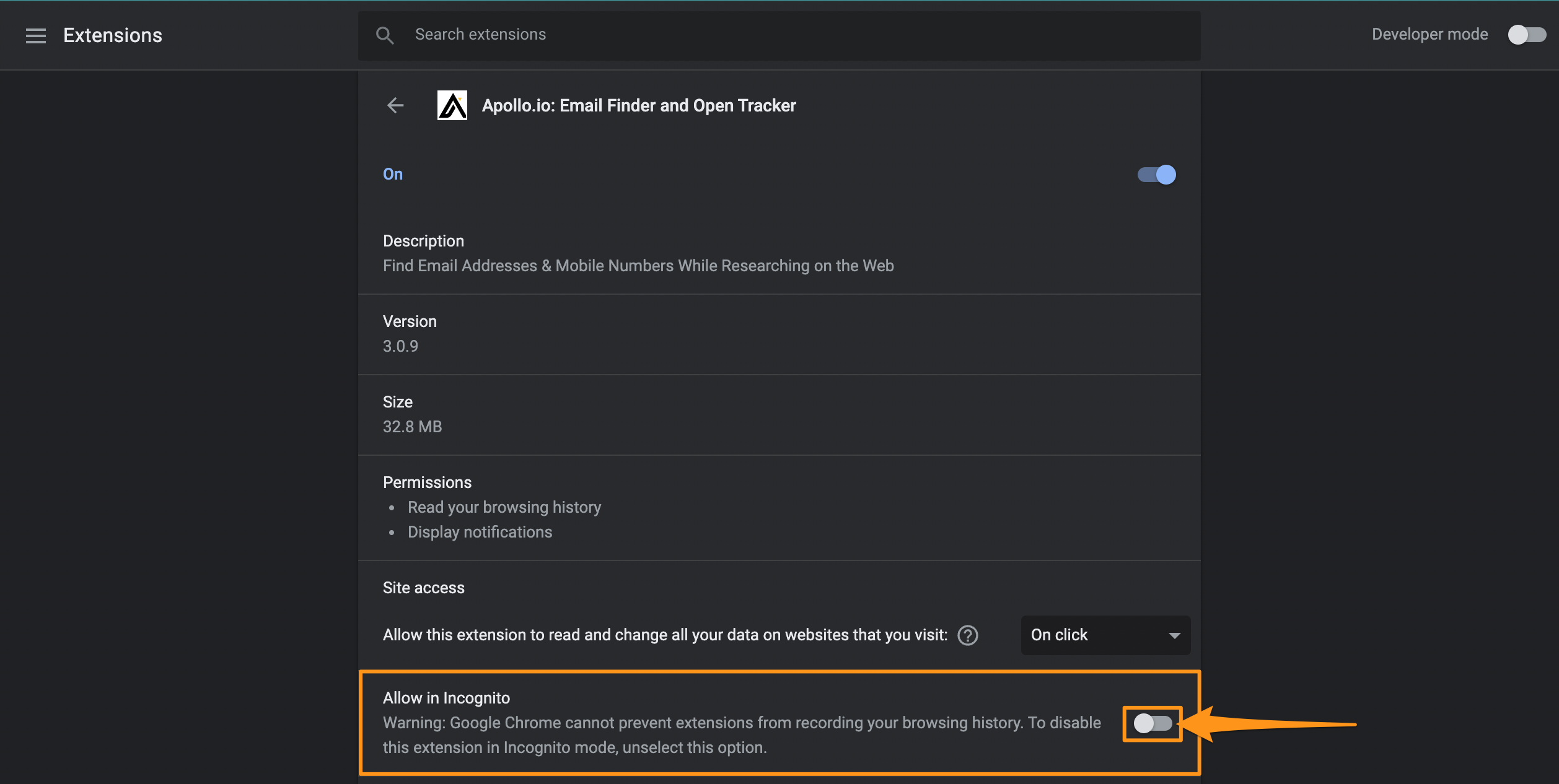 Open Apollo in a new incognito window and log into your Apollo instance.
After you log in, sign in to your Gmail account or your CRM to check if the Apollo extension works in incognito. If it works, one of your other Chrome extensions is likely causing the issue.
Contact Apollo Support
If none of the steps above help resolve the issue, you can email the Apollo Support team at support@apollo.io. A member of the team will get back to you as soon as possible.
Speed Up the Troubleshooting Process
Please note, after you have refreshed the page and tested the broken feature, you can share any errors that appear in Google Chrome's JavaScript Console. This helps speed up the troubleshooting process. The shortcut to open this page is Command+Option+J on a Mac and Shift+CTRL+J on a PC. Click the Console tab and include a screenshot of this information in your email to the Apollo support team.