Overview
Every contact you save in Apollo has a profile page. You can access certain default data about the respective person or company from this page. Some fields are fixed, which means you cannot edit or delete the information that Apollo displays. For other data cards, you have the option to reorganize and delete them as needed.
Refer to the sections below to find out more about how to access a contact profile, the type of information at your disposal, and how to edit default cards.
Looking for Accounts?
If you're looking to view or edit account profiles, please refer to the ""Account Profile Overview"" article.
Access Contact Profiles
To access the profile page of a saved contact, launch Apollo, click Search in the navbar, and then click People.

Use the Search bar to type the name of the specific contact that you want to review or click Saved and search through your saved contacts.

Click the name of the saved contact that you want to review.

From this page, you can access all the default information available for this contact in Apollo.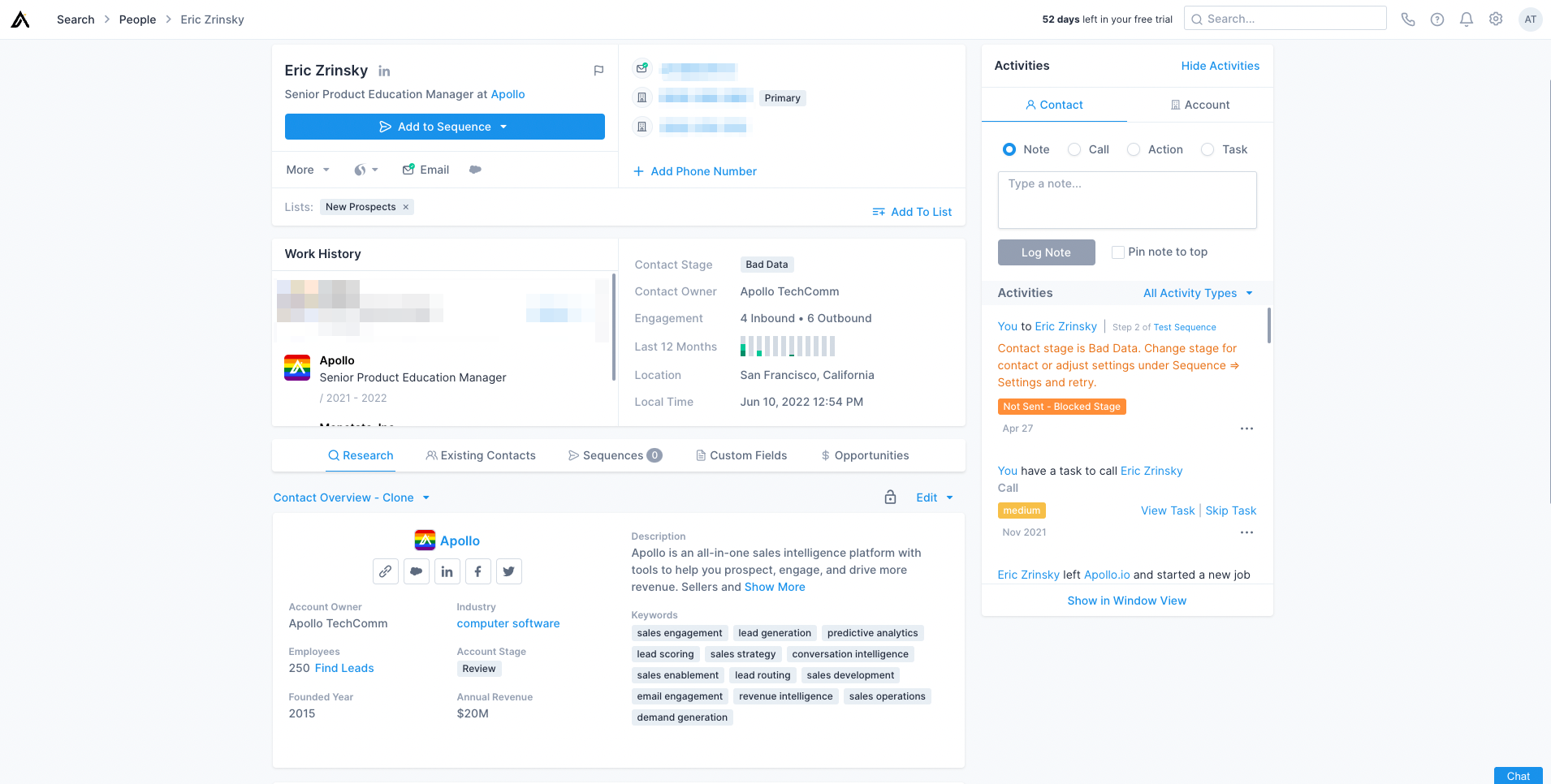 Default Profile Layout Overview
Apollo displays several default fields from a contact profile page—some of which you can edit. Refer to the table below for further details about each default card type.
Fixed Cards
| | |
| --- | --- |
| General Info | This section includes the most basic contact information for the contact. From here, you can perform several key outreach actions, such as add to a sequence, review on LinkedIn, enrich and edit contact information, sync to CRM, or send emails. |

| | |
| --- | --- |
| Contact Details | This section includes any available email addresses and phone numbers for the contact. |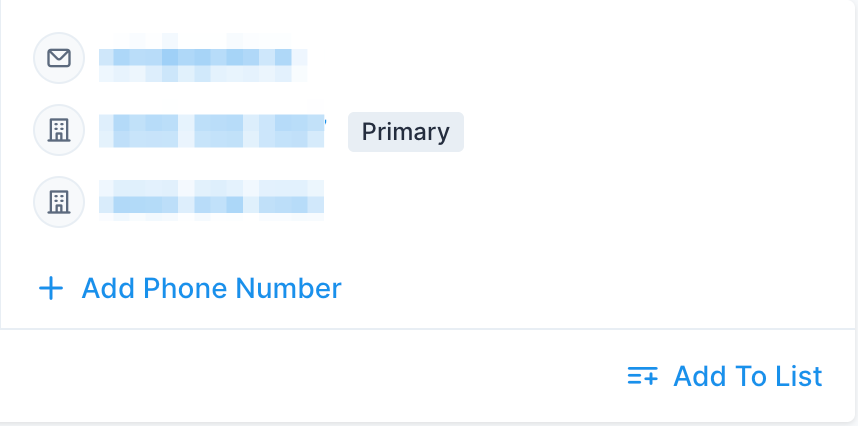 | | |
| --- | --- |
| Work History | This card is only available from a contact profile page. Apollo displays the employment history of the individual, including the job title and dates of employment. |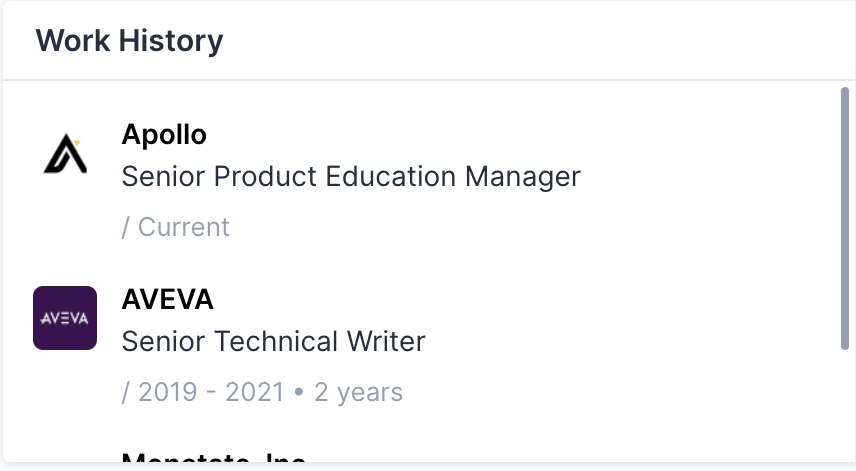 | | |
| --- | --- |
| Engagement | This section summarizes the sales engagement history of the contact as well as their respective location and local time. |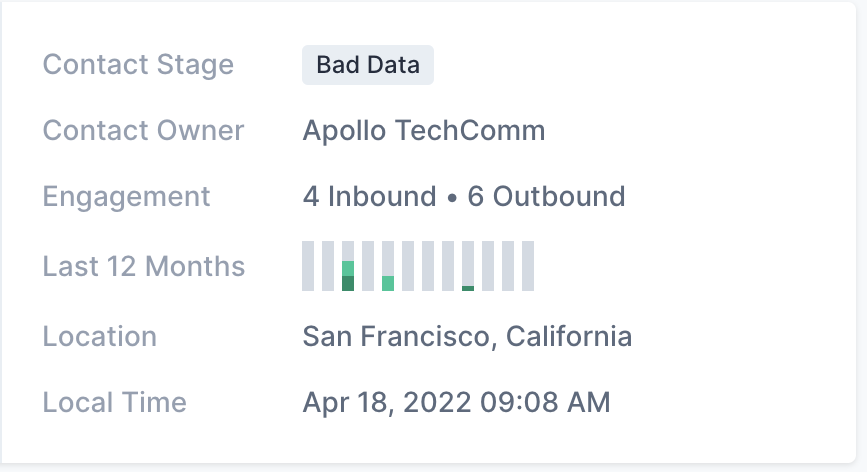 | | |
| --- | --- |
| Activities | This section displays a log of all interactions between account users and the contact in question. From here, you can log new activities, filter by activity type, and review the activity history. |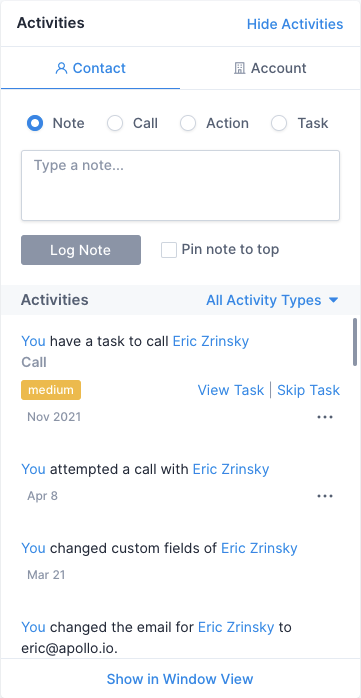 Additional Cards
Aside from the basic data above, Apollo provides several additional information cards. This data is split into the following 5 categories:

Save a Contact, Get More Data!
Net New contacts will not have these additional cards visible. In order to take advantage of this feature, you should save your contacts, which costs one credit per contact.
Research Cards
You can edit the cards in this section to include or exclude the information that you want to access from a Contact profile.
Edit Default Card Layout
For more information on how to edit the layout of default Research cards, refer to the Amend Default Cards section below.
Contact Overview
This card includes an overview of the contact. From here, you can view information like the account owner, industry, account revenue, company description, and related keywords.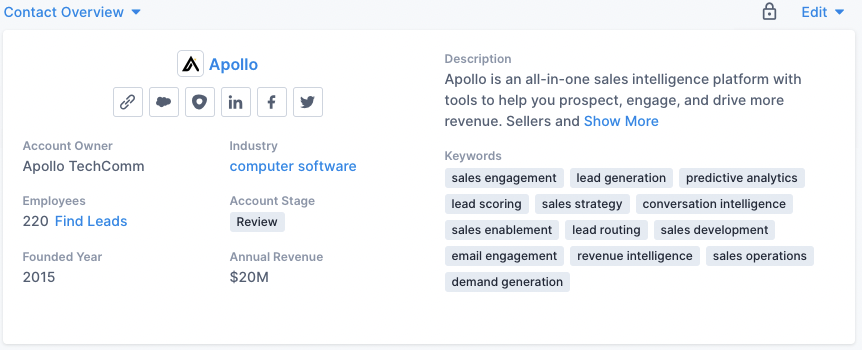 Existing Contacts
Apollo displays all existing contacts from the same company. From this tab, you can access each contact's email and phone number(s). You also have the option to take immediate action from this page by calling, emailing, or prospecting on LinkedIn.
Use the contact stages along the top of the "Existing Contacts" section to view all contacts or use the tabs to find the additional employees that you would like to contact.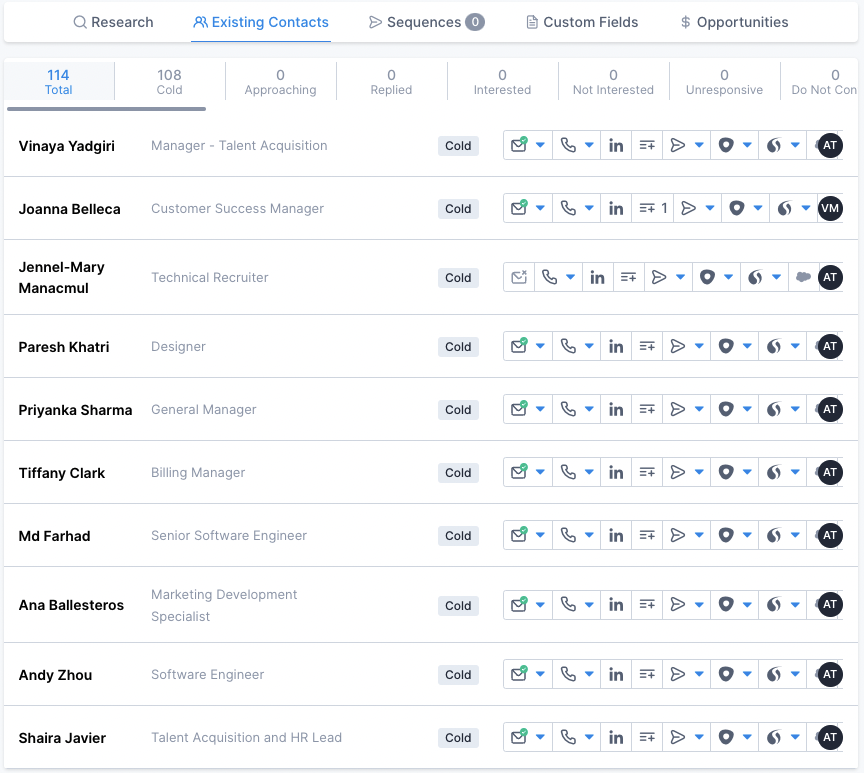 Sequences
Apollo displays the sequences that you have created. You can turn these on or off from this page. For more information about sequences, please see the "Sequences Overview" article.

Custom Fields
Apollo displays the custom fields you have already created. You can view and edit custom fields directly from this page.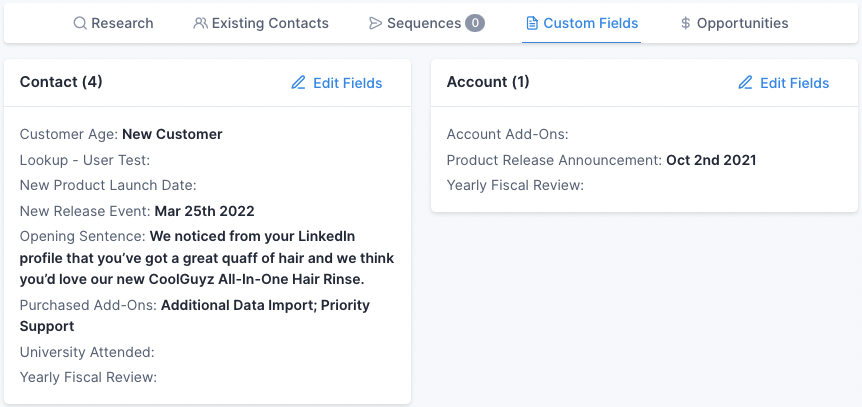 Opportunities
Apollo displays any opportunities related to the contact. You can add new opportunities directly from this page to document any basic details and add custom fields related to the lead source and type.

Signals
Signals allow you to easily view a summary of the company's milestones, job postings, technologies, and more. Click each tab on the side to switch between cards.
| | |
| --- | --- |
| Overview | This card includes a summary of all available Signals, including key information like Personas and recent funding rounds. |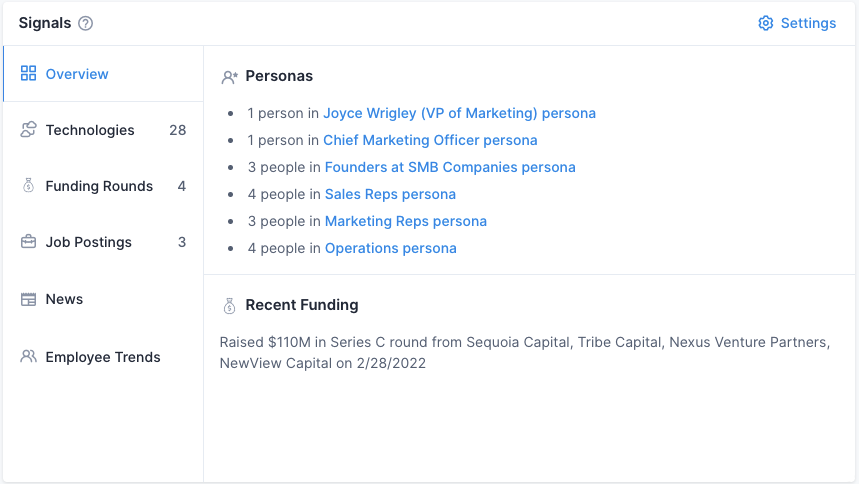 | | |
| --- | --- |
| Technologies | This card includes a list of all the technologies that the company uses. |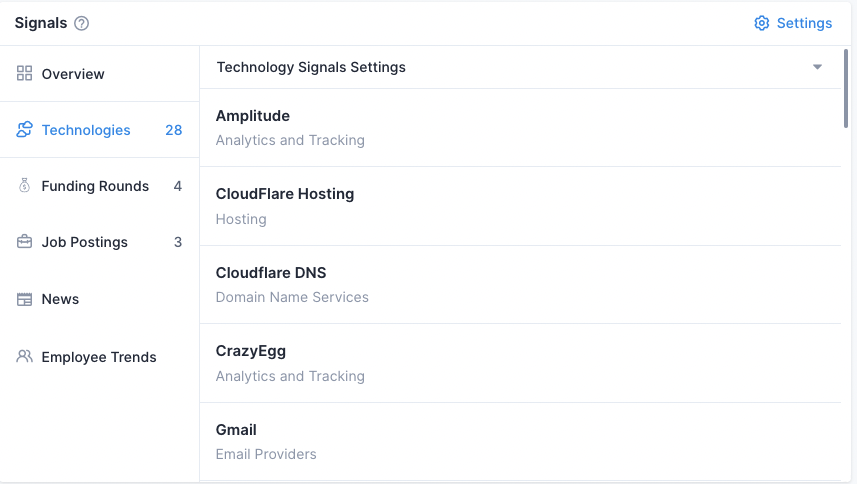 | | |
| --- | --- |
| Funding Rounds | This card includes information about the type of and amount of funding a company has received and the dates in which they gained said funding. |
| | |
| --- | --- |
| Job Postings | This card includes a list of the most recent job postings for which a company is hiring. |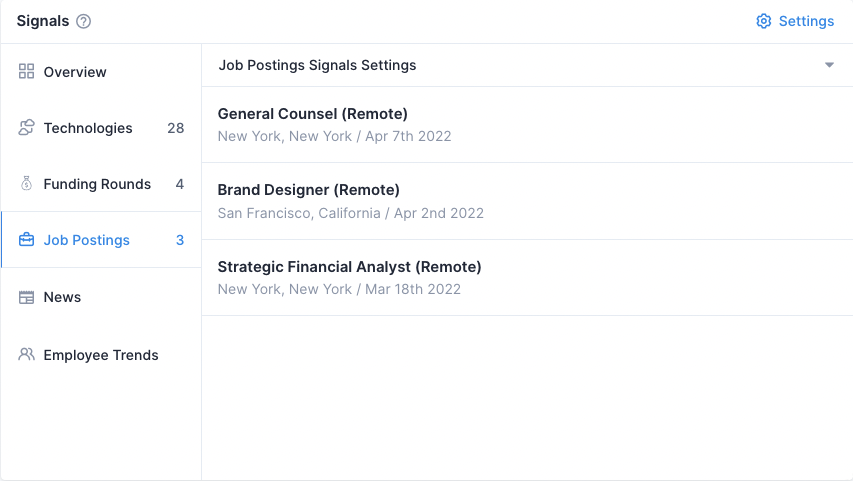 | | |
| --- | --- |
| News | This card includes notifications about recent hirings, funding, major company announcements, and more. |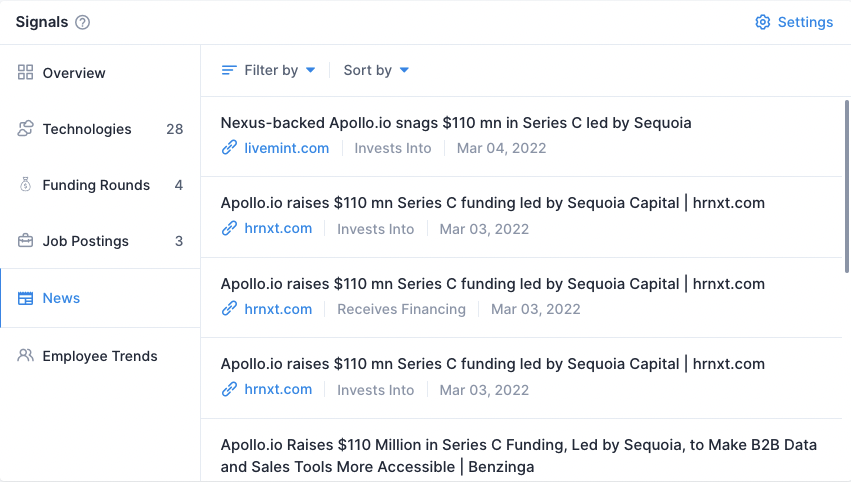 | | |
| --- | --- |
| Employee Trends | This card includes several employee metrics and trends, including total number of employees, retention rates, locations, and company departments. |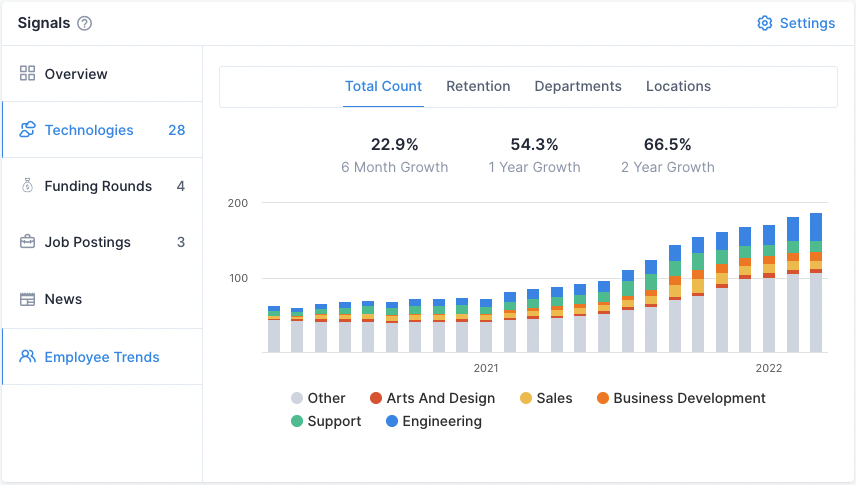 Edit Profile Data
From a Contact profile page, you have the option to edit certain information. Please note, you cannot edit all of the fields. To identify if you can change the information in a certain section, hover your mouse over the data that you would like to change. If Apollo permits you to make edits, you will see one of the following icons.

For some fields, all three icons appear. For others, just one or two appear. If you hover your mouse over a field and no icon appears, it means that you cannot edit the data for it.
Amend Default Cards
From a contact profile page, you have the option to make changes to certain default cards; however, many cards are fixed. This means that you cannot reorganize or delete all data on a profile page.
You can only make changes to the layout of cards on the "Research" tab. To do so, first, click the "Research" tab on a contact profile page that you want to reorganize.

Then, scroll to the Overview section on the profile page and click the Edit drop-down on the right-hand side.

Click Edit Layout.

Delete Default "Research" Cards
To delete a default card, click the trash can icon on the top right-hand side of the card.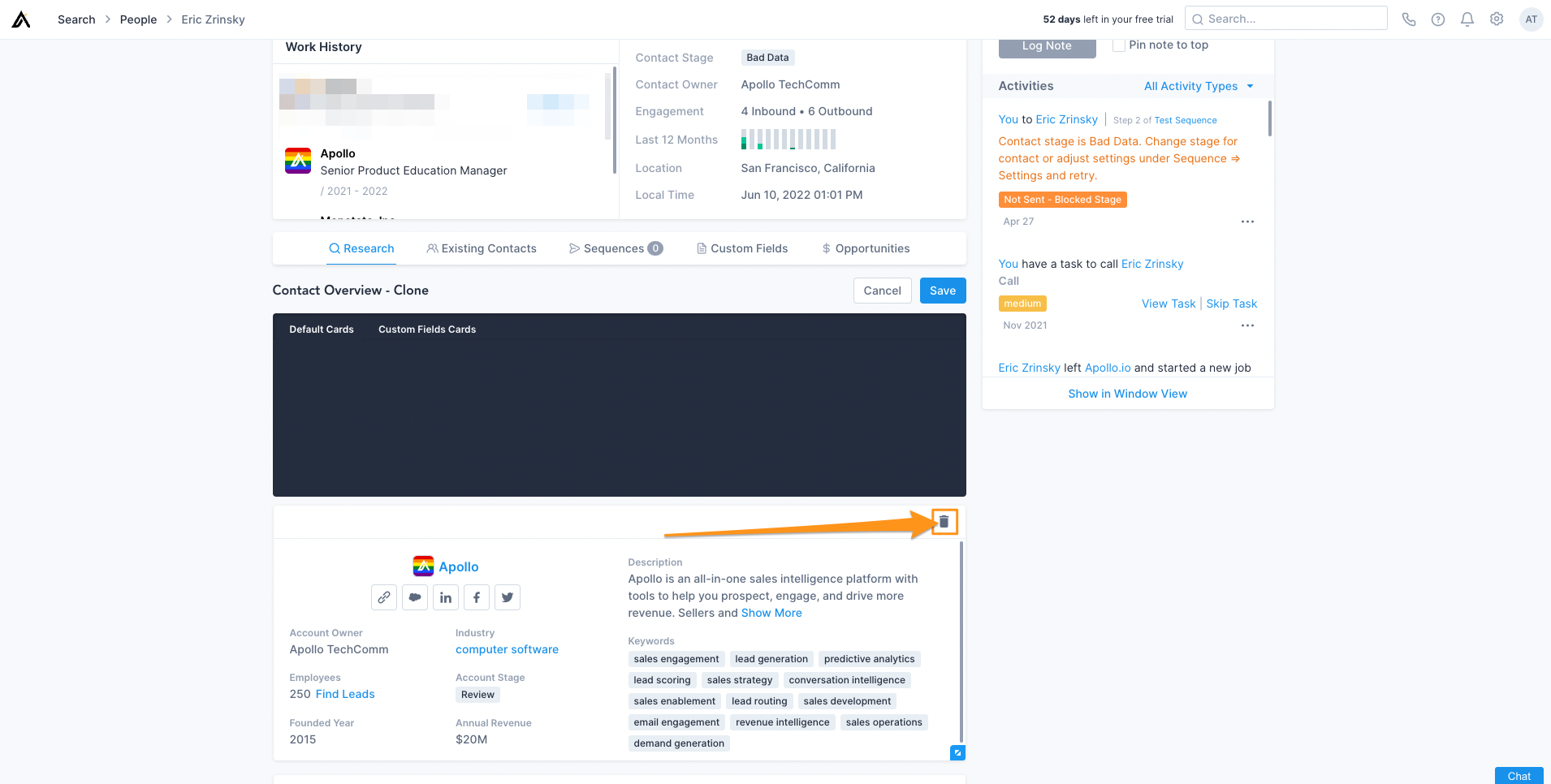 Resize Default "Research" Cards
To resize a default card, click the blue arrow icon on the bottom right-hand-side of the respective card. Hold and drag the cursor and resize it to your preference.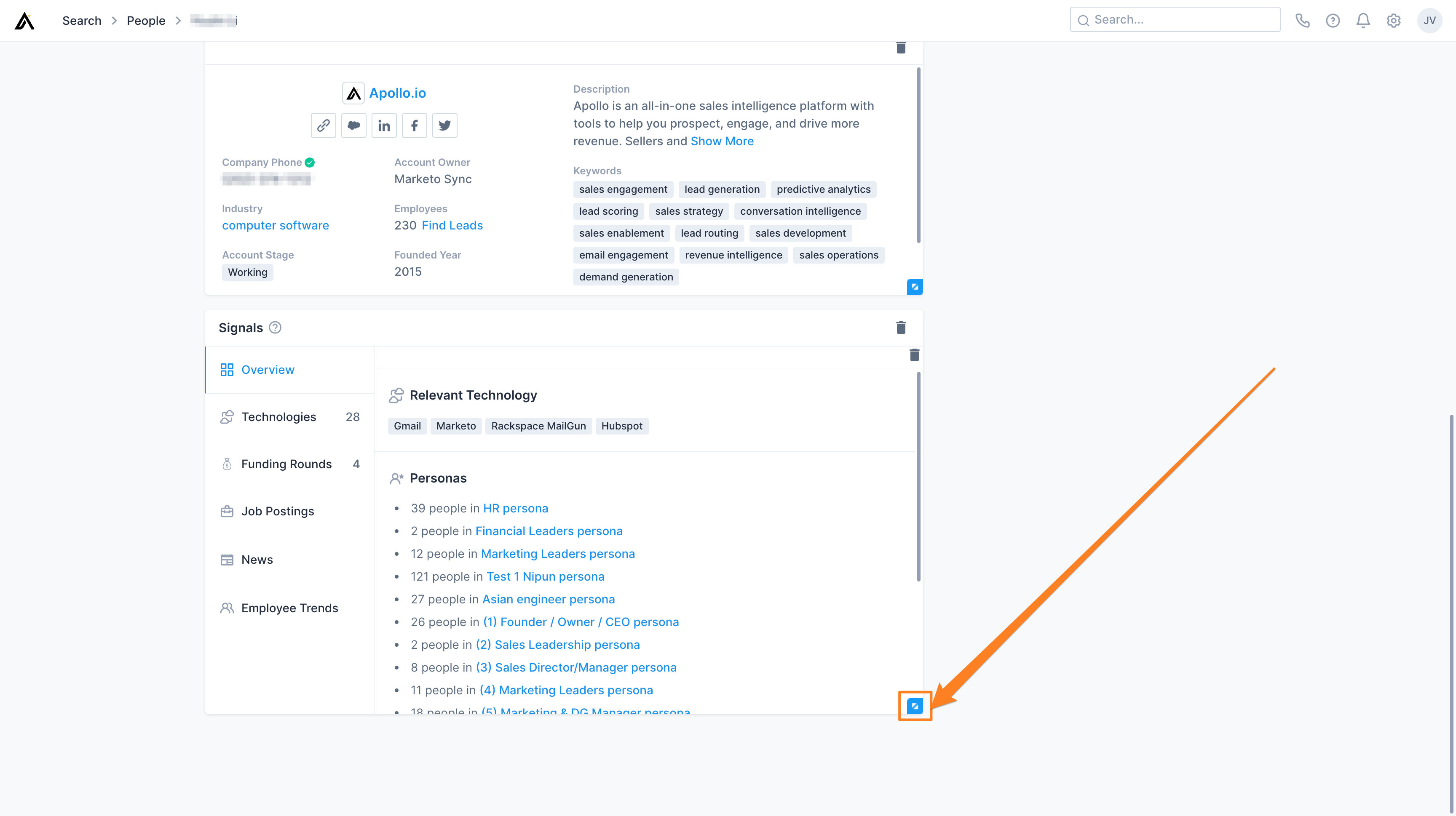 Rearrange Default "Research" Cards
To rearrange the default cards, drag and drop them into the layout of your preference.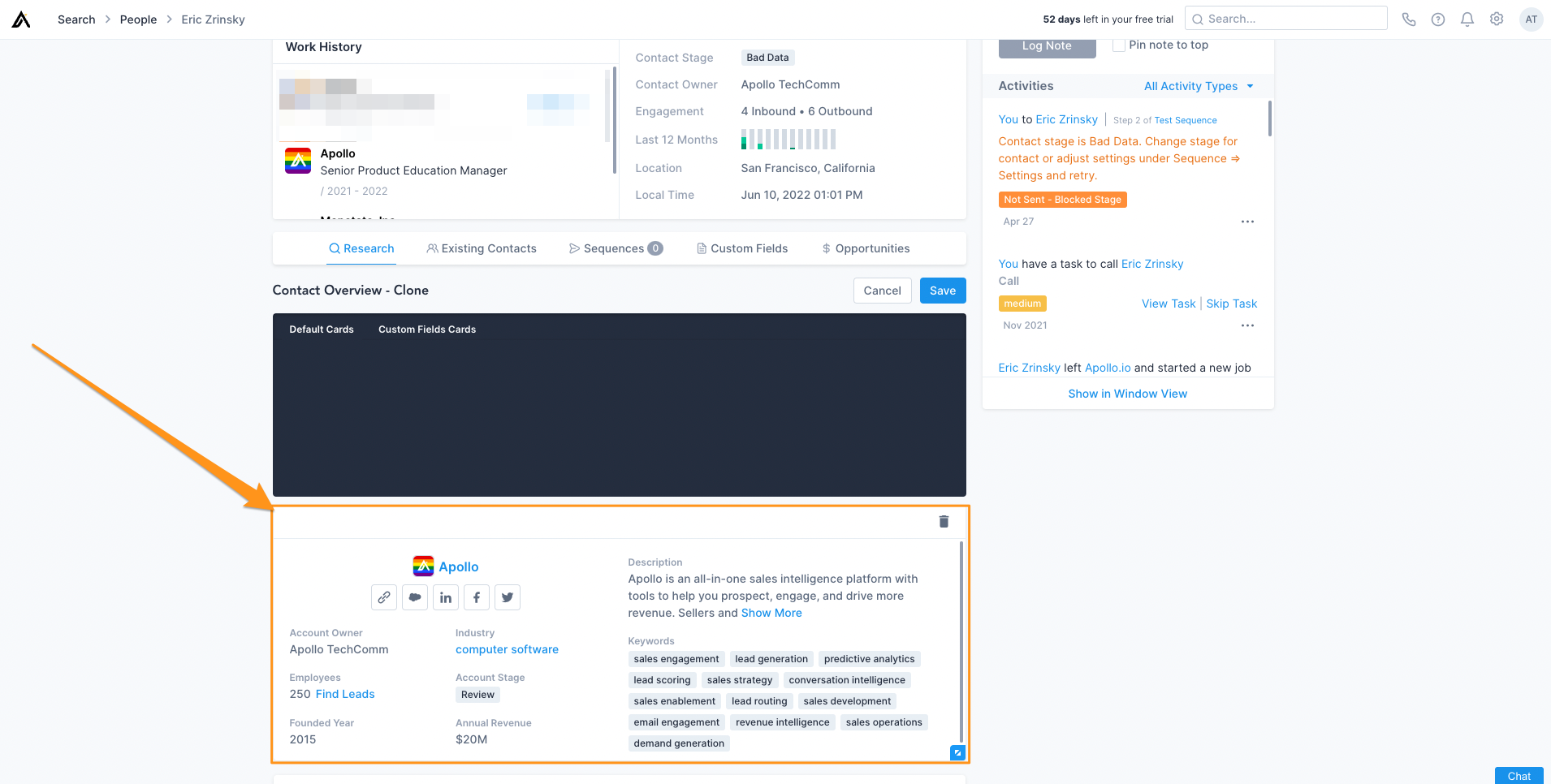 Access Previously Created Profile Layouts
To access and replicate standard or previously created profile layouts, click the Overview drop-down on the left-hand side of the screen and select the layout of your preference.