Overview
Credit is the currency that Apollo uses to retrieve contact data within the Apollo platform. When you request contact data, Apollo charges you credits for the verified information it finds.
What About Accounts?
Please note, Apollo does not charge any credits for accounts. This means that you can save and export up to 300,000 accounts in your Apollo instance without paying a penny.
Apollo provides you with a monthly allowance of credits based on the terms of your billing cycle and the type of Apollo plan that you are on. Therefore, the number of credits in your plan correlates with the number of contacts that you can prospect each billing cycle.
Push Your Limits
Want to customize your plan and access more email and mobile credits each billing cycle? Refer to the "Customize Your Credit Allowance" section of the Customize and Manage Your Apollo Plan article. For more general information on Apollo pricing, click here.
Refer to the sections below for more information about the different types of credits in Apollo, the cost of enrichment, tracking your usage of credits, and checking credit refunds in Apollo.
Credit Types in Apollo
Apollo categorizes credits into 2 types:
Email Credits
When you request a contact's personal or business email address in Apollo, Apollo verifies the data and charges you 1 email credit for the verified emails it finds.
In the Mood for Multiple Emails?
Please note, Apollo does not charge you for more than 1 email per contact. You can choose to access a contact's personal email, business email, or both. For more information about how Apollo charges email credits based on your Primary email settings, please refer to the credit details table in the "Will Apollo Charge Me for More than One Email per Contact?" article. To find out how to change your primary email type and access both business and personal emails, please refer to this article.
If Apollo cannot fully verify an email or mobile number but is 60%-90% confident that the details are correct, Apollo shares a Guessed Email. You do not pay any credits for Guessed Emails.
How Do You Do It?
Wondering how we do what we do? For more information about the verification process in Apollo, please refer to the "How Do Data Requests Work?" article.
Mobile Credits
When you request a net new contact's phone number or enrich one of your saved contact's phone numbers, Apollo verifies the data and charges you 1 mobile credit for the verified phone number it finds.
Apollo charges 1 mobile credit per contact for any of the following personal phone numbers:
Mobile: A contact's personal mobile number
Direct: A contact's direct work number
Office Extension: A company phone number with a contact's personal extension
Apollo retrieves data from public sources. This means that a contact's personal number is not always available. If Apollo cannot find a personal number for a contact, Apollo does not charge you any credits.
Because You're Worth It!
Please note, mobile credits are not used for corporate numbers. When you request a contact's email address, Apollo also verifies their office phone number at the same time. Apollo doesn't charge you any credits for this corporate number.
Enrichment Requests
There are 3 types of enrichment in Apollo:
For each enriched email or enriched mobile number you request, Apollo charges one credit. If you request to enrich a contact that has an existing email or mobile number and Apollo finds that the information it contains is accurate, the verification process still costs you one credit.
All Things Enrichment!
For more information about how enrichment works in Apollo, please refer to the Enrich section of the Apollo Knowledge Base.
Check Your Email Credit Refunds
There are 2 scenarios in which Apollo refunds your email credits:
When Apollo cannot find a requested contact's email
When you send an email to a verified contact within 30 days of requesting the details and the email bounces
Only in Apollo
Please note, Apollo can only refund your email credit(s) for the email(s) that you send within Apollo.
To check your email credit refunds, launch Apollo and click Settings.

Scroll to System Activity and click Data Request History.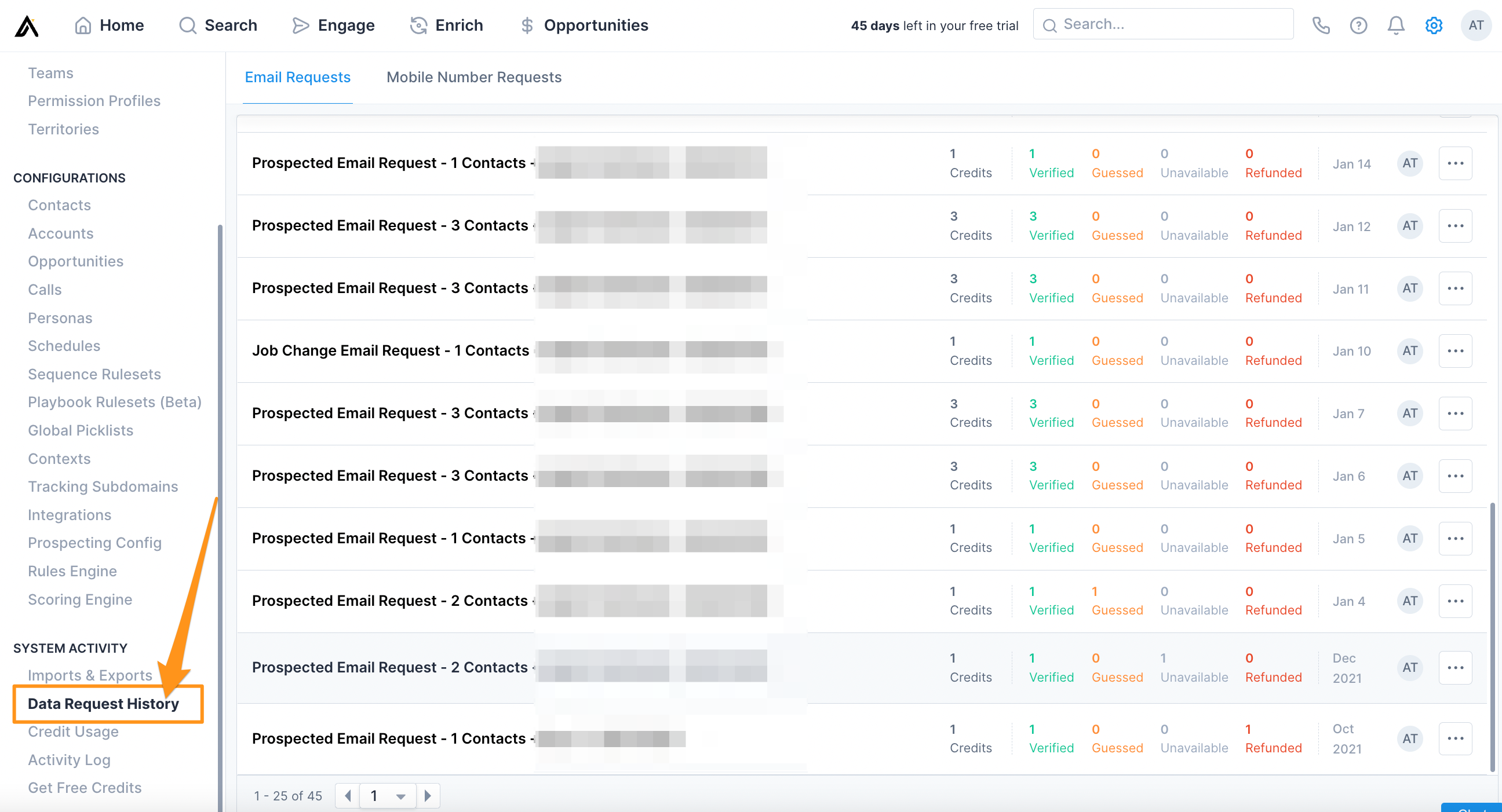 Check the statistics from the Email Requests tab to identify any refunded email credits.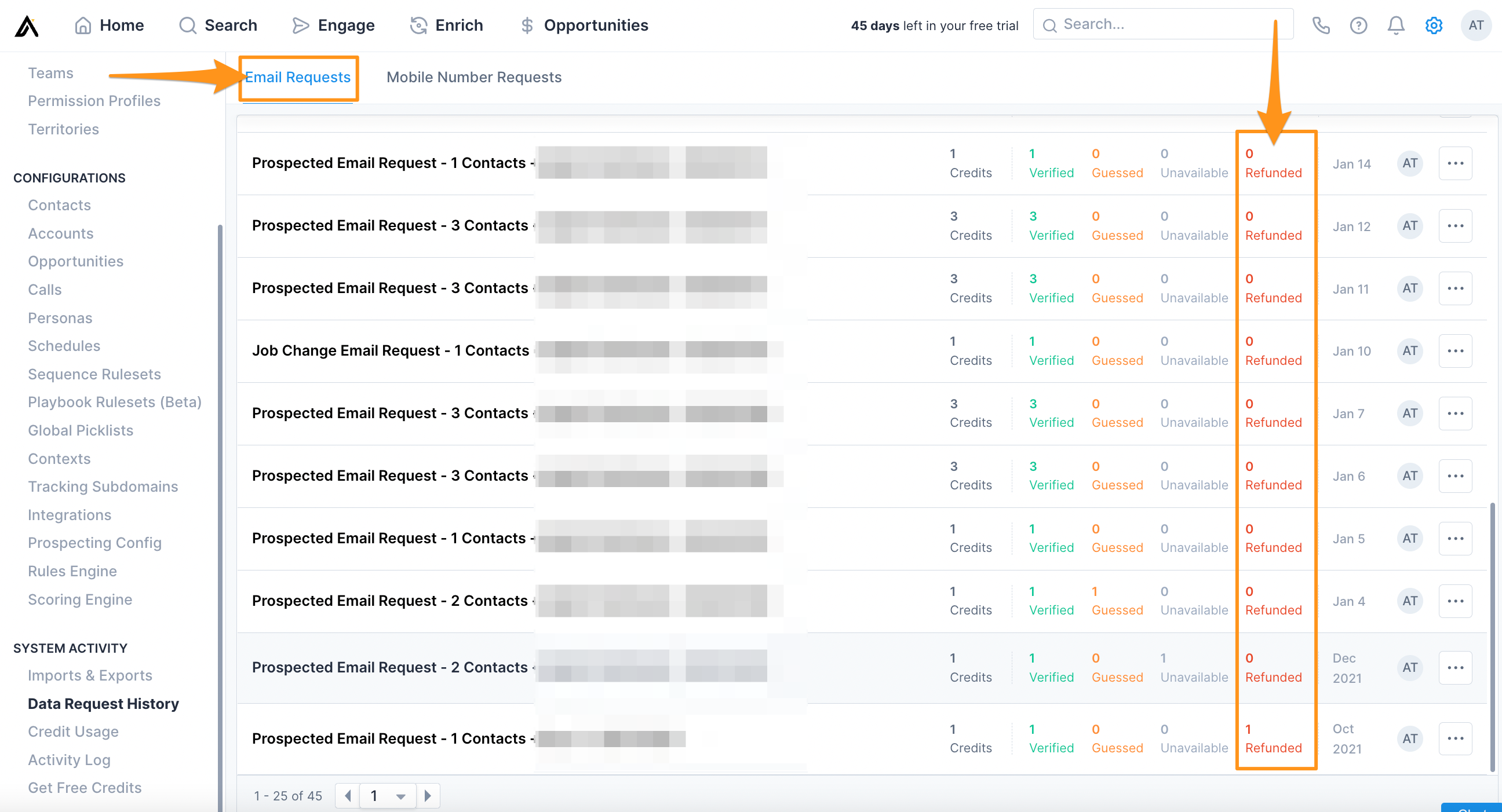 For a contact-level view of the data, click the Additional Options (...) button on the right of the data you want to view. Then, click View in Contacts.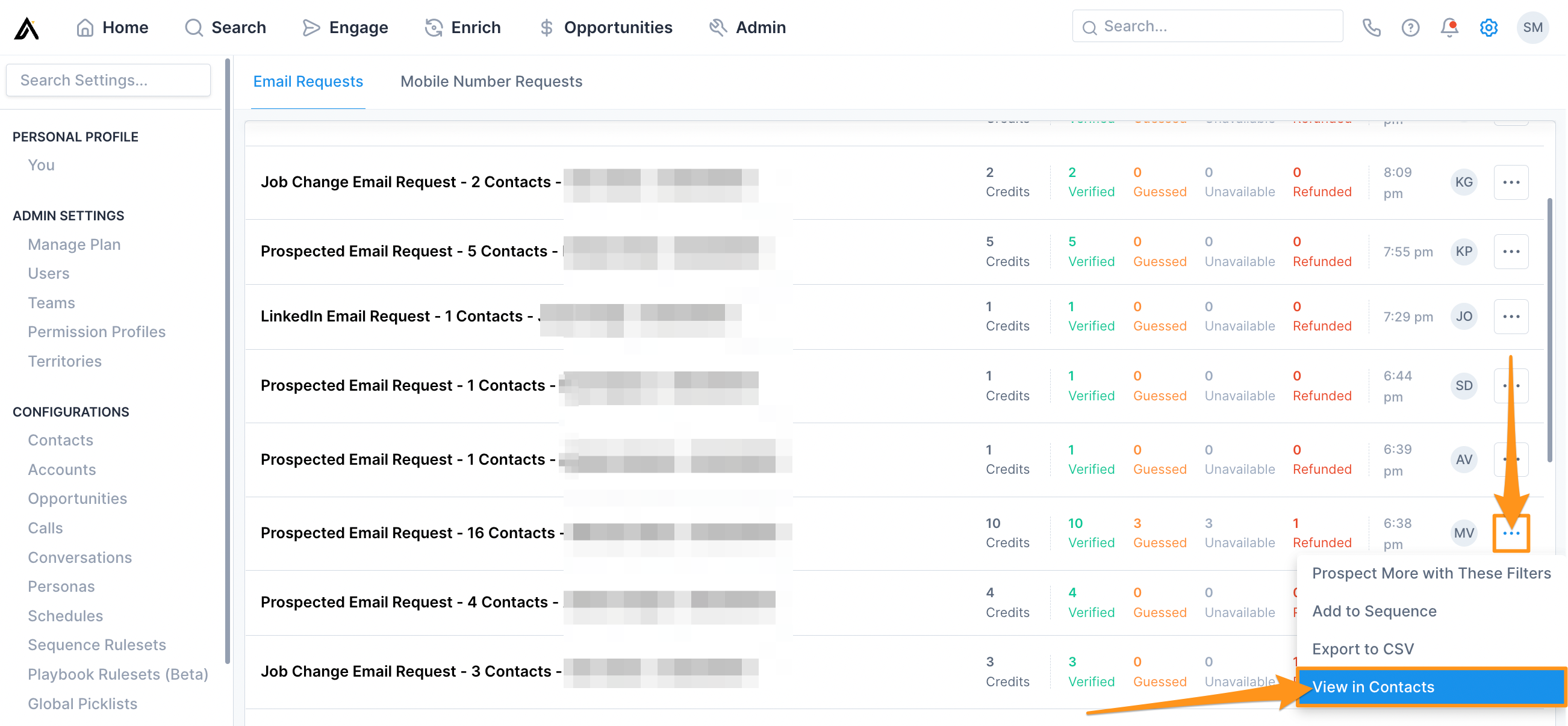 Apollo displays the batch of contacts that you purchased. Hover your mouse over the Email icon next to each contact to identify the emails that Apollo could and could not verify in this batch.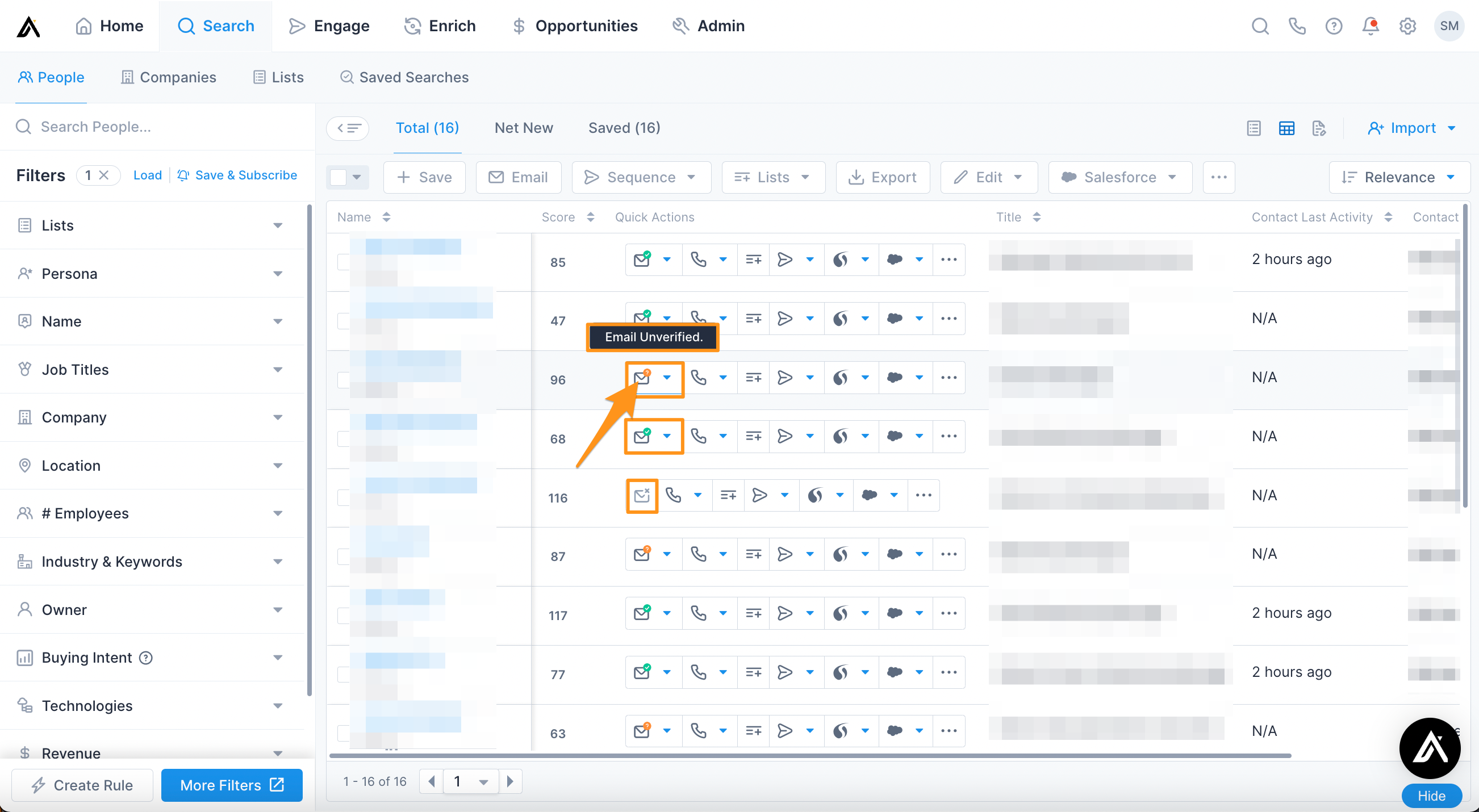 You have now checked your credit refunds in Apollo.
Track Your Credit Usage
You can track your credit usage throughout your billing cycle and check when your credits are due to reset.
New Cycle, New Credits
Please note, both email and mobile credits reset every billing cycle. Credits do not roll over into the next cycle, so please keep this in mind when you are making any changes to your plan.
Launch Apollo and click Settings.

Scroll to System Activity and click Credit Usage.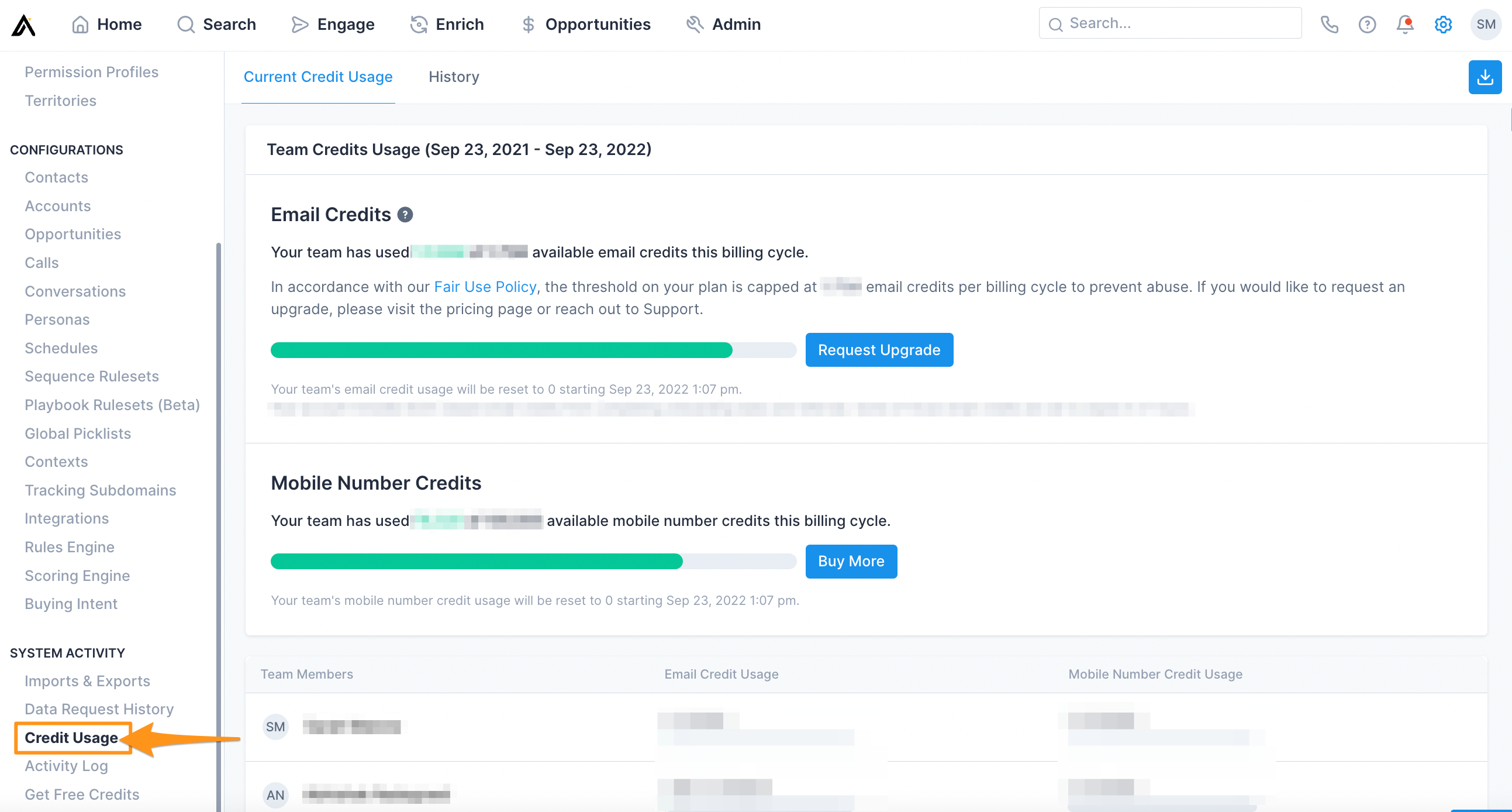 From here, you can view your email and mobile credit consumption for this billing cycle, check when your credits will reset, and take action to increase your limits if needed.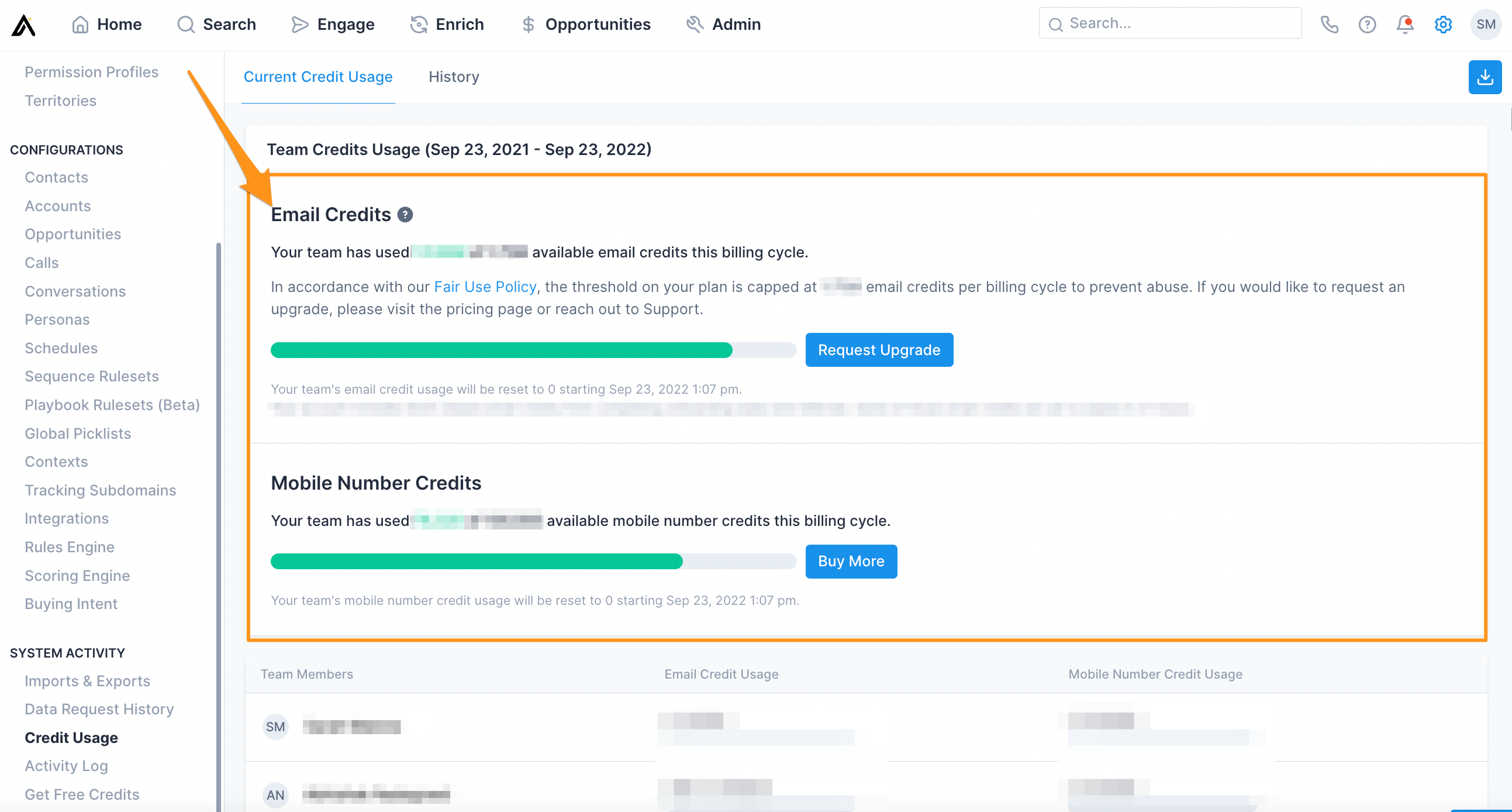 On a Free Plan?
Please note, you can only customize your credit allowance if you are on a paid Apollo plan. If you are on a free plan, you have access to 50 email credits per billing cycle. If want to purchase more credits, you need to upgrade to a Basic, Professional, or Custom plan first. Then, if you would like to add additional email or mobile credits on top of that plan, the world is your oyster—customize those credits to your heart's content.
You have now viewed your credit usage in Apollo.
Need a Helping Hand?
Fear not! Our mighty team of support and sales Apolloers is here to help. If you have more questions about credits, would like to purchase a credit package, or want to upgrade your product tier, you can drop us an email or reach out through our chat feature at any time.