Overview
The Apollo platform helps you to find and connect with new customers. The extensive and constantly updated Apollo database makes it easy to maintain boundaries and other guardrails for your Sales team. However, with so many features at your disposal, it can be somewhat overwhelming to get started.
In the comprehensive Get Started section on the Knowledge Base, you can find the key steps to take to get the most out of the platform. Yet, even that doesn't tell the whole story.
Refer to the sections below for an example workflow of how to leverage the Apollo platform to find new customers. You can also learn how to keep them up-to-date and synced with your CRM, as well as how to utilize Territories to keep your sales team focused on your most ideal customers.
Sample Workflow
This is a sample workflow for anyone who wants to leverage the core functionality of the platform—searching for customers in the database and saving them for engagement campaigns—to find the right people at the right companies while keeping them in sync with your CRM.
Your team may choose to follow these steps for a similar workflow or borrow bits and pieces from the process to chart your own path forward. It is important to remember that there is no right or wrong way to use the platform—tailoring your workflow to your needs and your ability to derive value from it is what is most important. Do not feel obligated to use every part of this workflow if it doesn't apply to your team.
Connect/Integrate Your CRM With Apollo
If your company uses a CRM, you should begin by integrating it with the Apollo platform.
Use the links below for the CRM that you want to integrate and configure with Apollo.
Salesforce
Integration
Credentials
HubSpot
Integration
Once you've connected your CRM to Apollo, your customer data stays accurate and in sync. Now, you're ready to determine who your best customers are and develop one or more Ideal Customer Profile.
Determine Your Ideal Customers
A successful sales strategy starts with identifying the types of companies you want to do business with. Do you sell best to Enterprise companies or Startups? Are those companies in a specific vertical? Are they located in key geographies?
That information will help you to identify your Ideal Customer Profile(s) (ICP). An ICP is a fictitious company that combines the key characteristics that best portray your ideal customer. By analyzing firmographics such as company size, industry, location, annual revenue, and budget you can more easily define the types of companies that you serve best. This in turn helps you to better understand your customer's biggest pain points, tailor your products or services to their needs, and focus your sales efforts on bringing in the most qualified customers so that you can reduce churn and increase Customer Lifetime Value (CLV).
Once you have determined what your ideal customer looks like, you can use your ICP to identify real companies that match those characteristics.
You may end up with several different ICPs after you complete this process. With a clear idea of multiple ideal customers, you have more flexibility in the way that you approach your engagement with prospects. Don't shy away from digging deeper into your data and pulling out all of the important details.
After you've determined the ICPs for your business, you can use this data to segment your sales team. In Apollo, you can accomplish this in several different ways (filters, saved searches, etc.), but Territories help make the process easier.
Create Territories For Your Team
Territories help you set clear guidelines and rules that restrict which contacts each user in your account can prospect. This helps you to better organize your sales team so they only engage with the specific contacts you assign to them.
Although the name suggests this feature is only location-specific, in reality, you can use Territories to filter and segment lists in a number of ways.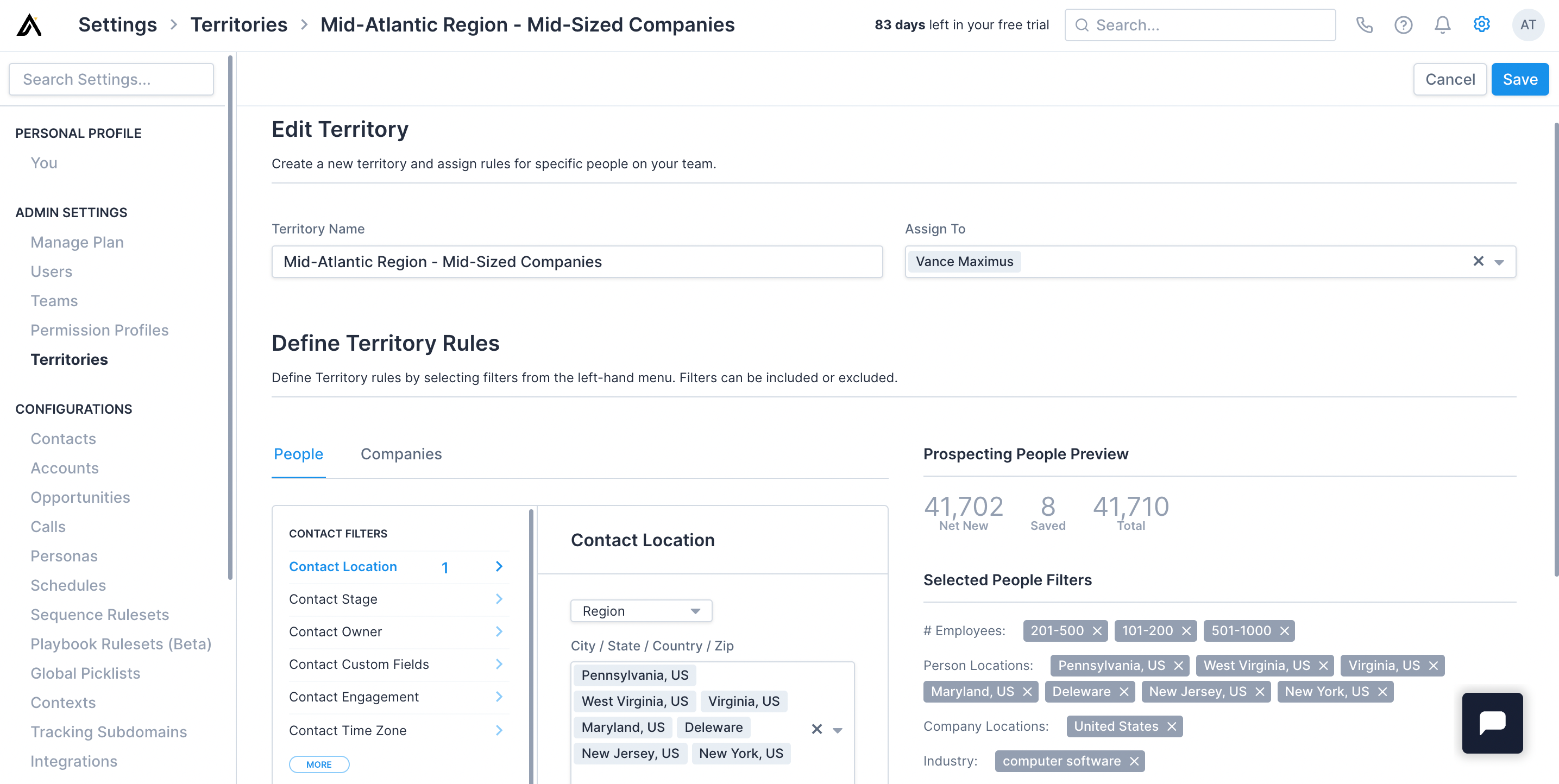 Territory guardrails are automatically applied to the user they are assigned to in Apollo. That means that once you have assigned Territories for members of your team, you can limit the chances of multiple users reaching out to the same contact. You can also restrict each user to prospect contacts in specific locations and with specific properties at the Contact and Account level.
When you create your territories, use the strategy that makes the most sense for how your Sales team is organized. That may just mean using geography, but it could also mean organizing your team by customer tier, company size, or any other number of applicable filters. Again, there is no right or wrong approach to creating territories. You can adapt them to fit the specific needs of your team.
Use Search Filters to Match Your ICP
Now that you've identified your ideal customers and created and assigned Territories to your team, it's time to start finding contacts and accounts to prospect. Search Filters allow you to include or exclude specific subsets of data when you search for new Contacts or Accounts in Apollo. This helps you to better segment and personalize searches in Apollo so that you can find and engage with the right contacts at the right time.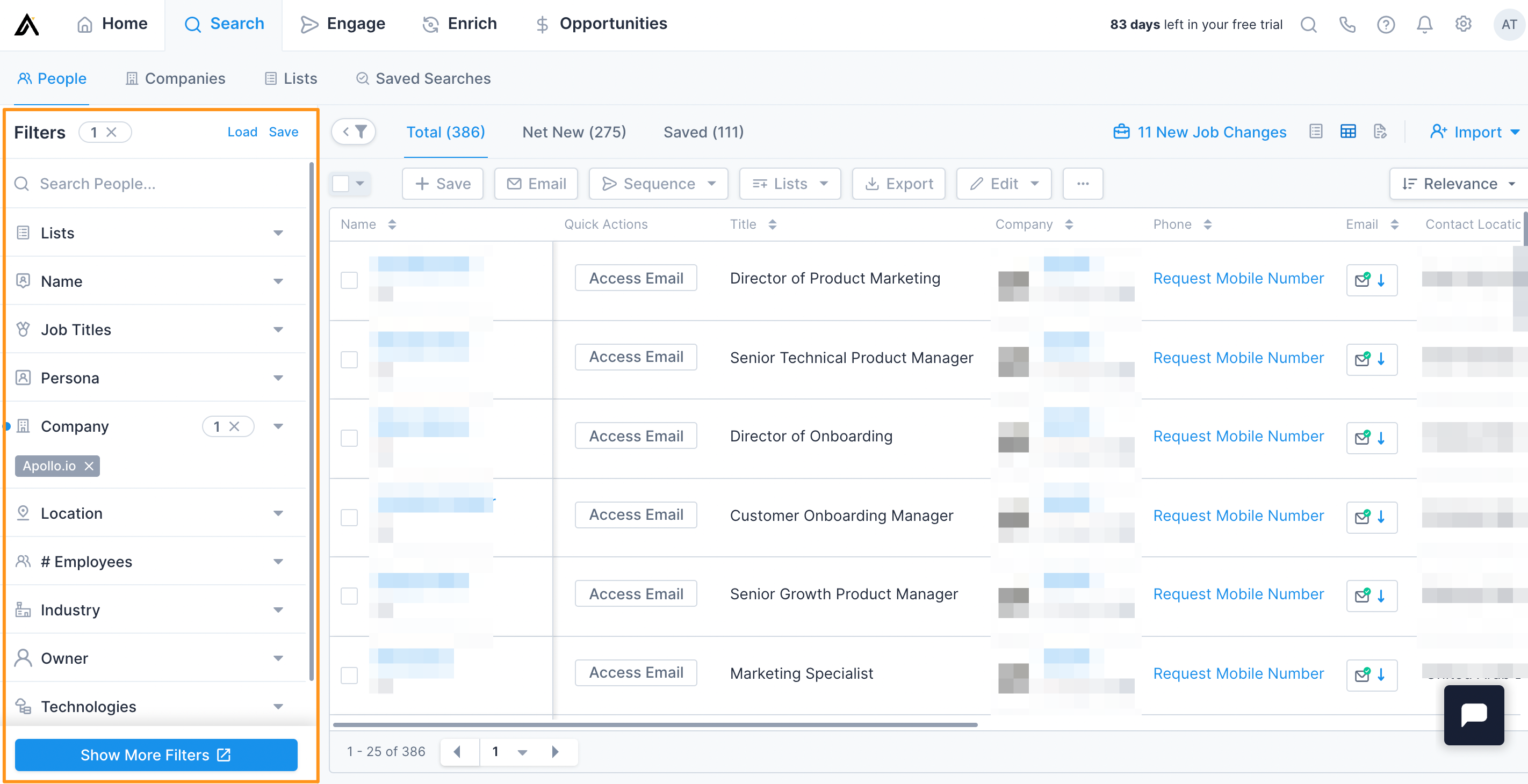 Analyze the data that you previously collected when you determined your ICPs. The table below provides an example of one of Apollo's ideal companies:
Best Companies
Key Firmographics
CSAT Score
ROI
CLV Ratio
Customer Health
# of Referrals
Company Type #1

Industry: Computer Software
Size: Medium
Headcount: >200
ARR: $50 million
HQ Location: North America

95%
30%
3:1
Healthy
>5
Take as many data points as you can from your own ICP table and apply them as filters in a Search.
Launch Apollo and click Search.

Click the "Companies" tab.

Apply filters to your Search to match the data points from your ICP.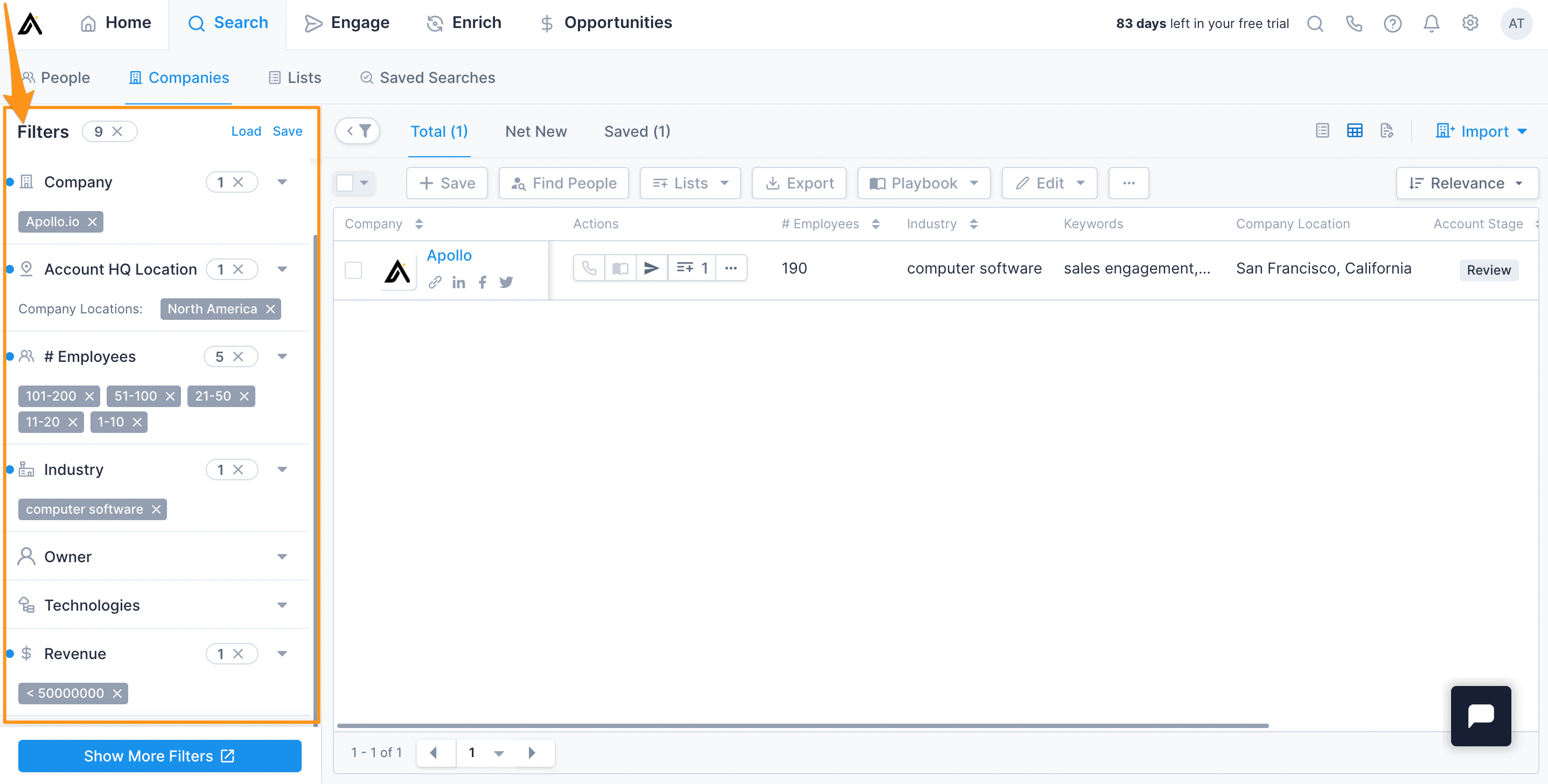 Now that you've found the companies that match your filters, click Save to create a Saved Search.
Since you have previously defined Territories for members of your team, you don't have to worry about potential overlap between users in your account when they access and load a Saved Search. Each user will only see the individualized results for the Saved Search that qualify for the criteria defined in their Territory.
Your users can save companies so that when they load a Saved Search, they either appear under the Saved Tab or immediately from the Search screen.
What's Next?
Now that you have successfully connected your CRM, built Territories for your Sales team, defined your ICP, and searched for companies that match those criteria, there are some additional actions that you can take to continue your customer journey.
The "Find Your Ideal Customer Profile and Push a List of Contacts to Your CRM" use case takes things a step further. In this List Building use case, you can learn how to configure Personas, locate people at the companies that you saved, and export that data to a CSV file that you can use in other platforms.