Overview
Want to Dabble with the Dialer?
If you are on a Professional or Custom plan, you have access to the Apollo Dialer. However, on a Professional plan, you can only make calls within the United States. If you are on a Custom plan and want to make international calls with local phone numbers, you have come to the right place! First, verify that Apollo has enabled the Dialer on your account. Then, follow the instructions below to get dialing locally! If you cannot see the Dialer, contact your CSM or email Apollo Technical Support. For more general information about Dialer availability, please refer to the "Make and Receive VoIP calls" article.
The Apollo Dialer allows you to appear as if you're calling from a contact's local area code. Additionally, if a contact misses your call and they attempt to call you back at the local number you used, Apollo routes returned calls to the real phone number associated with your Apollo account.
Refer to the sections below for instructions on how to configure and use local numbers with Apollo's Dialer.
Verify Your Call Settings for Team Numbers
Launch Apollo and click Settings.

Click Calls in the "Configurations" section.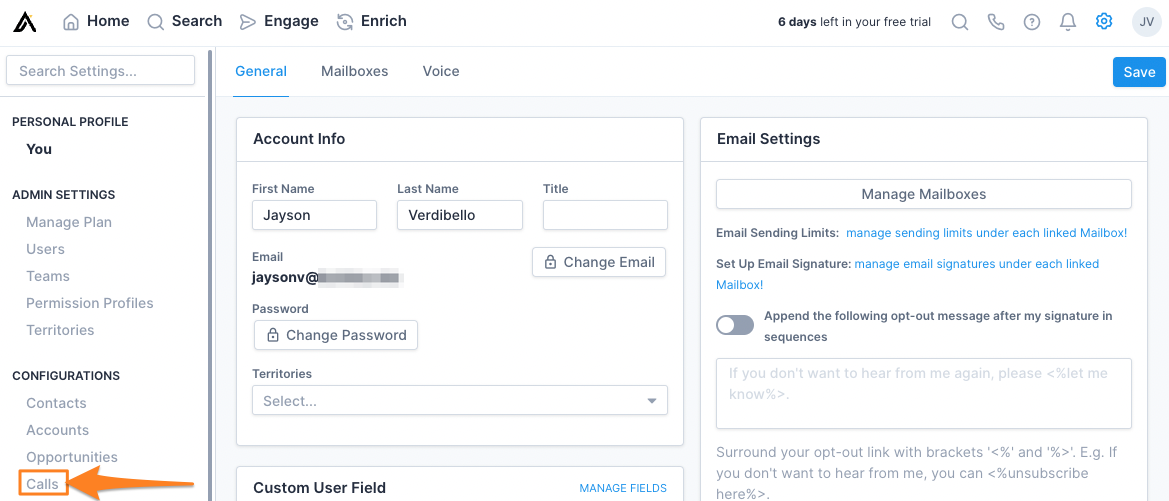 Click Team Numbers.

The Team Numbers tab displays all of the numbers your teammates have configured in Apollo. With local numbers enabled, Apollo uses the appropriate number anytime a contact matches an area code.
You want more? You got more!
To get the most out of this feature, create phone numbers in Apollo for all of the area codes you'd like to cover. Check out the Configure the Dialer article for details on how to add a new phone number to Apollo.
Use Local Phone Numbers by Default
​Click the Settings icon in the navbar. ​ ​

Click the Voice tab.

In the "Apollo Phone Number" section, click the checkbox to enable the "Use a local phone number by default" setting.

With this setting enabled, all calls made with the Apollo Dialer will originate from a number with a local area code for a contact when available.
Use Local Phone Numbers Manually
Click the Phone icon in the navbar.

Click the From drop-down menu and then click the local number that you would like to use.

The next call you make to a contact with the Dialer will use the selected number.