Overview
The Apollo platform equips you with the engagement tools you need to target the right people with the right message, through the right channels, at the right time.
This use case explores the steps you can take if you want to use Apollo to create and automate personalized messages at scale for your key Personas.
Refer to the sections below for a sample workflow that walks you through how to integrate your CRM, set up your mailbox and email signature, create sequences, add contacts, and A/B test to consistently improve your sales approach and increase conversions.
Sample Workflow
If you want to leverage key Apollo Engagement tools like sequences and analytics, you can follow this example workflow with best practices.
A Message From Yoda We Have!
Patience you must have my young Padawan, for every user is on their own path and has their own objectives. This is an example workflow. Use it as a guideline and alter the process to best fit your individual needs. Only then, great results you will see.
To start sending personalized, automated messaging to your ideal prospects directly from an Apollo sequence, you first need to complete a few important preparatory steps.
Integrate Your CRM With Apollo
If your company uses a CRM, you should begin by integrating it with the Apollo platform. This means that when you begin your outreach efforts, you can ensure that your data is always up-to-date and in sync. It also means that you can visualize and stay in control of which team members contact which prospects.
CRM Integration
Please note, Salesforce offers the largest degree of enrichment functionality in Apollo, but Apollo also supports CRM integrations with HubSpot.
Use the links below for the CRM that you want to integrate and configure with Apollo.
What if my company doesn't use a CRM?
If your company does not use a CRM to maintain information about your customers, you should upload a CSV of "Do Not Contact" customers to avoid reaching out to them. For more information about importing contacts into the Apollo platform, see the "Upload a CSV of Contacts to Apollo" article.
Salesforce
Integration
Credentials
HubSpot
Integration
Once you've connected your CRM to Apollo, your customer data stays accurate and in sync. Now, you're ready to connect your mailbox and set up your email signature.
Connect Your Mailbox
If you want to leverage Apollo Engagement tools to start sending messages in a sequence and convert more leads into sales, you must connect your mailbox first.
Linking an email mailbox to Apollo allows you to email directly from an Apollo sequence. You can link any type of mailbox to Apollo. For a full list of the Email Service Providers (ESPs) that Apollo supports, refer to the "Supported Email Service Providers (ESPs)" article; however, Gmail provides the most compatibility and functionality in Apollo.

Follow the step by step instructions in the "Link Your Mailbox to Apollo.io" article to get set up.
Set Up Your Email Signature
Now that you have linked your mailbox, it's time to set up your email signature.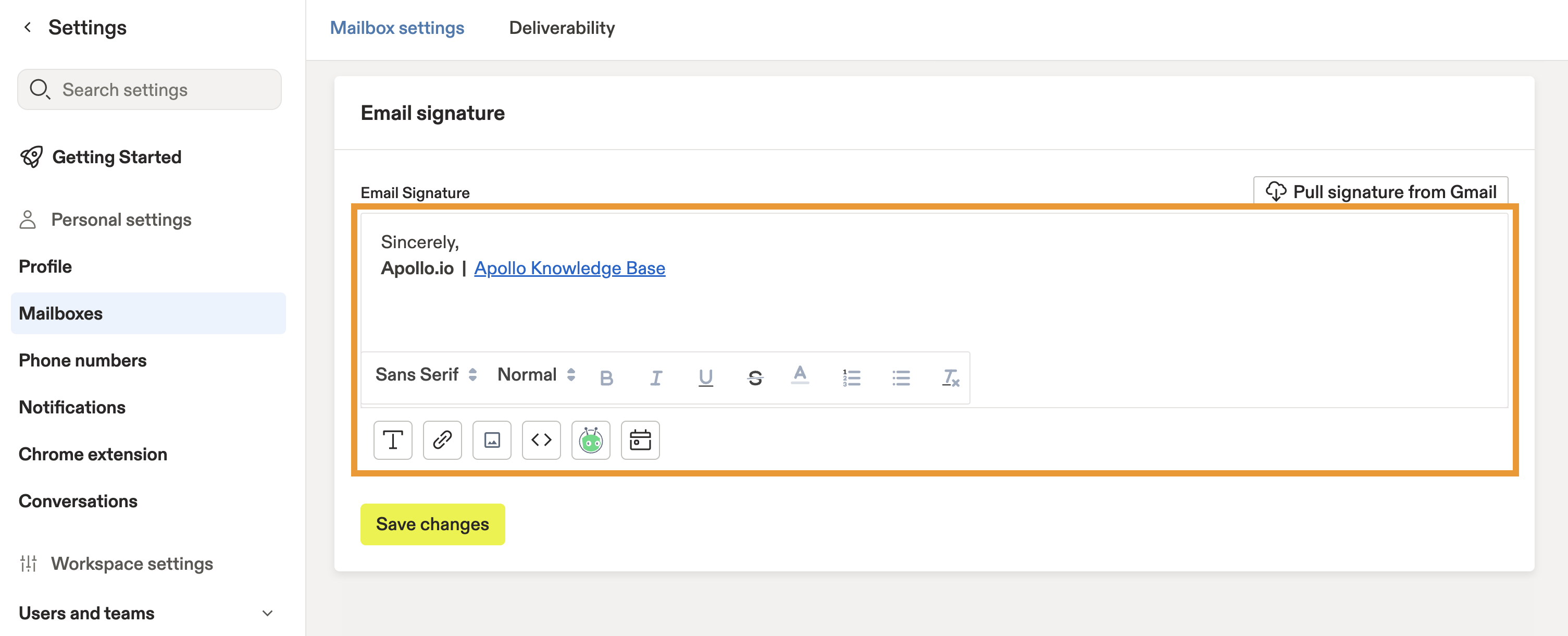 There are several key advantages of using an email signature in your engagement emails.
Gaining trust: The recipient can easily identify who has contacted them and from which company. If they want to research you before replying, they can do that.
Providing context and building rapport: Your title and company name help indicate the nature and reason for your message. If you or your company are well-known in the industry, your signature may even add credibility to your email.
Encouraging responses: If you include your contact information in the email, you increase the chances of a response. You also give the recipient the freedom to respond through the channel that suits them best.
To set up a unique signature for each mailbox that you have linked, follow the steps in this article.
SPAM Filters and Links
Please note, as a best practice, you should avoid including links in your signature because they may trigger SPAM filters for new contacts that you have not emailed before. For more information, please refer to the "Avoid SPAM Filters" Overview article.
Plan Your Outreach Campaign (Sequence)
Now that you have integrated your CRM, connected your mailbox, and set up your email signature, you are ready to start planning your outreach campaign.
Before you create and execute your sequences in Apollo, ask yourself 3 key questions:
Who do you want to target and why?
When do you want to target them?
What steps will you take to engage with them?
If you haven't already done so, follow the instructions in the "Find Your Ideal Customer" use case to identify the answers to the first and second questions.
Below, we will focus on the third point—the steps you should take once you have identified your Ideal Customer Profile, built your Personas, and are ready for engagement.
Create a Sequence
Apollo sequences are outreach campaigns with any number of sequential contact points and tasks that you can customize to personally engage your target audiences at scale. They help your team deliver communications to your customers and complete the right tasks at the right time to speed your prospects through your pipeline and turn them into paying customers as efficiently as possible.
As you use Apollo to hone in on your Ideal Customer Profiles, you can create sequences to match each type of prospect with automatic and manual messages, LinkedIn engagement, calls, and action items that speak directly to the needs and challenges of your target audiences.
Sequence steps are the individual messages and activities you design for your team to successfully engage with prospects. Sequences are made up of as many steps and with as much time between each step as you choose. An ideal outreach campaign requires multiple touches and interactions. You first need to decide upon the type of sales strategy that you want to implement. Is the purpose of your sequence to create demand, to generate pipeline, or to expand upon your existing business? This decision will influence whether you decide to follow an inbound, outbound, nurture-based, event-inspired, upselling, or other sales strategy. Depending on the approach that you choose, the number of steps in your sequence will vary. In most cases, Apollo recommends you follow up with someone at least 5 times.
Step by Step
For more information about the types of steps available in Apollo, please refer to the "Available Steps in a Sequence" section of the "Sequences Overview" article. You can also refer to this section of the "Craft Killer Sales Email Messaging" article for 3 example options to consider when planning your sequence strategy.
When you have strategized the number and types of steps to include in your sequence, you are ready to build these steps within Apollo.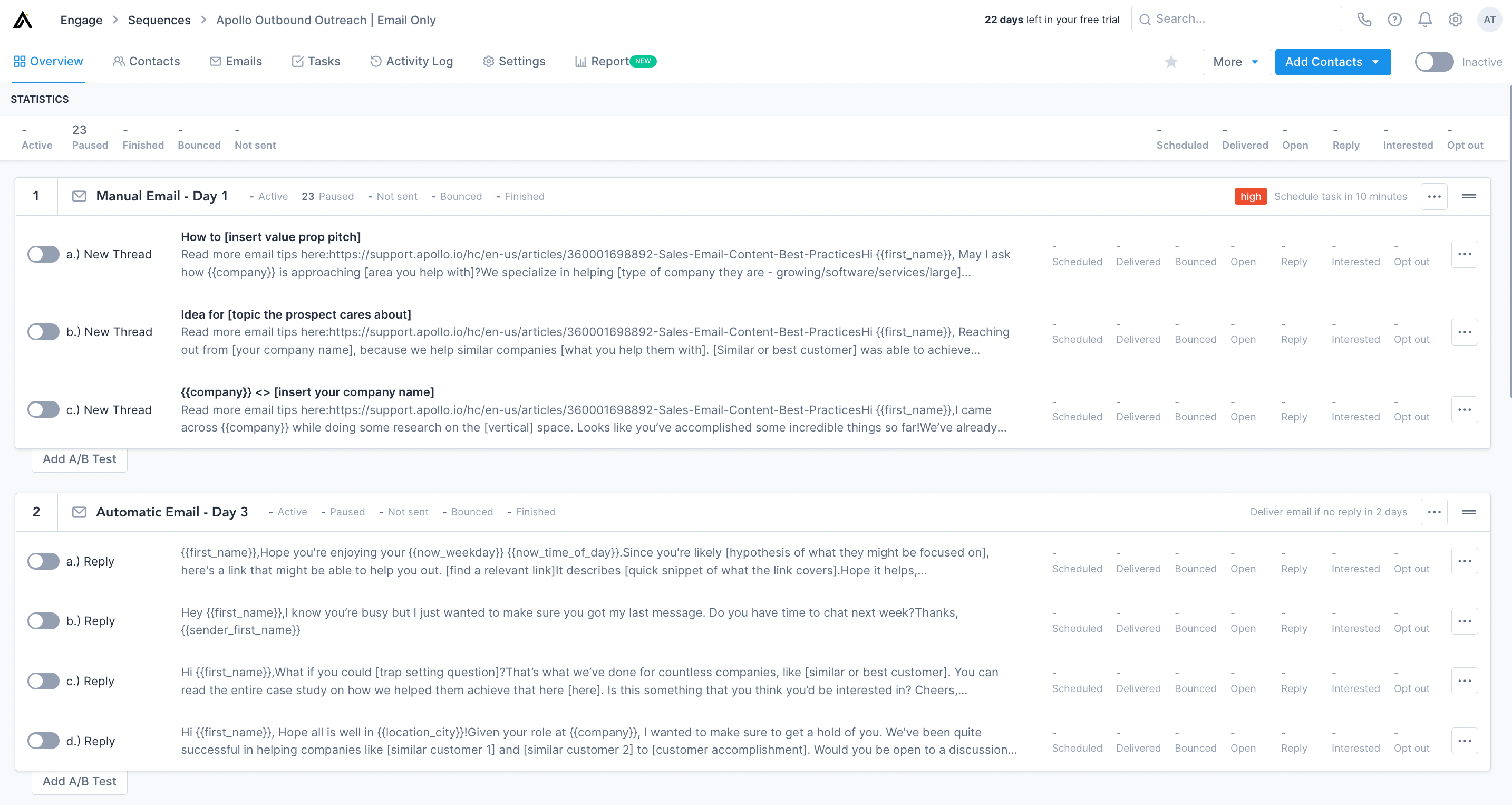 Draft Your Messaging
We will focus on drafting email messaging in a sequence. However, Apollo strongly recommends adopting an omnichannel selling strategy to engage your users with multiple touches across a number of the most common channels that they interact with daily.
Omni-Awesome!
For more information about the best practices to follow when adding LinkedIn steps to a sequence, please refer to this article.
For further details about how to make and receive calls with Apollo, please refer to this article.
Email is a powerful sales tool. When done correctly, sales emails can help you raise awareness, build rapport, and convert qualified leads into sales opportunities at scale. There are several best practices you can follow to increase your email conversion rates:
Understand the pain points of your target audience
Make it personal
Create intrigue in the subject line
Keep it simple and concise
Include a powerful CTA
Add multiple touch-points
Learn when and how to link
Avoid SPAM triggers in your email content
A/B test
When you have brainstormed your messaging strategy, add the messages into the sequence you created earlier.
Launch Apollo, click Engage, and then click Sequences.

Open the sequence that you created earlier.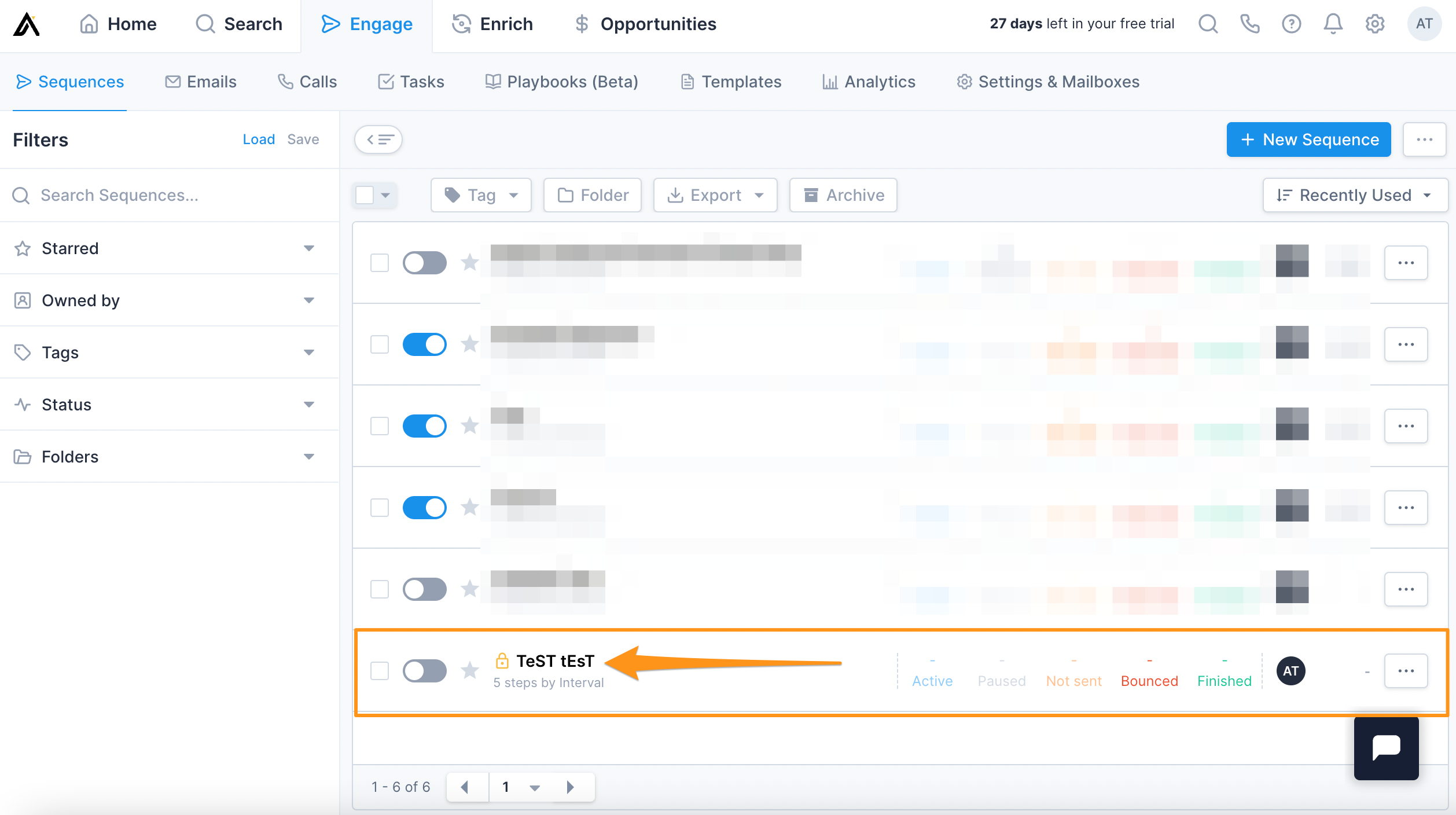 Click the email step that you want to edit.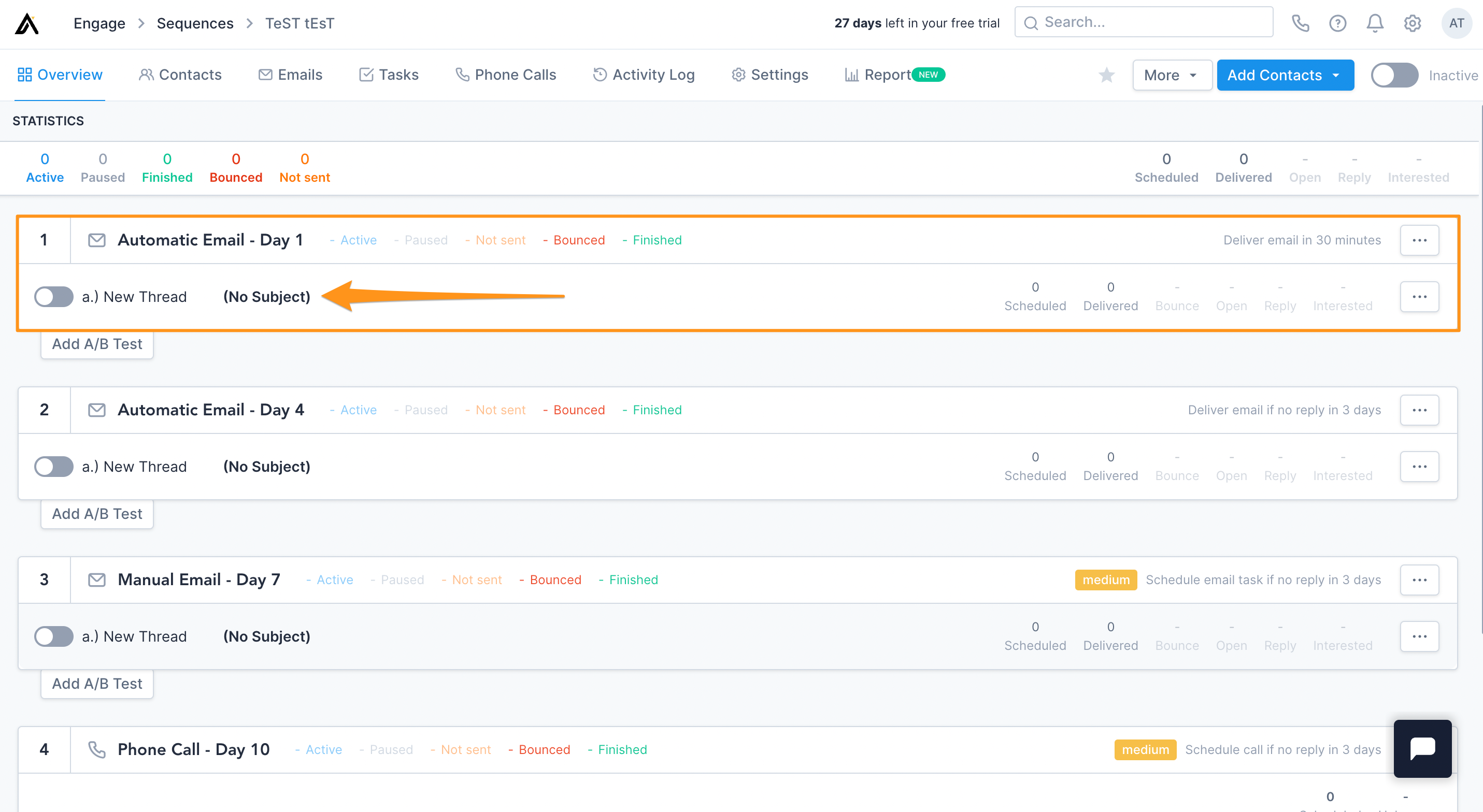 Specify the type of email, add the subject line, and copy your message into the body of the template.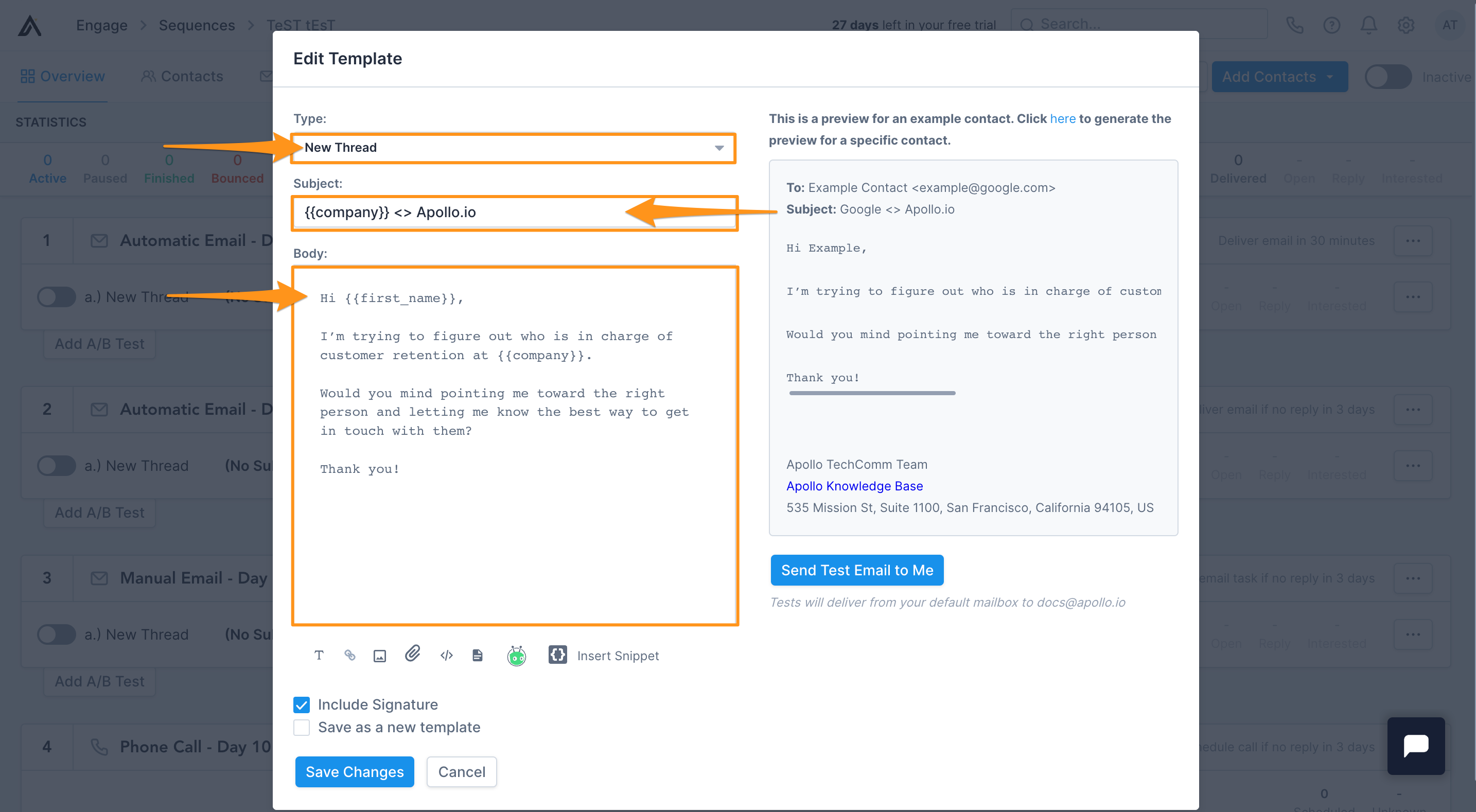 Remember to take full advantage of Apollo Snippets to keep your automated messages personalized.
Click the Save as a new template checkbox if you want to save and use this template in other sequences. Then, give your template a name.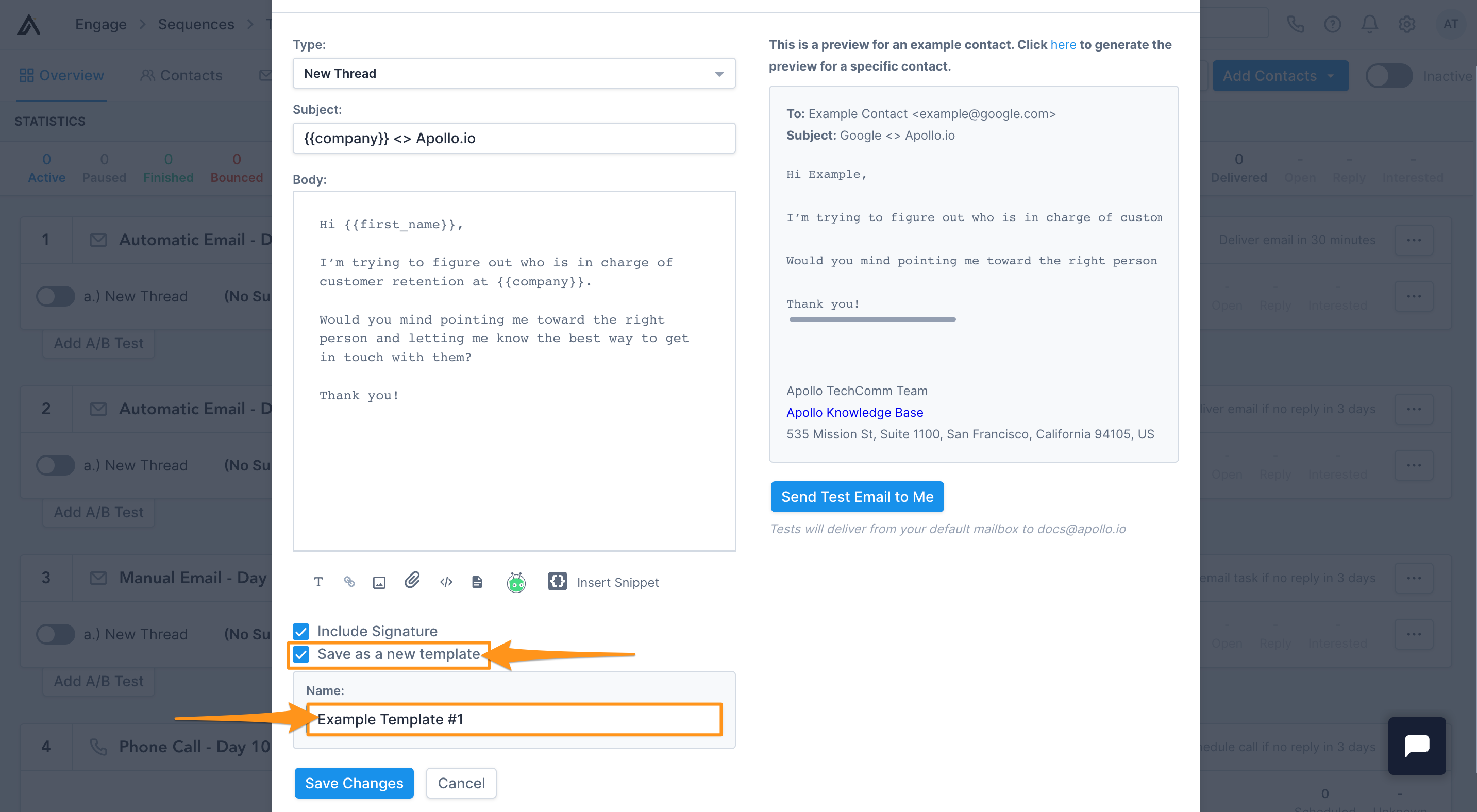 Contemplating Templates?
Please note, you do not have to save your message as a template; however, there are advantages of doing so. For example, you can access template analytics, collaborate and share successful templates with team members, and update templates en masse. For more information about Apollo templates, please refer to the "Create and Edit Email Templates" article.
Click Save Changes.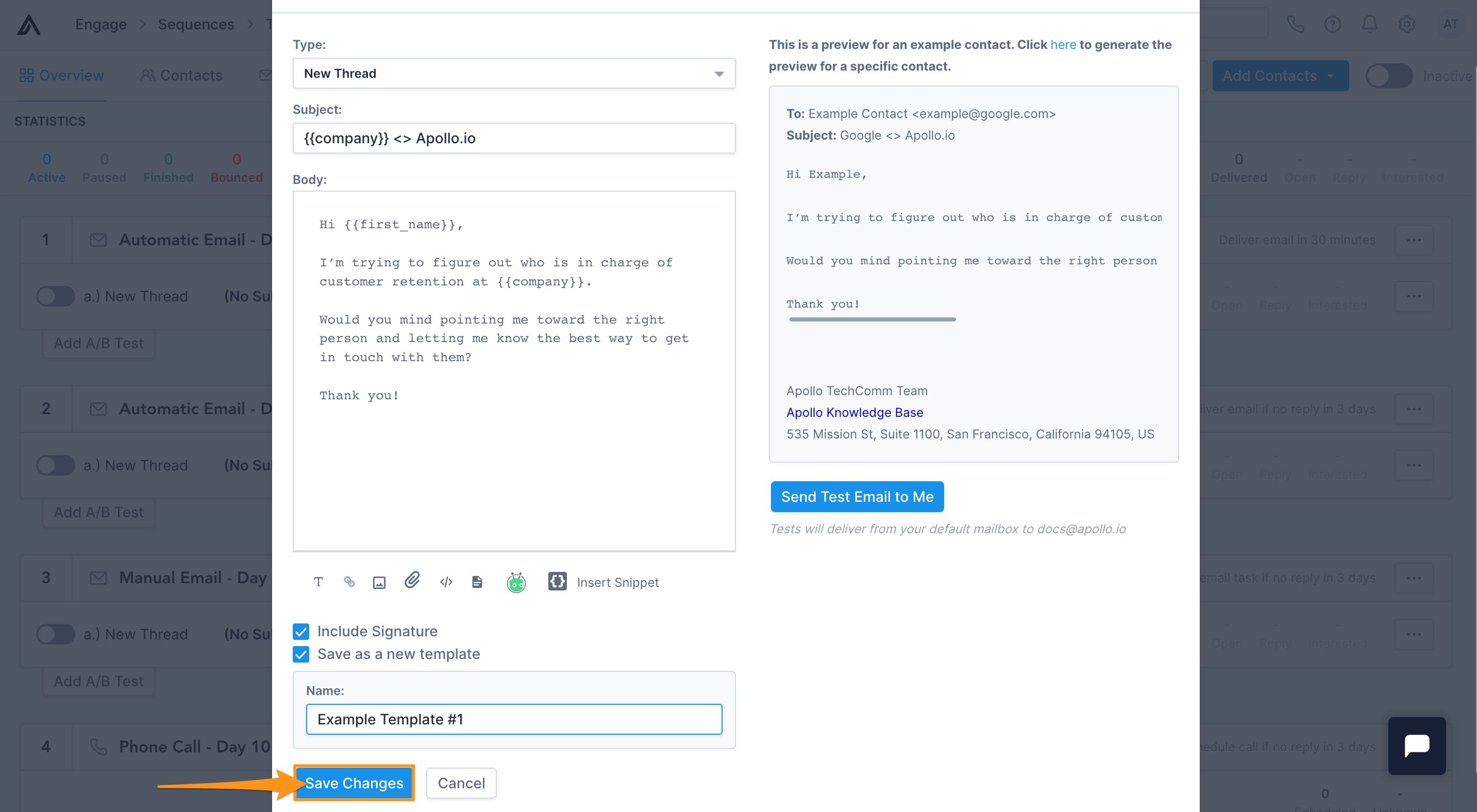 Apollo saves your message. Repeat this process until you have added the copy for each email in your sequence.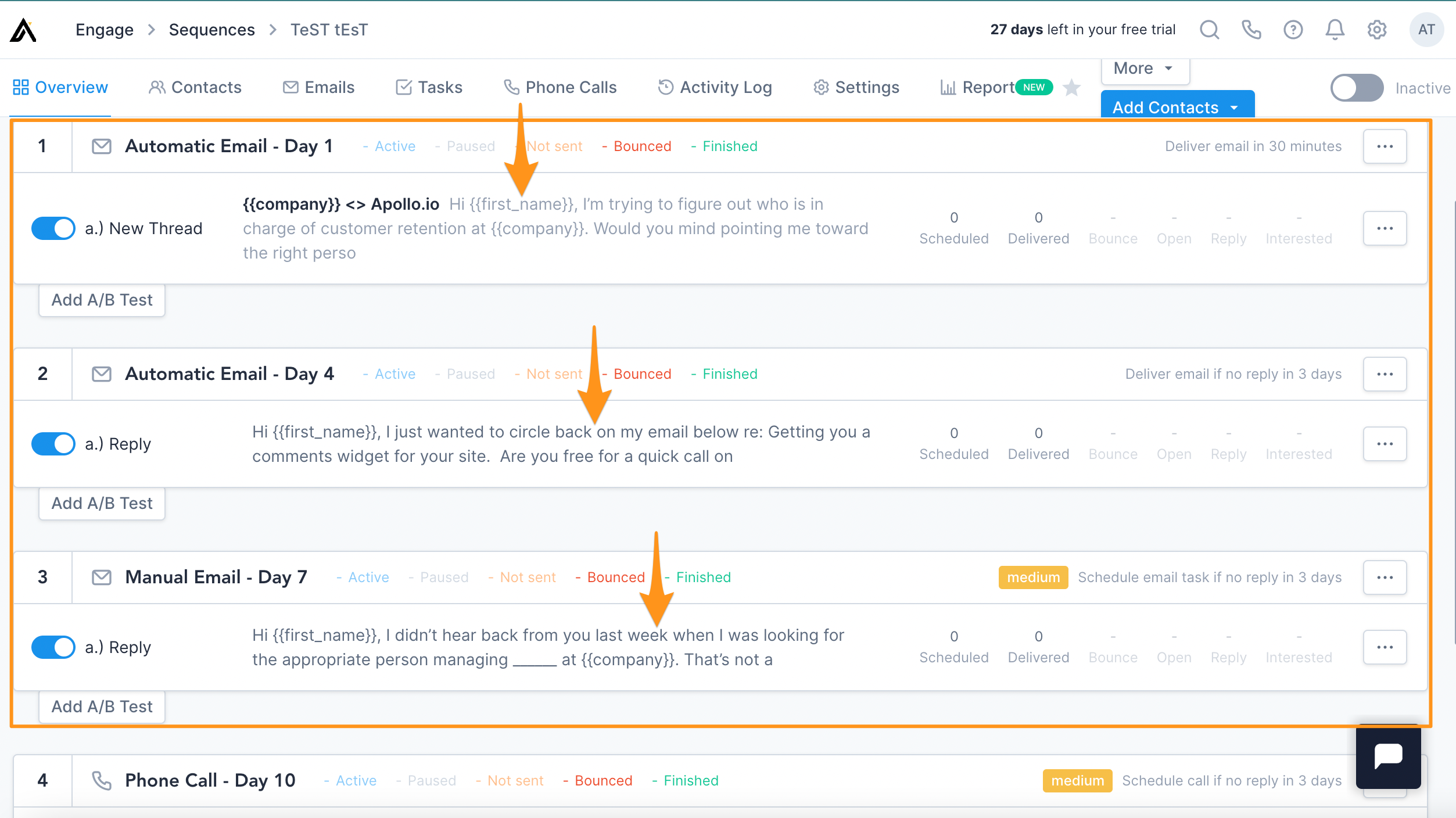 Add Contacts to Your Sequence
Now that you have your messages at the ready, it's time to add your contacts.
There are 3 different ways to add contacts to a sequence in Apollo. You can use the Apollo Search tool, upload a CSV file, or select contacts from a list.
It's Your Way or the Highway
You can choose to add contacts in the way that best suits you and your team. For more information about the steps to take for each, please refer to the "Add Contacts to a Sequence" article.
Once you have added your contacts, remember to activate the sequence. Click the toggle on the top right of the screen and check that you have activated the toggles on the left of each step.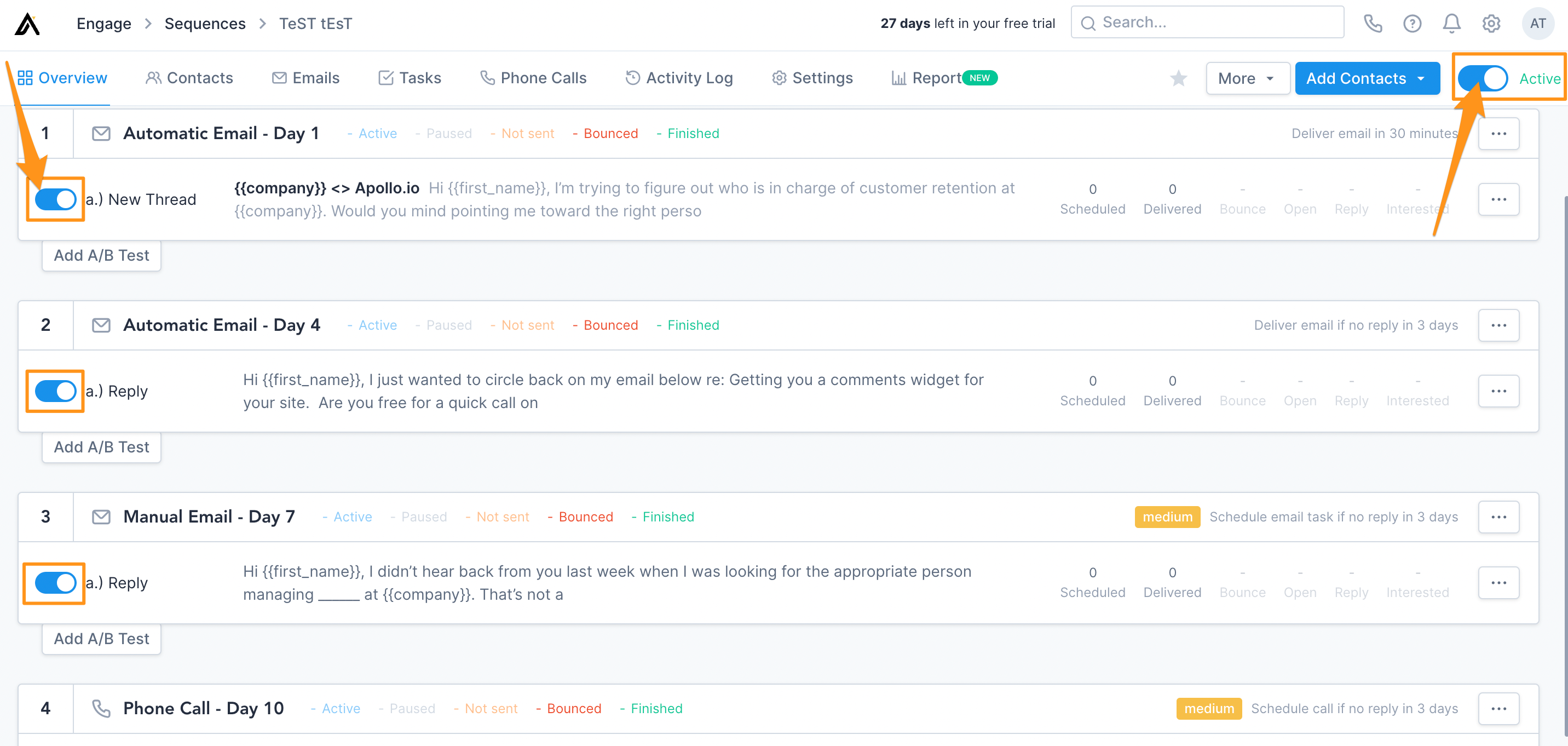 Test, Analyze, and Improve
Your sequence is now live, but the journey to achieving a successful sales campaign has only just begun! If you are serious about achieving long-term success through your email strategy in Apollo, you need to use the tools and data at your disposal to drive smart decision-making.
To ensure you are constantly improving your sequences and achieving optimal results, you can leverage 2 key components of the Apollo Engagement tool:
A/B Test
A/B testing allows you to test multiple messages in a sequence step. Apollo sends an even traffic distribution to each message variant in the test.

There are several advantages of A/B testing:
Determine which messages best engage which prospects.
Better reach your intended audience through data-driven trial and error.
Leverage the data from your A/B tests to improve the effectiveness of future messages and increase conversions.
Reduce bounce rates by eliminating techniques that don't work well on your target audience.
For more information about the recommended sales metrics to aim for when starting out, please refer to the "Build an Outbound Sales Metric" article.
To set up A/B testing in Apollo, follow the instructions in the "Add an A/B Test to an Email Step in a Sequence" article.
Access Sequence Analytics
With your sequence(s) live and your A/B testing underway, it's time to leverage the Apollo Analytics tool. Apollo Analytics provides you with the insights that you need to identify key trends and define what is and isn't working. You can also use the data to decide which tests to run and which improvements to make to repeatedly smash your monthly and yearly targets on a consistent basis.
When you send emails in Apollo, you can track your Open, Click, and Response rates.

To access this data directly from within the sequence you created, please refer to the "Access Apollo Email Analytics" article for step by step guidance.
From the Reports tab in a sequence, you can also gain a deeper understanding of how your emails are performing across the different audience and company attributes.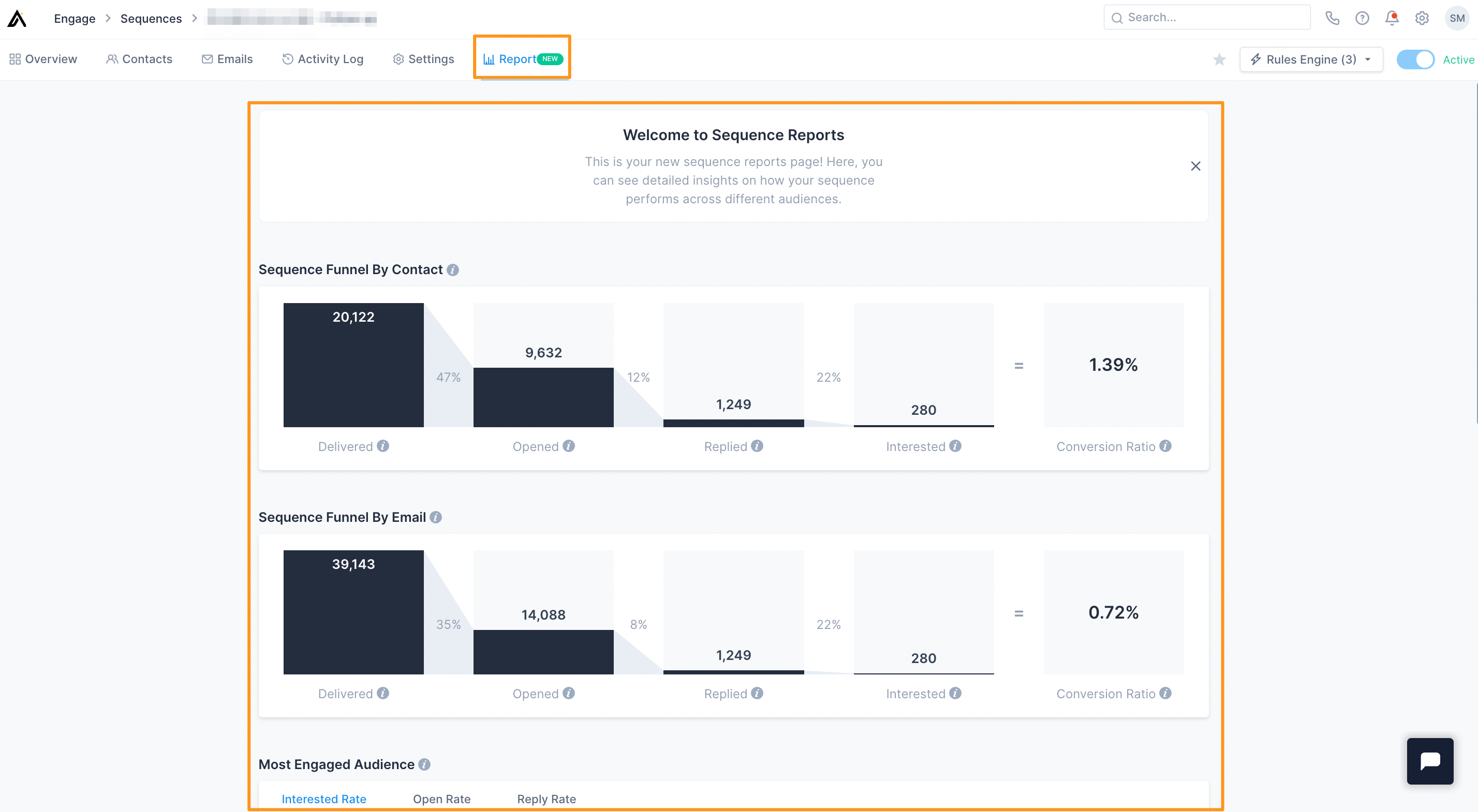 To gain a more holistic view of all your campaign data, you can leverage the Apollo Analytics tool. To take full advantage of this feature in Apollo, please refer to the Build and Access Reports in Apollo" article.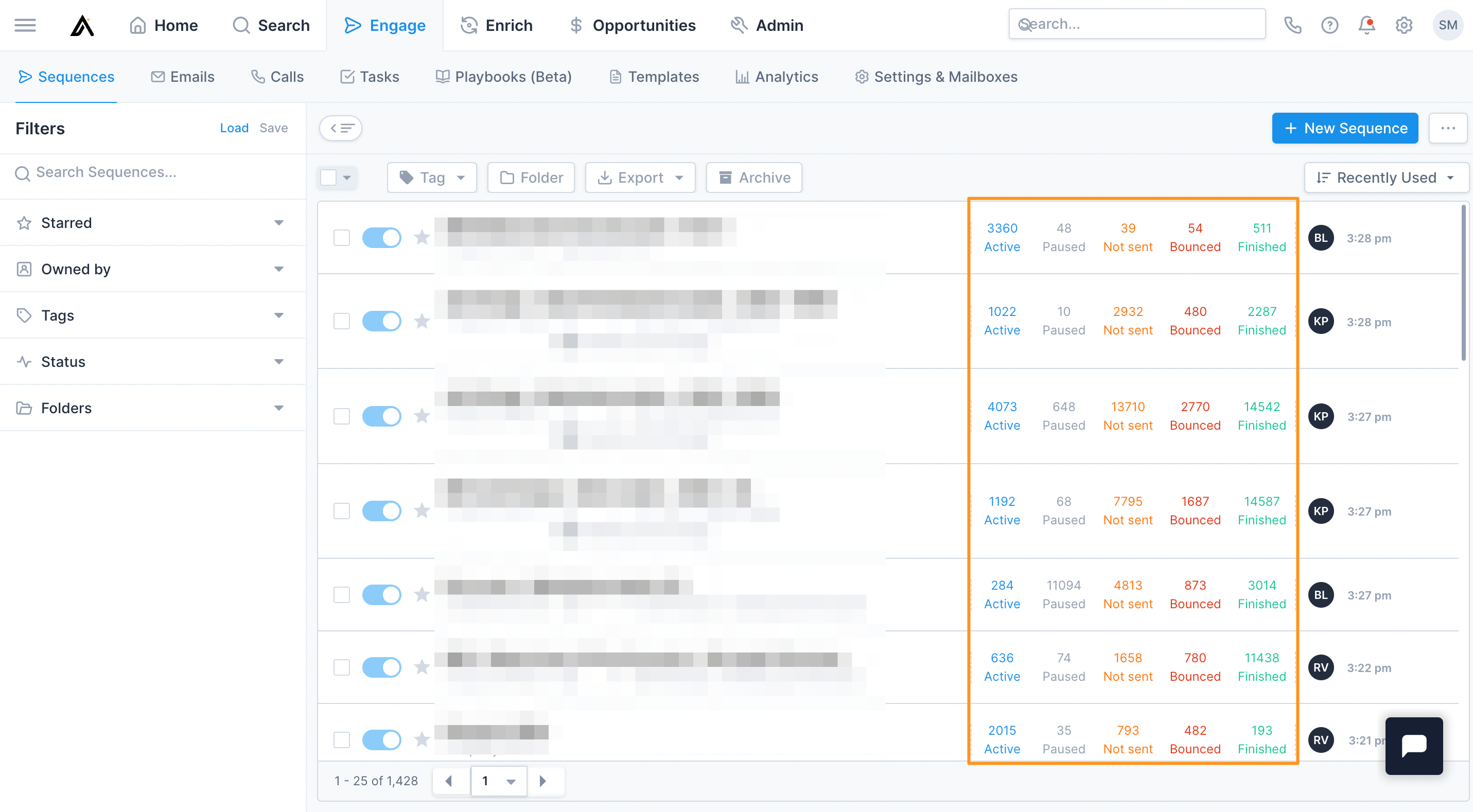 What's Next?
Now that you have successfully integrated your CRM, set up your mailbox and email signature, created and added contacts to your sequences, set up A/B testing, and taken advantage of Apollo Analytics, there are some additional actions that you can take to leverage an omnichannel strategy with Apollo.
The "Leverage Sequences with LinkedIn to Organize Your Personalized Messaging" article deep dives into another key channel that you can leverage with Apollo to increase personalization at scale. In this LinkedIn use case, you can learn how to make the most of LinkedIn to prospect, engage, and convert your ideal customers as part of your Apollo sequences.